Casatlantic 'Mogador' trousers: Review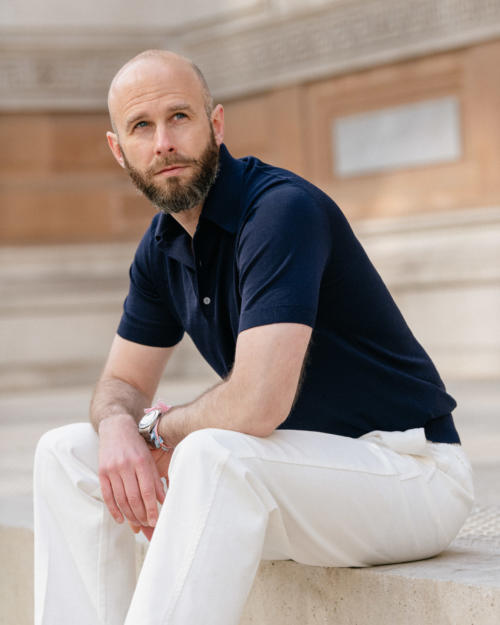 These trousers from young brand Casatlantic deserve to be in our chino series (previously Rubato; upcoming Real McCoy's) by virtue of being cotton twills, in a fairly clean style.
But they aren't your everyday, classic chinos. They're very high rise, with a wider tapering leg, in a slightly unusual material.
I really like them. But they're something I think I'll wear as a particular choice, leading the rest of the outfit, rather than an everyday versatile chino.
They were inspired by the military trousers that founder Nathaniel Asseraf's grandfather used to wear in Morocco, following the Second World War.
Although Nathaniel was born in Sweden, and lives in Gothenburg, his family originally came from Morocco. It's photos of his grandfather's life in Casablanca, often wearing leftover French and American military clothing, that inspires the look and feel of the Casatlantic brand.
Although the story actually starts before there was any consideration of Morocco.
Nathaniel's day job is working for Broadway & Sons, the longstanding vintage dealer in Gothenburg that was founded by his father in the 1980s. That's Nathaniel modelling the clothes in many of the shots online.
Nathaniel used to wear vintage military trousers a lot - high waisted, wide legged, softened over decades of use - and was asked by friends where he got them. Where they could get them.
Of course they usually couldn't, because vintage rarely comes in a range of sizes. So - as the story often goes these days - Nathaniel started looking to see if he could make some himself.
That was when he found the pictures of his grandfather and his friends. And when he started trying to find a factory in Morocco that could make them for him.
"When I first started working with this place, the guys were very unsure about the styles," Nathaniel says. "They would say 'Are you sure you want them this high? We're not sure anyone will buy them.' I had to insist on the height, the width. It was a lot easier knowing the popularity of the vintage styles."
The trousers that resulted have a rise of 33cm (on the size 30 waist) which is what I would call a true high-rise - right up above the hip bones, on or above the belly button.
There are three styles, with the biggest difference between them being the leg line. Tanger is the widest (24cm at the hem), Mogador the middle (22.5cm) and El Jadida the slimmer (20.5cm). Pictured in that order, left to right, below.
They're all fairly generous, and even though it's the middle option, I'd describe my Mogador as definitely a wide leg. That's particularly obvious through the knee. Where tailored wide-legged trousers (eg my Sextons here) are pretty straight from the knee down, the Casatlantic ones are tapered, almost pegged. Which does make them look less dressy.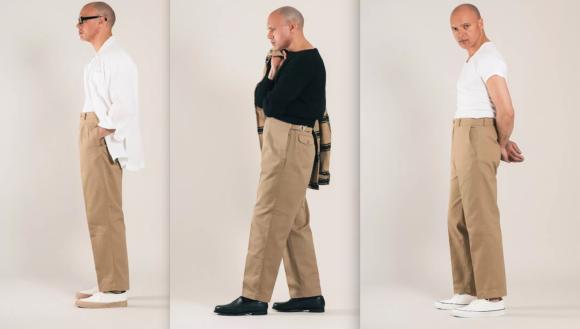 There are other small differences between the models, with the most obvious with the Mogador being its side adjusters on the hips (not the waist) where the others have belt loops.
"The original 1930s pair these were modelled on had these low side adjusters and belt loops," says Nathaniel. "I guess it allowed them to be tightened at the hips, while the belt at the top could be more decorative. I didn't think most guys would get that today though."
The lower adjuster functions well, tightening neatly into the side seam. I ended up going for a very snug 30-inch waist, but I also tried a 32, and there the adjuster was very useful.
That side seam also seems to be set a little forward, which makes the pockets easy to use even though they are cut vertically, into the seam.
This is a very clean way to design pockets, but when I've used it in the past they are uncomfortable to use. Not so here.
The make is quite simple in general though, which has its upsides and downsides.
For example, the waistband is made as a single piece, with no seam in the back. This is the way jeans are made, rather than chinos, and looks great but has the disadvantage that the waist can't be altered easily.
There is also no lining to the waistband - just two pieces of the cotton twill, inside and out - which is a little less stable. Both are used on military trousers I have too, but contribute to a feeling of it being a fairly straightforward, functional make.
When I spoke to Nathaniel, he did say he was planning to change this: "The new Safi model that's coming out this week will have a seam in the back of the waistband, and we'll be using a cotton lining inside too. This is our first collection and we're still learning a lot from feedback on what people want."
The trousers currently come in three colours. I bought the white, and loved the sturdiness of the twill, which holds a sharp crease. Cloth is usually the hardest thing to get a sense of online, so it was a great relief.
Apparently the navy and beige are different, though. The cotton is bleached to make the white less ecru/yellow, but dyed for the other two colours, which makes them softer and drapier.
All three have the nice dry handle Nathaniel wanted though, replicating the feel of new military trousers, which then soften as they're washed and worn over the years.
(If any readers are unsure what 'dry' means in relation to cloth, imagine something that your hand slides across easily, with no softness, friction or nap to stop it.)
I really like the Casatlantic trousers, but as I said they will be an occasional piece for me, rather than a basic chino.
I particularly like them as a Summer option, with a polo and deck shoes - as shown. The material has a sailcloth-like feel to it in the white, which makes this style feel particularly appropriate.
It also means I'm fine with the higher rise. I wouldn't wear it every day, but as an occasional style option it's great. I do the same with an old pair of Arnys linen trousers already.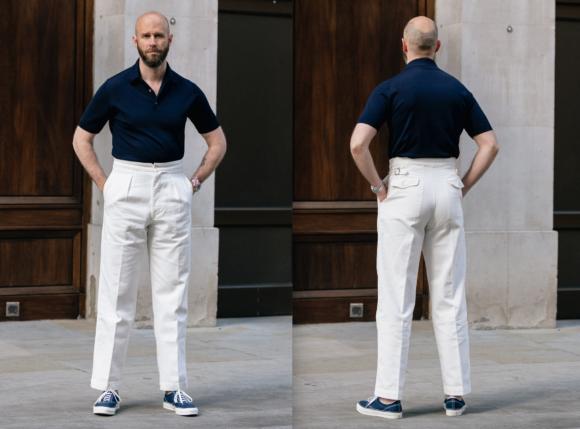 While we're talking about high-rise trousers, though, I thought it would be good to illustrate why I find them limiting.
The images higher up this post show the trousers with a PS Finest Polo untucked, which is natural with knitwear and looks great. The ribbing of the polo covers the waistband, lowering the visible rise by a good five or six centimetres.
But when something is tucked into trousers this high - and not covered by a jacket or overshirt - the proportions are too unusual for me. The body is just too small; it looks odd.
I've deliberately tucked my polo in in the shots above, to illustrate this. Of course, the polo would spill out a little during the day, but those proportions between leg and body are still pretty extreme. And I believe I actually have a fairly low waist compared to the average.
Nathaniel's styling of the Casatlantic trousers is fantastic. Even if you don't like the trousers, I think the site and the Instagram account are worth following just for that. I've included a few of my favourites above.
These shots are all of shirts untucked or with knitwear, though. When the shirts are tucked in, it's not my style. I know it works well for others, but I personally prefer to be less unusual. For the majority of my trousers therefore, I'll continue to want a lower rise.
The Casatlantic trousers cost €150. They have recently been restocked, but not all colours will always be available. Nathaniel likes the idea of small batches that are then unique or collector's pieces.
A new model is launching on Wednesday, Safi, which will have the slimmer leg of the El Jadida, but side adjusters, on the waistband.