Introducing: The Finest Polo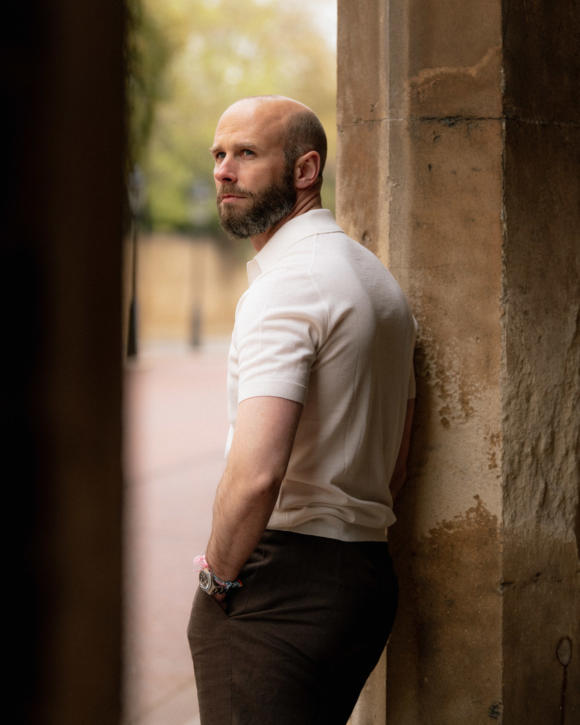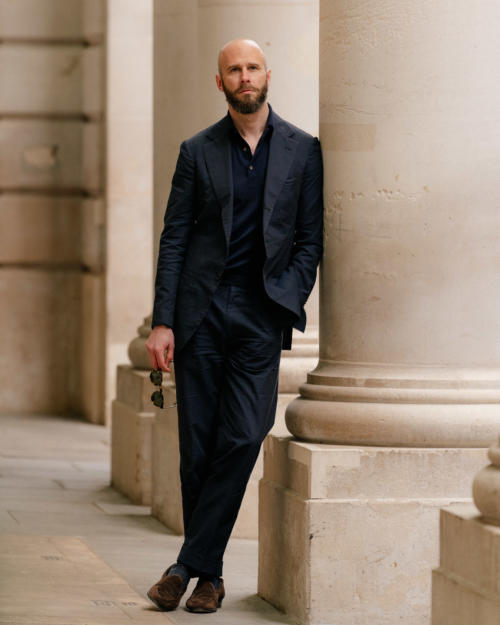 This knitted polo we're launching on the PS Shop today is in some ways just a short-sleeved version of the Dartmoor.
It has the same finest-in-the-world make (hence the name), the same reinforced collar, and the same top-end merino. It is also, it's important to remember, a piece of knitwear, which has implications for cost and care.
But actually I think it's more significant than that. It is a truly smart polo shirt that's incredibly cool in hot weather – and I know so many readers that will benefit from that.
Dressing elegantly in the heat is never easy, but wear the polo with a pair of crisp linen trousers and loafers - with the option of an overshirt or jacket over the top - and it's hard to imagine something more relaxed yet elegant.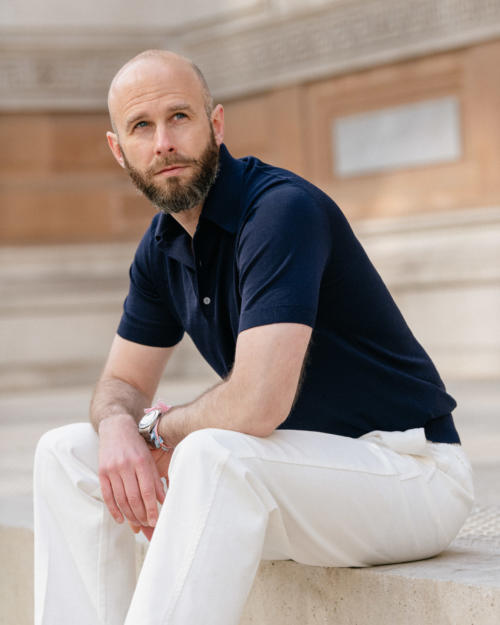 The most important thing for me about the polo was that it had to be a high-twist merino.
I've worn various knitted polos over the years, and never particularly liked the normal options of cotton or silk/cashmere.
Cotton is intuitive, but actually as a knitted polo it tends to be soft and surprisingly warm. Almost cloying. It's not particularly cool and can lose shape easily.
Silk/cashmere is normally the luxe option, and it does feel lovely. The problem is it's not that cool, as cashmere is so warm. And the silk tends to add a sheen to the polo that I don't necessarily want.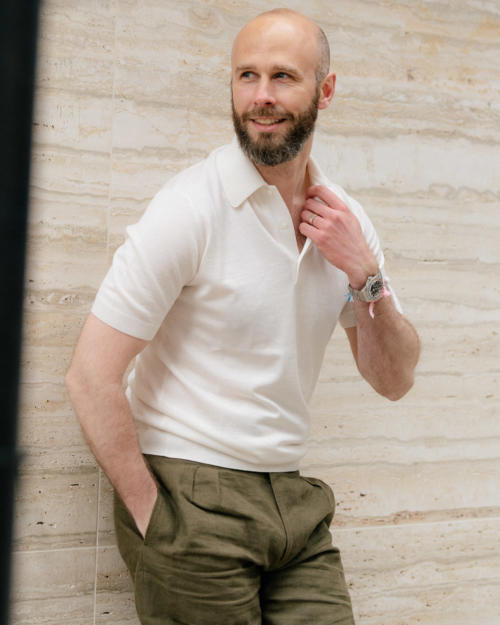 A high-twist merino, however, can be knitted openly enough to let through more air than any other fibre (which is the real problem with cotton). It also has a nice dry touch, and keeps its shape well.
The effect is similar to high-twist trousers, which sartorialists will appreciate. With the difference that a polo can use a finer, lighter wool than trousers, so there's no trade off with texture.
Wool is also, of course, more odour resistant than cotton and dries quicker – both helpful properties in the heat. Combine that with the way it holds a smooth shape, and it's fair to say high-twist merino 'performs' better.
The only potential disadvantage is care. You can't chuck it in the washing machine with a bunch of T-shirts – it needs its own delicate cycle. But actually, that's the case with anything fully fashioned like this, even in cotton.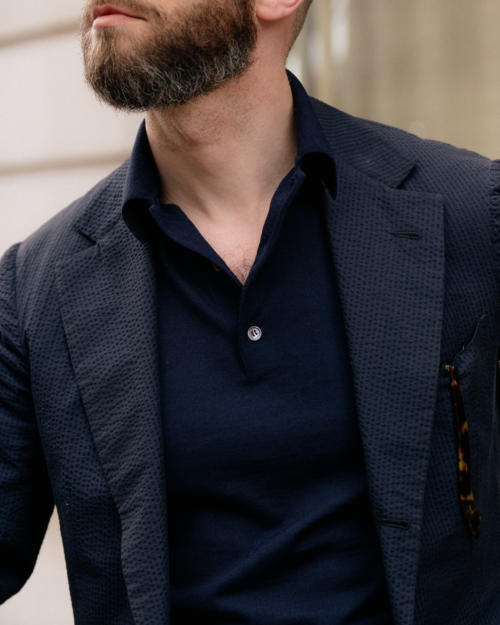 Design-wise, the thing that stands out most is the collar.
The Dartmoor has proved popular with readers that like a slightly higher, more structured collar. More similar to a shirt, and better under tailoring.
But if anything, the situation with polos is worse than with jumpers or sweatshirts. All knitted polos seem to be made with super-soft, small floppy collars. Which is looks relaxed, and is great if you want something to wear with shorts to the beach; but it's not an effective partner for tailored trousers.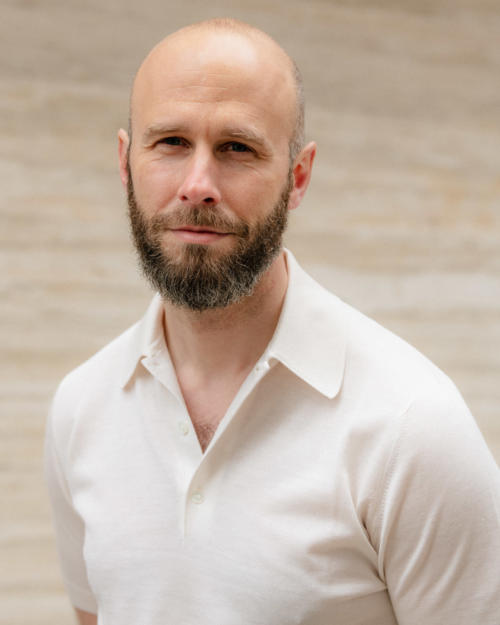 Last year I wrote a piece about my core Summer wardrobe, which included a navy 'Adrian' polo from John Smedley. I like lots of things about that model, but as readers quickly pointed out, the collar is quite unflattering – small and collapsing around the neck.
The PS Finest Polo is very different. Tall at the back like the Dartmoor, sitting proud above the collar of a jacket, and with a generous point (7cm) that perhaps has more in common with the Smedley Isis than the Adrian.
That point is slightly different to the Dartmoor, as I expected it to be worn on its own more often, without a jacket. It's more rounded, less spread, and has slightly shorter points. For me, the result the perfect mid-point between tiny high-street polos, and the very large, vintage-inspired collars on some classic menswear ones.
Not too big, not too small. Like so many things we try to design for PS, something distinctive but with only quiet charm.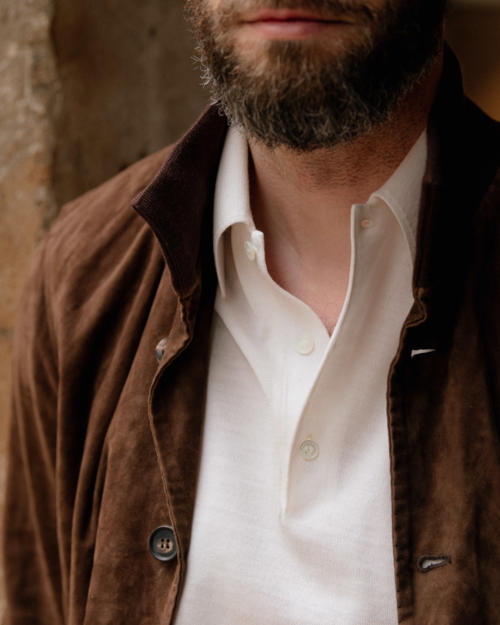 The body of the polo is cut slim - like the Dartmoor - and so it's worth checking the measurements against a polo you already own. You might want to size up if you like a more generous fit.
The sleeve is also a mid-point between contemporary and vintage styles, sitting just over halfway down the arm. The ribbing also causes it to ride up a little when worn, which to my eye is quite flattering.
The ribbing on the body is larger than most (7cm), again like the Dartmoor, making it look that little bit squarer, widening the shoulders, lengthening the legs and so on. This is something most classic-menswear brands seem to do now, whether The Anthology, Bryceland's or Colhay's, which is great. It's a small difference but a noticeable one.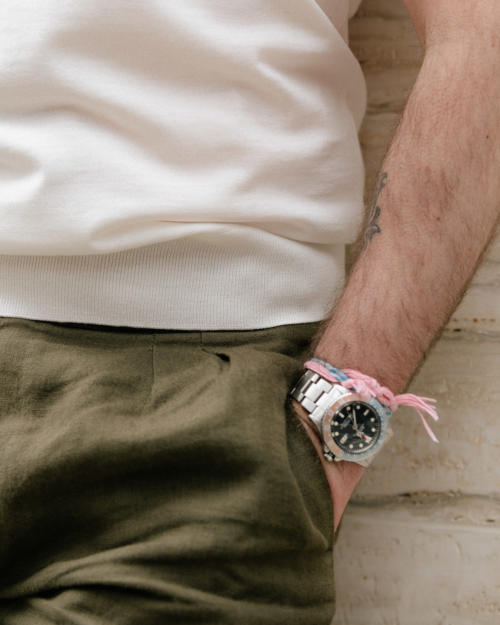 A brief word should be said on the quality of the make.
The Finest Polo is made by Umbria Verde in Italy, who also make for the best designer brands. They are simply the best in class, as can be seen by any examination of the details of the construction.
We've gone into this before, on pieces about the Dartmoor and the Finest Cardigan, and all the same elements are present on the Finest Polo. The smaller excess in the seams, the smoothness of the fashioning, the placket sewn in the same direction as the body. They're all tiny things, but they are the reason the polo feels so different when you feel it and wear it.
If you're interested in illustrations of those points, have a look at the bottom of the two previous launches, Dartmoor here and Finest Cardigan here.
PS products always aim to be the absolute finest quality there is. That means they won't be affordable to many, but then it's never possible to cater to everyone. This is our niche: offering elegant clothing that compliments tailoring, made at the same quality as designer brands but rather lower prices. (A similar make to the Dartmoor sells for over £600 elsewhere.)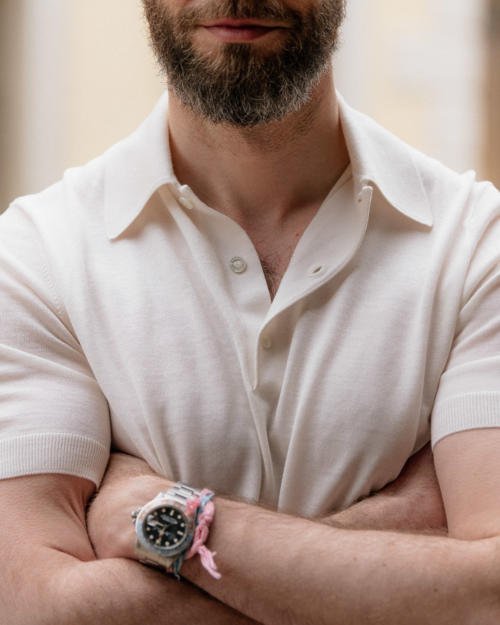 The Finest Polo is offered in navy and cream. These, for me, are the most versatile colours in knitted polos like this: navy goes with every colour of pale trouser, cream with every dark trouser.
I particularly enjoy the navy with the white or natural-coloured linen trousers I wear a lot in the Summer (such as the Casatlantic pair pictured higher up). And the cream with many colours of sports jacket as well as with trousers in olive, dark-brown or black (shown with olive-linen shorts from Anderson & Sheppard).
In the other outfit I'm also wearing the navy with a seersucker suit from Dalcuore, a combination which feels wonderfully fresh. It also shows how nicely the collar sits under the jacket.
Interestingly, I found with that outfit that both brown and black Sagans looked good, with the black just a little smarter and perhaps edgier.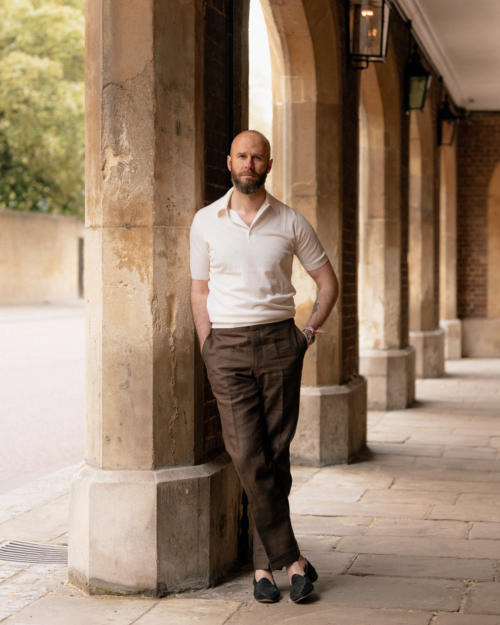 Above, you can see the cream polo with the brown-linen trousers from my Sexton suit.
Interestingly, this is one of my favourite colour combinations - cream, brown and black - but whereas last Winter I showed it in flannel, cashmere and cordovan, this Summer it's linen, merino and cotton.
The shot below is also good at demonstrating how nice a brown suede blouson or overshirt is with the cream polo. That one is a very lightweight, unlined model from Rifugio.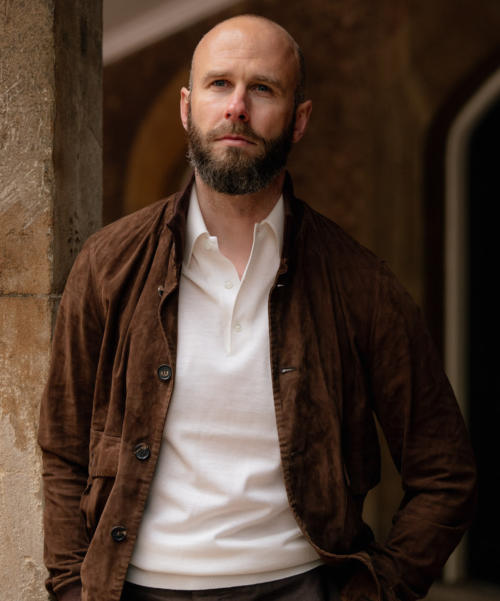 Care
This is not a regular cotton-piqué polo shirt. It cannot be chucked in the washing machine and tumble dried. It is more akin to a fine dress shirt, which needs that bit more care and attention.
The Finest Polo can be washed in a washing machine. But, as with all knitwear, only on a delicate/wool setting. This will usually have the lowest level of spin, 30-degree heat, and minimal agitation during the cycle.
You can also put the knit into a shirt bag or string bag, as is often used for delicates. But this is less of an issue than with heavier knitwear. Wool detergent is the same: nice, but not required.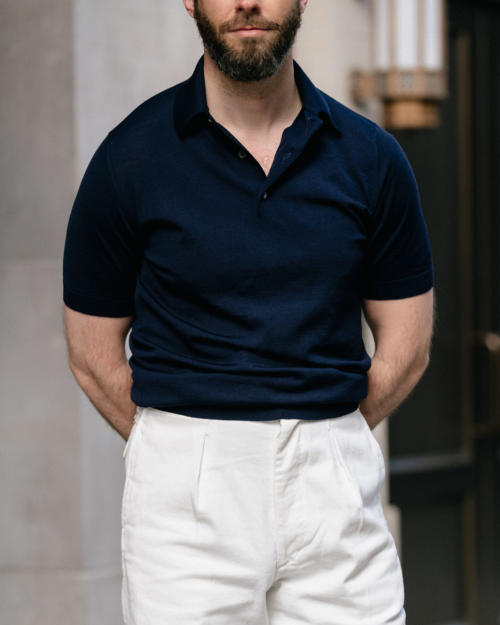 This also goes for drying. You can dry it flat on a rack, as is usually recommended for knitwear to avoid it stretching. But actually it's so light that you can drape it over a washing line or wherever you hang your shirts. I've done that with my Smedley polos for years and it works fine.
If the body is a little wrinkly after drying, or the collar a little out of shape, iron it lightly with a cloth on top. I don't always bother to do so though, given the wrinkles quickly ease out as you wear it.
One other advantage - unlike a cotton shirt, I find I can wear this polo for at least two days before it needs washing. Perhaps not in the hottest and sweatiest of weather, but it never takes on odour in the same way as cotton.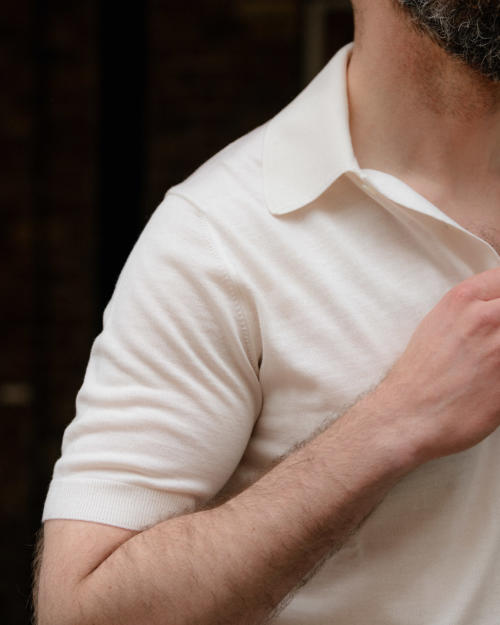 Ordering
The Finest Polo is available on

the PS Shop now here

, priced £185 (plus VAT). Remember, it's fine merino knitwear, just with shorter arms - not a cut-and-sew cotton polo.

It's available in navy and cream. The cream is cool, more ecru not yellow.

It is made in fine high-twist merino wool,

by Umbria Verde

in Italy, and distributed from the UK.

As with all PS products, we offer free returns and exchanges, so feel free to take two sizes to check the fit, and return one.

Shipping is charged transparently, at the cost of the courier, rather than being built into the price.

The polo fits slim. The best way to tell which is right size for you is to compare the measurements to a polo you already own. Please do so.

In the pictures I am wearing a Medium.
Measurements
| | | | | |
| --- | --- | --- | --- | --- |
| Size | S | M | L | XL |
| | | | | |
| Length | 65cm | 67 | 69 | 71 |
| Chest | 48 | 50 | 52 | 54 |
| Shoulders | 38 | 39 | 40 | 41 |
| Bottom width above rib | 43 | 45 | 47 | 49 |
| Sleeve length | 25.5 | 26.5 | 27.5 | 29 |
| Bicep | 16 | 17 | 18 | 19 |
Photography: Alex Natt @adnatt