The Finest Polo back in stock, with grey, with notes
The Finest Polo - the elegant, knitted summer polo shirt - goes on sale again today, with a new mid-grey colour alongside the navy and cream.
And I wanted to take the opportunity to talk about the wear and care of it, as there were a few questions back and forth with readers last year.
The first thing to remember is, this isn't a rough-and-ready shirt like a more standard, pique polo. It's not designed for sport in the park, or chucking in the tumble dryer.
But it's also not a delicate piece of cashmere. It's knitwear, but you can wash it in most washing machines on a gentle/wool setting, at a cool temperature, and hang dry. Just like the dress shirts you might buy with the same overall idea of elegance.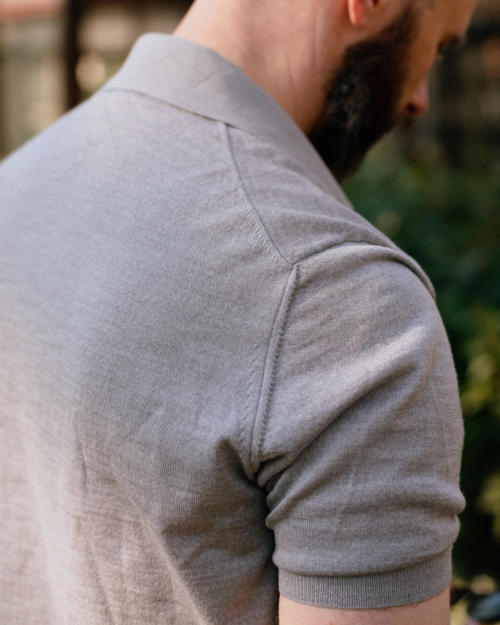 Like quite a lot of knitwear, when it dries the knit may have compacted a little (though not felted) making it look wrinkled and perhaps seeming to have shrunk a bit.
This all drops out when you wear it. The fibres stretch out again, and the wrinkles pretty much all disappear. It's a similar 'reshaping' that I mentioned when talking about the Tapered T-shirt last month.
I sometimes iron mine - particularly the collar - if I'm dressing more smartly. But often I simply put it on again when dry, and let it reshape on me.
I wanted to talk about this because I love my Finest Polos, and feel the genuinely offer something different for smart menswear. (You can read other reasons, such as the make and collar, on the original launch post here.)
And of course the nice thing about PS is that, unlike a bigger brand, these are clothes I actually wear every day, and can talk about from personal experience. I try them, tweak them and then live in them, whether it's robust PS oxfords or refined Dartmoors.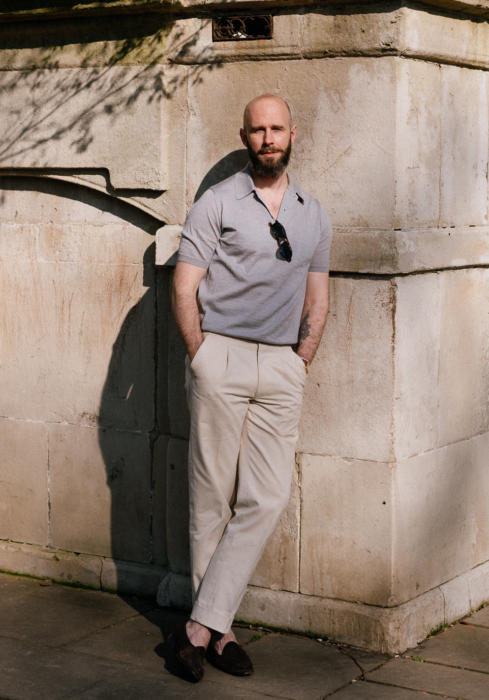 Right, so with that out of the way, here's the new grey.
It's deliberately a mid- to light shade, which looks nice and summery but also sits well with a range of colours. It's the grey you can wear with everything from sugary pink-linen trousers to washed-out mint-green shorts.
Of course, me being me, I'm wearing it here with more neutral colours: cream cotton trousers and brown-suede loafers. Swappable to white canvas shoes for something (a little) sportier.
The trousers are the ones from Dalcuore in Drapers cotton first shown here. The loafers are a classic Baudoin & Lange Sagan, and the canvas shoes are my 45R pair covered here.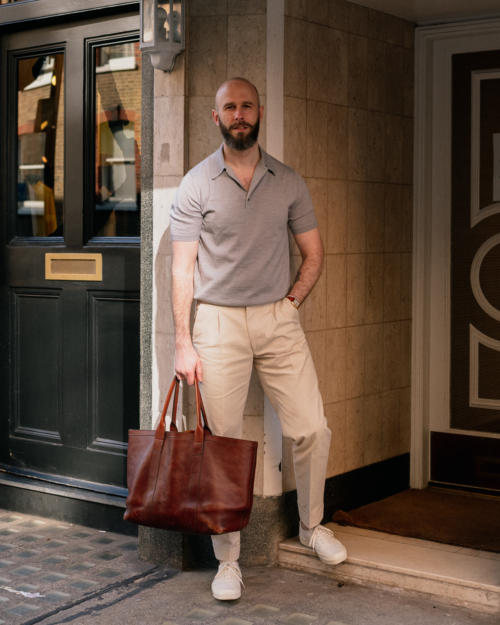 A few readers also asked last time whether I'd wear the Finest Polo with jeans, and the answer is no, not really.
It's designed to be the finest, smartest version of a short-sleeved polo. So it doesn't go with everything, even if I'd wear it with tailored trousers, smarter chinos, and some shorts too.
Although a lot of the PS products are pretty versatile, they're designed to fill niches of clothes I want to wear, and there are lots and lots of more standard pique polos. (There's a round-up piece coming up on those, actually.)
So not with jeans. But yes with anything vaguely smart, from a bespoke blazer to a linen overshirt.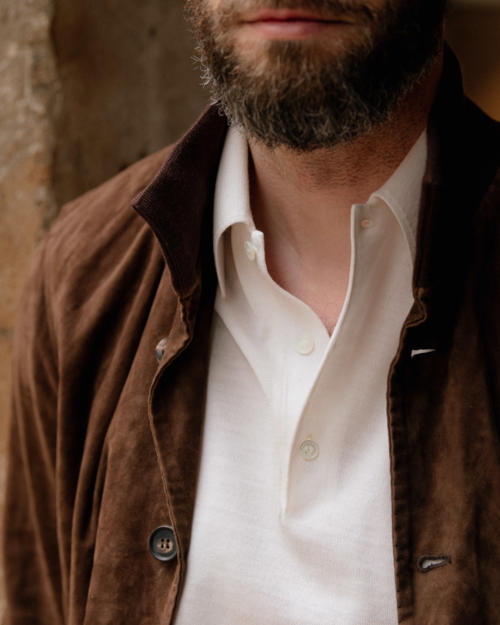 Also, while we're on the subject, wearing a smart polo like this with jeans is not an example of 'high/low' dressing, as another reader suggested.
High/low is about greater contrast, to the point of being unexpected and even startling in its combination. It often works best with things like shoes and outerwear.
If I was going to wear a polo shirt with jeans, personally, it would be something still knitted but not as fine and so not as formal, like the Colhay's tennis polo.
That is a regular-weight sweater, so it's not really a high-summer piece. But then most people wouldn't be wearing jeans in high summer either.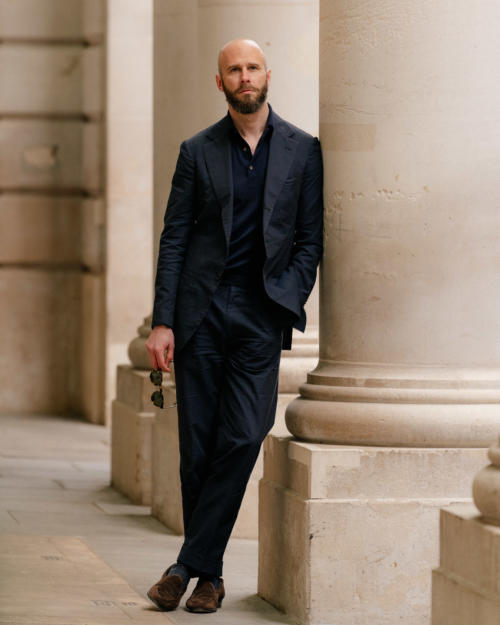 I also want to talk about price, as we're having to put up prices slightly on a few things this year.
This purely reflects the costs we're getting from manufacturers, and often comes straight from their raw materials.
There have been many interruptions to trade recently, most obviously Covid, and everyone has been struggling to get back to speed. Even now you'll see delays on when Spring/Summer stock is coming into stores. But the simple costs of leather, cotton and wool at the top end of the market have also increased substantially - in some cases by 30%.
We've always aimed to be fair and direct with our prices, openly explaining when they have to change. The Finest Polo has gone up in price by £10, purely to reflect these factors, and there will be a small number of other increases as well.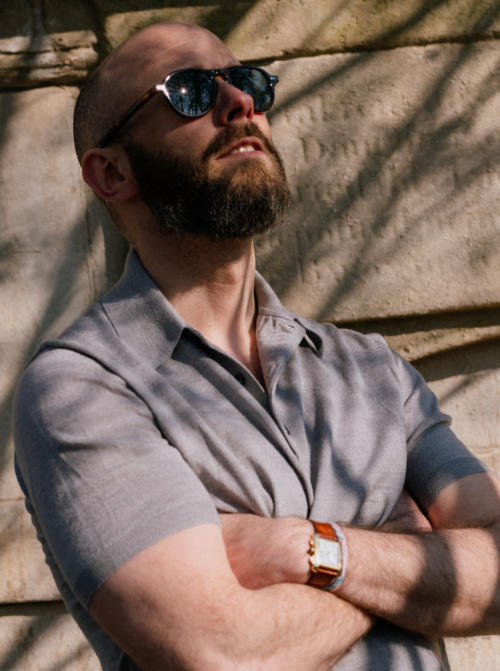 I have to say, the Finest Polo is one of the things I'm most excited about wearing again this summer.
Given I like a collar, and something that looks smart but subtly so, it fits perfectly into my wardrobe. I can chuck it on with a good pair of trousers, and then think about whether I'll be wearing a jacket, an overshirt or a bomber, in a classic navy or something more adventurous.
I've added all the product descriptions and sizing below again, from the launch article. But please shout if you have any questions at all.
The Finest Polo is available here, in navy, grey or cream.
Details
The Finest Polo is available on

the PS Shop

, priced £195 (plus VAT). Remember, it's fine knitwear, just with shorter arms - not a pique cotton polo.

It's available in navy, grey and cream. The cream is cool, more ecru not yellow.

It is made in a fine high-twist merino wool, which means it can be knitted openly, to allow lots of breathability, is anti-bacterial, and keeps it shape better than cotton.

I find I can wear it, as a result, in very hot and humid conditions.

It is made

by Umbria Verde

in Italy, one of the finest makers in the world. Have a look at the seams and compare them to something more regular, like a Smedley.

The polo fits relatively slim. The best way to tell which is right size for you is to compare the measurements to a polo you already own. If in doubt, though, I would take the larger size. Looser and relaxed is more elegant than skinny and tight.

In the pictures I am wearing a Medium.
Care
This is fine wool knitwear, and needs care as a result. But you should be able to wear and wash it as many times as you want.

Although, I find that being wool, it takes on odour much less than cotton, and I only have to wash it every two or three wears.

Wash by hand or on a wool setting in the washing machine. Really, a soak in warm water and soap is all it needs.

Dry on a rack, either flat or draped over. You can also roll it in a towel after washing to remove most of the moisture.

After washing, the polo will be a little wrinkled (like most knitwear) and appear to have shrunk a little. This slight 'compacting' of the fibres comes out with wear.

Iron, if you want to remove the wrinkles and have a sharp collar, on a wool setting or with a cloth/tea towel on top of the polo.

Store folded, like other knitwear.
Measurements
| | | | | |
| --- | --- | --- | --- | --- |
| Size | S | M | L | XL |
| Length | 65cm | 67 | 69 | 71 |
| Chest | 48 | 50 | 52 | 54 |
| Shoulders | 38 | 39 | 40 | 41 |
| Width above rib | 43 | 45 | 47 | 49 |
| Sleeve length | 25.5 | 26.5 | 27.5 | 29 |
| Bicep | 16 | 17 | 18 | 19 |
Other pieces featured: Large working tote from Frank Clegg in chestnut, Cartier Chronoflex tank watch in yellow gold, and Californian model sunglass from EB Meyrowitz in dark-brown acetate.
Photography: Alex Natt @adnatt