Umbria Verde knitwear: Factory visit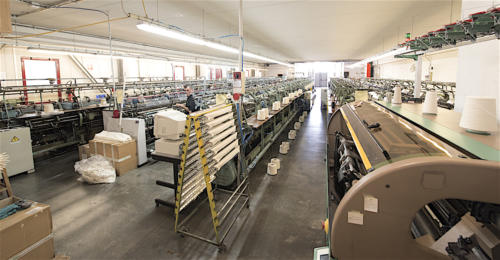 Bang in the centre of the country, Umbria is often referred to as the 'green heart' of Italy.
A fertile, forested region, it is known for its truffles and wines - and is where several of the best Italian knitwear factories are located.
Umbria Verde, which has been there since 1959, is named to reflect this tradition. And it does its best to reflect the name in its practice too - electricity from solar panels, reused water and so on.
This is not a glamorous atelier, however. Unlike the slightly unreal-feeling factories of Cucinelli, or even Zegna and Santoni, it is an obviously industrial space.
Noisy looms run the length of the hangar-like structure, with offices in the floor above.
Although the countryside is lovely (and they produce their own olive oil - as many in the area do), inside is all busy practicality.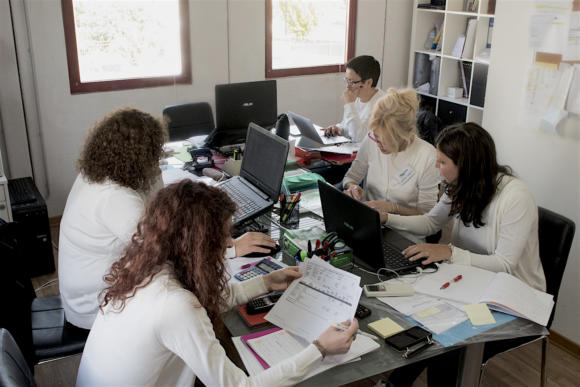 Simone Mattioli runs Umbria Verde today, having taken over from his father, the founder (below).
Mattioli senior was the first in Italy to import an English cotton loom in the 1950s.
As with much between the industrial revolution and then, England dominated the production of such machinery - though no more.
That loom became the foundation of the business, and he gradually added more over the years, importing and (importantly) often modifying them.
In the factory today, the oldest loom dates to 1964, and the youngest to 1974.
A particularly unusual one is from Protti (now closed), with a long 2.5-metre bed. The team found it in Bulgaria.
Needles and some other parts are replaced every four years - with the last such manufacturer in England, based in Leicester, under contract to carry on supplying them for the next 20 years.
As with other factories we have covered, it is easy to assume that a factory has access to any technique it wants, and merely has to decide which is the most efficient.
But actually there is great inertia at a manufacturer - as investing in new machinery is hugely expensive.
Often hand techniques (eg hand linking for socks) are kept only because the process of transitioning away from them takes hundreds of thousands in investment, and therefore many years.
And the best machinery might even be the older stuff, not the new (eg. with benchmade shoes).
There, you can't even buy the best, but have to wait until it becomes available.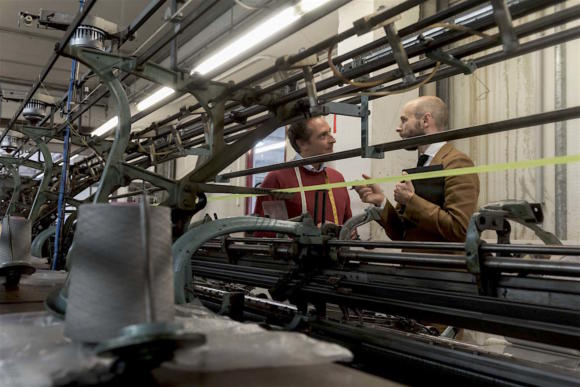 Umbria Verde's modification of its machinery is important both because it has led to its trademark production - 37-gauge knitting - and because it reflects the general attitude of innovation.
"Somehow it has meant that we are always pushing at what is possible," says Simone (above, in the red sweater). "Always asking how we can make things finer but stronger."
Examples are the production points on our Finest Knitwear: flattening of knots, hand-sewn points, widened fashioning seams.
You can read more details on our original post on the knitwear here.
In another comparison to factories we have visited, it is interesting that as with mills such as Pennine in Huddersfield, Begg in Ayr or Vitale Barberis in Biella, the finest craft at Umbria Verde is the repairs.
At a mill, which is weaving rather than knitting, any imperfections in the cloth have to be repaired by knotting in a new piece of yarn and weaving it through the cloth.
It is done under a microscope, and in stark contrast to the fast, noisy, large-scale production of cloth in the next room.
Although the contrast is not as great at Umbria Verde, the process of repairs is similarly precise. For knitwear it involves darning as well - so fine that it is invisible on the finished piece.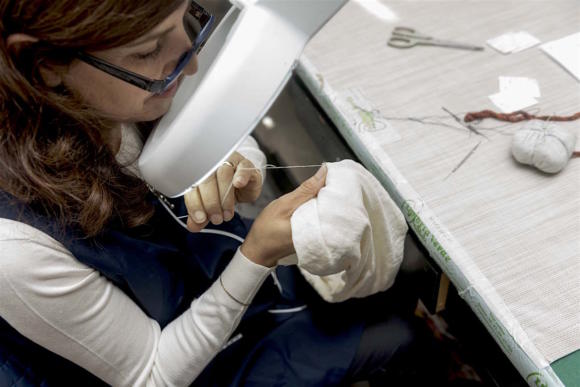 Simone is both passionate about his work and a real professional. Over the past couple of years we have built up a good working relationship, and the Finest Knitwear is something we are both very proud of.
Of course, he also works for many of the big fashion labels (we can't say who, but it hardly matters).
Here, his innovation and Umbria Verde's relatively small production help a lot with the labels' new designs and ideas.
"It's great to be able to work with everyone and anyone," he says.
"I know we're growing, but I'd like that always to be the case - it keeps your eyes open to the whole world."
The Finest Knitwear was released in its second batch last week, with a green colour added to the navy from the first iteration.
Around two-thirds have sold so far, but only one combination is sold out (green medium crewneck).
In the pictures I am wearing my tobacco-linen suit from Langa in Madrid, with a white shirt and navy grenadine tie.
Photography: Umbria Verde