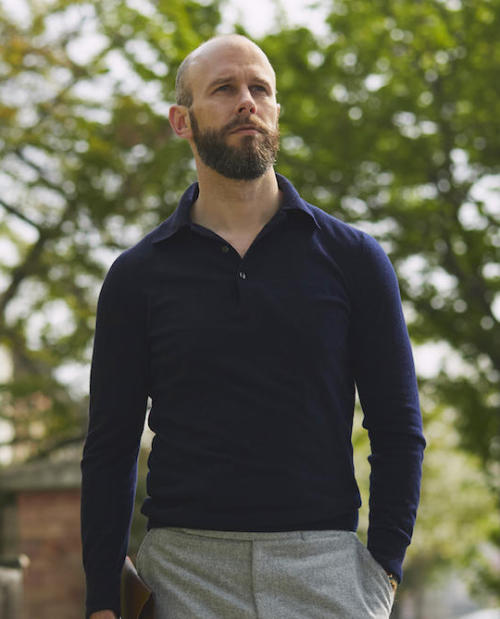 There is an outfit I regularly recommend to consultancy clients who have office jobs – professional people – where suits have fallen by the wayside.
It comprises a pair of tailored trousers (perhaps flannel), some beautiful but casual shoes (like a loafer) and a smart piece of knitwear. Over time, I've learnt that it's the last element they struggle with.
We're used to thinking about what makes a smart shirt – more likely white than denim, cutaway rather than button down – but rarely consider the same about a jumper. Largely, I think, because this type of 'smart-casual' has not been that relevant to most people. Today though, it increasingly is.
In this article I'm going to briefly run through what makes knitwear smarter or not, in order to plug this gap. Many of the principles will be familiar to regular readers, and the distinctions are quite intuitive, but not everyone is an expert and I think it will be a useful facet in our ongoing Guide to Knitwear series.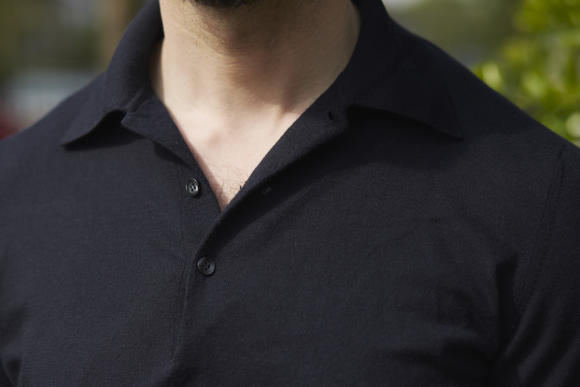 Fineness
The important element to discuss first is the fineness of the knitwear.
This is not necessarily the biggest factor in making one jumper smarter than another (that's colour) but it is up there, and it's probably the least understood.
Some knitwear is made of wool that feels thinner and smoother. Pick up a John Smedley knit or a PS Dartmoor, and it's immediately clear that this is a different type of material to a regular pullover.
The reason it's different is a combination of fibre (fine wool), ply (thin yarn) and gauge (how closely the yarn is knitted). If you want to learn more about those, you can in our more technical article here.
For the purposes of this article, it doesn't matter why it feels like this, only to see that it does. Note the attributes of the material: both its thinness and its smoothness.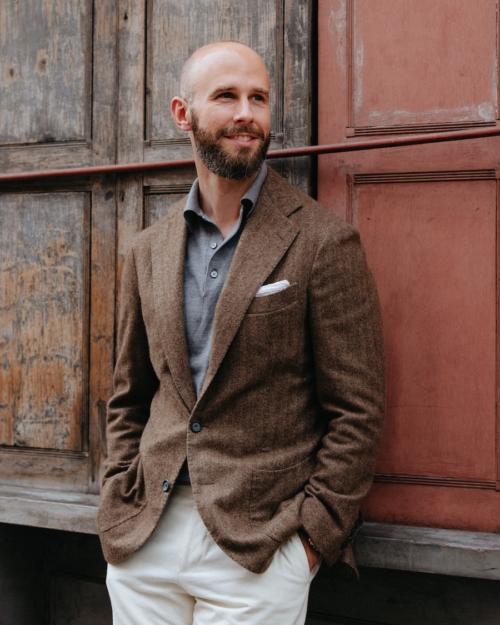 This is often referred to as fine-gauge knitwear, and is considerably smarter than other sweaters.
It is a fitting partner to a sharp worsted trouser, or an elegant bespoke shoe. Wear your regular weekend pullover with those clothes, and it's likely to look like you just dug something out of a drawer to keep warm.
It's obvious and intuitive when you start to think about it. Smart suits are finer, smoother and usually thinner than casual tailoring – like tweed or corduroy. Smart shirts are as well.
As a sweater gets thicker and hairier, it gets more casual too. Your regular knitwear is probably two ply and a thicker gauge. Shetland sweaters, with their coarser wool, are more rugged still.
Even a fine-gauge knit in cashmere and silk, rather than merino, is a little hairier and doesn't drape as cleanly. Cotton too.
This doesn't mean you can only wear fine-gauge with smart clothing. It's just the first factor to consider, in the same way you know flannels are more casual than worsteds, and derbies than oxfords.
Colour
The other factors with knitwear are simpler. They're also still similar to tailoring.
Suits are smarter when they are dark in colour, understated in pattern, and subtle in style.
In the same way, a navy or grey sweater is smarter than green or burgundy. A dark grey is smarter than a light grey. Strong, bright colours aren't really smart at all.
You don't get much pattern with knitwear, so it should be obvious than a Fair Isle pattern isn't as smart as a plain one. I can see an argument that a cable-knit, in cashmere, is particularly luxurious and just as smart as a plain. But I think that's driven by associations (thank Ralph) and quite subjective.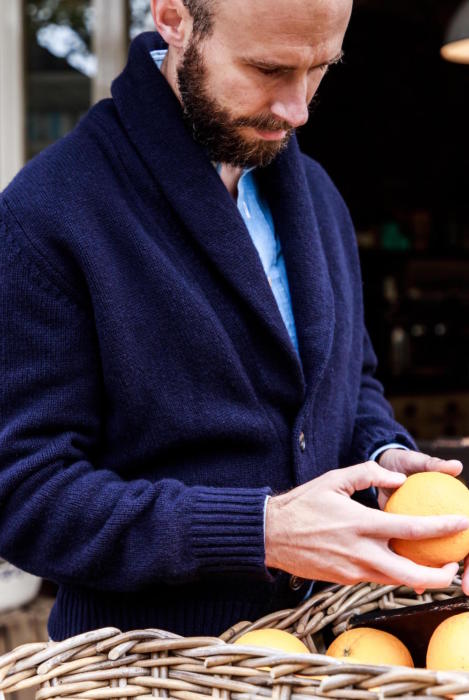 Style
I've always felt that a crewneck is smarter than a V-neck, because the chest is closed and so appears neater. But that's a minor, personal point: these two common styles of knitwear are pretty similar when it comes to formality.
A bigger difference is whether they're worn with a shirt. A shirt will always appear smarter, and for most guys it's more flattering as well. (See post on crewnecks on their own here.)
That outfit I recommend to clients usually comes with a collared knit, though. Because it looks more relaxed than anything with a shirt, yet still feels smart and professional.
And all these styles are smarter than a half-zip collar, which was designed to be sporty and always retains that look. You get zips on blousons, not on suits.
Roll necks can be very elegant, but they're not always great on their own, all day in an office. Shawl collars are more casual, but can work well in smart colours like navy, worn over something else equally smart (a shirt, knit tee or even a crewneck).
Details
There are some little details worth mentioning, even though their impact is not huge.
For example, ribbing on the end of a sleeve that is made to be folded back. This is smarter, in the same way a double shirt cuff is smarter than a single one (the principle being that seams should be hidden). But its effect is tiny compared to whether the material is coarse or fine.
Buttons on a collared knit that are darker, smaller and more precious will be smarter than the opposite: grey mother of pearl is rather than white (assuming it's not a white or cream knit) and mother of pearl rather than horn, leather or anything else.
Interestingly, though, collared knits that have no buttons usually look quite sporty. Equally if there's a single button fastening to a loop on the other side.
Finally, try and avoid any kind of logo. A suit doesn't have one, it interrupts the nice clean look of the knit, and if the brand is the most impressive thing about that particular piece of knitwear, it can't be a good sign.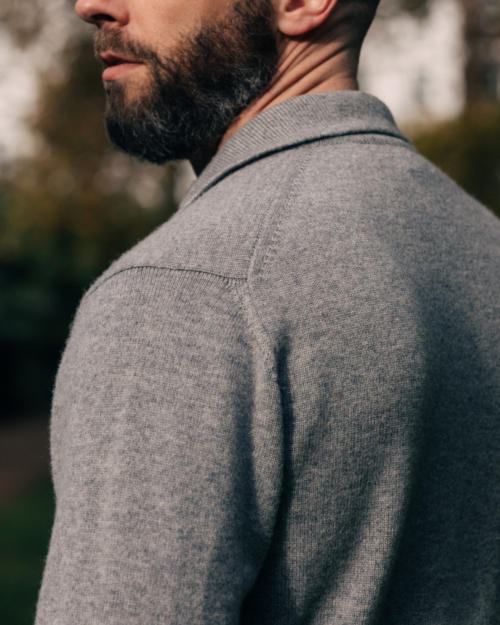 I'm sure some of this will seem obvious to long-time readers. But it deserves spelling out just as much as the sliding formality of shoes, of trousers, or of outfits as a whole, all of which we've done before.
And given the number of questions I've had in the comments about crewnecks v V-necks, or especially half-zips, it must be something a sizeable minority is thinking about.
There's a reason your colleague in his chinos and half-zip looks more casual Friday than working week, while another gets compliments in his worsted trousers and collared Smedley.
They're small details – just like the fact the trousers are pressed and the shoes are polished – but then that's what all menswear, at least smart menswear, is all about.