Navy jacket and jeans (with recommended cloths)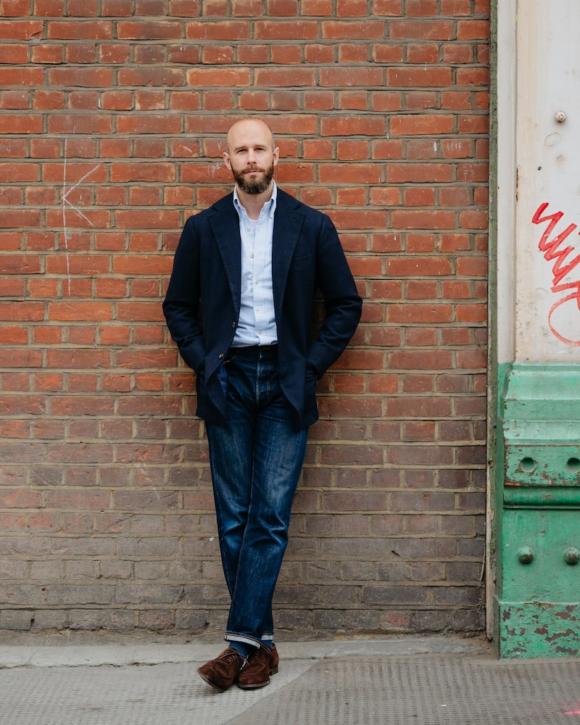 A few readers asked in our recent Complete Capsule posts about the kind of navy jacket I mentioned, that would work with jeans as well as flannels.
So I thought I'd shoot this example from Solito, which Luigi made me last year but which I've never covered.
Readers will be familiar with the reasons it works with jeans, from a style point of view.
It has a natural shoulder, without much padding and no roping - so the shoulder runs smoothly down into the sleeve. It is cut a little shorter than an English jacket would be, and is quite open in the foreparts - below the waist button.
There are also style choices I made myself, in order to make it more casual: patch pockets, brown buttons, three buttons rolling to two.
The harder thing is the material, and this is what attracted most questions from readers.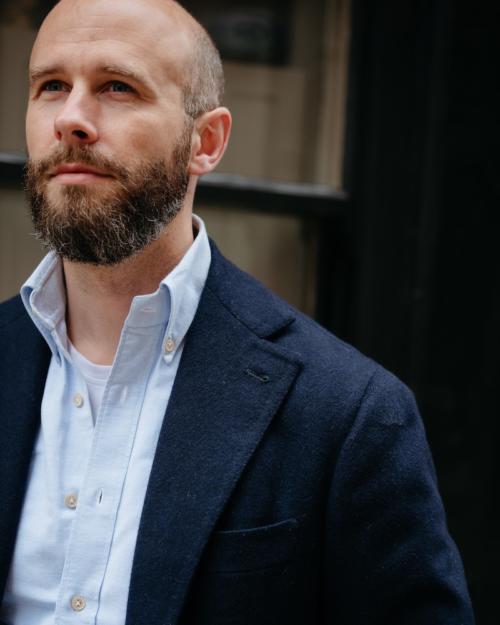 Navy is a great, versatile colour for a jacket, but being dark it is inherently smart.
So it needs a rougher material and greater texture to make it casual.
Having a pattern in the weave helps a lot with the texture: a herringbone is the most versatile - as shown here - but a pronounced twill or donegal also works.
The tricky thing to communicate to readers is what the fibre should be. Something like cashmere is too soft and shiny, and therefore smart. Tweed is the opposite: coarse, hairy, definitely casual. Which works with jeans, but some people don't like its hairiness, or feel it is a little old-fashioned.
The truth is, there are lots of interesting options in between, but they can be hard to describe. Finer woollens? Softer tweeds? There's no neat categorisation.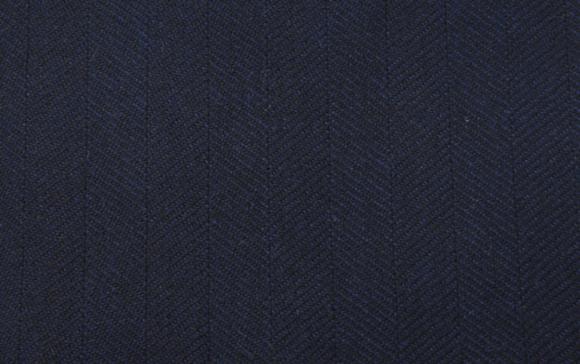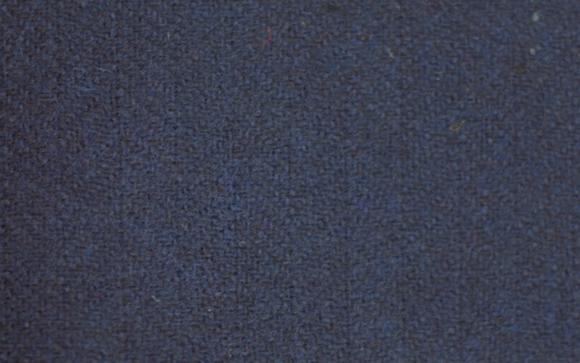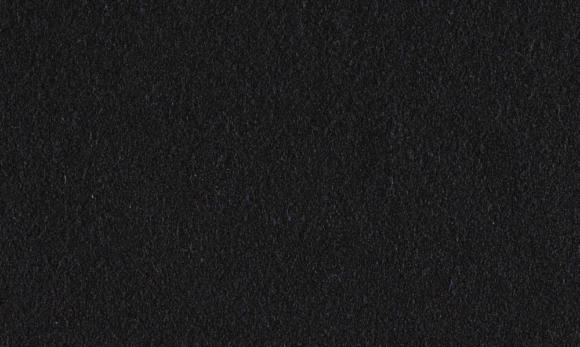 I spent a little time with the bunches at Steven Hitchcock recently, and here are a few I'd recommend.
At the softer end of the spectrum is Moonbeam from Harrison's. It's 75% lambswool and 25% angora, and I had a lovely jacket made out of it by Steven a few years ago, in grey. It still feels luxurious, but without the sheen of cashmere. It just about works with jeans. There is a nice dark navy herringbone, 35015, 10/11oz.
Another luxury option is camelhair, which isn't as luxe as cashmere (or as expensive) but still feels lovely and soft. Like Moonbeam, I think it only just works with jeans. My favourite is 4/02, 330/350g, from Piacenza (Dunes bunch).
Then there are the plain 'wools'. There is no easy way to describe these - most tailoring materials are wool after all. But these are woollens rather than worsteds, and definitely woven for jacketing. Loro Piana always has great options here, and I'd go for 667032, 370g - or 667019, 320g, which is bit more luxe as it's Super 170s and 6% cashmere.
After that things get a little hairier. W Bill shetlands are really nice - much of the feeling of Harris Tweed, but not quite as coarse or scratchy. There is a herringbone - WB12124 - that is 12/13oz and just the right shade.
My favourite, though, of these more tweedy options is from Moon. A lambswool twill around 11oz, it has a lot of texture but is quite loose and open. It's code is PL375 10/13. There are lots of other nice colours in there too, and Moon is always great value for money.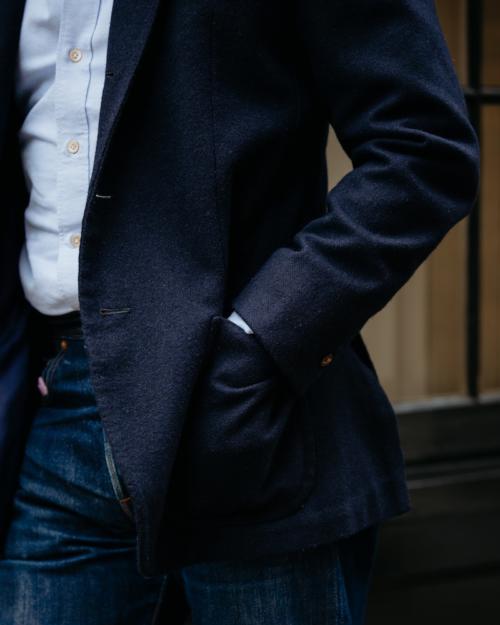 My jacket was made in a Fox Brothers overcoating - lambswool, 20/21g, TW121 / A1440 / 12.
I wouldn't recommend it for your one, versatile navy jacket though. The colour and weave are perfect, but it's very heavy for a jacket, and a little denser and solid than most jacketings.
Certainly unusual - a jacket with 'character' - but not the safest choice.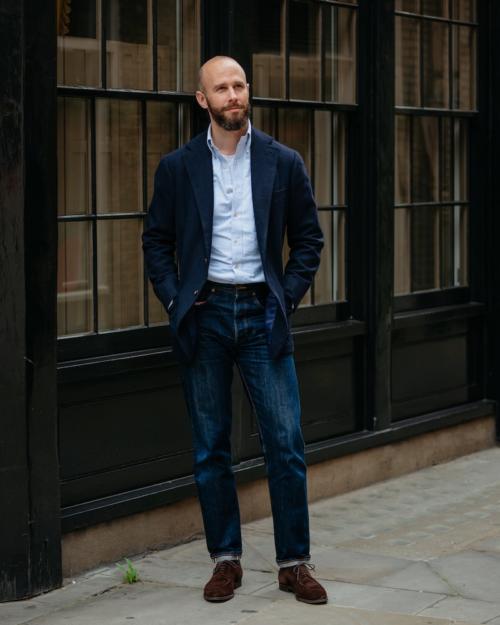 The pictures also demonstrate how I wear a jacket with jeans, keeping everything simple and casual.
So slightly tapered jeans, in a denim that, although dark indigo, has enough fading to separate it from the navy of the jacket. Anything from this to mid-blue would be fine.
A light blue PS Oxford button-down shirt: casual in its material and in its style. And worn over a white T-shirt to be even more casual. With one extra button undone. Strong opinions on that, please, on this post.
The shoes are unlined brown-suede Dovers from Edward Green. A nice halfway between smart and casual. Smart because it's dark brown, in a slim last, with a small welt. Casual because it's a split-toe and a derby, as well as being suede.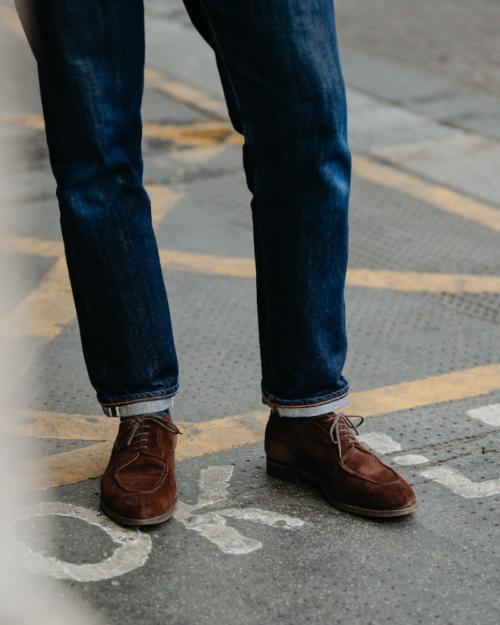 It's no coincidence that I was also wearing those shoes in my last piece on a jacket and jeans, here.
That mid-brown colour of jacket is a lot easier to wear with jeans, as the colour is so much more casual than navy. It's cashmere: but such a hairy cashmere, with a big herringbone, that it works just fine.
For those that want more in this area, there's also a good jacket-and-jeans post here. Again a brown jacket, but this time Harris Tweed. And boots that aren't that different to the Dovers, being dark brown and slim, but in a casual leather.
Brown-suede loafers would also have worked with any of these.
Photography: Alex Natt @adnatt. Below, sneakily snapping me snapping more ironwork.