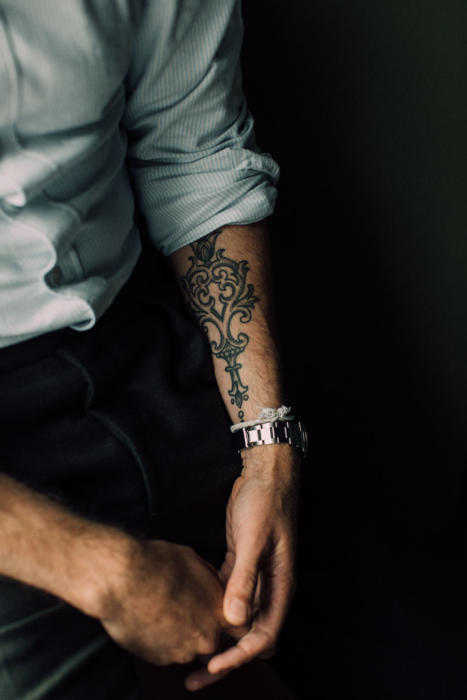 This should be a fun one. I doubt anyone will have strong feelings about it at all.
A few weeks ago I got a tattoo on my forearm, and I thought readers might be interested in hearing why.
It is something I took extremely - perhaps characteristically - seriously, and had been considering for several years.
To me, it is a deep expression of who I am, and what I value. I know it isn't how everyone approaches getting a tattoo, but I see it as something profound. In some ways it's a natural extension of how I think about decorating by body with everything else - but far, far more significant for its permanence.
(There are also small echoes of how I talk about jewellery: as something that I personally think should also be invested in, deeply considered and highly personal.)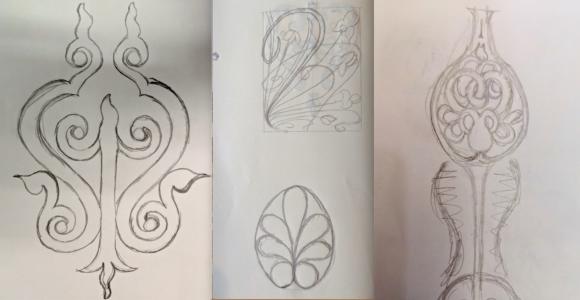 Art has always been extremely important to me. As my best and favourite subject at school, to studying aesthetics at university, and travelling around the world, always drawing and sketching.
Of particular interest from university onwards was decorative art. I was fascinated by how everyday things are decorated - from buildings to textiles, book binding to furniture.
I'm no expert, but I've read consistently over the years about different western movements like Art Deco and Art Nouveau, Arts & Crafts here in England, and other international traditions like Islamic art.
My notebooks from travelling in countries like Morocco, Portugal and Pakistan were always decorated with intricate sketches of Islamic tiles and patterns. And here in London the V&A, with its collections of decorative art, was always my favourite.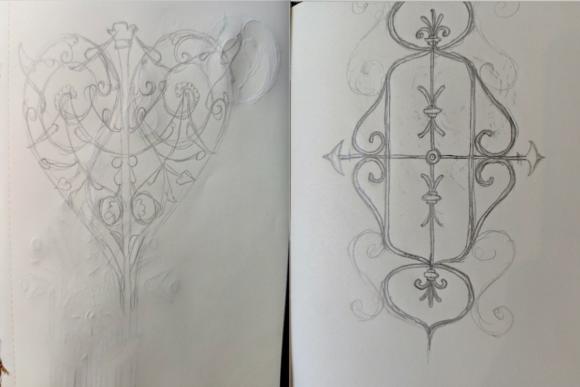 None of it made me think about tattoos as a way to express that passion, until they became more acceptable in recent years.
However, that was also one of the things that put me off. I'll tell anyone that will listen that I had a beard in 2002, long before they were fashionable. Like any snob, there are few things I hate more than the feeling I'm following a crowd.
Other things that weighed against it were:
(1) The fear that I'd regret it later in life. I make mistakes in suit choices, for God's sake. How was I going to guarantee getting this one right?
(2) The fear that it wouldn't be perfect. Less that I'd pick the wrong thing, but that some aspect of it would frustrate me – that it wouldn't be the perfect piece of art.
(3) Stereotypes and associations with the kind of people that have tattoos.
The last point is interesting, as there are some parallels with clothing. Both are intensely social, much as we hate to admit it. A lot of how we see them is dependent on who we see wearing them.
The vast majority of our opinions on tattoos are cultural associations.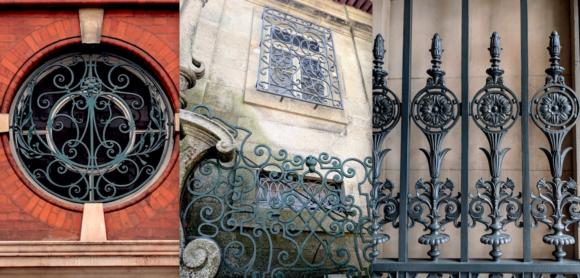 Despite all these things, over the years the idea of a tattoo as a piece of personal, artistic expression kept at me.
I compulsively took photos of decorative art that inspired me: ironwork, stonework, woodwork; gates, plinths, doors.
Particularly when travelling. The Art Nouveau doors of Brussels, Art Deco lifts in New York, painted tiles in Lisbon. And more locally and prosaically, the tombs of Nunhead cemetery.
I've regularly posted images of these in Instagram stories over the years. A handful of the ironwork ones that served as direct inspiration are shown here.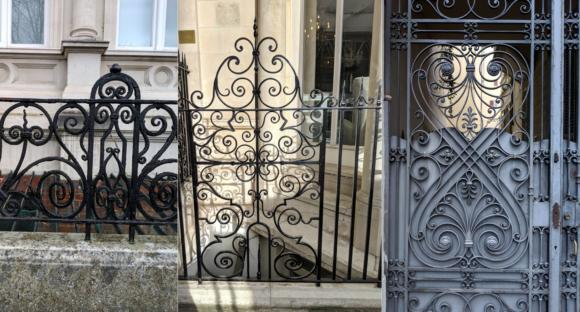 Last year, two things accelerated things for me.
First, I got to know more people that admired the artistry of tattoos, and I could talk to about it. People like Ben Phillips [at Drake's] or Ethan [Newton]. They saw tattoos the same way I did.
After a while, it just seemed silly to worry about what other people would think. Cultural associations are inescapable, but that doesn't mean you have to be ruled by them. Otherwise there would be no personal expression.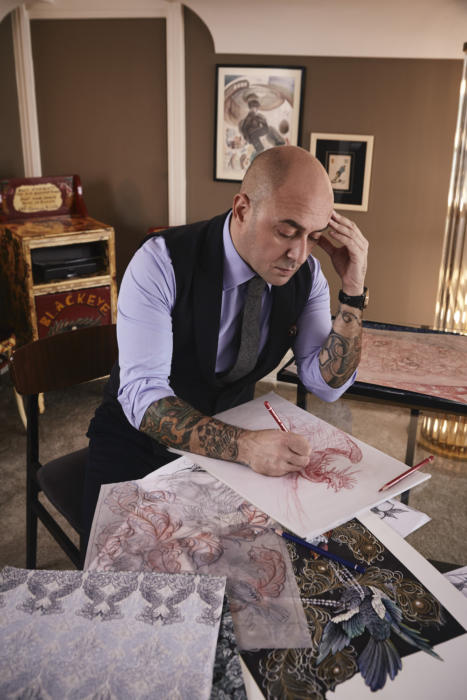 Second was getting to know tattoo artist Mo Coppoletta (above). Again, he saw tattoos the way I did; talking to him about decorative art around London was revelatory.
In fact, the biggest turning point was when I first talked to Mo about the things I had sketched over the years – and showing him examples.
My favourite type of decorative art is ironwork - because it's so robust and often goes unnoticed, yet has such cultural resonance.
It sits in the background, decorating balconies and gates, yet we would all recognise its organic shapes, often finished with the flick of an acanthus leaf.
I also liked the fact that ironwork was something abundant in London, and I could draw inspiration directly from in the city I have always lived in. Using Portuguese or Islamic tiles would feel inauthentic to me.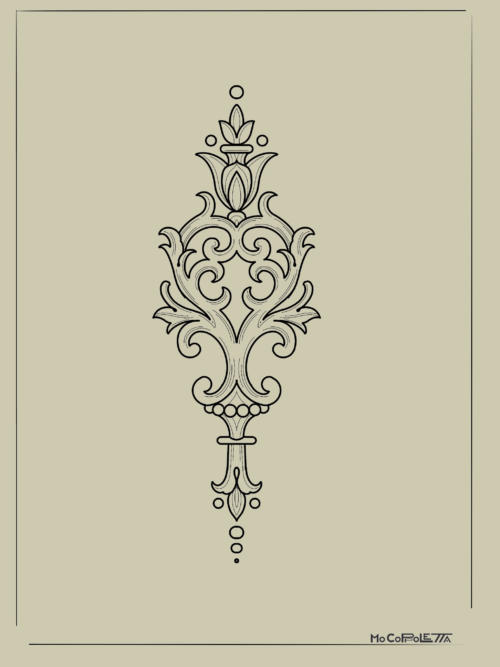 Unfortunately most ironwork works within a border. It is designed to fill a rectangular space and therefore doesn't easily stand alone – as it would likely have to as a tattoo.
But after five minutes of chatting to Mo about my ideas, he started sketched something original that was exactly right. He knew the designs and traditions so well that he could manipulate them into something perfect for me and the space. (Final design shown above.)
It was then that I stopped worrying about point 2: that the piece would be perfect.
And indeed, that was the advice people like Ben gave me time and again: find an artist that inspires you, and let them do the work. Don't pretend it's something you can do yourself.
So a few months ago Mo and I began trading ideas and potential designs. Then I booked in for a couple of hours, and spent a very pleasant afternoon listening to Junior Wells while he scarred me for life.
It hurt, but only as much as it should do, for something irreversible.
And now, two months afterwards, how do I feel? I'm very proud of it, though there have been flashes of panic.
There was one around a month in, when everything had healed and the buzz had worn off. And I suddenly caught a glimpse of it in the mirror and thought: motherf**king hell, I'm going to have this thing on me for the rest of my life.
But then it settled down. It becomes part of you, and part of how you see yourself.
Would I have got one if I was still in my old, much more professional job? That's an interesting question, but I think I would. Just on the upper arm, not the lower.
I deliberately had this piece in a place where I could choose whether to reveal it or not: rolling up a shirt sleeve, wearing a T-shirt. In another job I might have had it higher so it would only show with a T-shirt.
But I always wanted it to be something that would be on display. That felt like part of the point of the expression - perhaps again a little like clothes. I don't express myself through my choice of underwear.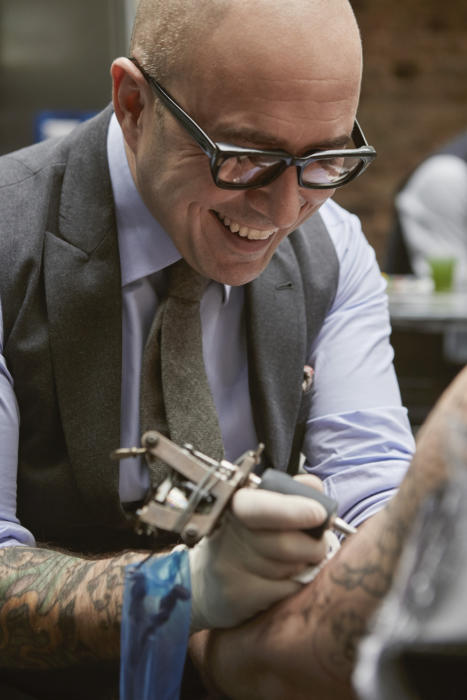 Next most common question: would I get another one?
Probably, yes. The thrill of it (perhaps largely a sense of irresponsibility) is great, and could clearly become addictive. I also loved the process of deciding, designing and commissioning.
But I worked out that it took me roughly five years to get this tattoo, from conception to execution. So I've given myself another five years to do the same again.
Perhaps it won't be that long, but it will stop me getting one next year.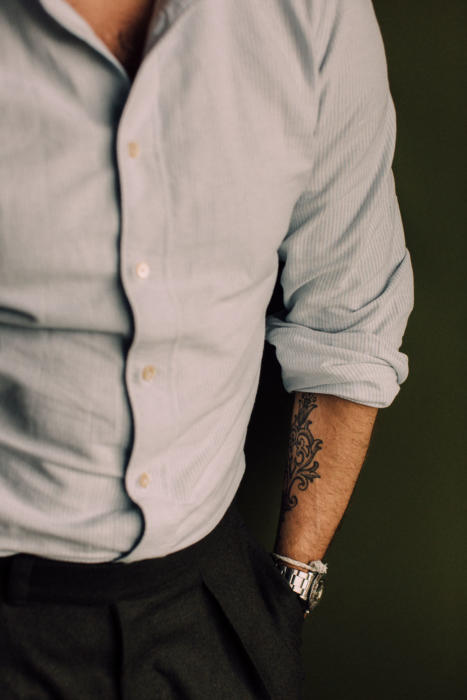 Art has always been central to my life - something I've taken immense pleasure from, and I think is still underrated in modern culture. Particularly as people spend more time glued to their phones. They need to be forced to stop, and look.
And decorative art is a particular expression of that, of a belief in the value of taste, decoration and everyday aesthetics.
That everything around us should be, not ornate, but beautiful in its natural materials, the way it ages and wears (whether floorboards, sofa or clothing) and the way we decorate it.
I've probably taken all this a bit too seriously, but then that's what I'm like. And if it's appropriate anywhere, its has to be when you deliberately scar your body.
As with posts on perfume or 'the gentleman', this post is an exception and normal service will be resumed soon. But if anyone is interested in other details, such as the artistic decisions made around size, shading and so on, I'm happy to write something else.
Mo Coppoletta is the proprietor of The Family Business (above), a tattoo parlour on Exmouth Market in London. He has also designed for Bar Termini, Liberty and others.
www.thefamilybusinesstattoo.com
Photography: Jamie Ferguson @jkf_man