Olive-green corduroy suit – from Ettore de Cesare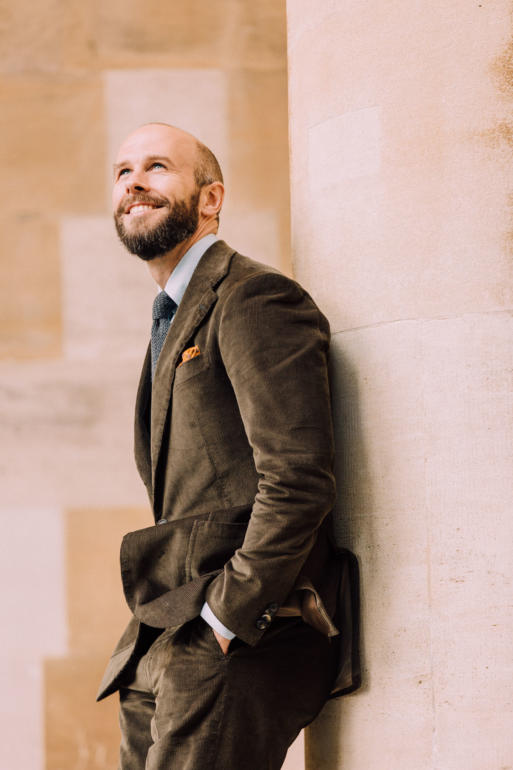 You know when you think you're not part of a trend, and then see everyone wearing the same thing? As a clothing snob that likes to think he's different to everyone else, it's very annoying.
I had admired Michael Hill's green-corduroy suit - and more importantly perhaps, the way he wore it - for several years.
So 18 months ago, while in Naples seeing Ettore de Cesare, I asked him to make me one.
I had been extremely impressed by the first jacket Ettore made for me (a navy hopsack) but a couple of the style things weren't right, most obviously the length.
My fault, probably, but in the interests of this site I do like to see what a tailor will do as their default style, before trying to change it too much.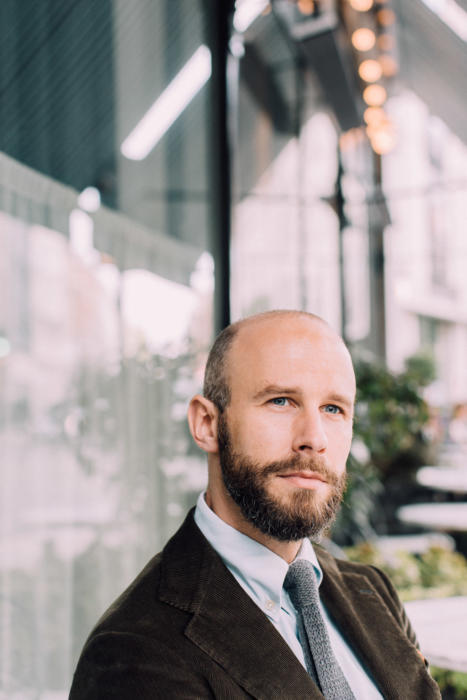 Then as soon as I received the suit, two months ago, I began to see green corduroy everywhere.
Trunk with De Bonne Facture has pieces in it; Drake's with Capalbio has a collab jacket in it. It doesn't help that corduroy itself is having a bit of a fashion moment, and this dark green is one of the three or four colours you'd make tailoring in.
Never mind. I was confident I hadn't opted for cord out of a desire to be fashionable.
After all, I'd admired Mike's for years, and the honey-coloured cord suits I have from Pirozzi in Naples and Anderson & Sheppard have been consistently worn and loved.
In fact that A&S one is six-years-old now - and the subject of one of my favourite photos from Pitti back in 2013, with Luca Rubinacci, eating a dripping, nut-encrusted ice cream.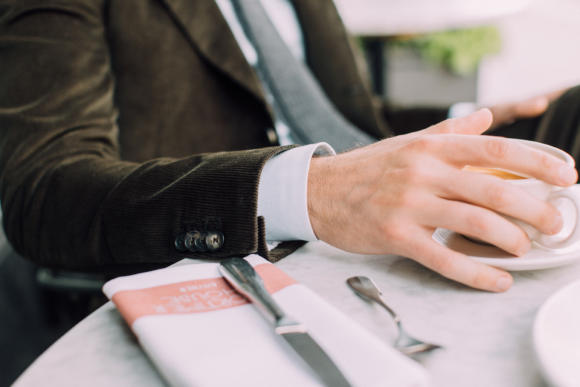 I have also found corduroy to be very versatile in that time - as the best example of what I called a 'three-way' suit.
Such a suit, which can be worn as a separate jacket, separate trousers or all together, usually works best in casual materials, and cord is the best.
This green can certainly work in that regard. Indeed, I've already set aside some more to make a second pair of trousers.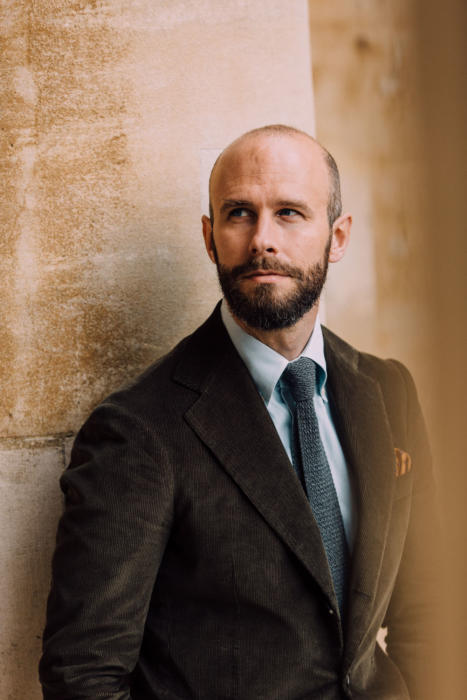 The fit from Ettore was very good again. Unpadded shoulders that nonetheless sit very cleanly all the way along their length.
Nice suppression through the waist, with just a little extra room for corduroy (given it has no natural stretch). And the jacket 3cm longer than my first one.
The only thing I might change is having a slightly wider sleeve.
I've never quite understood why guys think a skinny sleeve looks more flattering or manly than a large one. It's not going to make you look thin if you're fat, or muscly if you're skinny.
The slimness with my sleeve is marginal, however, and it does have the happy but unintended effect of adding extra wrinkles to the elbows.
This is what you want with corduroy. It looks best as it ages.
The cloth is 501281 from Scabal, 380g or 13.5oz in weight.
That's relatively heavy for cord, but it doesn't feel heavy at all. Certainly fine for everything but high summer in England.
The colour was the crucial thing though - that deep, muted olive-green. I looked through lots of other bunches trying to find tit in the right wale and without stretch.
The only other candidate I found was Dark Olive 304 from the T1 bunch at Brisbane Moss. But I marginally preferred to the colour of the Scabal.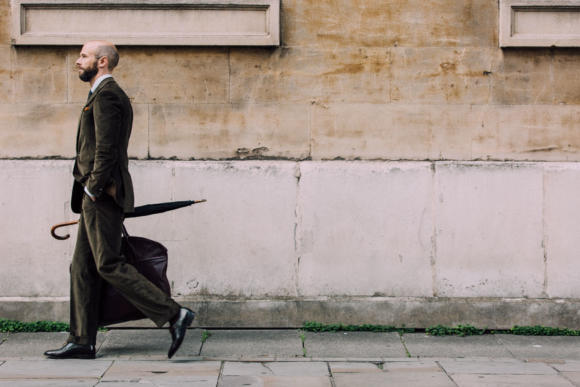 I'll wear this cord suit mostly with other matte, casual materials.
So suede shoes, knitted ties, button-down shirts. The refined geography teacher - elevated by the cut of the suit, the waist of the shoe and so on.
Here it is worn with my button-down shirt in the Lighter Denim fabric, a knitted-wool tie from Hermes that I like for its slightly unusual knit pattern, and a burnt-orange silk handkerchief from Ralph Lauren.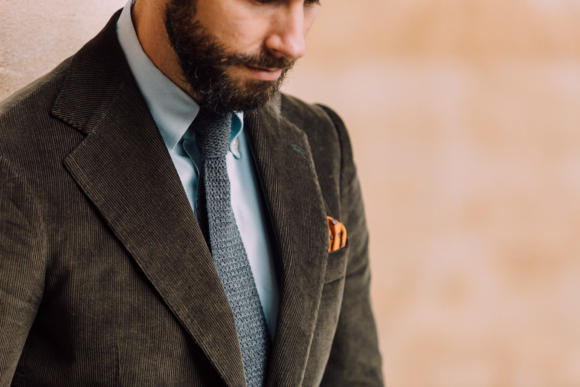 A grey tie here is quiet, and makes a nice supporting partner for stronger colours, like that orange. A navy tie looks great too, but is stronger and doesn't provide the same support.
The burgundy socks from Bresciani I also find are a nice compliment to the green, although overall perhaps there is then a little too much colour going on.
Maybe green socks would have been better, unless I lost the handkerchief.
The suit bag is from Rubinacci and the umbrella Michel Heurtault.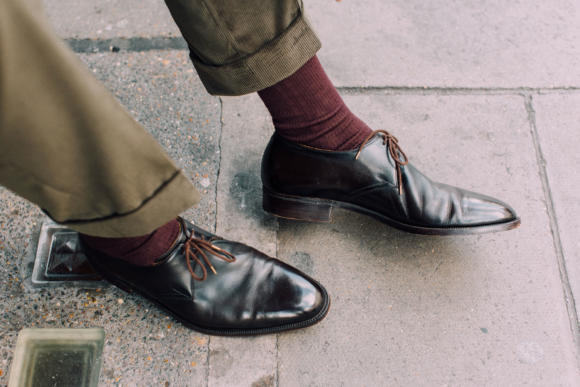 The shoes are from Philippe Atienza in Paris - his new bespoke-made ready-to-wear line.
Given I don't go to Paris often, this was a nice way to try Philippe's shoes, and the fit is very good apart from a little too much fullness across the vamp.
I like the elongated, round-toed last. It has a definite French pointiness to it, but less pronounced than Berluti or Corthay.
The brass aglets on the end of the laces are made by Philippe himself, in a vintage machine he has in the atelier. More on that collection of machinery here.
Photography: Jamie Ferguson