Why I'm wearing more belts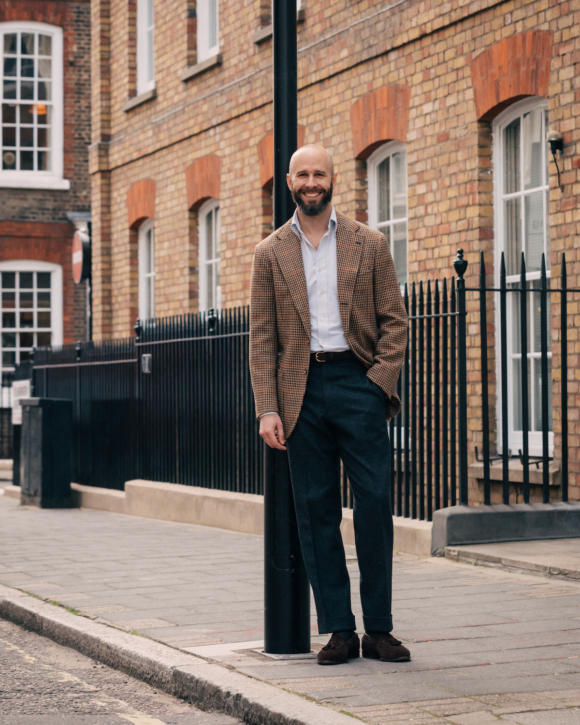 In recent months I've been wearing belts more often, after years of hardly doing so at all.
I never wore them with tailoring, preferring the clean, elegant look of an unfettered waistband with side adjustors.
And I didn't even wear them with jeans, as I felt it looked more chic and relaxed. In fact, a woman once made the mistake of telling me it looked sexier, which as many readers will know is more powerful than any menswear rationale.
My view on jeans hasn't changed (fortunate, as I actually had the loops taken off some pairs) and I'm not sure I will ever wear them with suits; why so many Italians in otherwise elegant suiting cut themselves in half with a thick piece of leather is beyond me.
But I increasingly like belts with sports jackets and trousers, which like many others I'm wearing a lot more these days. (We touched on why in this article.)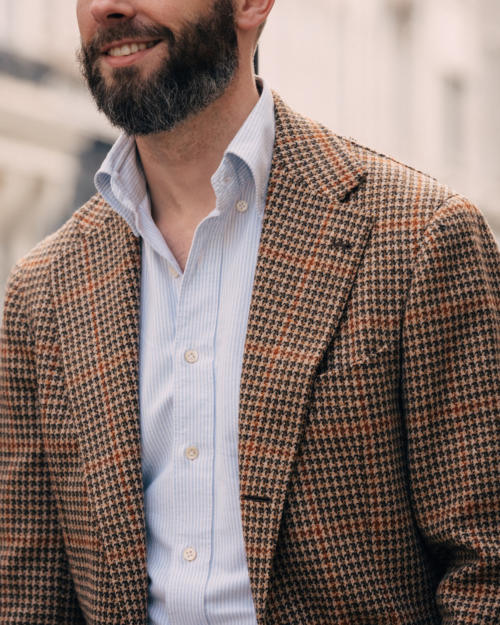 So why the change? Well, because otherwise with a jacket and trousers there is often not much else going on.
It rarely feels appropriate to wear a pocket handkerchief anymore (article on that here) and a tie feels increasingly formal. In their absence, a belt is a useful option.
You're not going to wear a belt in the same colours or patterns as a tie. Something is still lost there. But a belt does give a jacket-and-trousers a focal point, and gives you the ability to play with different materials and textures.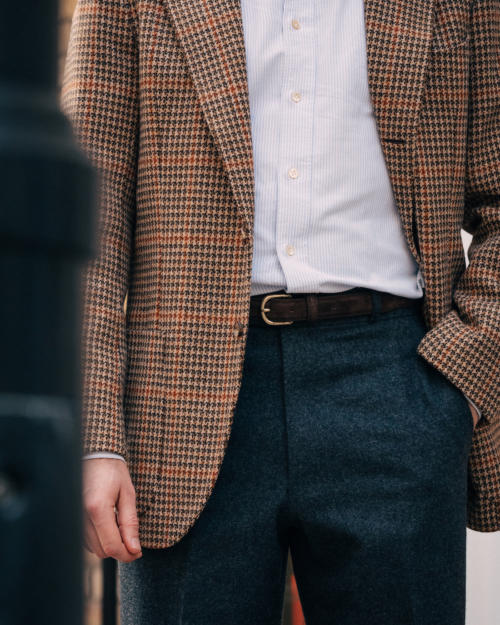 I've used the outfit here to show that even when an outfit has a fair amount going on, a belt adds significantly to it.
This is my gun-club check from Ciardi, with a striped PS Oxford button down. You'd rarely have much more pattern in an outfit, but still the suede belt (from Rubato) is a nice touch. You could even say it ties the outfit together.
It's also pleasing that the belt is central, rather than off-centre - more like a tie than a handkerchief. (Although I won't talk about what it encourages the viewer to focus on, given a tie is meant to lead the eye towards the face…)
If the outfit is plainer - say a twill oatmeal jacket and a white shirt - the effect of the belt is greater still. And it's also nice with just knitwear and tailored trousers.
I'll show more outfits like that in the coming weeks.
To illustrate how different belts can change an outfit, I've shown a few different options here.
Above is a brown suede belt from Silver Ostrich. It's the same leather as the Rubato, but very different due to the Western-style buckle. It's less formal than the simple suede, perhaps younger, and certainly more of a look.
With the Rubato, by the way, I like that the belt is slim (one inch), has a stitched edge (making it look slimmer still) and has a simple, small buckle. All those make it look more formal and more contemporary. Thick belts with thick buckles are better with denim, if anywhere at all.
The next option, below, is an alligator belt - made by Equus in the UK. Actually, Charlie salvaged this one for me from a much thicker, wider belt I was given by Zilli years ago.
It's nicer as a one-inch belt, although in retrospect I should have asked Charlie to stitch the edge too, rather than just ink it.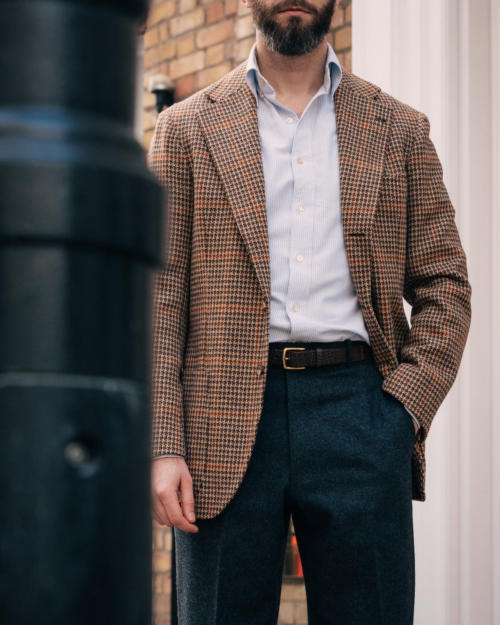 The last option, below, is probably the most common: a leather braided belt.
Braided belts are very practical, given they can be fastened at any point in the braid. They're also often softer than solid suedes or leathers.
The only disadvantage, I think, is they can seem a little old fashioned - the kind of thing Drake's would have fun with, undermining those associations with playful textures and colours.
I know some people dislike braided belts for this reason, and if you're one of them, I'd recommend a plain, slim suede like the Rubato for a smart look, or a braided suede for a casual one (article on my one from Sergey @tightly_stitched coming soon).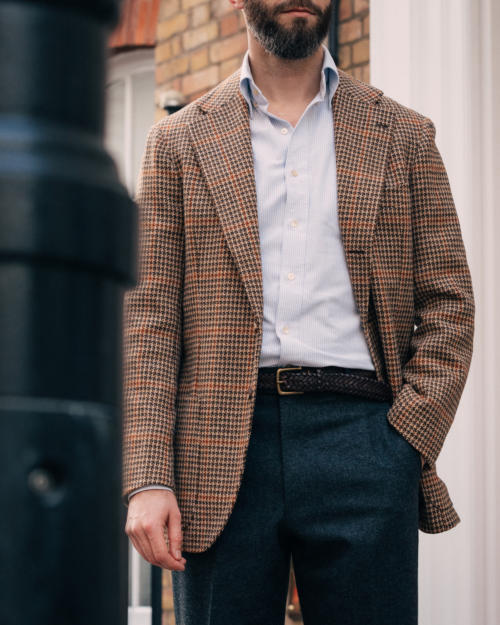 The point of these different combinations, though, is that a belt can change a look.
All of these are dark brown, all fairly plain, but they range from standard-to-the-point-of-stodgy (braided leather) through simple-but-elegant (suede) to definitely-going-to-be-noticed (Western).
However, what if none of your dress trousers have belt loops? Well, I had loops added to these flannels by Whitcomb & Shaftesbury. It wasn't hard, it just requires the same fabric to be available from the mill.
Of course, sometimes the same fabric is theoretically available, but it's a new piece (batch) and the colour is slightly different.
So far I've haven't found this has mattered. Not just with dark greys like the flannels here, but with lighter ones too. I can imagine, though, that it could be a problem with very pale colours or much stronger ones.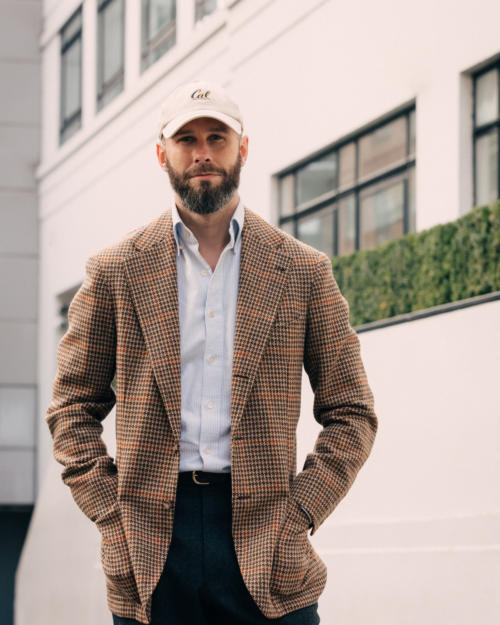 The real issue I've had is deciding which trousers to add belt loops to, and which to keep with side adjustors.
Ideally I'd like a belt to be optional decoration, like wearing a tie or a handkerchief. But once you have belt loops, it looks much better if they're used. And unless the fit is absolutely right, you'll probably need the belt to keep the trousers up too.
I have seen some trousers with loops and adjustors, but it looks messy - and doesn't avoid the issue of the unused loops. There are some complicated ways to have removable loops, but they're very fussy.
So I need to decide if I'm basically going to wear belts with all my trousers, or just keep it as an option with one or two pairs. It would be far too indulgent to have two versions of everything.
At the moment, I've made the switch on these dark-grey flannels, my mid-grey ones and a dark-brown pair. Time will tell whether this becomes a fundamental part of how I dress, and I end up changing all of them.
Photography: Milad Abedi