Bespoke braided belt from @Tightly_Stitched: Review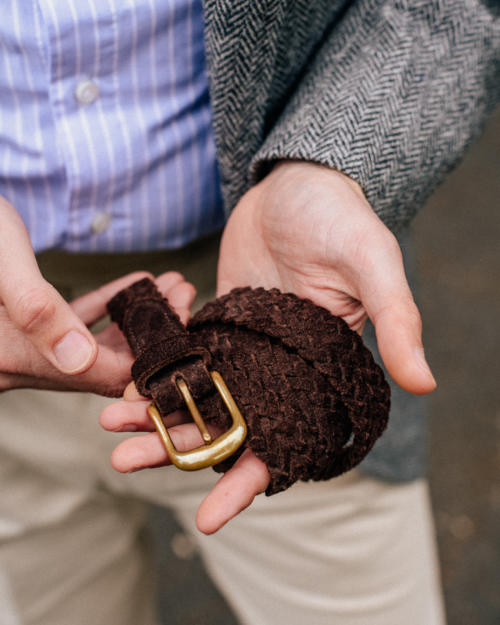 Given we talked recently about wearing more belts, it seems timely to review a belt I recently had made by Russian maker @Tightly_Stitched.
I did so because I find there is a relative lack of good belt brands out there, and I couldn't find the style I wanted.
Most belts are sold by brands that specialise in other things, and belts are a bit of an afterthought. They tend to be fairly standard. Not that you want a range of belts in red, green and with exotic buckles; just like shoes or coats, it's best to play it safe.
But it is nice if a brand has a view on its belts, just like they do with the rest of their clothes - suggesting that a one-inch width is nicest, for example, or that western styles do or do not work with their aesthetic.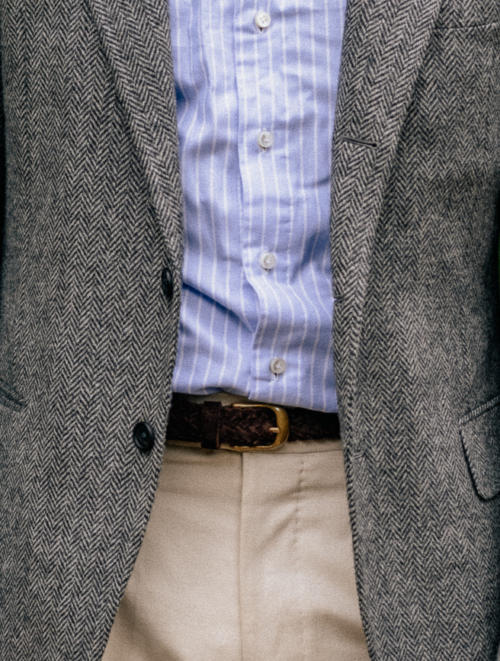 The other issue with belts is that most individual makers only have a small range of styles and materials.
Most British makers use bridle and other heavy leathers. Bridle is great, strong and characterful, but a particular look and not the best with smart trousers. Most French and Italians, on the other hand, use only fine calf and suede, with a few exotics. The first also tend to only use more rugged buckles, the second sleeker ones.
I was recommended to try Sergey @Tightly_Stitched because he uses a large range of leather and belt designs, and has the awareness to know what is interesting or relevant with guys online. This meant he could make the rough-out braided style I was after.
Sergey (below) also knew lots about western styles, about buckle shapes and makes, and we had long conversations about things like engine-turned styles and untreated brass.
I always find a little surprising when leather-goods makers don't know much about, or experiment with, their hardware. They just offer what their supplier offers. Sergey has developed his own method of creating an aged look, oxidising the buckle in ammonia vapour and then lightening it with a weak acid solution to bring it to the desired shade.
And with the braid of my leather, he had a dozen different pattern options, which he'd seen online from brands and then recreated. I hadn't even thought about braid patterns, but suddenly I had to think through which I liked best.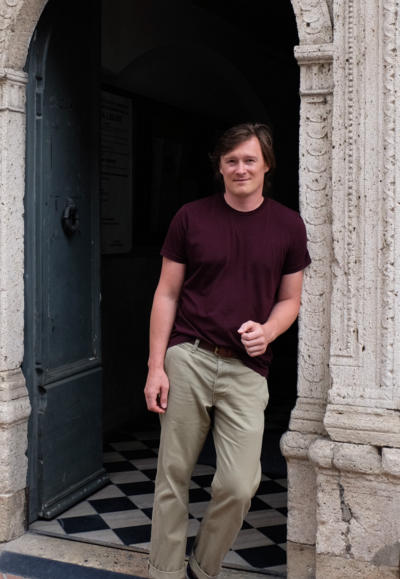 However, there are downsides to working remotely with a craftsman, and commissioning something from scratch, as I was to find out.
The belt Sergey sent me was great in most ways. It was the perfect colour of suede, and the buckle was a great shape and colour.
But I found it hard to use: the prong was difficult to get through the braid, and the keeper was both rather small and close to the buckle. The combination was awkward.
Sergey and I got into a conversation about the style of the braid. (The points about the keeper were more straightforward.) It turns out that most braided belts are made on a particular machine (below) which makes them in a particular tension. When you make one by hand, as Sergey does, that tension is unavoidably tighter, and the prong is harder to get through.
I also noticed that the direction of the braid pattern Sergey had used was the reverse of the one on my reference belt - an old leather one from E Tautz.
On mine, the 'V' in the middle of the belt pointed away from the tip. On the one Sergey had made, that V pointed towards it. I suggested that perhaps that made it harder to use as well.
Sergey sent me a few images to show that both directions were common in ready-made belts, and that is true. See image below showing both directions.
However, Sergey agreed to make me a new belt to replace the first one, with the braid in the other direction. And when I received that, it was much easier to use. So perhaps on handmade braids, the direction is more relevant.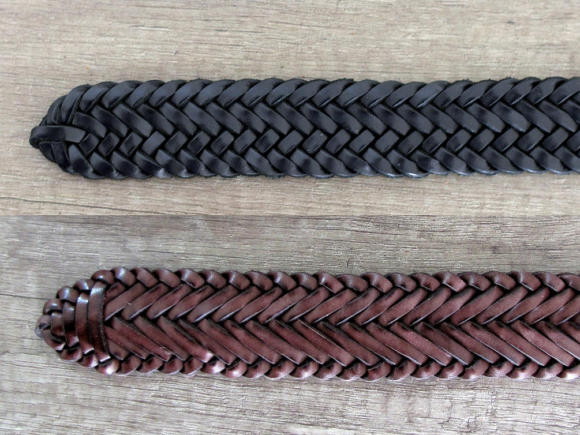 The replacement belt didn't make much difference to the keeper, which is still a little awkward, but it's a minor point compared to fastening with the prong.
I also found that the first belt stretched - again, probably due to being handmade - with the length going from 110cm to 114cm after a few wears. So with the second belt we made it that much shorter.
Sergey also suggested a good use for the first belt, which was to turn it into a style with two rings (below) because this doesn't require a metal prong. The belt would still be rather long, but to an extent that's the style with that kind of belt.
I'm just not sure I'd hang it down quite in the manner in the photo below.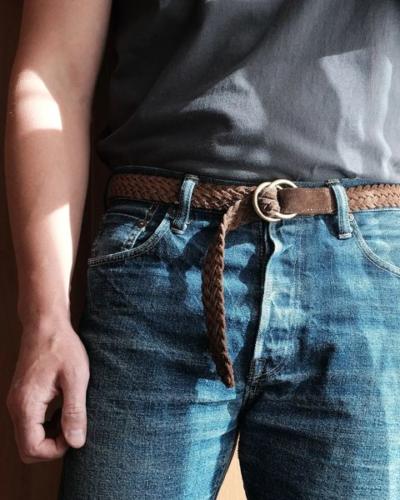 Despite these issues, I think I would use Sergey again. He dealt with my questions and problems well, and reacted in a positive and open manner.
It's easy to be defensive when someone criticises your work, particularly when it's a product on which you haven't had negative feedback before. But Sergey was open to it, interested, and learnt from the experience.
Also, frankly, there is still that lack of makers with a wide range and interest. I should note that Sergey also does distressing on belts, works with a silversmith that does various designs of western buckle, and makes some bags.
It would just be easier, and more predictable, if it were possible to see the product in person - for example through trunk shows. And the fact Sergey is based in Russia does make sending goods back and forth difficult - the options are either an expensive courier (UPS is the cheapest, $95) that takes 5-7 days, or regular post ($20) that takes 30-40 days.
Sergey does make for a few shops, including The Armoury, Decorum and Leather Healer. But that is under their brand. He says he might look to do trunk shows himself some time in the future.
My belt, in rough-out suede with an aged brass buckle, cost $150. Most of Sergey's work is visible on his Instagram @tightly_stitched, but there is also a Russian blog with the imagery here.
Photography: Alex Natt @ad_natt and @tightly_stitched