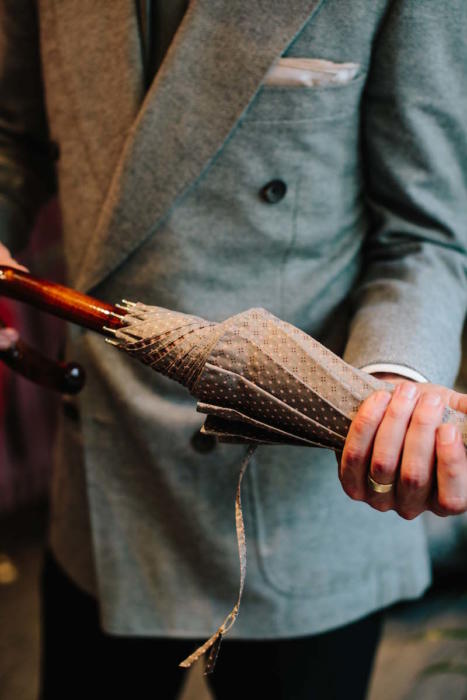 "The opening of the umbrella should sound like a car door," said Michel Heurtault, looking me meaningfully in the eye. I didn't get the connection immediately, but he slowly pushed the umbrella open, and as it locked open there was a satisfying 'thunk' of metal sinking into wood. The resemblance was marked, and very satisfying.
Umbrellas are potentially beautiful accessories. The range of woods that can be used in the shafts is very broad, even today when so few 'coppiced' woods are kept for the purpose. The canopies can be made of any cotton, polyester or silk – with the latter having the most potential. And precious materials are often used in the handles and ends, with buffalo horn being the most common but also gold and silver used.
But men rarely get any of this. Men's umbrellas are nearly always black, with a dark wood or metal shaft, and a fairly non-descript handle. Only a handful of European makers go any further and make single-stick pieces (where the shaft and handle are one piece of wood) or use unusual materials.


We've covered most of those makers on Permanent Style before, the most notable being Mario Talarico in Naples and Francesco Maglia in Milan. The UK has James Smith & Sons and Fox, though neither have quite the artisan detail of the Italian makers.
Michel Heurtault, however, takes things to a whole new level. The Paris-based umbrella maker has only been in business for seven years, having come from a background of restoration and film work. But he brings a fine, couture level of work to even everyday umbrellas.
For 20 years, Michel worked with restoring old costumes, outfits and corsets for period dramas – including a stint in 1996 making haute couture for John Galliano at Dior. Then in 2008 he decided to set out on his own, bringing that vintage and couture experience to new creations.
So what does he do that's different? Well, he doesn't bend and manipulate his own woods, which is one highlight of work at Talarico or Maglia. These are all bought in. But the work he does with the finishing, canopy and sewing is exceptional.
Each piece of the canopy (always silks, never synthetic) is cut by hand so that the patterns match perfectly – like the shoulders on a shirt. The circle of silk that sits inside the canopy, against the shaft, is cut with serrated scissors into a ring of points – creating a flower-like piece of silk origami.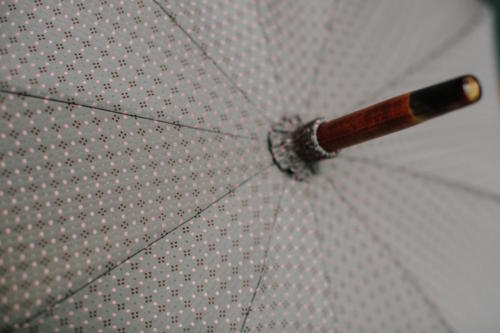 On the top of the canopy, again where it sits against the shaft, a circle of silk is ruched up against the wood (see image above) creating a lovely transition. "I used to just nail a collar on at that point, but it seemed so abrupt," Michel says. "It was nice to be able to add that little touch of couture instead."
In common with other top-end makers, Michel usually uses horn to tip the umbrellas. But he also inserts it in other places, such in the curve of the handle (see image below). This is typical of his luxurious and inventive approach to design – one which also involves precious metals and skins. He recently incorporated a jade handle made by Fabergé for a female client.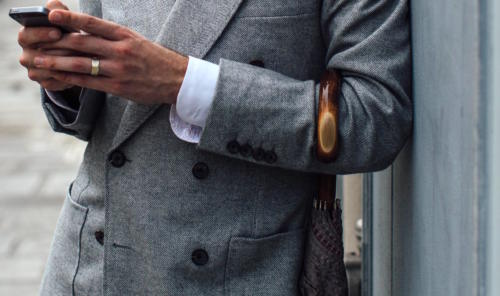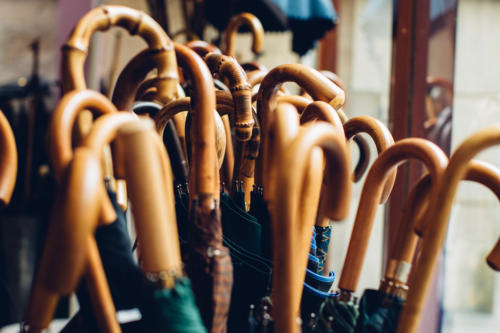 "I learnt pretty much everything I knew in the years of collecting and restoring old pieces," he says. "There used to be such experimentation and creativity in umbrellas and parasols, nearly all of which has been lost today. Women's parasols in particular were absolute works of art."
Most of Michel's work is for women or costume, and it is these elaborate pieces that really show off his abilities – such as in the lace or hand-embroidered canopies, some of which are pictured here.
But his men's pieces rarely seem effeminate. With a dark silk canopy, the little touches described above become very subtle. And many silks, like the grey-and-silk one pictured on the umbrella I'm holding, come from tiemakers, so are quite formal and geometric in their patterns.
There are many other craft points. The canopies usually have a slight wave to them, curving up as they leave the shaft and then running down towards the edge. Linings to the umbrellasAnd there's the way the mechanism is lined up with the shaft, creating that car-like clunk we opened with.


Michel (above) is reopening his shop in Paris's 12th arrondissement – under an archway – in January. It's a nice space, with the back half a workshop for him and his apprentice Andrea. He points out that handing down his skills is an explicit requirement of the Master of Arts award he holds from the French government – it requires 'mission et remission'.
Most of Michel's work is made to order, but there are always a handful of men's and women's umbrellas lying around to either buy or be inspired by. Most men's models are around €490 and take anything from 3 days to 3 weeks to make, depending on the materials. Those involving precious woods are usually between €1000 and €2000.
This is, of course, extremely expensive for an umbrella. But it feels good to know there is a top-end to the spectrum of makers, from Fox through Maglia to Heurtault. And the level of work is a suitable accompaniment for a Camps de Luca suit or an Hermes briefcase.
www.parasolerieheurtault.com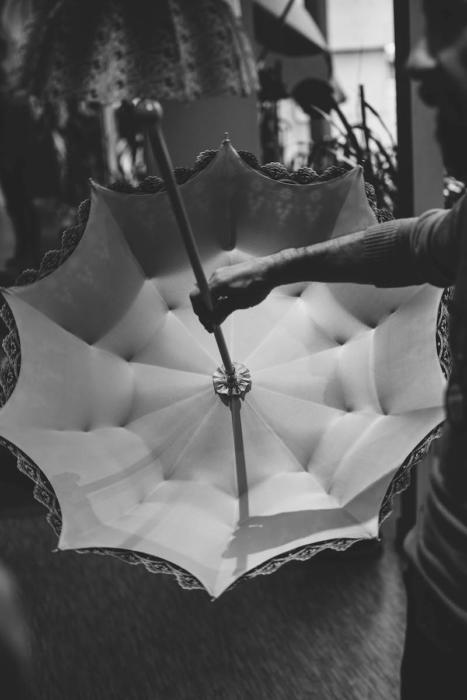 Photography: Jamie Ferguson @jkf_man