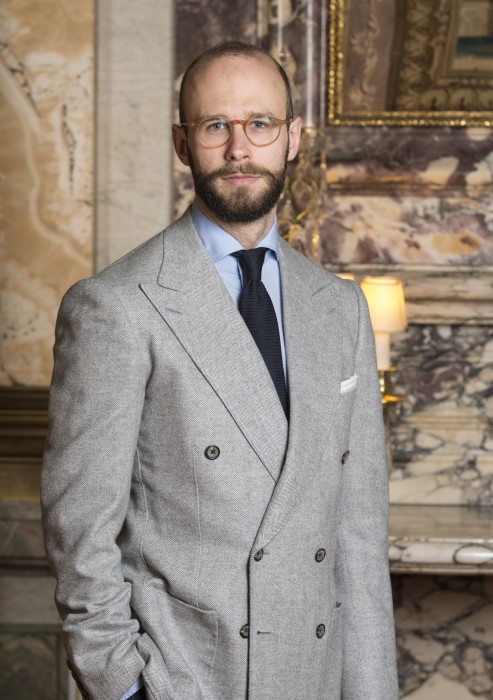 A reader asked what I was wearing at the dinner of Parisian Gentlemen last week. Fortunately, a profile photo was taken that day at the intellectual property conference I was speaking at – the reason I was in Paris in the first place.
In the picture, above: Cifonelli double-breasted cashmere jacket (SherryKash bunch); D'Avino spread-collar shirt; Drake's navy grenadine tie; Francois Pinton glasses; and Kiton linen pocket square. Out of shot: charcoal worsted trousers (from Caliendo) and Cleverley chocolate Oxfords.
It is a subtle combination of small surprises: cashmere herringbone rather than worsted, double-breasted rather than single, paler glasses than one might expect, and grenadine rather than plainer silk.
Talking to Alfredo at Arnys that evening, he insisted it was "le style anglais". Interesting, for I always think of it as an Italian look – hence the Italian Background. Then again, most sartorial traditions are other nations' takes on the English look. England via Milan, perhaps.
Also of interest, for me at any rate, is that the charcoal trousers out of shot are now my most common partner for odd jackets. Mid-grey flannels are lovely too, but often the texture clashes with fuzzier materials, such as cashmere. I'm having a similar pair made at Chittleborough & Morgan for just that reason. (You can see the Caliendo pair with my Solito jacket here.)