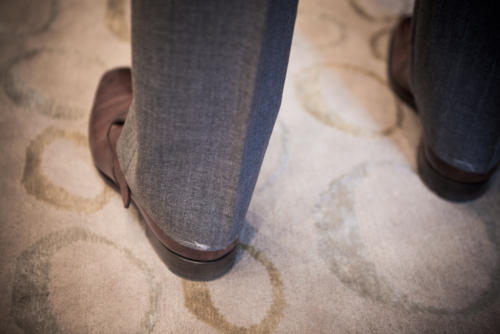 Dear Simon,
I've always been extremes: a worsted wool suit or denim jeans. But having had my first couple of "sports jackets" made I thought it was worth while moving up in the formality stakes with trousers occasionally. I realise up from jeans is chinos, moleskins, cords etc but when you start getting into fresco, flannel and gabardine I am totally at a loss as to their relative formality.
I did have a quick look at flannel and fresco samples when last in my tailors and I personally wouldn't be able to say which is more formal than the other – or are these two relatively equal and more a winter/ summer divide?
A simple list, for a simple person like me, from formal to informal would be really useful.
Jack


Hi Jack,
It's a good question. We often look at the sliding scale of formality in regards to jackets and suits, or colours and patterns, but rarely trousers. There are certainly some materials that are more suited to summer or winter, but I would say we can safely combine them on the same list.
I'd suggest the scale for trousers could then be thought of as:
Worsted wool (standard suits)
Wool gabardine (gabardine finish on wool, surprisingly smooth and hard and therefore formal)
Fresco (and similar weave/finish)
General woollens (the actual formality depends largely on the finish, but they usually belong around here)
Cotton gabardine (not as formal as wool – can fade and crease more)
Flannel
Linen (often more casual the lighter in weight)
Moleskin/general cottons (most standard cottons belong around here in the scale)
Corduroy
Chinos (and generally, garment-washed cotton trousers)
Denim
Of course, this involves vast generalisations. We are essentially talking about three things – fibre, weave and finish – and some of the cloths listed above specify all of these, some of them only one. Particular finishes, as well as weight and construction, could quickly move a pair of trousers up or down the scale. Without even considering colour and pattern.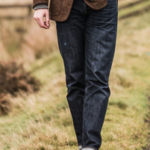 But it remains a useful way to think about formality of dress. The further down the scale you go, the less likely the trousers will suit a smart navy blazer. The further up the scale, the smaller the chance they will go with your heavy Harris-tweed jacket.
We could easily write a post on each cloth on the list. But hopefully this is the kind of simple list you were looking for Jack.
Simon
Images. Top: fresco. Middle, cotton gabardine, linen, flannel. Bottom: woollen, denim, fresco.