Trousers and what they go with: A sliding scale of formality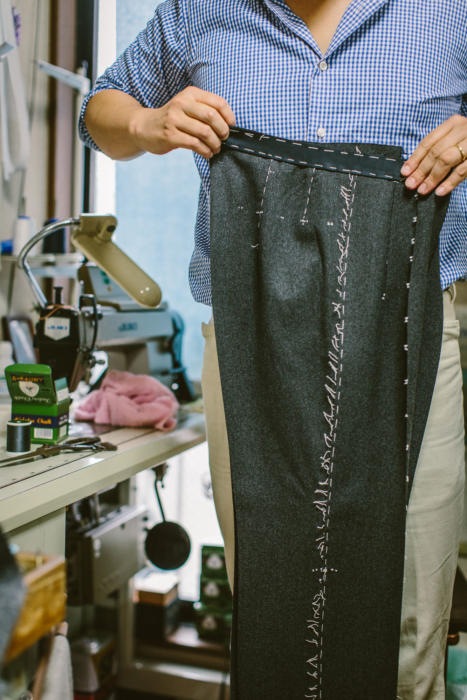 When we published our second capsule guide to trousers recently, there was a discussion in the comments as to their smartness - and a request for an article setting it out.
Now, trousers vary in more than just their material, so this will always be a simplification. But trousers are relatively simple compared to shoes or jackets, so I think there is something sensible to say.
Just keep in mind that these brief guides are a starting point - a way to understand the factors (more texture is more casual, muted colours are smarter) rather than a set of rules.
So with that always in mind, here is a sliding scale of formality of trousers, with notes on what else - as a result - they might go with. Apologies to those that will find it basic, but I know now that some readers will find it useful.
We'll go from the smartest to the most casual.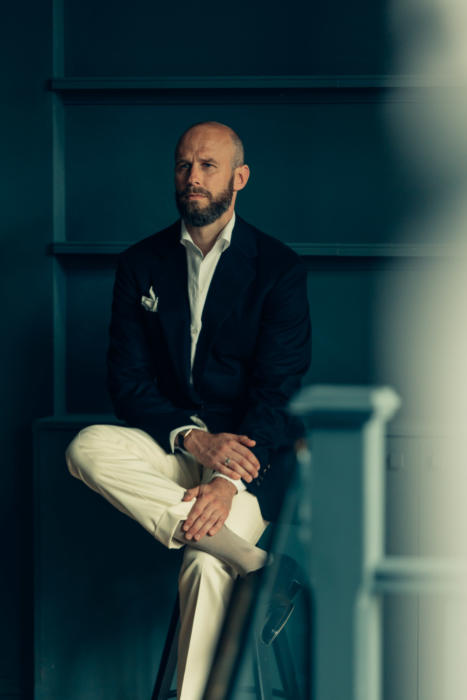 Wool gabardine, mohair, superfine worsteds
A normal business suit is made from worsted wool - fine wool that has been processed to be smoother and sleeker. That's why it's different from a hairy tweed jacket.
Some worsteds are especially fine, or particularly processed, to be sleeker still. These, such as wool gabardine, are usually seen as smarter than regular worsted; and while mohair has a different, crisper handle, it has a similar sharpness.
Shoes: These worsteds are most suited to shoes such as oxfords, that are also sleeker given they don't have the extra leather layers of a derby. Usually calf rather than suede; usually darker colours.
Upper half: Most usually worn with a smart jacket such as a blazer, or a particularly fine knit.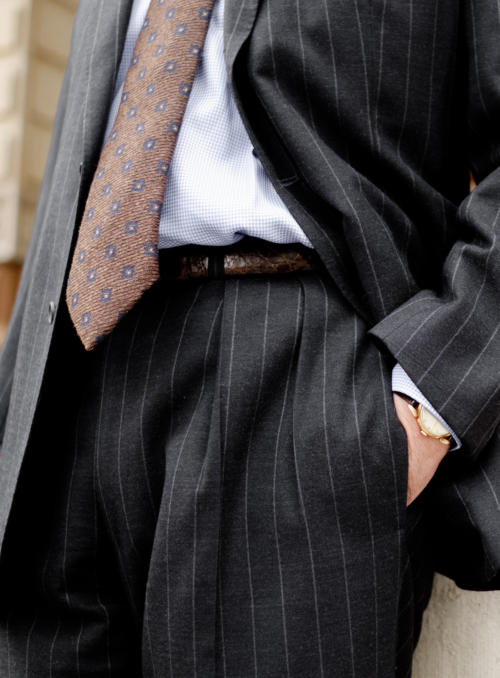 Regular worsteds
As above, but more like a standard business suit. And usually not the preferred choice for trousers on their own anyway. A navy pair worn with a white shirt won't look wrong, but it will probably look like there's a matching jacket somewhere.
If you want separate trousers for a work environment, best to go for something like flannel, or even cavalry twill, that doesn't look like it's part of a suit.
Shoes and upper half: If you do wear suit trousers in this manner, then same as above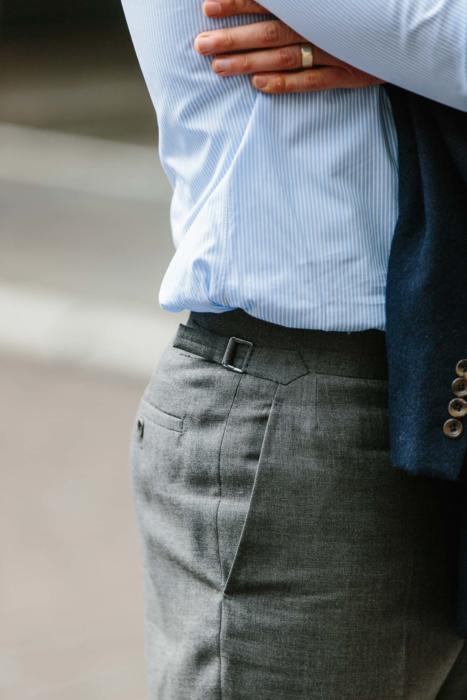 Textured twills and high twists
The group I've called 'textured twills' includes cavalry twill, covert and whipcord. They all have much the same sharpness as the worsteds above, but aren't as fine and usually have a little more texture. They're also usually in less formal colours, such as greens, beiges and browns. But they don't have to be.
I'd put high-twist wool in the same bucket. It's a summer material, but also has the sharpness of a normal suiting with a little more texture by natural of its twisted yarn and open weave.
There is, by the way, more comprehensive information on all these fabrics in the PS Guide to Cloth.
Shoes: These sub-sections get easier and more predictable as we descend the smartness scale. A textured twill such as whipcord is more likely to suit a brogue, a derby or a boot, and a brown shoe rather than black. But as always there is more than one variable, so a charcoal whipcord could be great with a black boot, for example, because it's a smarter colour.
Upper half: We're getting into the realm of more textured jackets, such as fluffier cashmere and tweed. Knits can be fine, but smarter shetlands, for example, also work.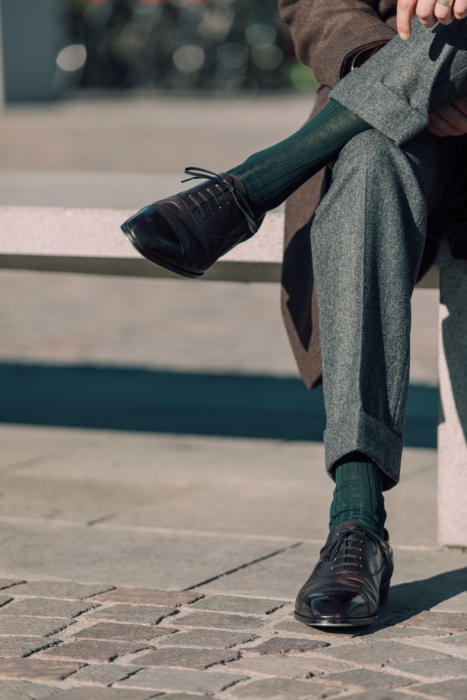 Flannel
The old favourite. A woollen rather than a worsted, so without that fineness, and with a napped finish that gives it a little fuzziness.
Flannel is great at bridging casual and formal; perhaps the best. And annoyingly there's little in the summer that does it as well.
Shoes: A classic grey flannel works with black leather shoes and a white shirt, but also with a brown suede boot and a crewneck.
Upper half: As above, good with a navy blazer or a tweed jacket, a fine V-neck or a shetland. If you imagine all these categories as overlapping sections of a scale, rather than single points, then flannel is a wider section than most.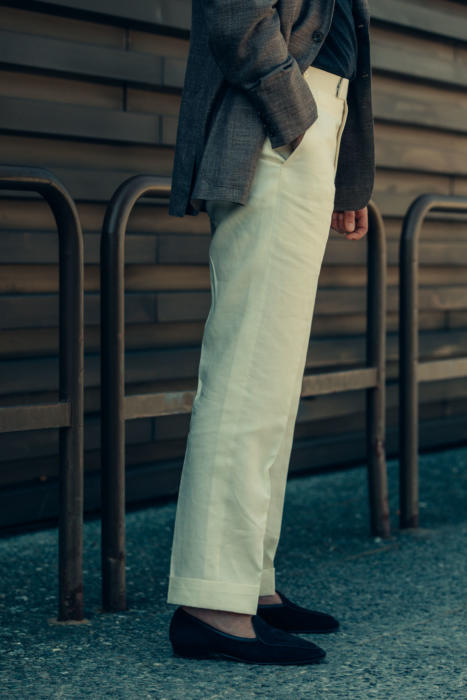 Linen
Linen is tricky because its formality varies quite a lot depending on its weight. A heavier, starchier Irish linen is arguably very elegant and could sit above flannel on this scale. But a lighter, Italian one could be made with a drawstring and be fine on the beach.
I think it's important to remember this versatility and see it as a strength rather than a complication. You could wear nothing else all summer and cross several types of smartness.
Shoes: Rarely an oxford, but most other things, particularly loafers given it's a summer material. And at the casual end everything like espadrilles and sandals.
Upper half: As above. Tailored jackets to T-shirts.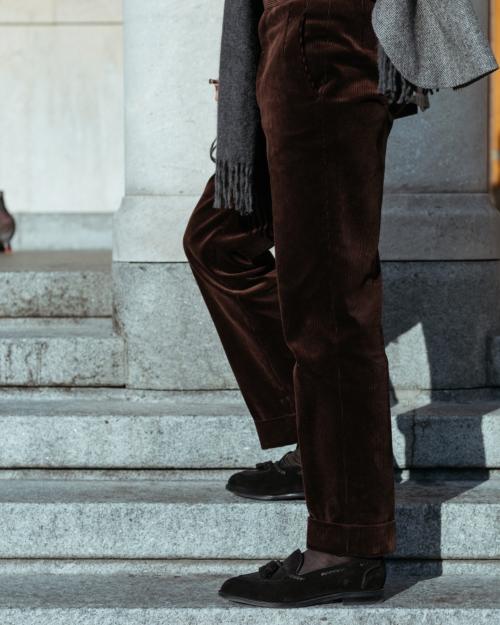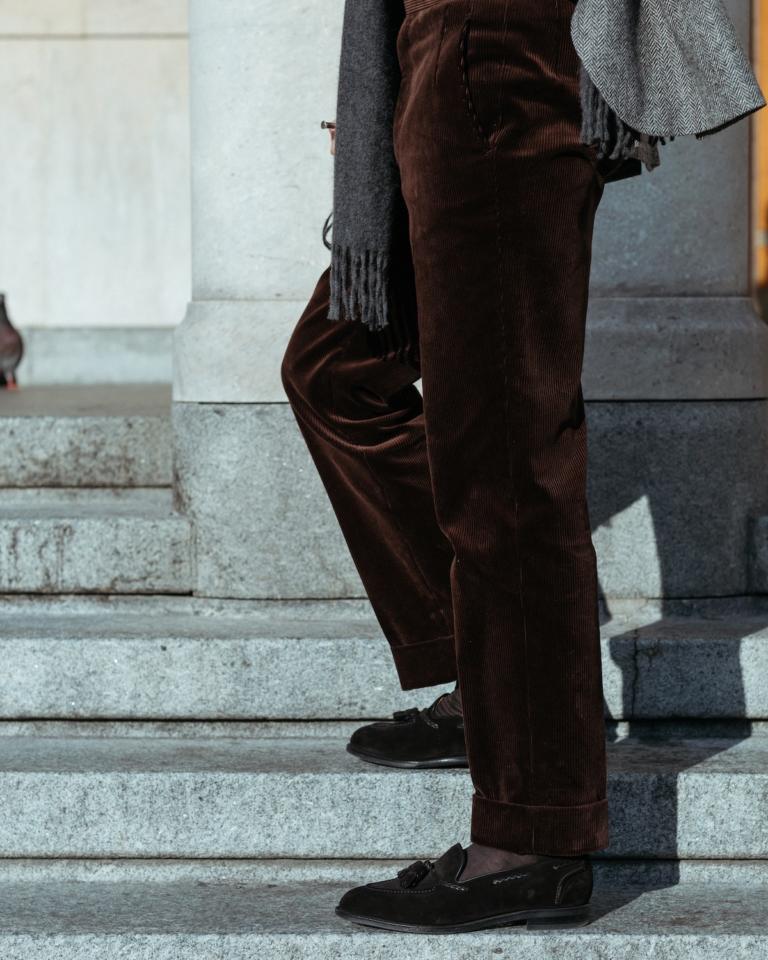 Tailored cottons, moleskin and cords
This section could be divided up further: many tailored cottons look smarter than any corduroy. The latter is more casual by virtue of its texture, as is moleskin.
But the important point here is that cotton is nearly always less smart than wool; and that this is a separate category to chinos or khakis, which come next.
Shoes: Not oxfords, but derbys and loafers, no blacks, and suede as well as leather.
Upper half: Not a T-shirt, and not a smart blazer or fine knit, but everything else in between.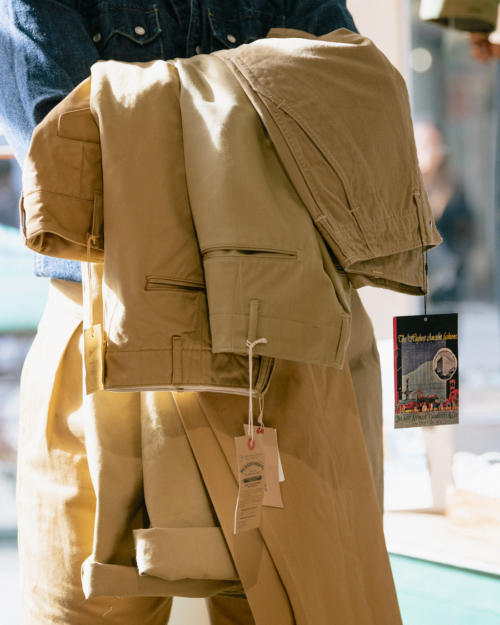 Chinos
A chino will usually be made from a less fine cotton than the types above; it will only have a simple waistband; it's more likely to have raised seams and other details.
You know what a chino is. But these are the reasons it is in a different category to the cottons above, and they are why it looks different too - eg it doesn't really drape, it just sits there, more like a denim.
Shoes: Slightly more casual than the tailored cottons, and therefore suited to slightly more casual shoes. For example, perhaps not a fairly smart brown-calf derby. But then at the bottom end, anything you want, including trainers/sneakers.
Upper half: There is an American style that involves wearing jackets with chinos and it can look good, but it's quite specific (roomier jacket etc). Most of the time chinos aren't the best with a jacket, and should be kept to more casual partners, such as a suede blouson or overshirt.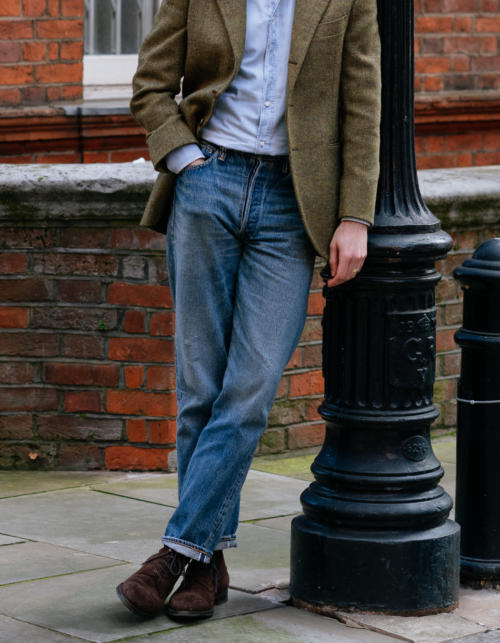 Jeans
You don't need to be told that jeans are at the bottom of this list, or probably that a dark, indigo, unfaded jean is smarter than a light, blue, faded one full of holes. But they're here for the sake of completeness.
It might also be worth saying that white jeans are in some ways the smartest of all denim. And as a long as it isn't dark and raining, they're quite versatile.
Shoes: Same as chinos although, oddly, I think some leather shoes work better with jeans than chinos. Eg a tan derby.
Upper half: Same as chinos although, equally, I find tweed jackets better with jeans most of the time.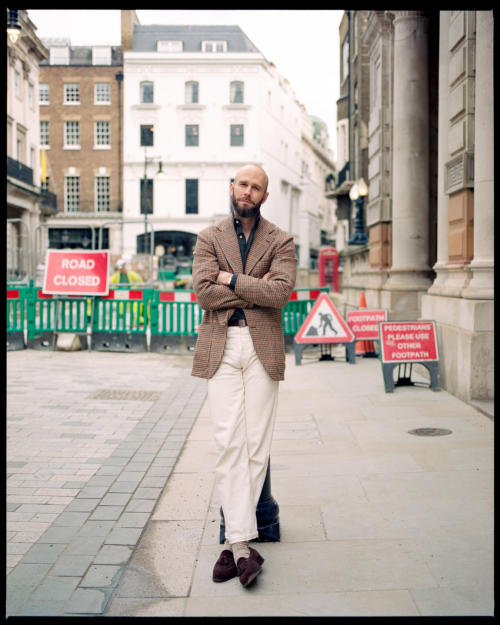 Images:
The point of this article was to answer reader questions, so please tell me if I have. And if I haven't, tell me how - I'll add answers in the comments, or supplement the above. The whole of PS is basically an extended Q&A anyway.