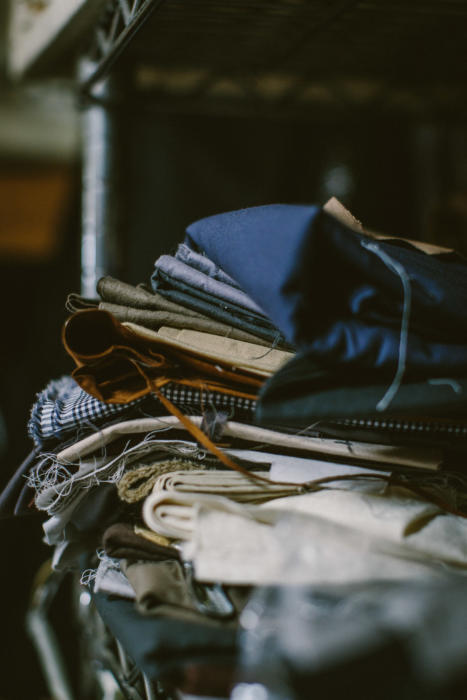 In most areas of the world, tailors commonly outsource their trouser making: cutting in-house but then sending the work to ateliers used by several different houses.
Just as common in recent years has been the move for those ateliers to push their own brands.
The trend has varied in breadth and intensity in different cities, but there are examples everywhere: Cerrato in Naples, The Disguisery in London, and both Osaku and Igarashi in Japan.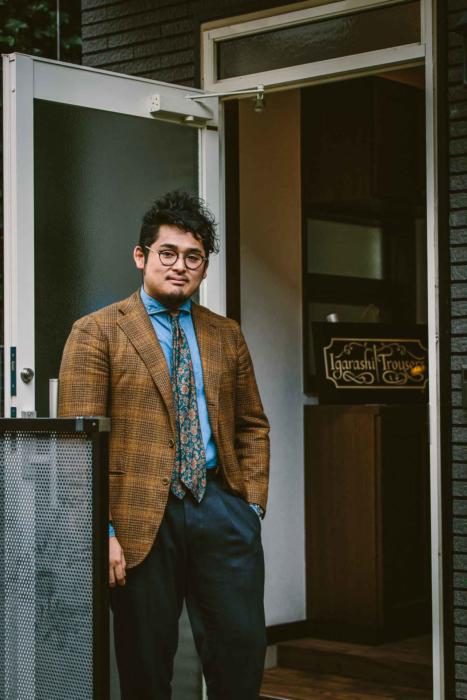 Although Osaku and Igarashi vary in their backgrounds, their location and their experience, the work is at a similarly high level.
The most notable difference is location.
Toru Igarashi (above) set up down a little side street in the centre of Tokyo in March this year. He now has three people working for him in the shop, and travels to Singapore for trunk shows.
Hayato Osaku (below) is an hour's drive outside Tokyo, in the town he grew up in.
When we visited it was nice to get out of the city and see a little countryside. Cabbages were being farmed on the allotment above the house.
Osaku set up there five years ago, and is better known than Igarashi.
But the latter has been able to get greater attention recently because of his location. Customers, and particularly foreign visitors, can pop in more easily.
Osaku visits customers in town - people don't come to see him. But still, he has considered opening a studio closer to Tokyo to make things more convenient.
"I couldn't afford to live there really, but this might make things easier for customers. Luckily I also don't need any more at the moment," he says.
Both makers began life in larger scale tailoring production (as is common with tailors too).
Igarashi worked in a suit factory for two years before apprenticing under a Japanese trouser maker, for another two years.
He then joined Strasburgo, the Japanese retail chain that supports a lot of bespoke makers, cutting and making under their brand. And back in March this year, he set up his own shop.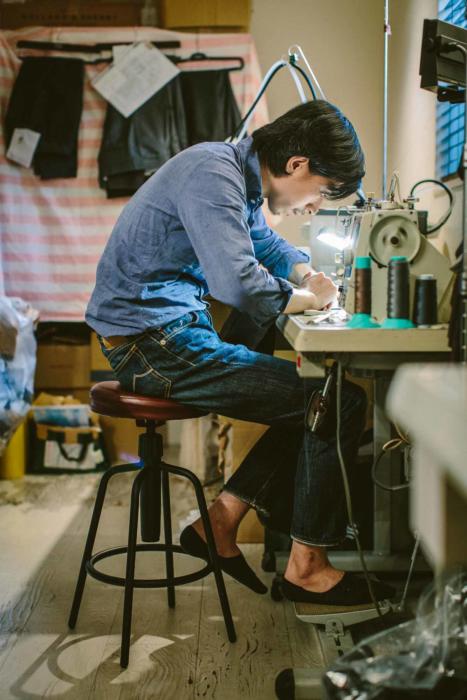 "There are a lot of up-and-coming tailors in Japan, mostly trained in Italy," Igarashi says, "but I often feel they overlook the importance of trousers.
"The Japanese body is very different from the European - with a flat bottom, higher crotch and slim leg. It's important to have a pattern that is specific to their body shape."
Igarashi developed two different models when he was apprenticing, Japanese and Western, based on observations that foreign brands like Incotex often didn't fit locals very well.
These are still the basis of much of his work, though of course each pair is cut individually from a unique paper pattern.
Osaku briefly worked at Ichibankan, the large tailoring workshop where Takuya Kondo (Vick Tailor) also trained.
He left after a year, which was unfortunate in terms of expertise, but great timing for work as several other Ichibankan employees were leaving at the time, and needed trouser makers.
Osaku then worked for Salone Ondata - where he broadened his tailoring knowledge - but was still a little rudderless until he met Noriyuki Ueki of Sartoria Ciccio.
"I was just inspired when I saw his work," Osaku says. "I wanted to be that good at making trousers, and it gave me the motivation to really focus."
Osaku went from strength to strength after that, working for Ciccio for a while before setting up his own brand - and designing a range of trousers for department store Isetan (brand M039).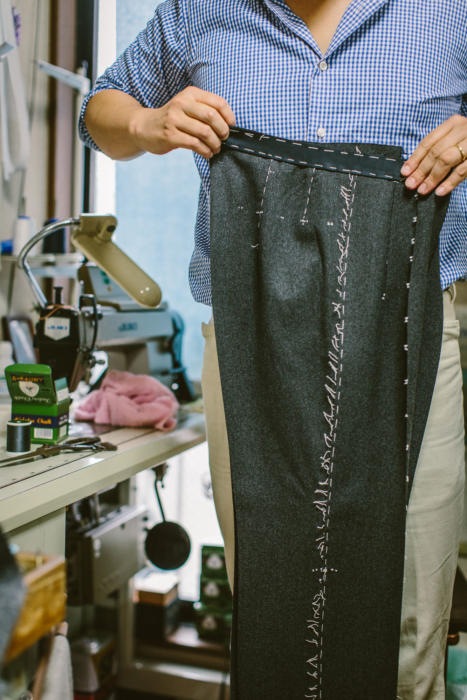 His work emphasises a curved waistband, and the curve through the leg mentioned previously with tailors like Chittleborough & Morgan: slightly rounded at the front of the thigh and back of the calf, but hanging straight. (Shown partially above.)
Both tailors include a lot of handwork, tack stitching and the like (that's a pair of Igarashi's trousers at the top of this post).
Their prices are also pretty reasonable: ¥100,000 for Osaku and ¥75,000 for Igarashi.
But given I have no immediate plans to travel to Japan again, I didn't commission anything and the fit will be something for another day.
Photography: Jamie Ferguson @jkf_man. Thanks go to Masaichi Hasegawa of Gaziano and Girling and Jason Yen of Gaziano and Girling/Camps de Luca for their help with organisation and translation.