Japanese tailors: Anglofilo, Sartoria Domenica, Vick Tailor and Pecora Ginza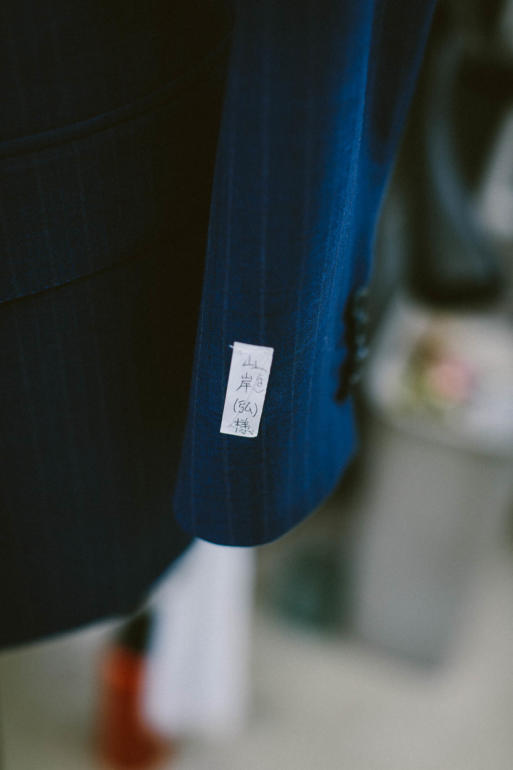 The Japanese tailoring tradition is relatively short. After all, until the Meiji Restoration in 1868, almost no western-style tailoring was worn in the country.
The Restoration made western dress required for courtiers and bureaucrats, and increasingly popular among professional and ambitious men. However, the vast majority of Japanese still wore the kimono, and even those that wore tailoring during the day would change into the kimono at home.
That didn't change until the 1930s, and then only slowly. When it did the style was very much English, with the requisite structure and padding.
But interestingly, there have been different waves of Italian influence since then, creating variations in style among tailors.
We'll illustrate them here by looking at four: Anglofilo, Sartoria Domenica, Vick Tailor and Pecora Ginza.
First is Hideaki Sato, pictured above. He has a tailoring outfit called Pecora Ginza in Tokyo and is the third generation of tailors, so going right back to the birth of tailoring in Japan.
Sato apprenticed not with his father, but with another tailor called Tsukumo Igarashi. Igarashi had worked at Cardin in Paris, and under women's tailor Antonio Montalto.
After a few years in Japan, Sato too went to Paris, working with Montalto before doing a year's pattern-cutting course at AICP in the city.
Sato was weighing up whether to carry on with the women's cutting he was training for, or go into men's bespoke, when one fateful meeting settled it for him.
"It was in this Japanese restaurant I was working in," he recalls. "I saw this incredibly elegant man wearing a camel-hair polo coat, and it was just inspiring. I went and introduced myself, and it turned out to be Milanese tailor Mario Pecora."
After he finished his course, Sato went to Milan and asked Pecora for a job. He stayed there for five years, blending his knowledge of Japanese and French tailoring with a new Italian influence.
Back in Japan, Sato was one of very few tailors with foreign training, and became very popular. He also taught pattern cutting and launched a made-to-order line at department store Isetan.
I find it particularly interesting how Hideaki has adapted over the years since then to offer a wide variety of styles.
When we met he was wearing a beautiful structured double-breasted suit - which was frankly a breath of fresh air after all the soft Neapolitan tailoring we had seen. You can see it above - a pale-grey glen check.
But he also makes very soft tailoring, and many things in between - eg the brown and blue jackets also pictured above.
Like other tailors with a fairly small, captured market, he has ended up catering to everyone's tastes.
That breadth is in sharp contrast to the new wave of Italian-trained tailors coming to Japan, of which we have first picked here Yusuche Ono, known as Anglofilo - pictured above fitting Masaichi Hasegawa of Gaziano & Girling.
Ono started his career in menswear sales, at Beams and Strasburgo. Then at the relatively late age of 26, he went to Florence and knocked on the door of Sartoria Marinaro.
(Perhaps surprisingly, all these Japanese tailors were taken up by their Italian masters at the first try, despite speaking no Italian. Often, the reputation for hard work preceded them.)
After a while in Florence Ono went to Naples, and worked for Panico. Although it was a relatively big workshop, he learnt a lot, and developed a real respect for the Panico style. "I liked the fact it hadn't changed at all for 50 years, and never would," he says.
Back home in Japan, Ono endeavours to reproduce that Italian style and nothing else.
This is similar to others of this new generation of tailors, but in contrast to the previous wave epitomised by Sato.
Ono operates out of a workshop in Ethan Newton's new store Brycelands (which again we will cover separately) and I have to say, I love his style.
The couple of times we met, he switched between tailored jackets and little vintage bombers, with increasingly voluminous chinos below the waist.
Disarmingly though, Ono still feels he can never quite replicate the great Italians he learnt from - even though he is more consistent. "I learnt to make Ferraris and I don't want to end up making Toyotas," he says.
"Although Panico's output could be patchy, the good pieces were incredible."
Next is another Italian-focused tailor, Noriyuki Higashi, known as Sartoria Domenica. He works as an in-house tailor at Strasburgo, and was mentioned in our first piece on Japanese retail.
Higashi had a slightly different background to Ono, beginning his career at Ring Jacket. (The Japanese tailoring factory - the subject of another upcoming post - has been the starting point for several young tailors, including Kotaro Miyahira of Sartoria Corcos in Florence.)
He was also slightly different in that he was directly inspired by Ciccio - so part of a growing wave of Italian-inspired tailors, rather than an early adopter.
But the results are similar: clearly Neapolitan tailoring, resulting from his brief training with Antonio Pascariello, with a particular fondness for barchetta-style pockets with a longer outer edge (below).
The name Sartoria Domenica, by the way, was created when Higashi first came back to Japan and had to have a weekday job to support himself - and so only made his suits on a Sunday.
Last in this four-way Japanese comparison is Takuya Kondo, or Vick Tailor.
Kondo is different to the other two in that he had no foreign training. Instead, he apprenticed at Ichibankan, the biggest and most famous traditional Japanese tailoring house.
Ichibankan has trained many of Japan's tailors. Kondo served a six-year apprenticeship there, learning a very English, structured style.
After that he moved to Takahashi, another large Japanese tailor, and was there for three years.
"Again the style was very English, although they were quite versatile. The traditional Japanese suit is relatively loose, for example - influenced by comfort and a little by the American sack suit," Kondo says.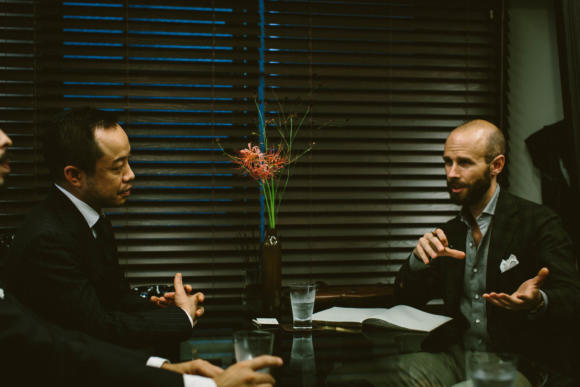 Thirteen years ago he set up on his own, and has run a small atelier ever since. In that time he has had several 'apprentices', although this is what all artisans call their assistants - it doesn't necessarily imply a structured apprenticeship system.
"People tend to leave after a few years, which can be frustrating. One went to Milan, one to another tailor," he says. "Although there are so many young tailors these days that it's very hard to set up on your own."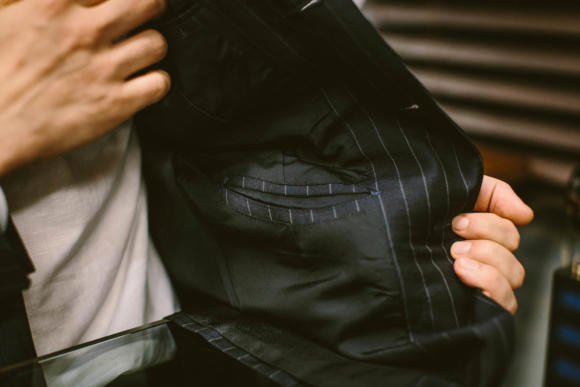 The turnover of apprentices is something Hideaki Sato too has suffered from. He has only recently started taking on young people again, after years of only employing older staff.
Sato and Kondo are also similar in catering to a variety of styles, though being smaller, Kondo is a little more fixed. He also has style points like Milanese buttonholes and curved internal ticket pockets that he is particularly fond of.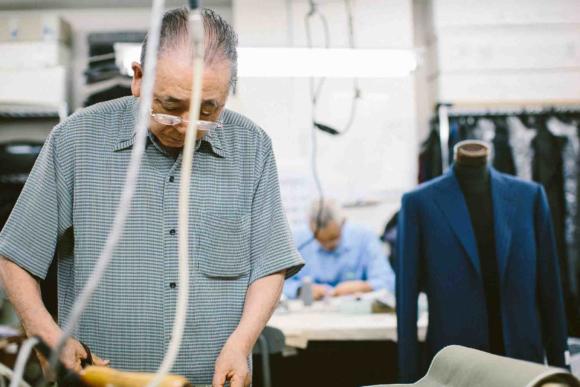 To an Englishman, the influence of Italian tailoring in various stages of Japanese is fascinating. Although Armani and other Italians changed the face of our ready-made tailoring, Savile Row has always been strong enough to resist.
As with many areas of craft, you can't help feel that the future for tailoring in Japan is very bright, given the number of young tailors and the level of sophistication among customers.
It is those strong fundamentals that might allow tailors such as Ciccio and Anglofilo to retain their narrow focus - and create perhaps the greatest variety of bespoke tailoring styles in the world.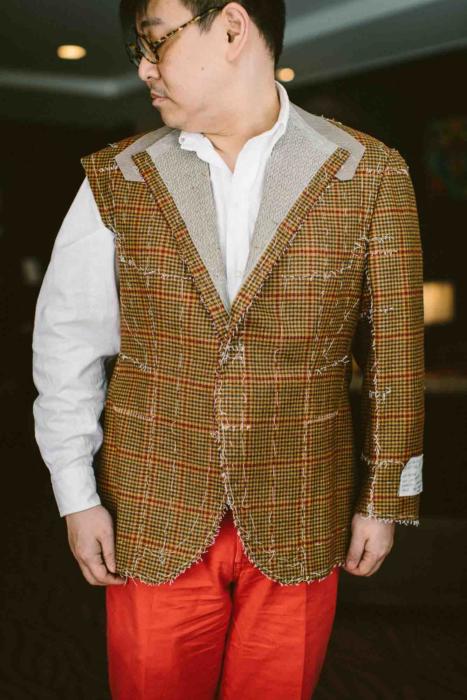 Prices:
Pecora Ginza: ¥350,000
Anglofilo: ¥400,000
Sartoria Domenica: ¥370,000
Vick Tailor: ¥350,ooo
Unfortunately none of the tailors travel to Europe or the US. Some do trunk shows within Asia
Photography: Jamie Ferguson @jkf_man
There will be a separate piece on Ciccio, probably the best known of the Japanese tailors, in a couple of weeks.
This trip could not have happened without the extensive help of Masaichi Hasegawa of Gaziano and Girling while we were in Tokyo, and Jason Yen of Gaziano and Girling/Camps de Luca in advance. Thank you both.