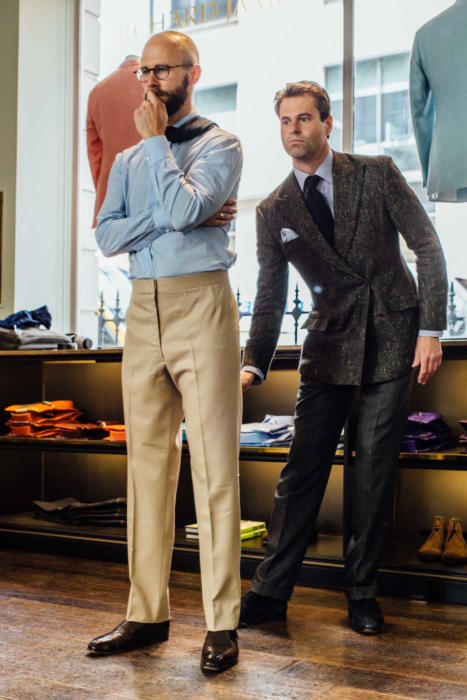 Richard James are an interesting name in bespoke tailoring. Better known for ready-to-wear suits and various accessories, they've actually had a bespoke operation since they set up – in a small shop at 31 Savile Row – over 20 years ago.
Bespoke has never been a particularly large part of the business, but it catered to a consistently famous list of clients: Sir Elton John, Tom Cruise, Sir Mick Jagger, Hugh Grant, Sir Paul McCartney.
The bias in that list towards the world of entertainment is in part down to Richard and his connections, but also to the kind of brand 'Richard James' has been perceived as: playful, colourful, a touch glamorous.
A critic might say this is glamour of a certain era – the mid- to late-1990s specifically. But it is interesting (instructive even, for any of the start-ups we cover) how a brand with such a clear identity has maintained a following over the years.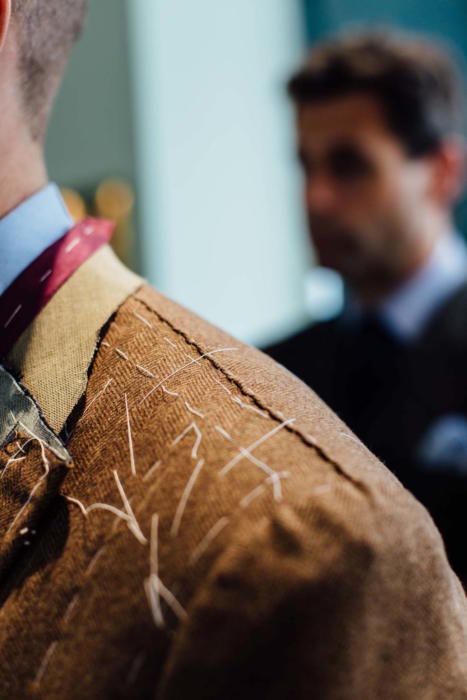 Inevitably, this RTW identity influences bespoke and vice versa. Sean and the team talk about the early days of using bespoke clients as inspiration for new RTW lines. They had a reputation for experimentation, and old bespoke hands would come to them with rather fresh ideas.
Today, that influence is mostly seen in cloths and in the very holistic, consultative approach the sales team take in bespoke (there has been a separate bespoke store on Clifford Street since 2007).
This is somewhere where the front-of-house really sit down and talk a customer through his needs and his wardrobe. It's something a lot of the other, older houses say they do too, but in reality their ideas are pretty fixed.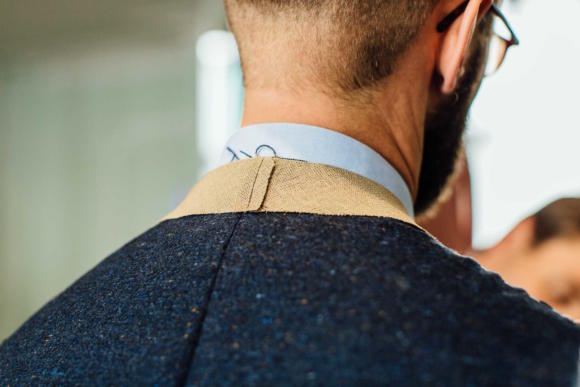 I first got to know the bespoke team through Ben Clarke (pictured here with me, during a recent fitting).
An incredibly hard worker, Ben has apprenticed both as a coatmaker and a cutter, and is now the only full-time cutter at Richard James.
(There are two other part-time cutters, who largely look after specific clients, a couple of assistants, and the front of house. Most making work is done outside.)
Ben is also very creative and open to new ideas, so with our commission here we tried a few different things – all created in a trial cloth before we switched to the real thing.
We are making a pair of trousers in cavalry twill (love a bit of cav). A waistcoat in Harris tweed. And a brown cashmere jacket.
The waistcoat will be made in a similar way to those I have had previously from Chittleborough & Morgan and Calvo de Mora: back and front in the same material; square and low to sit above (relatively high waisted) jeans and chinos; and with a proper jacket collar.
The fitting here (in a trial cloth) was rather too much like a traditional waistcoat for braced trousers, short in the back and rising quickly from the points. That was perhaps down to miscommunication and will be changed for the next fitting.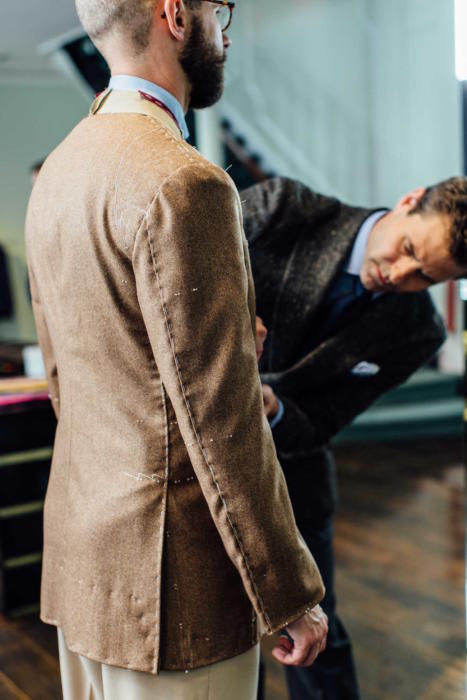 The jacket will be much softer and less structured than most Richard James tailoring.
The brand has historically been known for long, slim jackets, with relatively narrow lapels and deep vents. This one has a very slim shoulder pad, broader lapels, and rather more open fronts.
As ever with such experiments, there is a little risk here. But Ben's open-mindedness and ability to make every part of the garment will be a big help.
Richard James bespoke starts at £4425. Current trips abroad are to New York and Hong Kong.
Photography: Jamie Ferguson @jkf_man