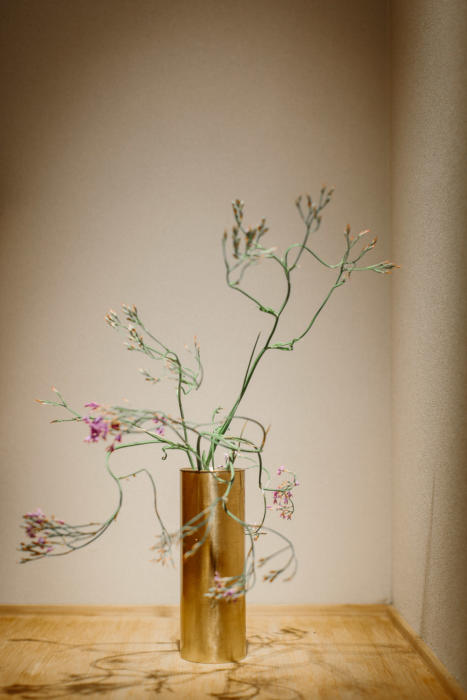 Tokyo is one of the most varied, creative and stimulating retail experiences in the world.
Not only is the city huge, but each area has a distinct feel and atmosphere, reflected in its shopping.
There are small, niche brands everywhere, as well as workshops and artisans. Many of those are unique to Japan, but even the designer brands up their game – often with striking stores and developments.
There are too many to list in full, but these 50+ shops are our favourites. As with previous guides, we have focused on stores that are pretty much exclusive to Tokyo.
I recommend looking up the various stores on a map and grouping them into areas: the size of Tokyo means it could take a while to get from one to another. Below, however, we've divided the shops into sections by type, by interest. Because I know not everyone will be interested in both bespoke tailoring and vintage workwear.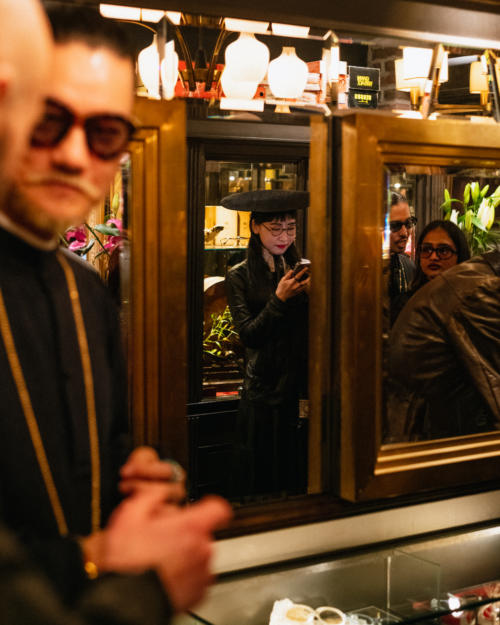 CLASSIC MENSWEAR
There are two branches of Anatomica in Tokyo, one fairly central in Aoyama, and one further out in Nihonbashi. The latter is my favourite, but if you don't have time to travel specifically to it, then do pop into the one in Aoyama instead.
The clothing is rather different to the Paris store that readers might be more familiar with (and we covered here) but the combination of French and Japanese creative directors means the clothes are a fascinating mix of cultures and styles, with berets and traditional Japanese handkerchiefs alongside original workwear designs.

2 Bryceland's Co
Bryceland's is a niche menswear store opened in 2016 by Ethan Newton. It mixes soft Italian tailoring with workwear such as chore jackets and jeans, and vintage-style pieces such as rayon shirts.
We've covered and reviewed several Bryceland's pieces over the years, and they can be found on the brand's page here. Tailor Anglofilo works out of the back of the shop.
Leather master Naoyuki Komatsu has a stellar reputation. He runs a small workshop called Ortus, which does 90% bespoke pieces such as day bags and wallets.
Everything is entirely hand sewn – in fact, Komatsu even goes as far as to make the brass hardware himself, crafting these additions small works of beauty in themselves. Trade mark designs include the 'music bag' – a briefcase made of one piece of leather with a brass bar securing the single handle. Dedicated post on Ortus here. Also very good, particularly with traditional styles of bag, is the older operation Fugee.
L&Harmony is a shoe store specialising in vulcanised canvas shoes such as Doek, Pras and Moonstar. But not only do they have a bigger range of those brands than you'll find anywhere else, they also have brands such as Asahi, Yomiya and others. Plus there are accessories, socks and bags.
It's a little out of the way, but if you're uptown near Ginza or Ueno, it's worth the detour.
Ring Jacket was the first Japanese tailoring brand to achieve serious recognition around the world, largely thanks to the promotion of The Armoury in Hong Kong and New York. There are two stores in Tokyo, in Ginza and Aoyama, and it is also stocked in Isetan.
The style is Italian and soft-shouldered, although there is a range of models (a decent reason to visit one of the standalone stores rather than just Isetan) and they also offer accessories and leather goods, all with rather Italian styling. The tailoring is well made and good value, particularly in Japan compared to imported Italian brands.
6 Eyewear: Solakzade, Gig Lamps and others
Out on the commercial shopping strip of Omotesando Hills is vintage jewellery and glasses specialist Solakzade. The shop is not immediately obvious – it's on the basement floor down a small flight of steps – and is a stone-and-gold cavern inside.
Run by two brothers, the range is eclectic, everything from the nineteenth century to the 1970s. But everyone there knows the stock inside out, and it's worth talking to them about styles if you have even just a passing interest in old frames. Upstairs is men's jewellery, but this can also be discussed and accessed downstairs. Dedicated post on Solakzade here.
Also worth a look is Gig Lamps Eyewear, in Meguru City – a few metro stops away. And if you're interested in eyewear more generally, Aoyama is the place for it – the main strip has a big concentration, including places like Eye-Van.
It won't surprise most readers to learn that there is a Japanese brand taking hangers to a particularly high level. Here it is Nakata Hangers, a 70-year-old family business that supplies many of the country's brands and department stores, but in recent years has also focused on selling particularly high-end pieces to end consumers.
The shop in Minato City is more set up for wholesale than retail, but if you want beautiful, unique hangers for your bespoke tailoring, it's worth a visit to see the products in person. They are sold in the UK by Arterton.
8 Union Works and Sarto Ginza
These two are worth mentioning because they are examples of how well the Japanese do the things around menswear, such as repairs. Union Works has three stores in Tokyo offering shoe repair, but also does a plethora of other work, and has a small line of clothes and accessories. Sarto, on the other hand, has grown to the point of having several branches, altering and repairing everything from suits to leather jackets, holds trunk shows with the likes of B&Tailor, and even has its own in-house shoemaker.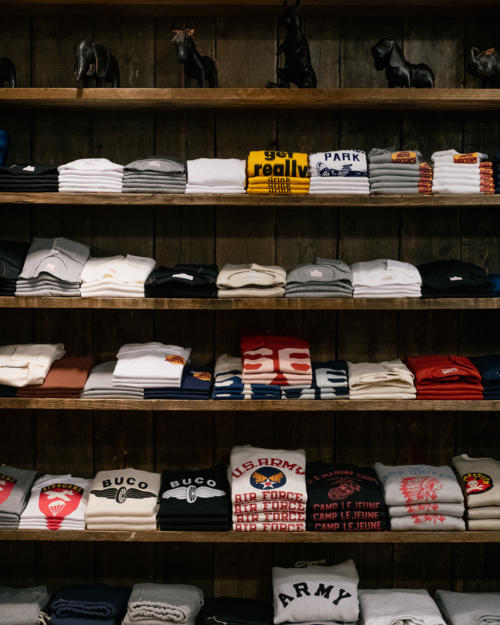 WORKWEAR
The Real McCoy's is my personal favourite workwear brand, and not only is their quality unsurpassed, but the range is huge, from leathers to jeans to sportswear. Until recently they had a shop in London, but even then it wasn't as big as this one in Tokyo. It's downstairs, but don't let the entrance fool you – it's big.
Freewheelers is another workwear brand at the top of its game – more of a biker focus than McCoy's, but great quality. The shop is also charming – you might think it's called Desolation Row from the outside, or Uncle John's Bait & Tackle, so look out for those names as well.
3 M'Arijuan (D'Artisan)
Another good one is M'Arijuan, which is the home of Osaka-five member Studio D'Artisan and others in that group, such as Orgueil, which I've come to appreciate since they've been at Clutch Cafe in London.
Right on the corner, this is a delightful little multibrand store with both repro and modern brands – Camber and Chamula, Engineered Garments and Needles. It also has a nice selection of vintage southwestern jewellery.
4 Full Count, The Flat Head, Lewis Leathers in Harajuku
This area of town – Harajuku and Omotesando – has the headquarters of most of the other workwear brands that fans in the US, UK and elsewhere will know from their local stockists. They include Full Count and The Flat Head, plus the British institution Lewis Leathers.
There's also Time Worn Clothing: less well known and not always the friendliest, but with a big following for its At Last denim brand and Butcher sportswear. That's over in Shibuya.
5 Phigvel
An area of town that was new to us on this trip was Nakameguro, and I'm really pleased we made the time to go down. It's a lovely district, with shops ranged along a canal hung with trees. Our favourite discovery there was Phigvel, which although workwear-influenced, very much updates those styles and offers them in a clean, modern palette.
Another good shop in the area for workwear is Post O'Alls, and there are both men's and women's Nigel Cabourn branches.
Over in the Daikanyama area, the little UES shop has unfortunately closed since we were last here (2019). But fortunately the rambling Okura is still open.
The original flagship store for Blue Blue Japan, it's styled like a Japanese warehouse (kura) and is great for anyone that loves indigo-dyed clothing. It's stocked floor to ceiling with indigo-dyed jackets, T-shirts, sweatshirts and kimonos, both from Blue Blue Japan and cheaper variations made overseas. Look out for pieces in sashiko cloth.
A few doors down from shoemaker Yohei Fukuda is a small doorway next to a glass display case. It proclaims 'Bailey Stockman' and leads to a tiny shop upstairs. There, a small operation has been importing American-made western clothing for almost 50 years. That includes hats, shirts and boots, and with some of them the makers are no longer around, so they're effectively NOS vintage.
There are also some Japanese-made pieces, including the company 'Funny' from Osaka, that makes stamped buckles and moccasins. There's also a great burger bar downstairs owned by the same people.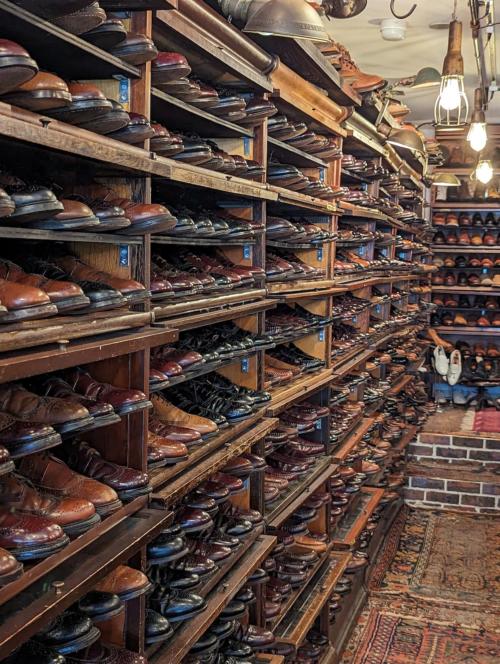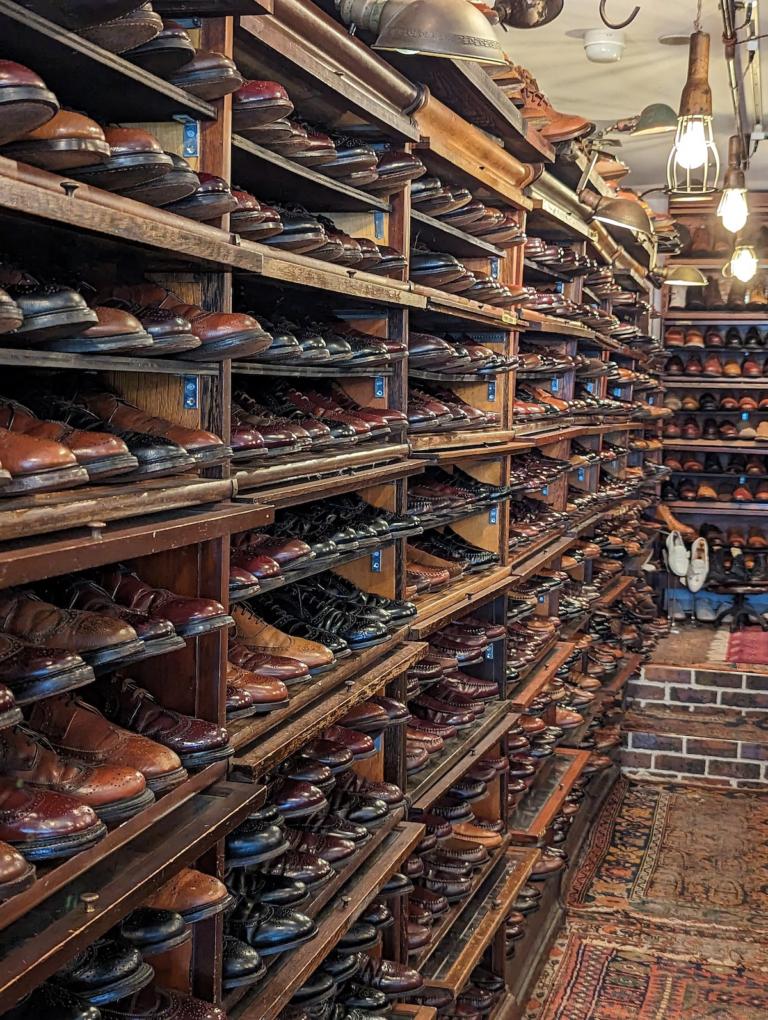 VINTAGE/KOENJI
Vintage shopping in Japan is covered in a separate shopping guide, here. That piece includes not just central Tokyo (Harajuku) but also Koenji, the vintage-specialist area outside the centre, and places in Osaka and Kobe.
Among my favourites are Berbejin in Harajuku, Safari (all of them) in Koenji, and Acorn in Osaka. I'll also use this section to mention a great non-vintage store in Koenji, which is Mogi…
1 Mogi
Mogi was founded by Terry Ellis, a London-raised designer who lives most of his year in Japan. Best known for heading the Fennica brand at Beams, Terry recently set up his own independent store in Koenji that mixes folk art with new and old menswear. It's an inspiration, and worth a visit to Koenji on its own.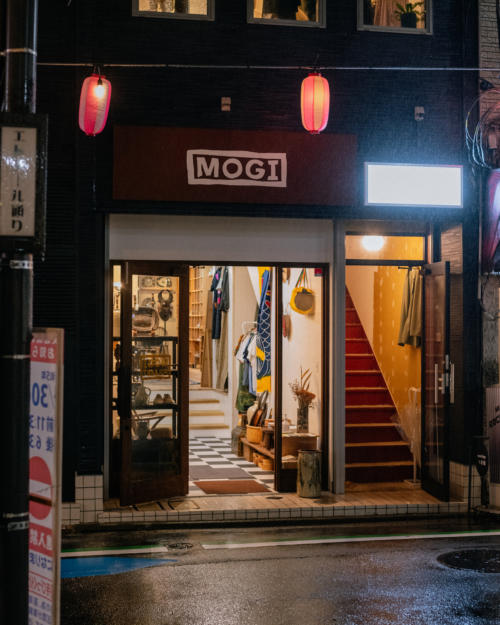 DEPARTMENT STORES
1 Isetan
Department stores in Japan do things very well, from the brand mix to the merchandising. But one thing that will set them apart for many readers is the presence of bespoke and made-to-measure clothing, from all around the world.
Isetan is worth seeing for the pure department-store experience, though also make sure to visit the made-to-measure area and look out for any trunk shows going on at the time. Oh, and there's a whole building just for menswear.
Strasburgo takes this a step further. With a more select range, and slightly more sartorial approach than the other department stores, it has several branches around the city.
Strasburgo has also tried to host more bespoke makers in house over the years, with the Sovereign House location unfortunately closing recently. It was where artisans such as shirtmaker Masanori Yamagami and tailor Noriyuki Higashi (Sartoria Raffaniello) were located. Trouser-maker Igarashi also started out here.
3 Beams F and International Gallery Beams
Having said this, on our most recent trip to Tokyo it was Beams that really stood out. I think it was because we were looking less at bespoke producers, more at retail in general, and it was a salient reminder of how much better Beams does it than anywhere else in the world.
Go into Beams International Gallery and you suddenly discover a host of European makers that you can't get in London – perhaps have never even heard of. Sandals from Giacometti, moccasins from Castellano, Paraboot special editions that are exclusive to Japan. It reminds you how poor English department stores are on all these things.
Beams F is more tailoring and smarter clothing, while Beams Plus is more casual (and readers might be familiar with from elsewhere). While we were there the windows were full of a collaboration with LL Bean.
Compared to the stores above, Tomorrowland is more fashion-focused, but the men's side tends to be fairly classic and have some interesting variants on menswear staples. It carries its own brand as well as range of others, including Acne Studios, Dries Van Noten and James Perse.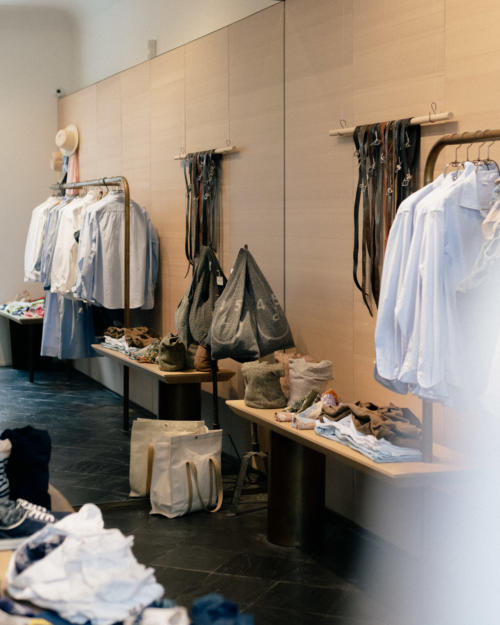 FASHION/CASUAL
So, we're not talking high fashion here, or indeed low-end mass-market fashion. Rather, this is a space for craft-based brands like 45R or Visvim that don't really fall into classic or workwear categories – perhaps because few places in the world do this kind of clothing like Japan.
1 45R
45R is an innovator in natural, crafted clothing that often involves organic indigo dye. The pieces are deceptively simple, uncompromisingly made, and intended to look vintage from the moment they're offered. They're expensive, on a par with designer labels, but all that money goes into the product and process.
The clothes can be unusual, but there are always great jeans, tees and bandanas as well. I completely get why some people don't take to the brand, but if you like craft, they deserve your time in understanding what they do. There are a few shops in Tokyo, but the one to go to if you can is the flagship Badou-R.
2 Kapital
Kapital is similar, but a lot weirder. There's often a lot of craft involved in the clothing, but the results will often be more extreme in design and proportion. Personally it's less for me, but the brand is unique and Tokyo has the greatest expression of it. The main shop is in Shibuya, but Kountry has the weirdest pieces and the women's shop, oddly in a pristine shopping mall.
3 Visvim
Like the two above, but more expensive and more fashion-driven. Visvim often takes inspiration from classic pieces of menswear, and there's a good amount of craft involved, but there's a reason the HQ in Nakameguro feels more like an art museum than a shop. I'd say it's definitely worth a visit if you're in the area, or like the brand, but I wasn't personally tempted by anything.
4 1LDK
An interesting example of a good multi-brand shop, which is something that's fast disappearing in the rest of the world. Largely more casual, but with great brands like Auralee and Arpenteur, plus Comoli, Kaptain Sunshine and Studio Nicholson. There are two shops, both worth a look, in Nakameguro.
Arts & Science is a small chain of stores in Tokyo founded by stylist Sonya Park. It's an interesting crossover between Japanese crafts and modern, minimal sensibilities, with accessories, menswear and womenswear. Although the clothing offering is pretty small, it is a good place to find unusual (if expensive) homewares and accessories, in simple styles and colours. Look out for loose linen jackets, wooden boxes and leather pouches. Either the Aoyama or Daikanyama branches.
6 Outdoors brands: Snow Peak, Nanga and everyone else
Walking round Omotesando, one can't help but notice how many outdoors brands there are. Everyone has a big flagship, North Face and Patagonia, Japanese specialists like Snow Peak and Nanga.
The non-Japanese brands often have products that are only available here too, or there are labels that are the result of licensing deals, like North Face Purple Label that is actually owned by Goldwin, the clothing conglomerate that also has its own store.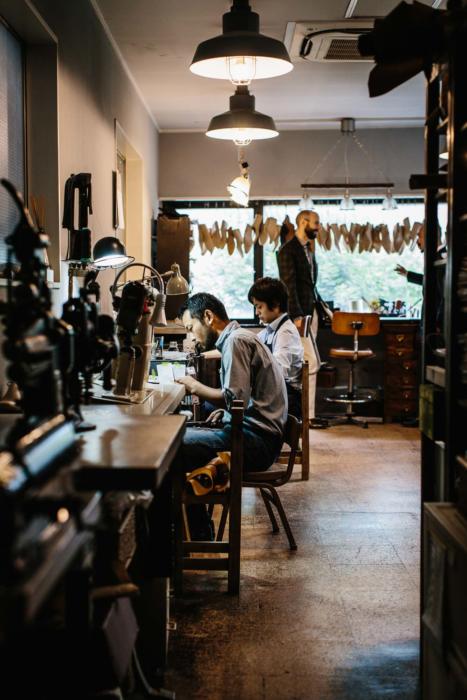 BESPOKE MAKERS
Some of the finest bespoke makers of menswear are in Japan, despite usually learning their trade in Europe. These are some of the best, though do be aware it's necessary (or at least polite) to make an appointment.
1 Shoemakers: Yohei Fukuda, Seiji McCarthy, Marquess
Japan has a huge number of bespoke shoemakers, perhaps more than the whole of Europe combined. They are largely young, working in small workshops, and good value for money – though the small size can mean there are long waiting times. Most importantly, their quality is amazing, often excelling those European masters they learnt from.
There are too many to try and recommend any specifically, but it is certainly worth trying to see Yohei Fukuda, Seiji McCarthy and Shoji Kawaguchi, the latter operating under the brand Marquess. More on them at those links, and generally on Japanese shoemakers here.
2 Tailors: Sartoria Ciccio, Anglofilo and others
There aren't quite as many new tailors as shoemakers in Japan, but the quality of the work is still very high. They're largely influenced by the soft tailoring of the south of Italy, although some also trained in Florence or Milan. English influence is felt only in the older, more traditional tailors.
The best known is Noriyuki Ueki, who runs Sartoria Ciccio. He trained in Naples and cuts a soft-shouldered suit with a Japanese level of precision. Others include Anglofilo, Sartoria Domenica and Vick Tailor. You can read more about them here.
3 Trouser makers: Igarashi and Osaku
There are a couple of workshops specialising in bespoke trousers worth highlighting: Igarashi and Osaku. Of these two, Igarashi is in the centre of Tokyo and is therefore easier to visit. Osaku works from a small town outside of the city, and comes in for appointments.
There is a similar level of precision to their work as there is with the rest of Japanese craft, and a focus on details such as curved waistbands and neat pick stitching. More on them here.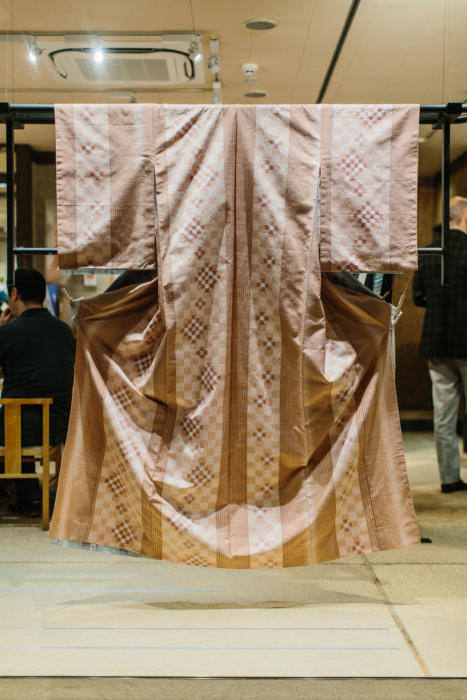 NON-MENSWEAR
Those wishing to see traditional Japanese craft in Tokyo should consider visiting Motoji, the most famous of the kimono makers in the city. Although none of the work is done on-site (fabric is produced all round Japan, and tailoring done outside the city), the shop, its bolts of cloth and finished kimonos are a virtual museum of craft in themselves.
2 Chicago kimonos
The other way to experience kimonos is much cheaper – go to a second-hand shop like Chicago in Harajuku. There you will see a range of pre-owned pieces from the seventies to the present day, as well as all the types and parts of men's and women's kimono.
The fact there are outer jackets, inner layers and even short ceremonial jackets, means there's likely to be something for everyone. I bought a beautiful seventies olive silk kimono for £65.
3 Cow Books and Tsutaya books
Tsutaya is a chain of bookstores, but the one in Daikanyama is really lovely – there are few better places to understand how much the Japanese love printed material, with a huge variety of coffee-table books and magazines.
Cow Books, in Nakameguro, is an second-hand bookstore that specialises in the arts and counter-culture works, but also has a surprisingly large range of fashion titles, including old copies of magazines like Popeye. If you like magazines, Magnif Zinebocho on the other side of town is also worth visiting.
4 Ubukeya knives and Edoya brushes
Two lovely shops that are close together, specialising in Japanese knives and brushes. As in a lot of more traditional stores, there is little English among the staff, but that isn't really needed to understand the product, and if you're after something particular then pointing and playacting usually do the job.