Sartoria Ciccio: Noriyuki Ueki, bespoke tailor, Japan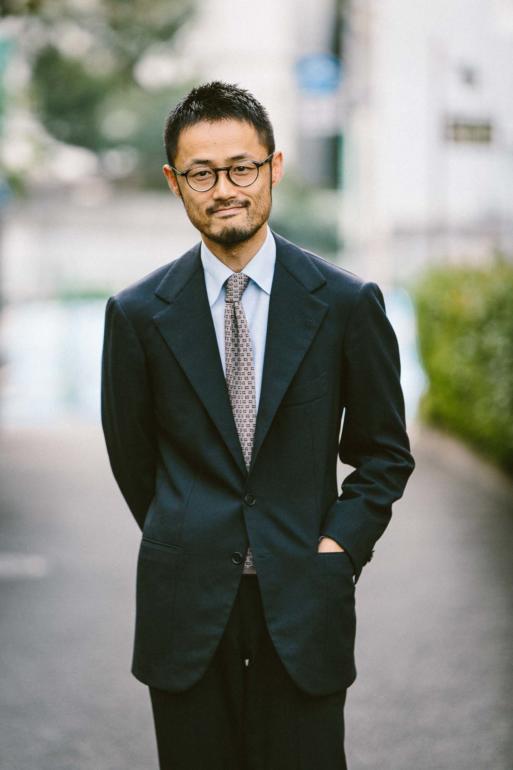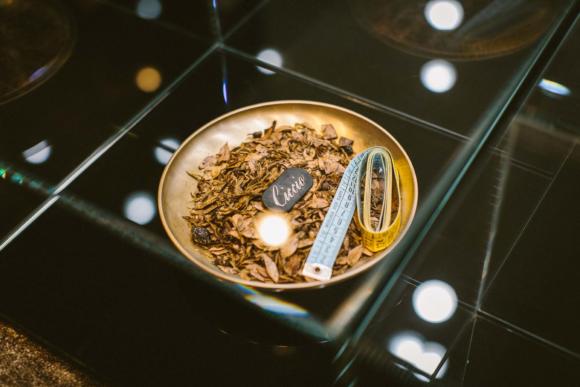 Of all the tailors we visited in Japan last year, Ciccio was the one I was excited about seeing.
I'd seen and tried on examples of his work on friends, and more importantly heard good things about his attitude to style and working with customers.
We met him at his new atelier - a large space down a semi-residential street, with lots of light streaming in at the windows. The kind of building you'd expect at tailor to pick if they had the choice.
Ciccio - Noriyuki Ueki - has become the best known of a new wave of Japanese tailors that have gone to Italy in the past 20 years, trained, and come back.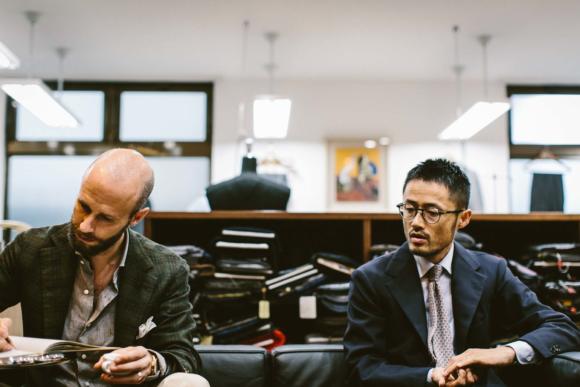 Like many of them, his style is soft, Neapolitan, but with a Japanese focus on details and execution.
"It's always the small things that get me excited," he told me. "Like the smooth run of a jacket's shoulder up into the neck.
"It's not hard to get the basic things right - the size of a lapel, the run down through the waist - but these little points are what set apart good tailoring for me."
Ueki started his career at Japanese ready-to-wear suit factory Ring Jacket, as did many of his peers in this new generation.
He joined in 2000 and was there for 5 years, before travelling to Naples to look for an apprenticeship.
"I wanted to go to Naples because I was impressed by the softness of the tailoring I had seen come back to Japan," he says. "And I knew that Ono-san (Sartoria Anglofilo) had gone."
Like most other Japanese, he knew little about Naples, but turned up and hoped for the best.
Ueki ended up at Sartoria Dalcuore, where he worked for 18 months, and then moved to Sartoria Pascariello, where he stayed for another two years.
He gained the nickname 'Ciccio' while in Italy.
A shortening of the name 'Francesco', it had been the name of several respected tailors in the past, and was given to him partly as a recognition of the quality of his work.
When Ueki returned to Japan, he was the in-house tailor for Japanese brand Tie Your Tie for a long time, renting a space upstairs from the shop.
But after seven years, he felt he had enough business to set out on his own. He found this workshop in May 2015, and now occupies it with four other cutters and coatmakers.
"Business has been good, steady," he says - with the first suggestion of a smile on a face that is otherwise still, and attentive. "We make 9 or 10 suits a month, and there has been some nice press."
Ueki now travels in Asia, to Seoul and to The Armoury in Hong Kong, as well as elsewhere in Japan.
He makes a lot of sports jackets - something that is obvious from the rack of fittings waiting along one side of the shop.
"That seems to have happened recently," he says. "We had some lovely Kiton jacketings that we were offering for a while, but also jackets are just more suited to modern men at work - even in formal Japan."
It's also fair to say that Ciccio attracts a young clientele, often guys that are clued up both on the nature of bespoke and the traditions of Naples.
"I have to say, I am optimistic about the bespoke trade in Japan. I'm 38, and there are a lot of tailors my age who are pushing the industry forward," he says.
"The only issue is that there is a big gap between us and the previous generation, who are all in their seventies."
Interestingly, Japan was about 10 years ahead of Europe in its tailoring revival: the young tailors coming through on Savile Row are largely younger than Ueki, and old guard often in their sixties.
"Japan also had an issue with men retiring early - at 60 - and then not needing suits anymore," adds Ueki. "That led to a lot of old tailors losing their clients."
Although Ueki doesn't want the Ciccio name to live on after him, he is concerned with providing a strong foundation for tailoring in Japan.
"I'm trying to train young people where I can, but because there are so few tailors who are 40-60 years old, there aren't many that are enough to take on a large staff," he says.
"The biggest difficulty is paying apprentices a decent wage when you're still small."
Sartoria Ciccio charges 580,000 yen as a starting price for a suit, and there isn't a long waiting list.
First fittings take place 2-3 months after the order, with a second fitting around a month later.
Ciccio works with shoemaker Hidetaka Fukaya (known as Il Micio), a Japanese artisan living in Florence. His shoes are on display in the sartoria - shown below.
Photography: Jamie Ferguson @jkf_man
Many thanks to Masaichi Hasegawa of Gaziano and Girling and Jason Yen of Gaziano and Girling/Camps de Luca for their help with the trip