Solakzade glasses and jewellery (plus Goro's)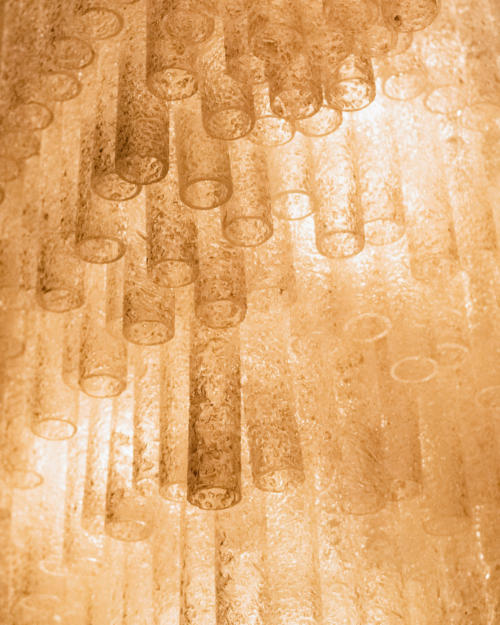 Every day we were in Tokyo and walked down Omotesando Hills, there would be a long queue on a rail near the metro station.
We assumed the queue was for some hype-driven 'drop' of streetwear, and to be fair most of the time they were. But these patient Japanese were there for a shop founded by a now-dead silver craftsman, the first Japanese to be allowed to participate in an American Indian Sundance rite.
Goro Takahashi died in 2013, but in his lifetime he became a legend for his Indian jewellery and leatherwork. He started in 1956 and set up the Omotesando shop in 1972, and the look he popularised still persists today - it's the same feather-dominated jewellery you see in many workwear stores.
The reason there's usually a queue outside his shop is that the jewellery (now made by a team run by the family) is only available there; he never wanted any stockists. Ironically this means buying a piece is similar to acquiring a hype brand: you need to queue, join a raffle, and can only buy one each.
Goro's mismatch of demand and supply has created that same dynamic, even though the object of desire is fine jewellery rather than a cheaply made T-shirt.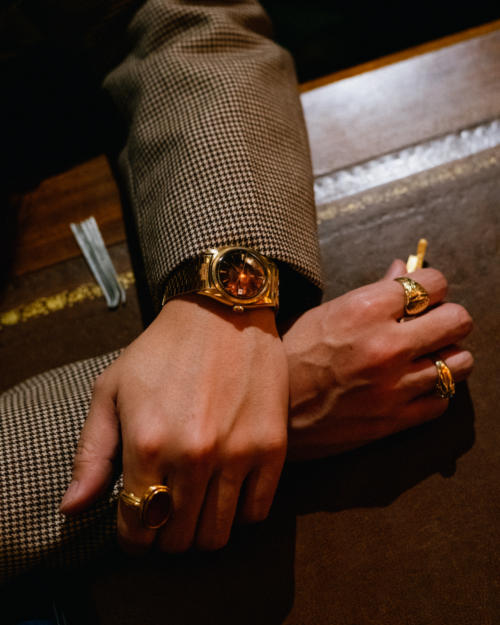 Today's article, however, is not about Goro's (though if you want some and can't get to Japan, the best sources are resell sites like Rinkan or Grailed.)
Instead it's about the vintage eyewear dealer and jeweller Solakzade, who occupy the two floors below.
I mention Goro for context, as Solakzade are the only other tenants allowed in the terracotta-painted building that Goro acquired in the 1990s, when he was under pressure to move out of the increasingly commercialised district. It is a point of faith to Solakzade that they work under Goro's blessing.
I first met the founders Ryo and Tatsuya Okamoto four years ago, when Kenji Cheung of Bryceland's briefly introduced me (he's a big customer). And to be honest I found them pretty intimidating.
They both tend to wear large, bold sunglasses, multiple types of jewellery, and clothing they design themselves - often religiously inspired. Their father was a buddhist monk, their mother a Christian, and those traditions come through in the shop as well as how they dress.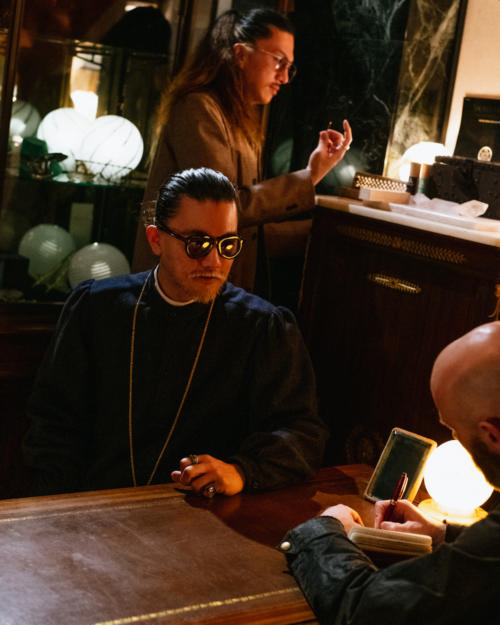 It turns out the brothers are absolutely lovely, however - just quiet, and intense. This time we had an hour talking through their passion for sunglasses and hand-made jewellery, and it was frankly inspiring.
The shop is very personal, in several ways. Ryo and Tatsuya designed it themselves and even built parts of it, including the large carved doors on the first floor. Inside, they are keen to take a lot of time with each customer, learning what makes them tick and what piece would suit their personality.
"Eyewear and jewellery used to be much more personal, designed specifically for the individual," says Tatsuya, who does most of the talking and whose English is considered, careful.
The brothers both talk about things like getting the customer "to open their heart", or that the resulting piece "becomes like an amulet, something protective". This could sound woolly, even phoney, but when you meet them you're in no doubt: they are completely sincere and take what they do very seriously.
It's also hard to argue with the results. Someone like Kenji, who amounts to an obsessive collector of eyewear, reveres them, and even though they keep a low profile (perhaps even because of that) the likes of Kanye West and Kate Moss are regulars. Bob Dylan was due in the day we visited.
"We do want to cater to everyone, every personality and taste," says Tatsuya. Price is obviously a barrier, as frames start at £300 and run into the thousands, but they also believe only certain styles suit certain people - students, artists, professionals.
"Some people wear these big frames that don't suit their personality or their face," he says. "It takes time to walk through the design history and see what works."
In my small way I agree, having tried many styles over the years and made various mistakes. People tend to think they can wear a much wider range of glasses (even sunglasses) than they can. See articles on Bonnet analysing my frames or the value of good advice.
The shadowy Solakzade space - full of gold mirrors and seventies chandeliers - is essentially a history of 200 years of eyewear, ranging from 1940s Ray-Bans to futuristic Philippe Chevalier styles, rare Cartier designs to rose-tinted 1990s Gaultier frames.
Tatsuya's favourite period is the 1960s: "It was the point at which the classic turned to the modern," he says. "There was a lot of energy then, everyone trying new things." Again the word 'energy' comes up a lot when discussing both glasses and jewellery, but you know what he means, indeed when you start talking in those terms you can feel it in the designs - how subtle or dramatic they are, how conservative or original.
The jewellery is more expressive and personal still. Again this is something I've always thought about jewellery (which is probably why I remember him saying it...).
Jewellery should be special, even unique. It used to be made for someone as a result of an interaction with a craftsperson, and in that way is more akin to a tattoo than a piece of clothing.
Like a tattoo you wear jewellery close, next to the skin, and men's jewellery is often hidden. It doesn't make sense to follow a fashion or have the same as everyone else.
"There is so much symbolism in jewellery," says Tatsuya. "Some people used to wear a centipede, for example, because it's an animal that cannot move backwards - it's about never being able to retreat or give up."
The jewellery part of Solakzade is a little more recent, founded five years after the eyewear. It's also a little less accessible, although the brothers have recently started making their own: "We wanted to practise the craft, not necessarily to sell but to understand them from the inside," says Tatsuya.
One result is the gold earrings below, which both the brothers were wearing. Each is hammered by hand into different but similar permutations, in 24 carat gold.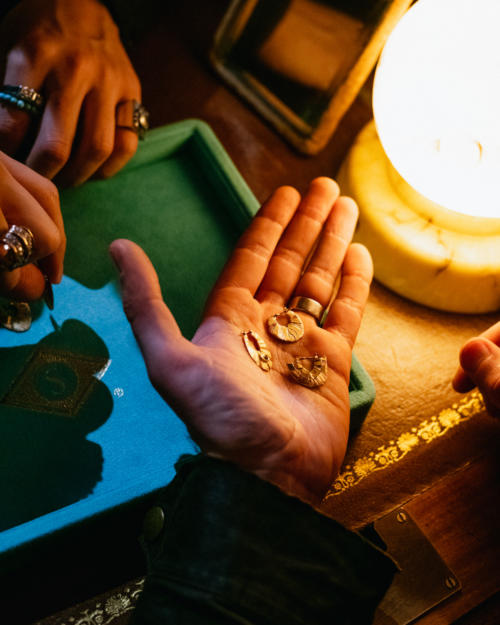 Like Goro's, Solakzade's vintage eyewear is not something that can be easily accessed, as you need to visit the shop. The only easy way to buy into it is through the pieces they make for Bryceland's - the Winston and Politician styles. (Winston below on me.)
Still, I know a lot of readers were asking about recommendations for places to visit in Tokyo and this would certainly be one of mine. Some shops should be destinations, just like Bryceland's used to be before London, before e-commerce.
At least there's no queue or raffle system for Solakzade, yet.
Solakzade: 4 Chome-29-4 Jingumae, Shibuya City, Tokyo. Opening hours are 2pm-7pm.