Most bespoke tailoring in New York is structured differently to the old houses of Europe. It tends to be based around a designer or salesman - with extensive bespoke experience - rather than a cutter.
There are exceptions of course, including Leonard Logsdail and (in Brooklyn, Jersey and Sacket's Harbor respectively) Joseph Genuardi, Yosel Tiefenbrun and Frank Shattuck.
But most outside of visiting Europeans are more designer-led. There is an extensive list (and 229 comments with experiences from readers) for those that want to dive into it, on the New York tailors article.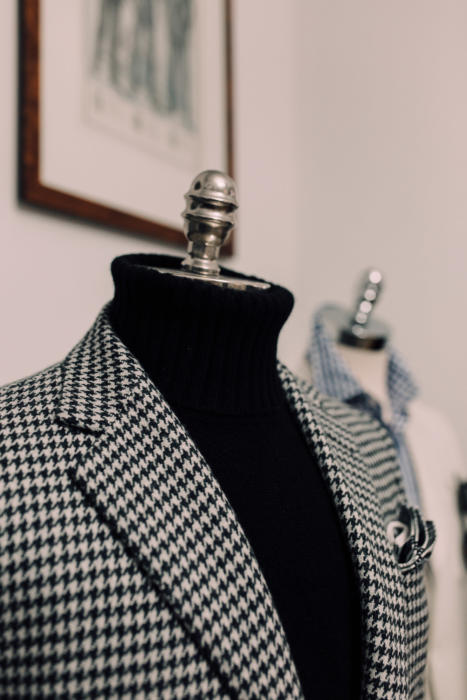 There are cultural reasons for the difference - and it isn't necessarily a bad thing. In fact, I find there is just as big a risk the other way: that a lot of tailors are craftspeople with little awareness of design or style.
But it is crucial that the person leading the house has a deep understanding of bespoke, the ways it can be used and the intricacies of fitting.
Paolo Martorano is one person that - from what I've seen - definitely qualifies. (Even if some of his customers have a fondness for flash linings...)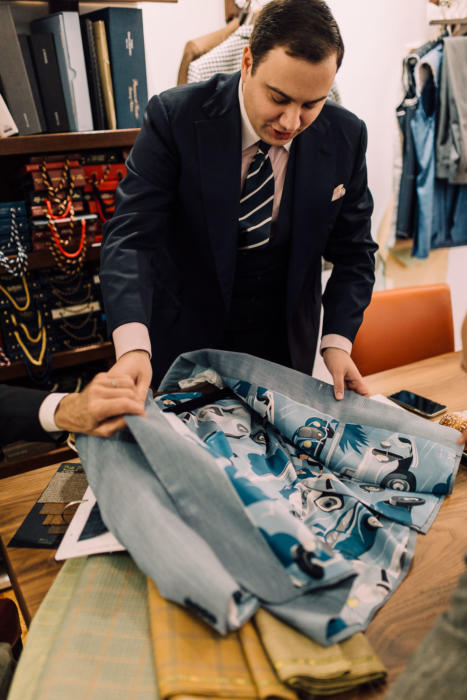 I first knew Paolo when I started working with Paul Stuart several years ago. I wrote about them a few times, and we did a book launch there.
Paolo did briefly work with Alan Flusser, but his tailoring education came at Paul Stuart, where he worked under Mark Rykken in the custom department for seven years.
It was there that he gained his love of bespoke shirts and tailoring, which he took to Dunhill before setting up on his own.
Most tailoring brands in New York also offer some form of made to measure as well as bespoke. Again cultural reasons - perhaps New Yorkers' lack of patience, or more generously, a lack of familiarity with the bespoke process - makes it a business necessity.
But Paolo wanted to do only bespoke in order to try and separate himself. "There's a lot of made to measure in New York, and it rather swamps the market," he told me in New York last year. "This felt like one way to say we were different."
The quality of the work I saw was certainly high: nice, neat jettings and fine buttonholes; hand-padded collars; interior pockets cut into the cloth of the jacket rather than the lining.
The taping inside is all sewn by hand, the linings felled nicely by hand, and trousers are offered with a hand-sewn lap seam.
The trousers have some other nice touches too, like the shape of the single-button bearer on the fly, flaps for braces, and the holster-shaped side adjustors shown above. (Although the finishing on those could perhaps be a touch finer.)
Paolo also offers two types of hand-padded chest (shown below), which is interesting. One rather loose and large, the other small and tight. They're intended to create a softer, more drapey chest and a harder, more structured one respectively.
This is symptomatic of Paolo's approach, which offers variety wherever possible. One customer, for example, likes a very strong and structured jacket - so Paolo uses overcoat-weight canvas, plus two layers of pocketing on the lapels.
"It's very stiff - the jacket could stand up on its own," he says. "But I do see the appeal. It's a very sharp look." On other jackets, he runs the domette (felt) all the way down the front of the jacket rather than just under the chest.
Paolo also tends to do the first fitting in just cloth, without any canvas - which is unusual. One reason is that customers are often only in town for a day or two, and this way he can quickly put together a fitting quickly.
But other customers have plenty of time, and prefer to see how the commission will look earlier on, so he fits those with the suit more put together.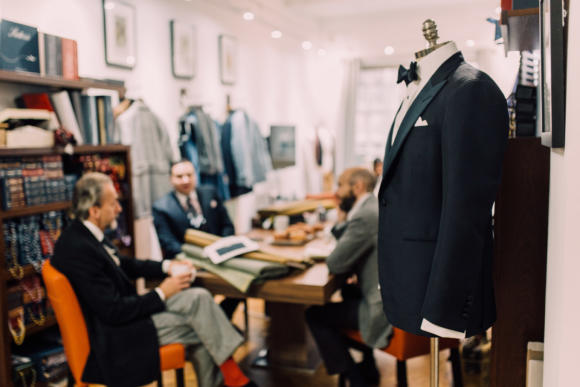 I find this kind of flexibility interesting, because in most of Europe it's generally associated with tailors in small markets, where they have to offer variety to survive. And the need to just make whatever the customer wants usually drives down quality.
Top-end tailors in New York, however, are trying to be innovative rather than flexible, and it's an interesting contrast to the very tradition-driven tailors of Savile Row, Naples or Milan.
Very few of those would ever offer such a variety of canvassing options. They're only just getting comfortable with the fact there could be more than one house style.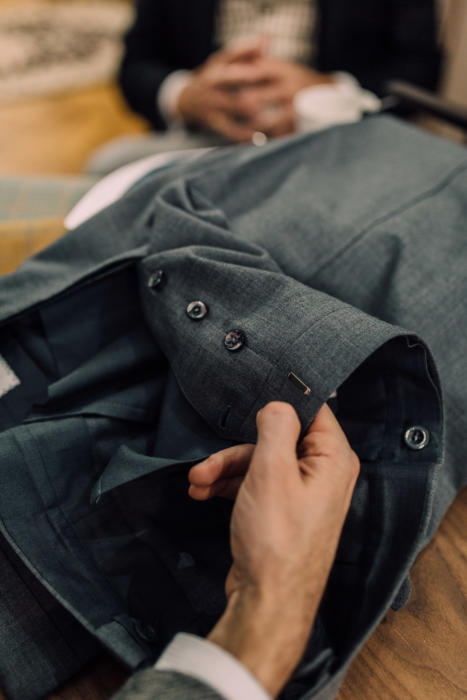 The cutter and tailors that Paolo uses work off site, as they do in most similar tailors in New York.
There isn't room to do much else in these city blocks - and apparently licensing laws are a pain too. Even Leonard Logsdail, despite doing the cutting himself in his studio, uses tailors based outside.
The only reason to want to see tailors on site, really, is to be assured that the work being done is bespoke. That it's not being outsourced to a large, assembly-line factory.
I can attest to the quality of the work - so I would have no concerns there. The only thing I can't pass any comment on, or direct recommendation, is the fitting, having not had anything made myself.
But we took a few measurements while I was there, just in case we can arrange to do so around a coupe of transatlantic trips in the future.
You'll notice that Paolo is a big fan of measuring devices - alongside normal measurements. According to him, these were derided at Dunhill when he was there, until they saw the results he could achieve with them.
Pictured are devices for measuring shoulder slope, shoulder hunch, and trouser rise.
Paolo does seem to be doing well, with a few customers carried from Paul Stuart and several that had previously used New York greats like Bill Fioravanti and Raphael Raffealli. Readers have also recommended him to me personally.
He's travelling regularly around the US (details at the bottom of this article) and when we met, was about to travel down to Palm Beach with Gaziano & Girling.
G&G actually share the space shown on West 57th street with Paolo. It's the same building (number 130) that has been described as the 'menswear ghetto' in New York, given everyone from Huntsman to Domenico Spanno, 18th Amendment to Cad & The Dandy, are based there.
I was also pleased to hear how much Paolo emphasises aftercare with his tailoring. He offers a full clean, press and repair service himself - which US tailors sometimes don't. Customers regularly pop in to have something pressed before an occasion.
Those silks on display are old Marinella ones that Paolo collects, and likes to make into bespoke ties.
And the bearded gentleman is old friend Thomas Mastronardi, long Chief Marketing Officer at Paul Stuart and now his own man, helping small operations such as Paolo.
As I said, I should emphasise that I can't attest to Paolo's fitting skills or the quality of his finished tailoring, as a result. But he's certainly doing all the right things, and readers should have no qualms about whether this is 'real' bespoke.
It's worth saying that Paolo does offer two types of service though - what he terms 'bespoke' and 'bench made'. But the only difference is that the latter is made entirely by one tailor, whereas the first is made by more than one. The former starts at $6500 for a suit, the latter $8500.
Personally I'm not sure why someone would pay such a large extra for that difference.
Some would argue sectional work leads to more specialisation and therefore quality; others that the eye of one person makes a difference. I've lost count of the number of times brands have argued one side or the other to me. In reality it's the quality of the worker and management that makes a difference, not the system.
A 'bespoke' jacket starts at $4500, trousers have just one level at $1500, shirts are $500 and bespoke ties $275.
Upcoming trunk shows are:
Boston: April 1, 2
Chicago: April 3, 4
Los Angeles: April 19, 20
San Francisco: April 21, 22
Washington, DC: April 2,3
Palm Beach: February 7, 8, 9 and March 15, 16, 17
Miami: February 10
Houston: March 20, 21
Photography: Jamie Ferguson