Decent made to measure. That's how I would describe this final jacket from Kiton – made for me as part of the Harrod's MTM events and described in previous posts on the commissioning and fitting.
The basics are all there – sleeve length correct, waist nicely suppressed, shoulders a little narrow as you'd expect on Neapolitan. Most impressive is that the collar fits so well across the neck, which you'd usually only get on bespoke.
But elsewhere it's very apparent this is not bespoke. Despite my rather slouchy posture above, the poor impression of the line from the waist up into the armhole is accurate. The bottom picture also clearly shows that the fit of the back should be better – it's collapsing on either side.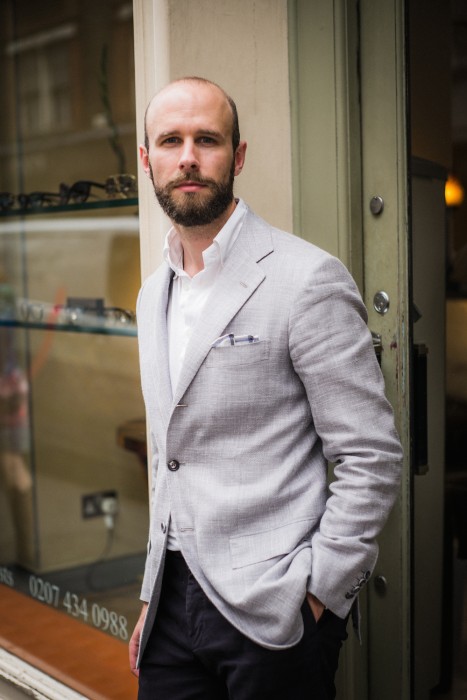 This is a very lightweight cloth, and some wrinkling as well as poor drape should be taken into account. But the small imperfections here and there are still easy to see. A decent MTM fit, but given that it costs over £4000, no competitor for bespoke.
This is a pity, because I like the material (as mentioned in the initial post). The silver-and-white weave is distinctive without being too showy, and it works well with a basic white-and-navy outfit. (Polo shirt from Luca Avitabile, handkerhief from Simonnot-Godard and chinos from Incotex.)
Another pale grey jacket would work in a similar combination. The simplicity of the whole brings out that textural detail in the cloth.
Incidentally, the three-roll-two on the front buttons is done nicely – and that shouldn't be taken for granted. The tightness of the collar and the position of the canvas have to be spot on for it to work well. It comes naturally to most Italian tailors, but others struggle. It's one thing I'd fault my Anderson & Sheppard suits for, for example. The position of the top button stops the lapel from rolling, ruining the line.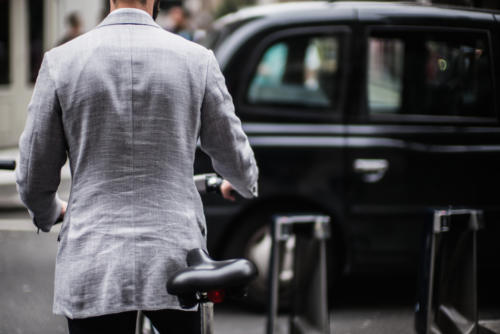 Pictures: Luke Carby