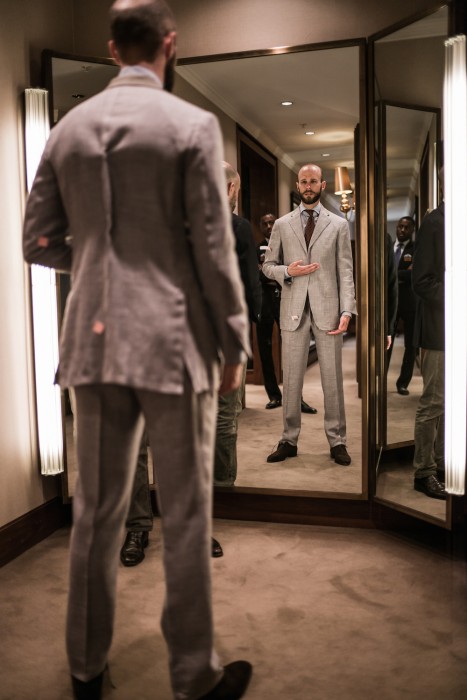 The Lasa service from Kiton is being offered as part of the Made-to-Measure service at Harrod's (the last event was this past weekend), but may actually be closer to bespoke. Indeed, the question highlights the few points of ambiguity in that distinction.
Lasa includes a lot more handwork that Kiton's ready-made and other made-to-measure options. The chest is hand-padded for one thing, which nothing else in the range is. It is also cut individually, to an individual pattern. But then, oddly all Kiton suits – even ready-to-wear – are cut individually. This makes special orders or MTM much easier, but it also means there is little difference when you step up to 'bespoke', which some would classify Lasa as.


The difference, perhaps, is in who is measuring and fitting you. On this score, Kiton quickly falls down. My measurements and order were taken by Gabriele Napoletano, the master cutter from Naples, back in April. But the fitting was conducted by Riccardo Renzi, the manager of the Mayfair store. A lovely man, and a friend, but not a cutter by any means. The second fitting – which admittedly required very few adjustments – was conducted by Harrod's staff.
So I never met the cutter, but that isn't necessarily a requirement of bespoke. Yes, you would want it 99% of the time, but several of the Savile Row houses have sales people conducting fittings. Simon Cundey at Henry Poole and Brian Lishak at Richard Anderson both do so for parts of their US trips. Both are hugely experienced; but they are not cutters.



No, Kiton fell down because of the quality of the people conducting the fittings – although the effect on the fit itself wasn't necessarily what you'd expect. The pictures here are from the first fitting, with Riccardo. Oddly, they got the hard things right but the easy things wrong.
The shape around the neck and balance on the shoulders, for example, was good. But it was three inches too big in the waist – as the pinning in the first image illustrates. The jacket was at least an inch too short in the body, and the sleeves around the same.
The second fitting was much better, but then these are all easy things to fix – in the sense of MTM vs bespoke, where length and width are straightforward, but curves and twists are not. It suggests miscommunication somewhere along the line.
I'll post on the final jacket in a couple of weeks, though it's hard to recommend on this basis. More interesting among the Harrod's offerings may be the Boglioli MTM, which has just started there and at Trunk (unfortunately no washed cottons).