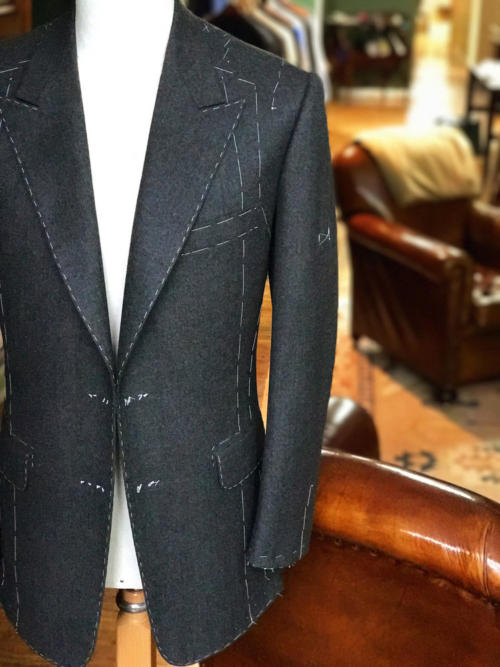 There are more Permanent Style readers in the US than UK - roughly 50% of the total. This always surprises people, but then given the relative population size, it probably shouldn't.
Those readers have very few local tailors. As a result, the majority that order bespoke use visiting ones, largely from Savile Row but increasingly from Italy as well.
New York in particular probably has more visiting tailors than any other city in the world. I just wrote a feature for Robb Report in the US highlighting them, and it was a big list.
I understand why people primarily use these tailors. There is greater variety in style, expertise and price than you'll get anywhere in the US. I'd always recommend a reader look to them first.
But there are advantages to using someone local. If you miss an appointment, you don't have to wait for the next visit; if you have a tailoring crisis, someone is on hand to help.
So in order to paint a broader picture, here are the bespoke tailors I can recommend around New York.
Now, normally I would only recommend a tailor once I had tried them myself - which is why such coverage takes a while.
But as I only visit New York once a year on average, this isn't really possible. It would take too long.
So instead these are tailors that I have met, know that they offer proper bespoke, and can guarantee the quality of the make.
Whether they're up to scratch on fit, style or experience will be up to others to comment on (and please do so - we'd all love to have your views).
There will also be tailors missed out. Please mention those yourselves too, if you feel you can offer the same guarantees.
The US has very few long-running bespoke tailors, but lots that offer made-to-measure tailoring - usually called 'custom' but sometimes even 'bespoke'. So it's important that we try to separate the two.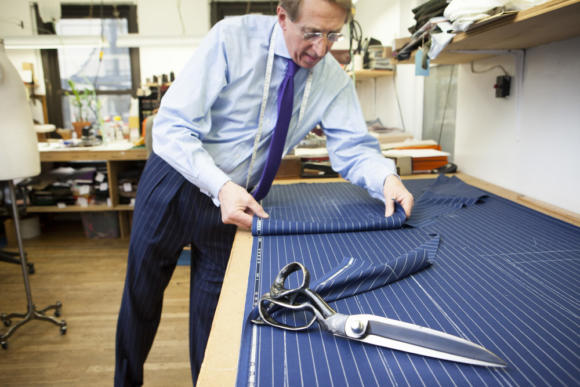 1 Leonard Logsdail
Len Logsdail is probably the best-known bespoke tailor in New York. An Englishman who moved to the US, he has a lovely workshop on East 53 St and recently added his son, Leonard Jr, to the team.
Len has become famous through his film work - for the likes of Robert De Niro, Samuel L Jackson and Leonardo DiCaprio - but still makes proper bespoke (often called benchmade in the US) as well as offering a cheaper suit closer to made to measure.
The cut is drapey with a slightly extended shoulder, but closer fitting than Anderson & Sheppard, for example. For those that want an established tailor in New York, and like the style, he will probably be the first choice.
2 Joseph Genuardi
At the opposite end of the spectrum is a young tailor like Joseph Genuardi, who apprenticed under Joseph Centofanti in Ardmore, Pennsylvania, and now has his own operation in New Jersey.
Joseph was at Centofanti for five years, and then went to work at the Martin Greenfield factory in Brooklyn, expanding his knowledge into made-to-measure and becoming involved in TV work like Boardwalk Empire.
In 2016 he quit to set up his own bespoke workshop and now has three people working for him. I've met Joseph and seen his work, which is very good. Some of his styles aren't for me, but the classic tailoring is great, with nice touches like scooped side adjustors on the trousers.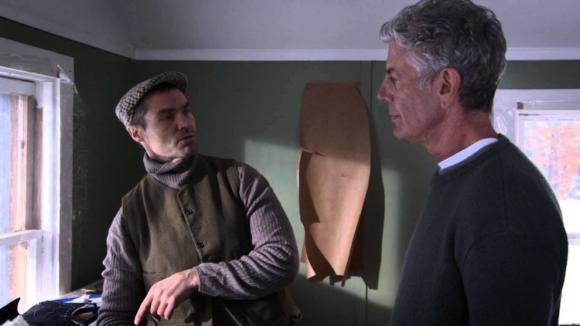 3 Frank Shattuck
Frank is based in Sackets Harbour, upstate New York, but comes to Manhattan to see clients. He has been a tailor since 1982, when he started with the Cesta brothers in Syracuse, but more significantly, trained under Raphael Raffealli in Manhattan - one of an older generation of New York bespoke tailors that is now largely retired.
Frank makes proper bespoke, and does all the cutting and making himself - something many of these small tailors can do, even if they stop doing so when they get bigger.
Frank's style is English and quite structured, with a particular fondness for country and shooting garments. He also uses a lot of vintage fabrics. You can see from a film made about him by Anthony Bourdain that he is quite a character, but no less talented for it.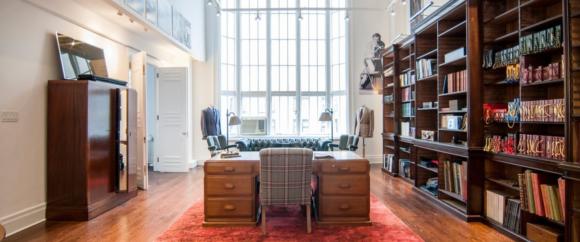 4 Dunhill, Thom Sweeney, Huntsman
In recent years, a group of English tailors has set up permanent operations in New York.
Initially, some of those were just showrooms with a salesman. Huntsman, for instance, had a small place with this set up. It made things slightly easier for a client, as they could skip the visit where they picked cloth for a new commission. But it wasn't possible to drop in any time for a bespoke fitting.
That's now changed, with Huntsman expanding into a bigger space (above) and having a permanent cutter. And early in 2018, Thom Sweeney did the same when it opened its first RTW store in the US. In fact, Sweeney theoretically has bespoke at two locations at the moment - in the West Broadway store and in a little bespoke space uptown.
Dunhill has had a cutter on site for longer, in the Madison Avenue store, though the service has varied over the years. And like all these English tailors, even if the cutting is done on-site, the tailoring work is still sent back to the UK.
www.dunhill.com/experience/en/bespoke-made-to-measure/
www.thomsweeney.co.uk/pages/locations
www.huntsmansavilerow.com/huntsman-opens-permanent-second-home-new-york/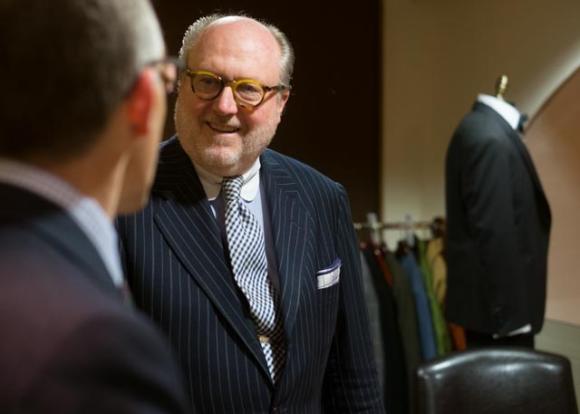 4 Alan Flusser, Mark Rykken (Britches Bespoke), Paolo Martorano (Paolo Style)
The next group of houses are all American, and offer bespoke tailoring, but are not cutters themselves. Their histories are also all intertwined.
Readers will be familiar with Alan Flusser (below) from his books on menswear, but he has also offered his own MTM and bespoke tailoring for a long time. Mark Rykken (above) started his career with the men's outfitter Britches of Georgetowne, before opening the Alan Flusser outlet in Washington DC.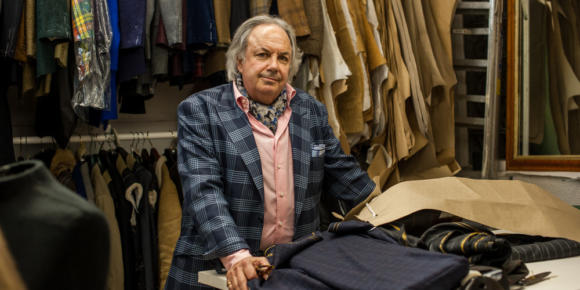 When Mark left, he went to run the bespoke and MTM programme at Paul Stuart. Paolo Martorano worked with him there, and when the Paul Stuart service closed recently, he set up on his own under the name Paolo Style. Mark, meanwhile, re-opened Britches with the founder Rick Hindin.
I visited Mark in New York recently and there's an interesting range of MTO products, from outerwear to shoes - though some of the styles are rather too loud for me. The story of Britches is also a great one, tracking the history of American menswear, and I'll cover that at a later date.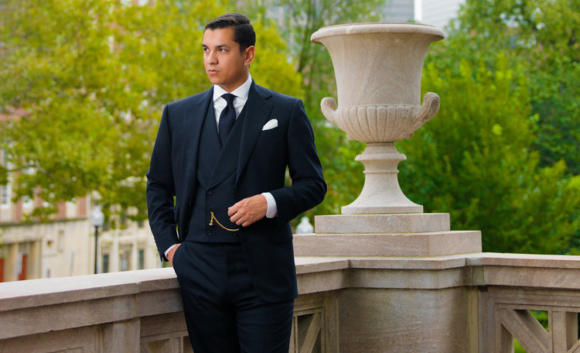 None of the these three are cutters, all using outworkers in and around New York. But what they offer (at least at the top level of their service) is bespoke, and they all have enough background in menswear to have some strong style input as well.
The cut each of them offers is quite similar, largely derived from an English drape, although Paolo (above) keeps the shoulder and body line while cutting out the drape in the chest.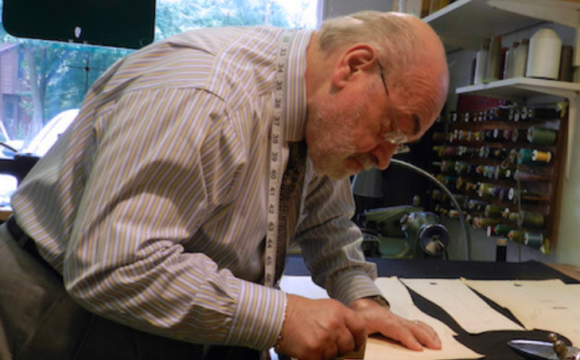 5 Nino Corvato, Nino Caldarone, Raphael Raffaelli
The last group is an older generation of Italian tailors in New York, many of whom are now retired or semi-retired.
Nino Caldarone (above) is the youngest of these, and still works from his home in New Jersey. Nino Corvato is now 78 and from what I have been told, is not taking on new clients. He was featured in the documentary Men of the Cloth - which is worth seeing if you have the chance.
Raphael Raffaelli is still working, but again not taking on new clients. Bill Fioravanti falls into the same category. Franco Ercole, meanwhile, has a small workshop in Brooklyn, offering bespoke but also made to measure.
This was the hardest group to confirm information on, so if any readers have recent experience here, please do comment below.
However, it feels like the other tailors, such as Len, Joseph or Frank, are stronger options if you want an American tailor in New York, while the English brands now established in the city are best for the feeling of a Savile Row tailor with the bonus of local access.