Reader profile: Patrick
Patrick Dawson is a retired news correspondent, now living in London. During his career he worked for ABC, CNN and NBC and covered the Balkans War from Kosovo, the Gulf War from Kuwait, and was the first NBC correspondent on the ground during 9/11. He is currently working on his first novel.
Patrick has been a reader for a few years, and although a recent convert to some bespoke makers, has been dressing pretty much the same way - at least casually - since he went to college in the 1970s.
He wears it all very well. Here are three outfits representing how he dresses, with a lean towards the slightly more colourful end of the wardrobe.
Outfit 1: Formal
What are you wearing in this outfit?
This is a chalk-stripe suit that Steven Hitchcock made for me, oh God more than 10 years ago now. It has the classic English drape, which I assume he learnt from his Dad, but the thing I love most about it is the balance. A grey suit that has balance is just a beautiful thing, and he did a great job. It was my only suit from him too, so it's not as if he knew me well.
What do you mean by balance?
I mean the way it looks on me, the proportions between the shoulder width, the drape, the lapels, the buttoning point. Getting all that right shows real artistry. It's also accommodated my changing body over the years well.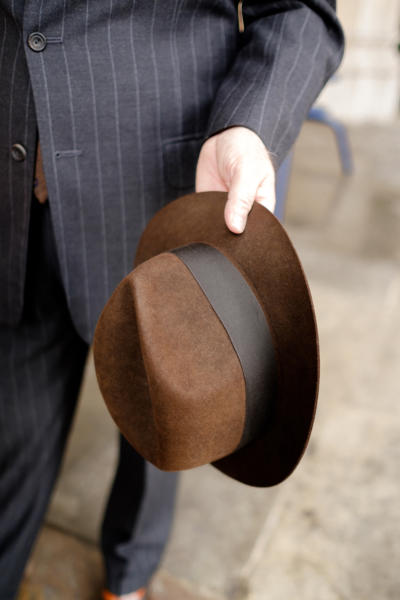 What else are you wearing?
The shirt is a blue puppytooth made by Simone Abbarchi in Florence, the tie and handkerchief are from the Anderson & Sheppard Haberdashery on Clifford Street, and the scarf and trench - which I know we both love - are from Paul Stuart. The shoes are two-tone oxfords from Stefano Bemer, the fedora is from Lock & Co.
What do you particularly love about the coat?
It's a traditional trench, but it has that something extra that Paul Stuart in New York always adds to its clothes - in this case the colour, and the brown cord that's on the collar and under the pocket flaps. That's what Paul Stuart has always done well - taking classic clothes a little out of the ordinary.
Would you normally wear shoes as unusual as this?
No, probably not, I'm deliberately wearing things with a little more individuality today. Though I also think they help to stop the suit looking too conservative. It's hard to wear a chalk stripe and not look somewhat conservative, so I try to dress it up and add a little individual style.
Outfit 2: Semi-casual
Tell us about the second outfit.
Here I wanted to show something with a more Italian feel. So you have this pale-blue cashmere sport coat from D'Avenza in Rome, the classic three-roll-two look. It's a nice counterpoint to the English suit I think. The shirt is a cream, worn open-collar, from Simone Abbarchi as before.
I like the way the pale blue of the jacket, which is a little unexpected, sets off the strong check of the trousers. They're a dark-blue windowpane, a heavy Fox cloth made by Whitcomb & Shaftesbury.
Patterned trousers aren't easy to wear - why do you think this jacket works well with them?
I think it's helpful if the jacket has some texture or pattern. Nothing so bold that it clashes with the trousers, but enough that draws the eye and all the attention isn't on the lower half.
The shoes, from John Lobb, do that too. They're a brown suede, but not your average brown - an unusual red tone that again I think sets off the trousers.
We should also mention the socks, which are from your and my favourite sock store, Mes Chaussettes Rouges in Paris. I was there for the first time a couple of months ago, and it's just a wonderful place. So much colour.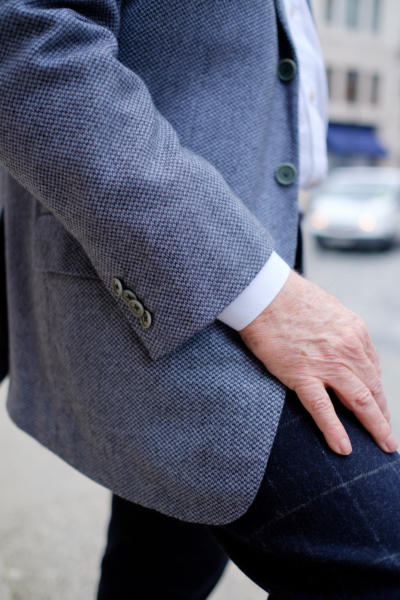 During your working life on TV, I presume you didn't dress this colourfully?
No, when you're a news correspondent you couldn't push the envelope too far. As we used to say, the clothes shouldn't distract from the story.
My career extended from the late seventies to around a decade ago, and for most of that time I would wear a fairly conservative suit on TV. Towards the end it was more a sport jacket and trousers, but again more conservative than we're showing in this story. And you wouldn't be wearing tailoring at all if you were in a war zone.
Did you dress more colourfully in your spare time then, or has that come since you retired?
I would wear them if I was not on a job - evenings out, weekends. Something a little more fun, or perhaps with more personal expression, let's put it that way.
If I had been a print reporter during those years I might have pushed the envelope a little bit more, because people wouldn't have been looking at me. The camera accentuates everything - it accentuates your features, it certainly accentuates what you're wearing.
Was there an internal dress code, or did you get a sense of what was appropriate from other people?
There was nothing written down, it just depended on the occasion. So if you were reporting from the North lawn of The White House, or on election night, you would be more serious and plain.
But if it was a human interest story, on a personal level, perhaps outside the city, then you could get away with a sports coat and trousers, and perhaps a little more style.
Outfit 3: Casual
OK, outfit number three. Tell me about what you're wearing here.
The best way to describe this is old American style. Levi's, a blue oxford button-down, a crewneck and desert boots. This is how we all dressed in boarding school and then during college - for me, the sixties into the seventies. The trousers might have been khakis, the shirt would alternate with white, but that was what we wore everyday, a uniform.
The Levi's are very American, popular in the forties and then the fifties, and of course the A2 leather jacket came from American servicemen after the Second World War. I feel very comfortable in them. In fact, they're things that were built for comfort, and that's important. No one designed these clothes with the desire to create a particular look.
Where are the various pieces from?
The jacket is an old one made by LL Bean. The oxford shirt is from Permanent Style, the lambswool crewneck is from Natalino, the jeans are Levi's and the boots are from another of my favourite brands - which we also wore back then - the Italian maker Astorflex. They're also really comfortable.
How important is familiarity to style - the fact you've always worn these clothes?
I think it helps a lot in making you look and feel comfortable, which is an absolute requirement of style. But it's also something that comes slowly over time, and everyone has to start somewhere.
There might be a parallel with clothes like this shirt - it looks good now, it will look better in a few months, and it will look fantastic in three years when it's been worn and washed countless times. People grow into style in the same way.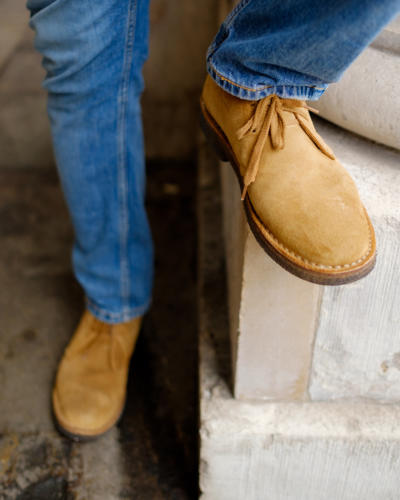 How much have you found those clothes have gone in and out of fashion?
Good question. It was the 'permanent' in Permanent Style that attracted me to this site in the first place. Of course, nothing is actually permanent, but I think we can and should aim for a more enduring, authentic style.
When these clothes were first worn, they were actually quite youthful. Few men in their fifties were wearing jeans and leather jackets. That's changed over the years, but they always seem to come back round.
There's something about leather and denim that makes each generation find something new in them. From bikers to punk to hip-hop.
Yes, and I think that's partly down to their comfort and practicality. Their ruggedness.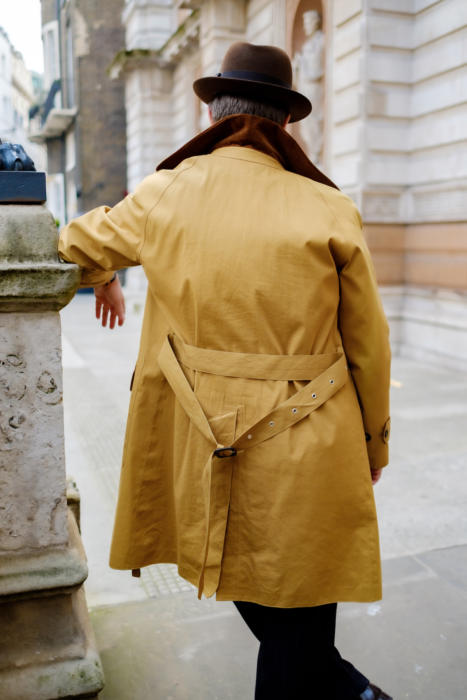 Thank you Patrick. Any last thoughts for readers?
I guess I would add that dressing well, in a way that reflects personal style, has always given me satisfaction, in ways large and small. That goes for dressing down as well as dressing up.
The idea is to enjoy clothes - not so much to make a statement, but to enjoy what you're wearing. They should express something about yourself.
If I have a cardinal rule, it would be that to be understated is nearly always more elegant for a man. A woman can get away with more flamboyance and still look terrific. But generally for most men, something flamboyant, the overstated element, looks like you're trying too hard.
It's important to emphasise that when I say understated, I don't mean conservative, or predictable. There's nothing wrong with an unexpected personal touch. But the aim should not be to stand out.
Thanks again. Lovely chatting, and great to have you included in the Reader Profile series.
My pleasure Simon. I've become a faithful reader since I began reading Permanent Style four years ago, and while the pieces I like most are your reviews of bespoke - probably because they've taught me how much I didn't know about clothes - these reader profiles are always useful. They provide great examples of all the principles we just talked about.