Bespoke socks, at Mes Chaussettes Rouges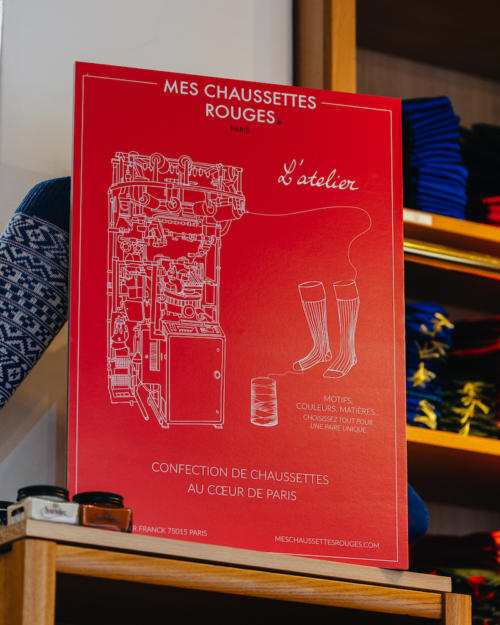 Do most people need bespoke socks? No.
Most people are fine with simple small, medium and large sizing. And when you get into proper sock sizes (10, 10.5, 11) everyone is catered for.
Do they need specific colours, or materials? Well possibly, but there are hundreds of combinations out there, even in the rarefied world of over-the-calf dress socks.
The most obvious driver is personalisation - and it is here that a new bespoke service from Mes Chaussettes Rouges (MCR) has found much of its custom so far, with both clubs and individuals liking the idea of having their name knitted into their hosiery.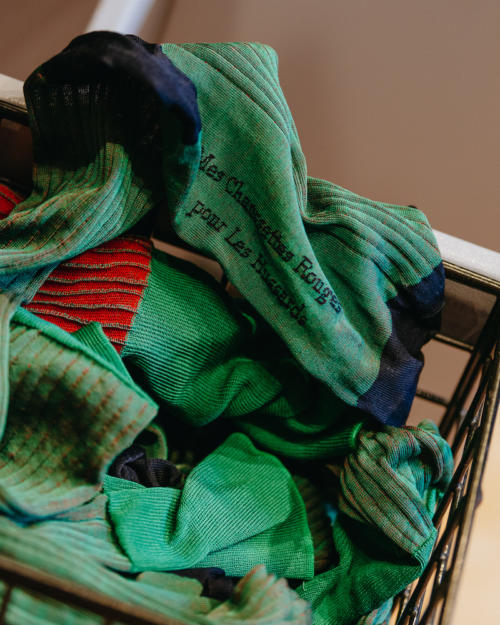 I'm not going to make an argument for bespoke socks though.
Rather, in this article I'm just going to applaud MCR for the sheer audacity of buying their own huge sock-knitting machine, sound-proofing a building to accommodate it, and then spending months learning how to use it. Jacques even spent a month living in Italy, to learn first hand.
All for what seems a pretty thin selling proposition.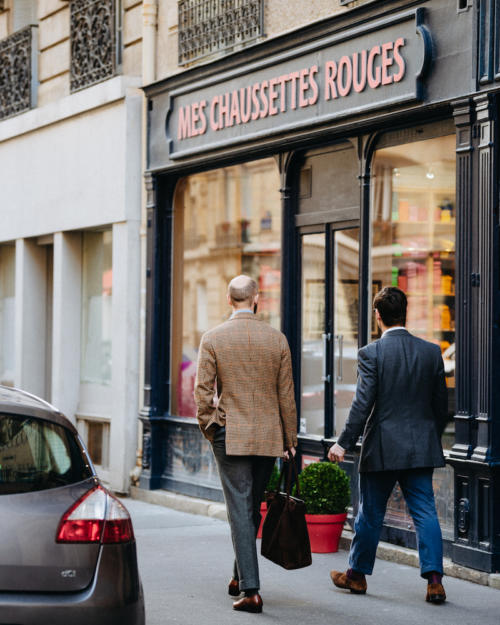 MCR is a sock shop in Paris, originally online but now with a healthy physical base in Paris too.
They offer one of the largest ranges of premium men's socks, mostly over-the-calf (the only length for elegant dress) and mostly from the producers Mazarin, Bresciani and Gammarelli.
I've known them since they started, 10 years ago, and in that time they have relentlessly pursued niche areas, from super-durable socks to compression socks, riding socks to luxury tennis socks.
Nonetheless, I was surprised when I learnt they'd bought their own sock knitter.
I've been to sock factories, and the equipment is not small. It takes a surprisingly large machine, partly because the knitting has to be circular, and because various types and colours of threads need to be suspended in a circle above it, ready to be fed in.
It also has to be very precise. Up to 2km of yarn goes into each sock, and if just one millimetre is wrong, the piece has to be thrown away. Even the best factories usually have a 10-15% wastage rate.
(Actually, the better the factory the higher the wastage, as cheap socks with thick polyester-mix yarns are much easier to control.)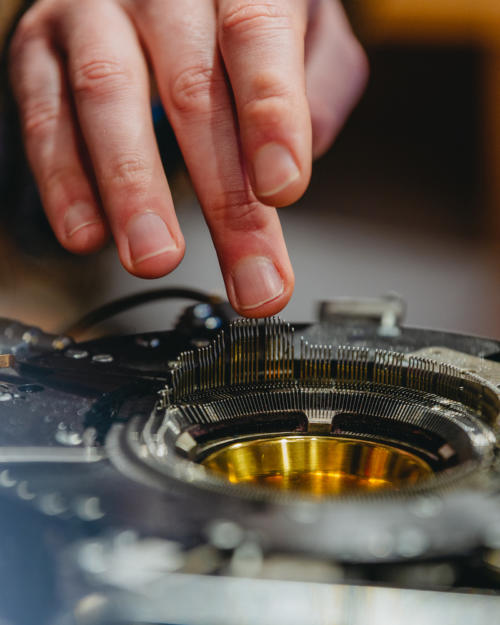 Around 240 needles sit in the middle of that machine, and move up and down depending on whether they are needed in a particular circle of stitching.
As the sock moves from the calf section into the heel, for instance, half of the needles stop knitting, while the rest carry on round in a circle. (You can see them moving between heights above.) They then join in again when the foot begins.
Each needle has a tiny hook on the end, which catches the yarn, and a little gate that flips up to keep the yarn in place. Below that gate is open and down, so you can see it. It's virtually invisible otherwise.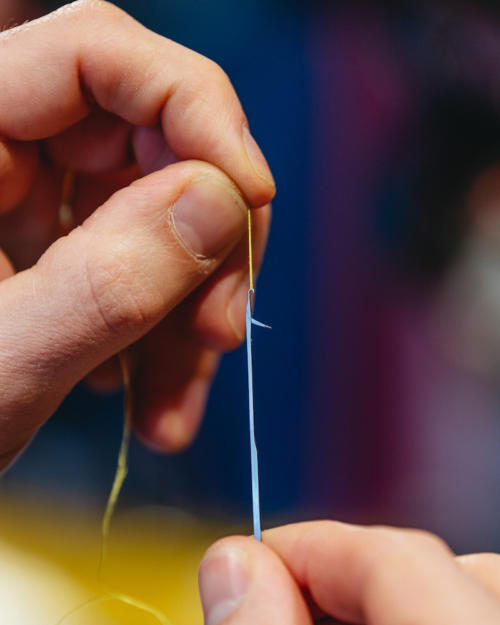 Jacques talked me through the process (Jacques Tiberghien - MCR founder alongside Vincent Metzger), using the control panel to show how he could vary the number of stitches in each part of the sock, as well as their tension.
The tension was interesting. Jacques knitted three different types, from pretty regular to something that was almost as transparent as tights (below).
Apparently the different sock brands do vary slightly in the tension they use, and customers tend to one or the other on that basis. So something else that's possible with bespoke socks is that they can pick precisely the tension they want.
You can see how this could appeal to someone with a tendency towards the obsessive.
They can vary the tension in different parts of the sock, add different widths of ribbing, in different elastics.
They can pick the length of the foot and of the calf separately - both to the width of a single stitch. They can vary the shape to follow the contours of their calf. And they can pick colours and designs. Plus have their name on the bottom.
It's not for me, but then I've never had issues with fit. Jacques estimates that 5-10% of his customers would noticeably benefit from varying lengths, or widths in the calf. Some have very big calves, which can make socks uncomfortable; others have very thin ones, and the socks fall down.
One customer just makes one change, which is to have a much looser fit on the foot than the calf.
As with some other types of bespoke, it perhaps has most appeal to physical outliers.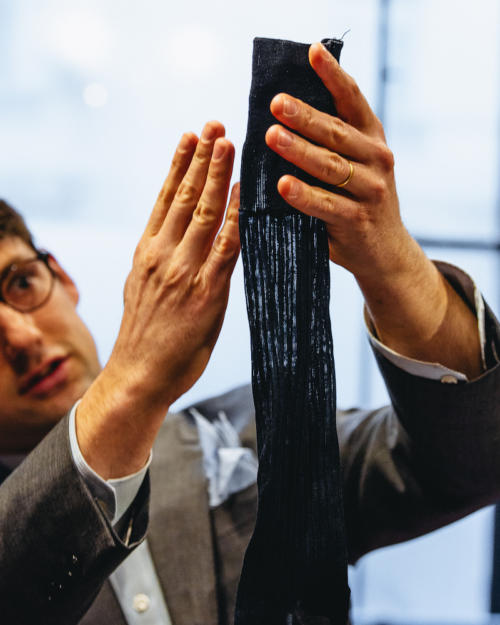 Personally, I'm most impressed that Jacques (above) and Vincent have gone through so much to set this up.
I think it shows how deep they're involved in the industry, rather than just being an efficient online retailer. (Which could be selling anything.)
It was not easy or cheap. They had to move all their stock out of the building next door, and both reinforce the floor and soundproof the ceiling.
And while only a minority will actually order bespoke, seeing socks being made is something a lot of customers will appreciate. It gives them a greater connection to, and understanding of, the product.
Mes Chaussettes Rouges bespoke socks cost €40 a pair in cotton, €70 for silk and €100 for cashmere.
There is a minimum order of 8 pairs (in the same structure and pattern) in a maximum of two colours. Then an extra four pairs for every colour added to the order.
They can be ordered remotely, over the phone or email, though it's a lot nicer in person.
Photography: Alex Natt
The Mes Chaussettes Rouges shop opened again last week, in Paris. Here's hoping it's the first of a long, lovely wave of reopenings around Europe.