Artisan of the Year 2021: Whitcomb & Shaftesbury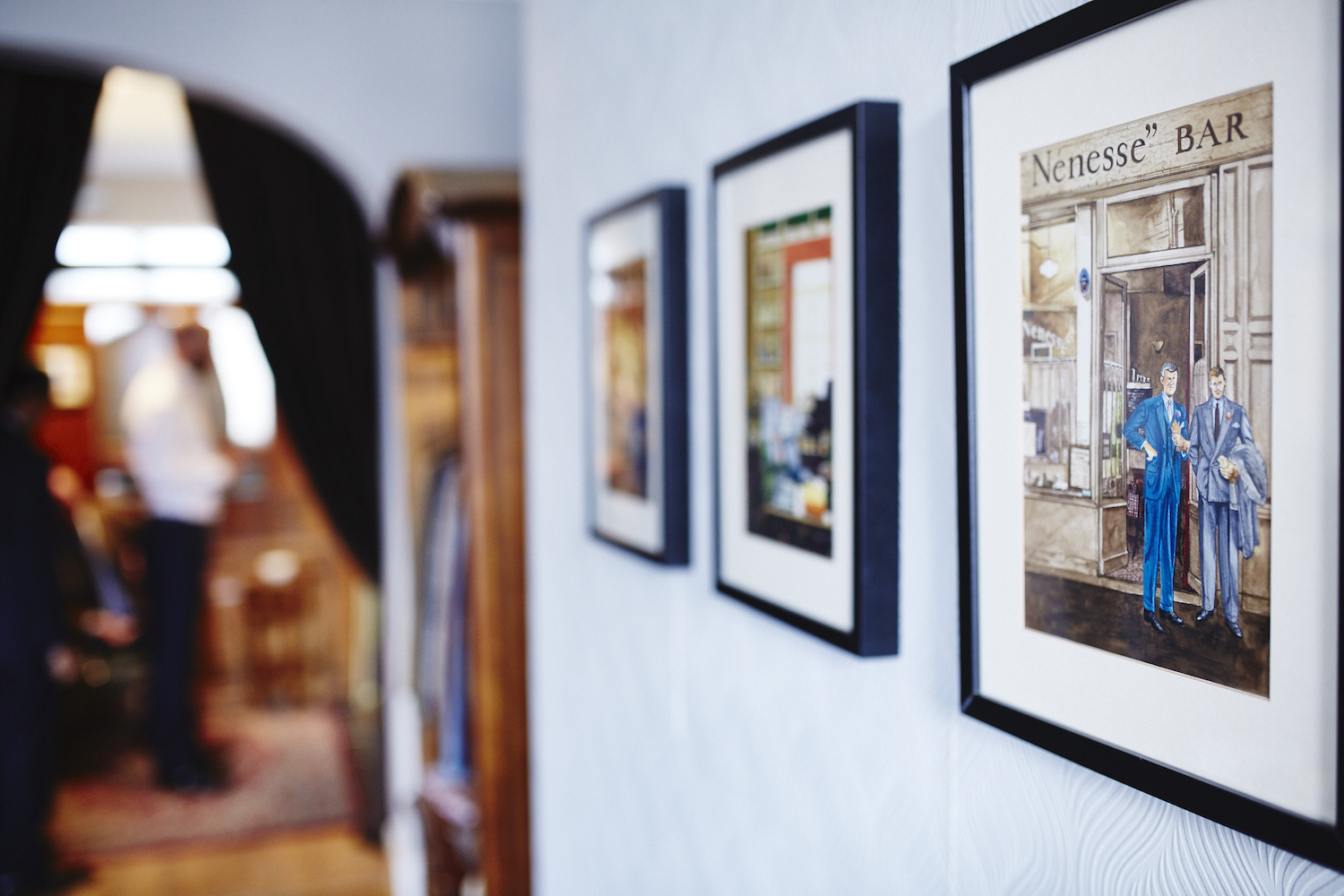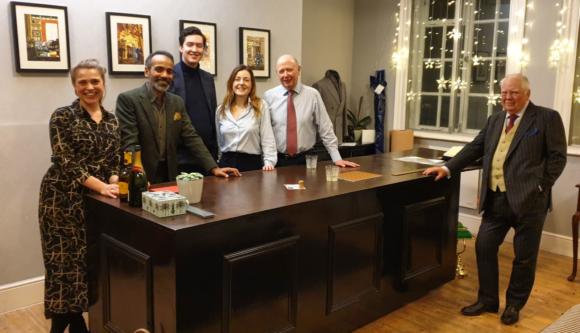 Best artisan 2021: Whitcomb & Shaftesbury
I decided to give my Artisan of the Year award this year to Whitcomb & Shaftesbury because, looking back on recent commissions, they have so consistently delivered on quality and value.
Those are not attributes we often celebrate. Quality and value are often overshadowed by their more glamorous cousins, finishing and style.
But if bespoke tailoring is going to survive the next decade, it needs to deliver all of these.
And although I often say style is where most tailors fall down, the influx of cheaper travelling tailors in recent years has sometimes failed to deliver quality and consistency, giving tailoring a bad name in the process.
Bespoke will win repeat customers (the only thing that keeps it viable) if men find they consistently get a great fit, and great quality. If every time they put on a pair of bespoke trousers, they are reminded how good the fit is compared to that RTW pair they bought online.
And if the prospect of going to a tailor that will produce exactly the same thing, knows their every preference and peccadillo, and will offer them a nice cup of tea while they discuss them, engenders a big sigh of relief.
Because at that point, if that's how they feel (and they can afford it), why would they do anything else?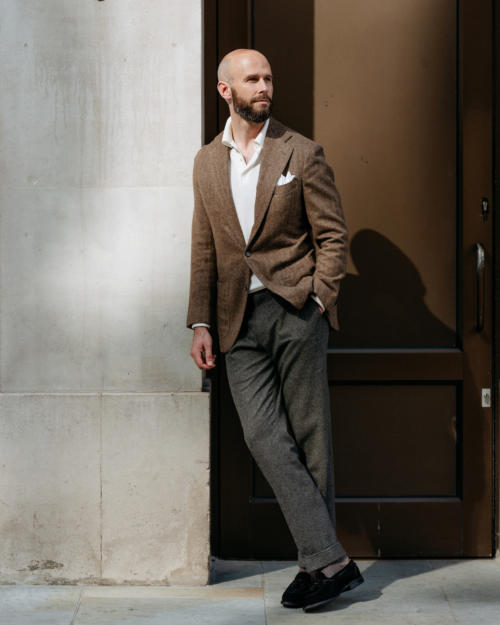 Whitcomb & Shaftesbury have been that tailor for me with trousers in particular.
Last year I ordered four different pairs. They were:
- Mid-grey 13oz Fox flannels (CBT5 A1285/22, Classic Flannel bunch, above)
- Brown 550g Brisbane Moss cords (Brown 100, GS2 bunch, below),
- Classic Cricket-White 13oz Fox flannels (CBT5 A1285/88, Classic Flannel bunch), and
- 'Mink' 13oz Holland & Sherry whipcords (9518502, Dakota bunch).
They were all perfect. To the point now where we don't bother with a fitting, but go straight to the finished trousers.
That hasn't removed the need for the occasional tweak, once the trousers were finished. But half the time they've needed nothing at all - and the changes that were needed were minor.
The fit is a very good one - certainly one I notice every time I put on a pair after wearing RTW the day before (jeans and chinos for example). And it's always the same.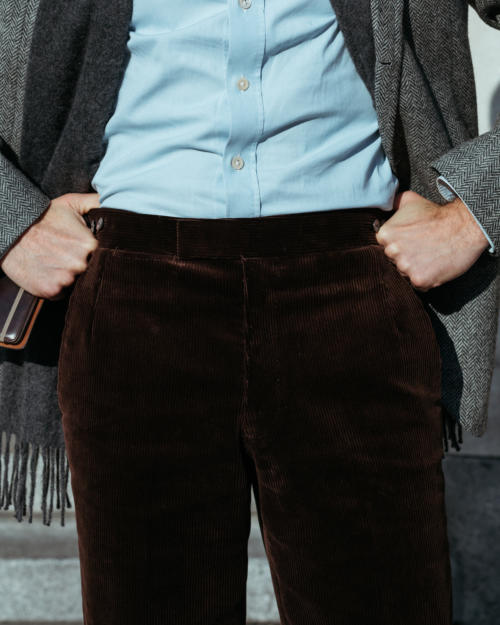 It sounds so simple, yet that combination of quality and consistency is what keeps me as a customer, and rarely consider another trouser maker.
Then there's the value. Whitcomb & Shaftesbury offer two types of service: both cut and fitted in London, but one mostly made in India ('Classic Bespoke') the other made in London ('Savile Row Bespoke'). As I showed back in 2016 when I had suits made in both, there is no quality difference between the two.
Prices have gone up in 2021, with a suit in Classic Bespoke going from £1950 (including VAT) to £2280. Trousers are now £640. But you still can't argue with the value. (A Savile Row Bespoke suit costs £4740, with VAT.)
I can completely understand if readers are put off by the idea of their clothes being made in India. But it makes a difference to me both that Whitcomb own their operation in Chennai, and that it takes its workers from a rehabilitation programme the brothers originally took part in in response to the tsunami in 2004.
This set up is very different, in both respects, from a company just outsourcing production to a Chinese factory. And it has practical implications too: it's a lot easier for the Whitcomb team to manage that production, to push things through when they're needed, and to use it to experiment with new techniques.
"It's been particularly rewarding seeing how people responded to the training, and then rose to the challenge of making Savile Row-level garments," says Mahesh Ramakrishnan. (Brother to Suresh, who customers more commonly see in London.)
After the tsunami, the brothers took part in a scheme that provided vocational courses for people that had lost their livelihoods. They ran the tailoring aspect, while others provided courses in embroidery, leather working, metallurgy and other crafts.
The photos above show some of the women involved. The brothers were later recognised by Forbes magazine, in its Top 40 Heroes of Philanthropy.
The best students from that 2-3 year course are then offered places in the Whitcomb tailoring workshop in Chennai (shown below).
"We've learnt over the years that people regularly move on, so we do need new talent" says Mahesh. "Often it's women that get married and leave to look after a family, but sometimes men also return to their villages and to fishing. The way they describe it, they fish in the morning, pick some fruit in the afternoon, and otherwise relax - so it's hard to blame them!"
Whitcomb are far from perfect. I think it's fair to say they're not style leaders in the way some MTM brands are that we cover. You do need to come clear ideas of what you want, outside of very classic tailoring.
The experimentation with techniques in India also doesn't always produce styles I like - they tend towards the fancy and decorative. This led to issues with the coat I made with them in 2019 (above), where elements were added that we hadn't discussed, and in styles that were too showy for me.
But their restlessness can be fruitful too. They started using curved linings on their waistbands recently, which I found interesting. This is essentially canvas that, if you laid it out, would curve upwards because the top edge is shorter than the bottom - just as tailors regularly do with collar canvas, though obviously less extreme.
And I'm interested to see their recent experiments with soft shoulders and in-set sleeves. I'd predict these won't produce anything like a Neapolitan jacket, but they might still create a slightly more casual option for customers - similar to my Richard James cashmere one.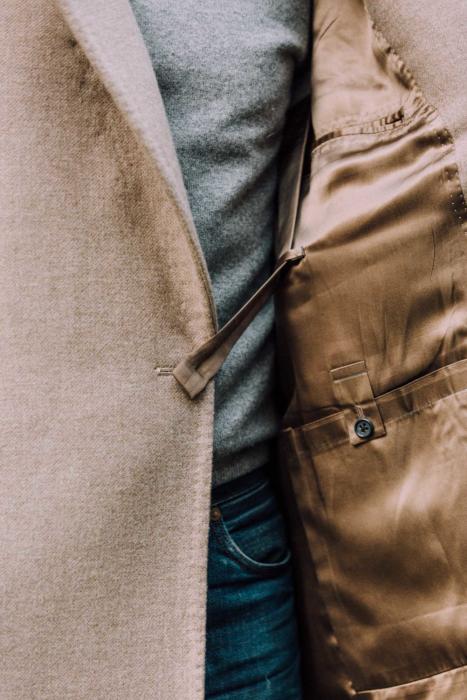 This award is really more of a thank you, than congratulations.
Suresh, Mahesh, Sian, John and the whole team certainly deserve the latter, but this is a personal note to say thank you for all the great clothes they have made for me - and a more public one than I would usually make.
Thank you all. I'm very much looking forward to coming in again soon, and having that cup of tea.
Photography: Alex Natt, Jamie Ferguson and Milad Abedi