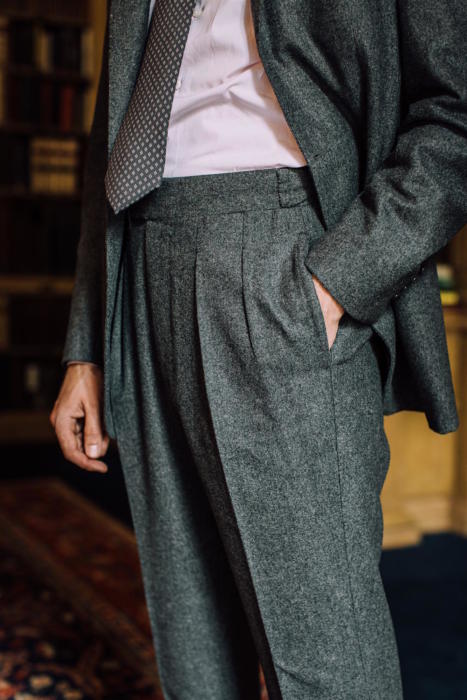 Oddly, readers ask about style points on trousers more frequently than on jackets. Perhaps it's because we don't cover them as much.
In this article therefore – the seventh in the Suit Style series – we'll tackle one of them: pleats.
Hopefully it will answer all future inquiries. If I've missed anything, please do ask in the comments and I will add it later.
There is a separate
post here
on trouser fit and shape. I'll do ones at a later date on rise, and on other design details.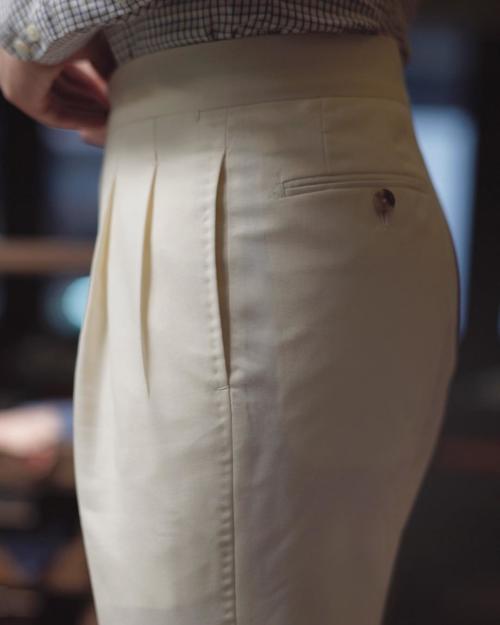 The function of pleats is to create greater room around the tops of trousers, yet have that space collapse when not required, keeping the silhouette sharp and clean.
They are particularly useful for those that use their pockets often, as this puts strain on the area.
Arguably, they are also more useful on high-waisted trousers (those sitting above the hip bones, on the natural waist between hips and ribs) as the trouser has more work to do running from small waist to bigger hips, and then into the thigh.
This is why RTW high-waisted trousers, for men and women, often come with pleats.
Pleats also function better with high trousers worn with braces, because the braces attach just at the top of the pleats, pull on them, and so keep them under tension.
The downsides of pleats are that they can look a little old-fashioned – which is very cultural and subjective – and that they create an excess of unflattering material in the lap when seated.
They are also generally seen as a little smarter than trousers without pleats (flat fronts) and therefore better suited to suits or formal trousers.
There are several variations of pleat, in terms of number, direction and size.
In general, the more there are, the greater the functional benefits, but also the greater the potential drawbacks.
Most trousers have one or two pleats.
The first pleat is longer and sits in the middle of the trouser, running down into its central crease. If there is a second pleat, it is smaller and sits between this central pleat and the pocket.
Occasionally trousers have three pleats, but this is usually a fashion thing and adds little functionality.
A single pleat can be added to most trousers – from smart worsteds to casual cottons – and be barely noticed. It can add functionality without much concern about old-fashioned style or formality. Two pleats is more likely to stand out.
Pleats can face in two directions: either backward facing, where the excess material is gathered towards the back of the trouser, nearer the pocket; and front facing, which is the opposite. See the different images above for illustration.
Backward facing or reverse pleats are by far the most common on ready-to-wear trousers. Stylistically they probably look nicer, keeping the inward half of the trouser leg neater.
Arguably front-facing pleats function better though, and some prefer the outer half of the trouser to be cleaner, between the pleat and the pocket. You can see that in the Igarashi image above: the right, outer half of the trouser leg is very neat, while the inner half is always going to be slightly messier.
Historically, front-facing pleats have been more common in English tailoring, and backward-facing in Italian tailoring.
The dominance of Italian fashion brands and manufacturers has been one reason the latter have become so much more popular.
Another variation is the kissing pleat, where the excess material is gathered between two sides of material.
Although this might seem to be the best of both worlds – in terms of keeping both sides of the trouser leg clean – it does mean you lose the attractive sharpness of the pleat running down into the crease of the trouser.
As such it is probably best thought of as a variety for its own sake.
The other important thing to remember with pleats is that they work better in sharper, more densely woven materials.
In general, trousers are made out of such materials anyway (see cloth post here) because it means they drape better and hold a crease.
But not all are. Most worsted wools (standard suit material) are fine for example, as are linens. But some cottons and woollens are looser and softer – moleskin and most tweeds, for example.
With trousers like these (chinos are another good example), any pleat might lose its sharpness and stay open, removing both its functional and aesthetic attractions.
Personally, I've also found over the years that my physiognomy – with a relatively large seat compared to my waist and thighs – means that pleats rarely function well.
That area is under more strain (and I use pockets heavily, which doesn't help) with the result that the pleats often stay open. Again, all reasons for having them are lost.
This is where having deeper pleats, with more material tucked underneath, can help. (Though the cut of the trouser and that hardness of the material help more.)
So what do I tend to have on my trousers?
Well, I've tried all the combinations over the years, with one and two pleats, front and backward, on mid- and high-rise trousers.
Today, I would always have at least one pleat on a pair high-waisted trousers. But
I rarely wear those
.
I would always have backward-facing pleats, just because I think the look is more attractive.
And I would tend to one pleat rather than two, because I'm personally more concerned with avoiding an old-fashioned look.
This is driven by two things. One, that my aim is usually to appear well-dressed without anything obvious to point at – and that usually means cloth and cut, rather than design details.
And two, from a personal style point of view I'm always interested in subverting the formal assumptions of tailoring, for example by wearing it with polo shirts or denim shirts, or casual outerwear.
I have flat fronts on most of my trousers, therefore, and a single backward-facing pleat only occasionally, on more formal suits or trousers.
For men more generally, I would say that if you like the idea of pleats, try single backward-facing pleats on a suit or smart trousers, and see what you feel about the style. It's only a small thing if you decide you don't like them later. (Though they can't be taken out, at least without remaking a lot of the trouser.)
I say this because although the functionality and the fit of pleats are important, the style and its effects will always be the biggest factor.
If you wear high-waisted trousers, on the other hand, you're already into this more traditional area, and pleats will be less of a concern, as well as being more practical.