Chinos, loafers and a sports jacket (or sweater)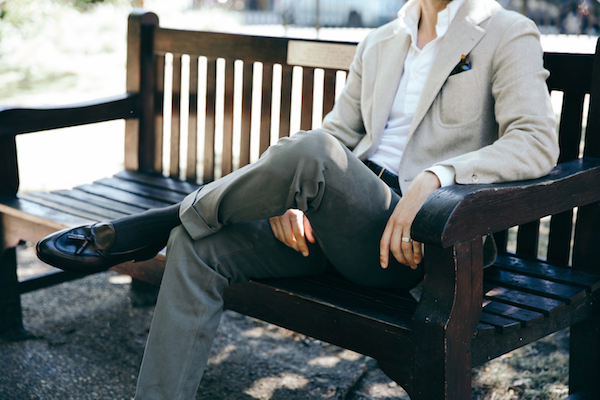 Those on the Drake's mailing list may have seen this outfit on Friday, accompanying an article on their new trouser range.
To fill in the details: the olive Drake's chinos were worn with a white lightweight pique-cotton shirt made by Luca Avitabile, Belgravia tassel slip-ons from Edward Green in dark oak, and two options on top.
The first was my oatmeal-cashmere jacket from Elia Caliendo (in Loro Piana jacketing), which as we know from the original post on it, is rather nice with green trousers.
The second option, pictured further down, is a knitwear stand-by - the short shawl-collar model from Anderson & Sheppard, in navy.
The pique on the shirt is lovely in the summer but a touch transparent, so I wouldn't necessarily recommend it. Fine for off-duty, but not safe for work.
As with our Friday Polos, however, I do like the casual effect achieved by chopping off the shirt's placket and buttons half way.
The navy shawl-collar is particularly nice with the Drake's trousers, as they are rather high-waisted. They are also quite slim on the thigh: I sized up (to a 34") and had the waist taken in.
As the Drake's article explains, the colour and cloth choice in the new range is extremely versatile: mid-grey flannel, dark-grey worsted, olive chino and stone chino. For a capsule collection to go with odd jackets, it's hard to think of a better selection.
The quality's also good, being made by Rota, with nice corozo buttons - and they're good value at £225.
If I had my way they would side tabs rather than belt loops and be a little lower in the rise, but you can't have everything.
The belt is my bespoke alligator one with a brass buckle. Apologies for lack of article on that - I realise it's been a while.