The Real McCoy's chinos: Review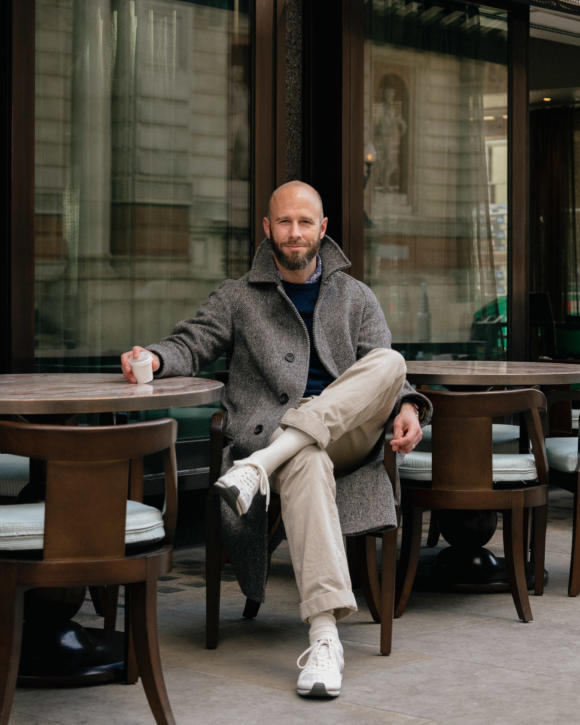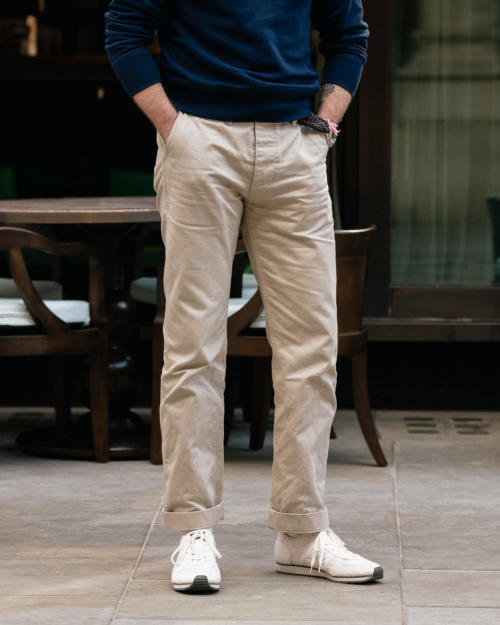 If the last chinos we reviewed in this series were a little more unusual (from Casatlantic) then today we're back with a very good, very everyday pair.
Similar in that respect to the first brand we covered - Rubato - just more on the workwear end of the spectrum.
These are the Joe McCoy chino trousers from Japanese brand The Real McCoy's.
As regular readers will know, I'm a big fan of The Real McCoy's because they generally have the same aim as I've always had with tailoring: the highest quality, with pretty subtle, classic style.
Although they are essentially a repro brand - faithfully reproducing American clothing from the 1940s and 50s - the pieces they reproduce are mostly quite understated and wearable.
They aren't cheap. That focus on quality and precise reproduction means they have to order very small runs of material and hardware, often getting a mill to produce something entirely new. These chinos are £265.
I don't really care whether the reproduction is precise or not, but I do care deeply about quality. And I'm usually prepared to pay a little more if those two have to come together.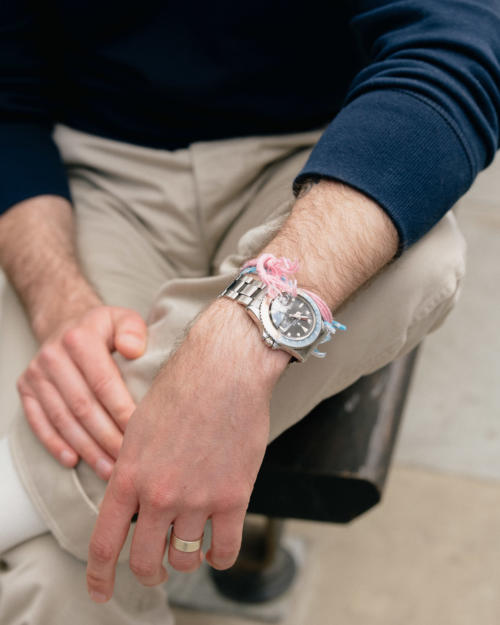 So what makes these chinos so useful, so everyday?
The first is the colour. This pale beige is a standard American military shade, but it's also an civilian classic. It's the one you wore from Gap when you were a kid, or perhaps from Ralph Lauren when you were a little older.
It goes with everything: navy and black, brown and green, cold and warm. The only possible exception is mid- to light grey tops, like a grey sweatshirt. But even then it can work if there's some contrast elsewhere, like a white T-shirt or a dark belt.
When I was a teenager, and wearing baggy versions of these from Gap, I'd have a black, long-sleeved Pearl Jam T-shirt on top. (I still wear an old favourite now and again, though usually for housepainting or similar.)
Today, my favourite accompaniments are a white-oxford button-down shirt, or a blue sweatshirt like the one from Merz b Schwanen (via Trunk) shown here. That's a size 5, worn with an old blue cotton bandana.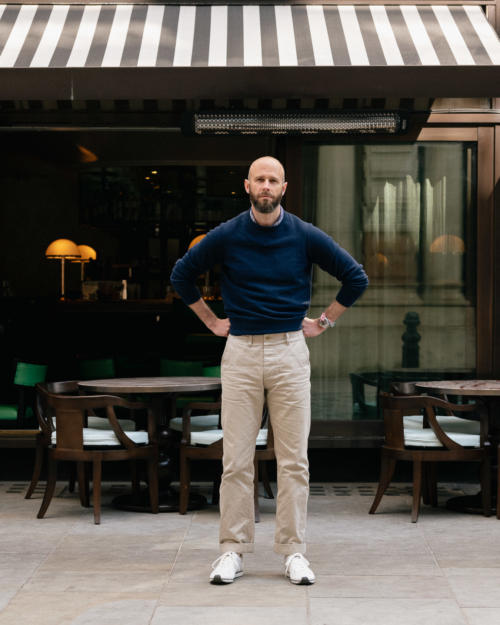 The other thing that makes the McCoy chinos so everyday is the cut.
These are not original military wide-legged or high-rise chinos. They have a hem measurement of 20.5cm and 29.5cm at the thigh (in this, a size 32). They are slim, though not skinny.
Compare that to the more common shape of classic menswear chinos, like the Armoury Army style, which has a hem of 23.5cm and a thigh measurement of 31cm.
McCoy's does do a wider-leg chino too, the US Army 41. But this Joe McCoy pair is specifically inspired by the ones Steve McQueen used to wear. Often with a sweatshirt, and most famously in The Great Escape.
Interestingly, The Real McCoy's doesn't have the licence to use the McQueen name, but another Japanese company called Toys McCoy does. The two used to be part of the same outfit, along with Freewheelers, but the three split into different labels years ago.
Son of a Stag in London stocks Toys McCoy and I have tried their official version, but prefer this pair.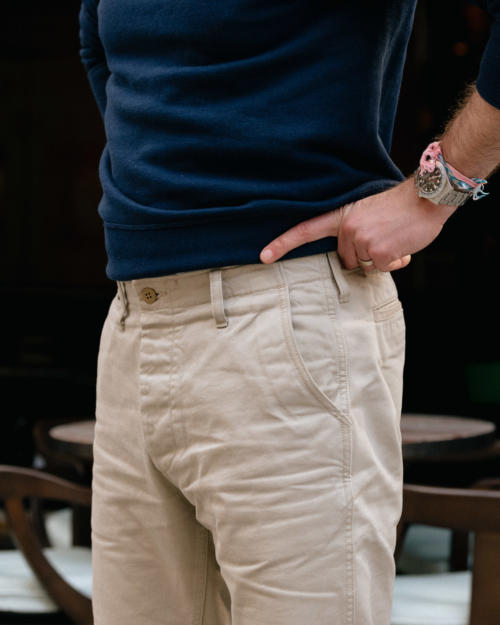 The rise on these chinos is also quite mainstream: I measure the front rise as 28cm inches, although the size guide says they should be 29. They did lose at least a centimetre from the original raw state, as the guide predicted.
That's definitely a mid-rise, and lower than more Army-inspired pairs. It's the same as the Rubato pair covered previously, though those are a little higher at the back.
The biggest difference from that Rubato pair and any mainstream chino is the weight and strength of the cloth. It is dense and tough. More so than any other chino I've worn or covered.
It's still nothing compared to heavy denims, like my 21oz pair from Blackhorse Lane. And it has softened nicely after a few washes. But it's that toughness that makes it feel like a workwear chino.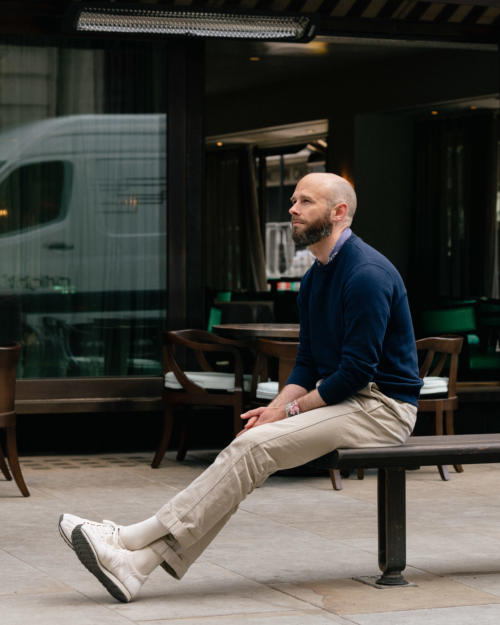 One thing we haven't talked about in our coverage of chinos is whether the material is a left or a right-hand twill.
In general, most dress trousers are a right-hand twill and most mainstream, casual chinos are a left-hand twill. You can spot it from the direction the twill of the cloth runs down the trousers (top right to bottom left, or top left to bottom right).
What's the difference? Well, in general a right-hand twill tends to be denser and sharper, while a left-hand twill is more open and softer.
The reason is that the yarn gets twisted in a different direction as it's woven - often referred to as an 'S' or a 'Z' twill, illustrating the direction as a letter. A left-hand or S twill gets twisted more in the weave, and so produces a harder and smoother material.
Below: Real McCoys on the left, with a right-hand twill; Incotex on the right with a left-hand.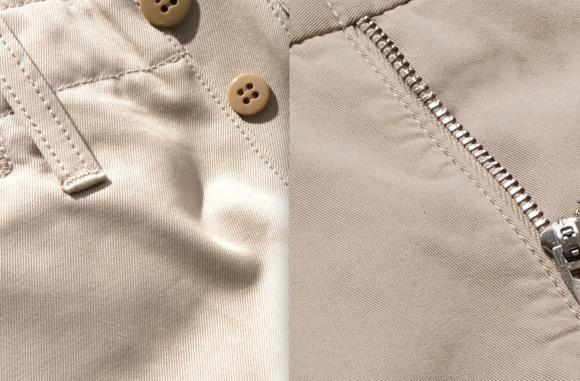 As I said, dress cottons are right-hand, and so are chinos we've covered before like the Rubato pair, the original Armoury Army chinos, and this Real McCoy's pair.
By contrast, the newer Armoury Army chinos are left-hand weave, as are mainstream chinos like Incotex.
When The Real McCoy's calls its cotton a 'West Point' cloth, this is what it's referring to. Army officers - from West Point military academy - tended to have smarter chinos, with a right-hand twill.
Neither is necessarily better, and as with all cloth, it's only one factor alongside weight, fibre, finish and so on.
In general left-hand tends to feel softer, but there's also a particular softness about a dense cloth like right-hand cotton which has been worn and washed a lot. Right-hand also tends to look a little shiny before it's washed a couple of times.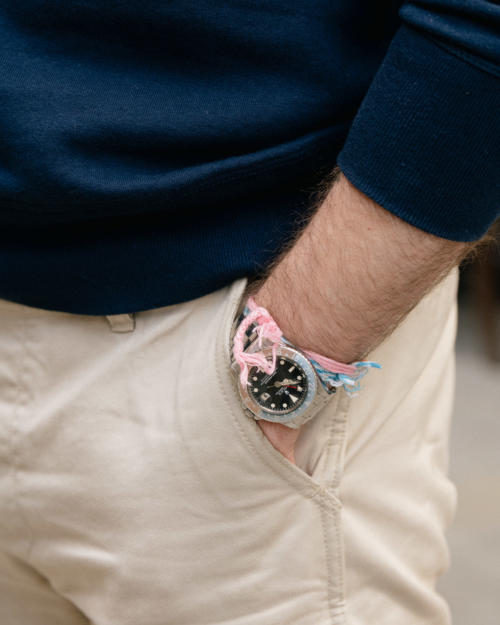 Elsewhere, these Real McCoy's chinos are finely made, with all reproduction points all picked up as you'd expect, including urea buttons on the fly and pockets.
Often a good sign of a quality make on chinos is the way the back pockets - usually uncovered and unfastened, at least on one side - keep a straight line over time. They are sufficiently reinforced and closely stitched to keep their shape. These do that well, as do my old Armoury ones.
Overall, I think these McCoys chinos are a great everyday option. They'd suit any guy that wants something to chuck on with a sweatshirt at the weekend, and perhaps spend half his day on the floor playing with the kids. They only get better the more they're worn like that, then washed and worn, washed and worn.
The only issues are inevitably the price, and perhaps the rise. Ideally I'd have that a couple of centimetres higher, at least on the back.
But then, this is really comparing the trousers to bespoke, where you can everything you want. And that's something I'm trying to get out of the habit with. It rarely happens with RTW.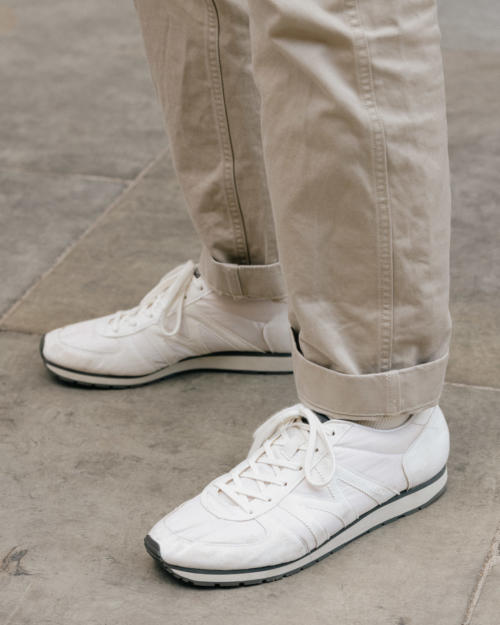 Other clothes:
Navy sweatshirt from Merz B Schwanen via Trunk (size 5)

Vintage blue cotton bandana from The Vintage Showroom

White trainers from Margaret Howell/Mizuno

Rolex watch, GMT Master Ref. 1675 with faded bezel

Donegal coat, Permanent Style sample
Feel free to ask about any of the clothes in the comments. Most have also been covered previously, but I'm happy to supply the link.
Joe McCoy chino trousers in beige, size 32 waist, cost £265.
Photography: Alex Natt @adnatt