Introducing: The yellow PS Oxford (shirt and fabric)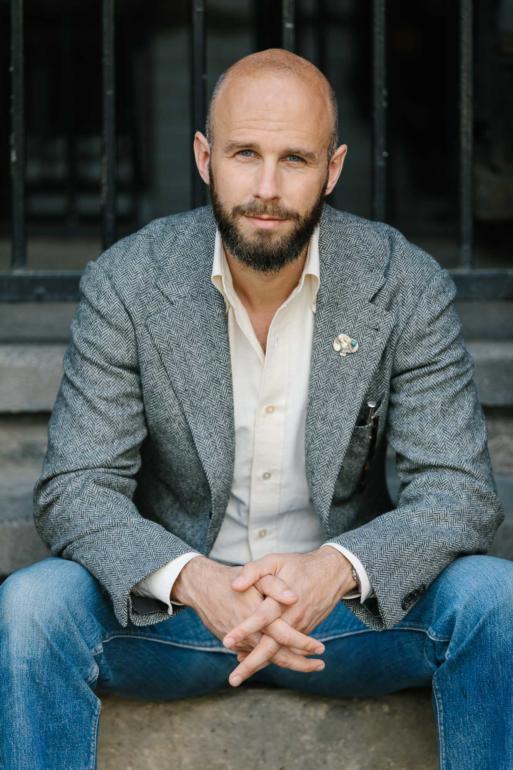 A reader gently mocked me when I wrote about the white version of this shirt and included styling advice. It's a white shirt after all - how hard can it be?
I still defend that guidance: a white oxford is more useful than some people realise, particularly with workwear.
But a yellow oxford definitely requires some explanation. The new colour being launched today is so unusual that I've never even owned one myself - until now.
I was interested to try it for that reason, because I'm always intrigued by new potential in the necessarily narrow field of classic menswear.
But it also made sense to try because a pale, faded yellow is such a staple in American oxfords, and the Ivy style that drives a lot of their popularity.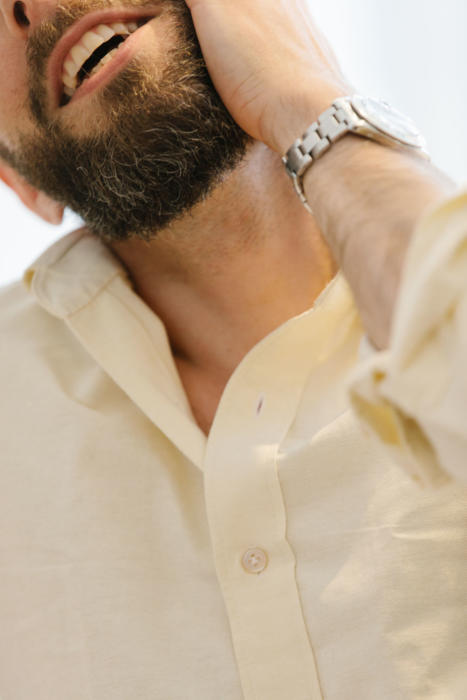 I'm pleased to say that now I have one, I enjoy wearing this yellow PS Oxford more than almost any colour in the range.
The only one that rivals it is the blue, because it is so classic and useful. But the yellow achieves that particular menswear aim of being characterful yet subtle, noteworthy yet quiet.
It draws attention and indeed compliments, but more in the way a well-cut jacket will do. It seems to slot in naturally with everything else, yet you rarely see anyone else wearing it.
(You may observe, quite correctly, that new products always seem to surprise me with how nice they are. But that's only because the ones that don't have that reaction never make it onto the site. In this case, a grey stripe and a peach colour both disappointed - yellow was the clear winner.)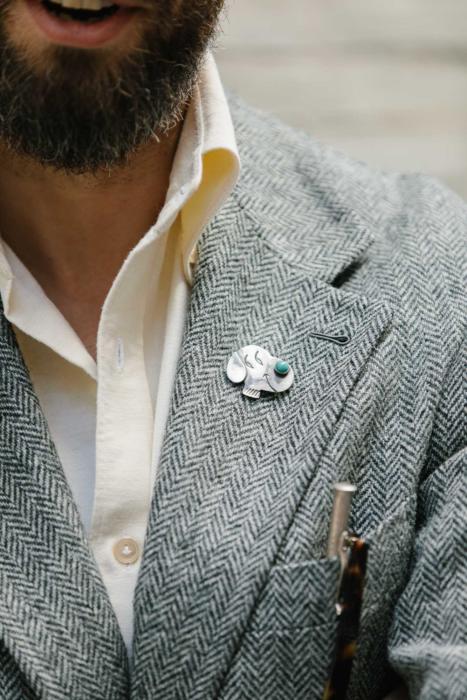 So what does it look good with? Let's spell it out a little, aware of that risk of gentle mockery.
Its most obvious and immediate partner is grey, which is helpful given how predominant that colour is in smart men's wardrobes.
Grey flannels look lovely with it, as do grey high-twist wools. Grey knitwear and - as pictured above - grey jackets also. This grey herringbone is nice, but a grey flannel suit would be good too.
And as if to collect all the menswear staples, navy is also complimentary. Particularly on the top half: a navy wool jacket or navy shetland crewneck. Both are lovely with the shirt, and perhaps grey trousers beneath.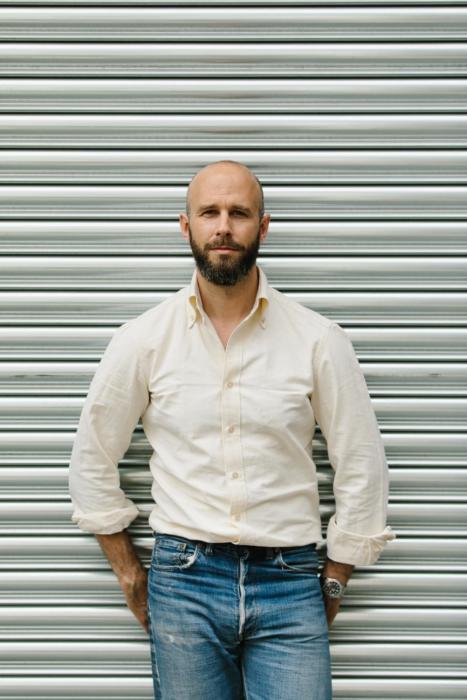 Then, on the more casual end of the spectrum, this pale yellow compliments jeans.
A paler denim, such as that shown here with my vintage Levi's, is especially nice, but almost any blue jeans work.
For some reason I find that combination - the washed-out yellow with the much-battered jeans - particularly satisfying. I think it's because each is so classic yet so casual. They both look better the more they are worn, dirtied, washed and worn again.
And yet they do suggest the idea of dressing with intelligence, with taste.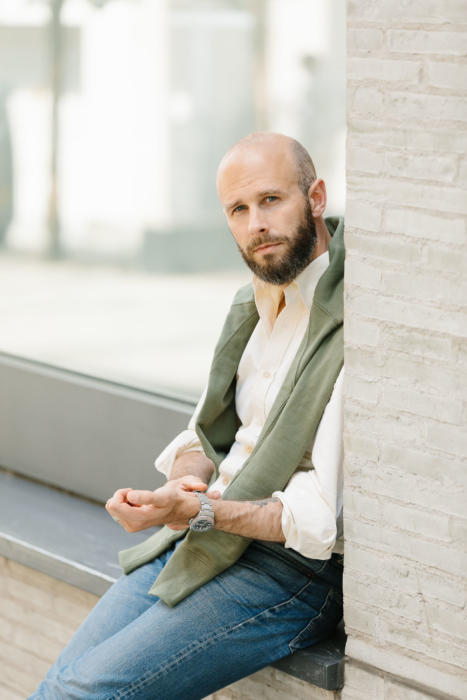 Moving on, my next favourite colour with a yellow shirt is military green - olive, really - like the sweatshirt pictured above (from Merz b Schwanen).
To be honest, I don't especially like the colour with darker, stronger greens. But this paler shade is lovely. It could also be a jacket of course, or a tie, or a vintage field jacket.
(Feel free to comment on the attraction or not, the affectedness or not, the many cultural associations, of a sweater worn across the shoulders. But I'll leave my thoughts on it for another article.)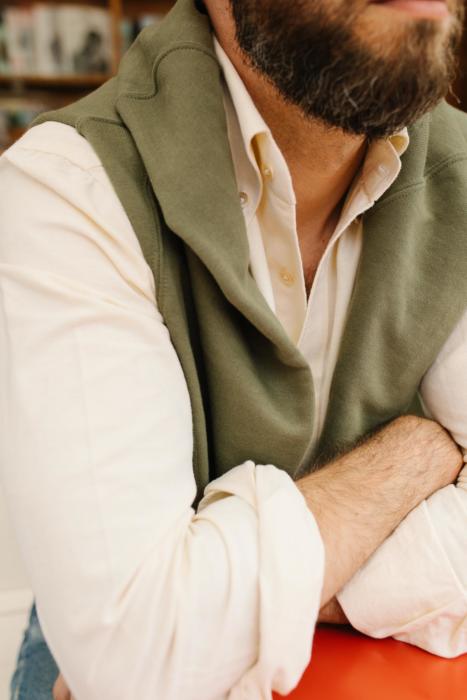 Yellow is also nice with darker browns, especially suede and leather. And it looks great with faded black jeans - not that I wear them, but I've seen it done to good effect.
I think that's about it for all colours. Easily enough for any yellow-oxford virgin like myself to be getting on with. You all have most of those in your wardrobe.
The fabric itself, is of course unique to Permanent Style and was designed to replicate the rugged softness of old Brooks Brothers shirts.
This fabric can take a beating, but is also one of the most pleasurable things to wear. It gets softer with every wash and wear, even when you've worn and washed it 50 times (as I have with my blue one).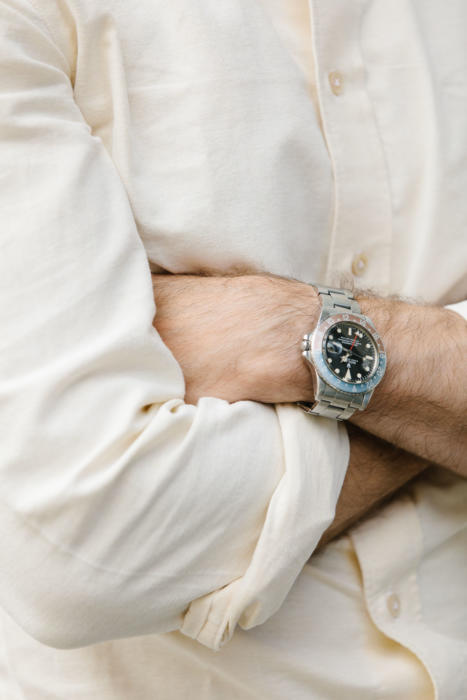 It also has a vintage look thanks to the short-staple cotton used in the white weft, which gives the cloth a slubby look.
This is essential in the blue oxford, nice in the striped version, and less noticeable in the white.
But in the pink and yellow iterations, it is absolutely crucial. Without that slubbiness, the colour would not have the pale, washed-out look that makes it so appealing. Both pink and yellow would be too flat. You could make the yarn paler, but it wouldn't have the depth or texture of this.
If you'd like more on the technical aspects of the cloth - its weight, ply, count etc - have a read of the original launch post on this fabric (designed in collaboration with Italian mill Canclini) here.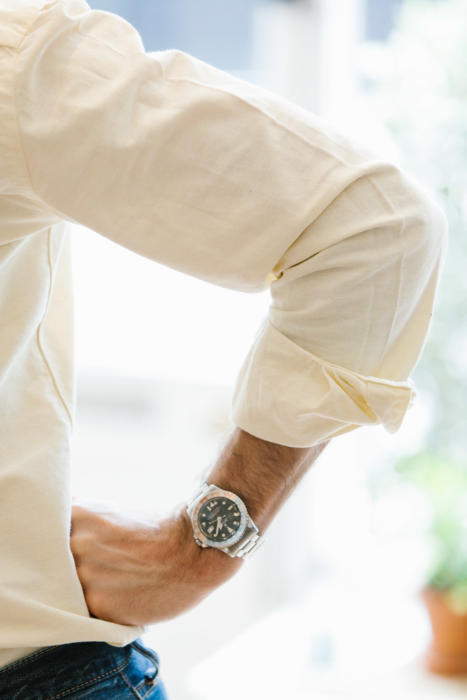 The PS Yellow Oxford is available as both shirts and lengths of cloth on the PS Shop site. The latter to be taken or sent to a shirtmaker, if you use one. I'm wearing a Medium in these photos, but I normally have my shirts made bespoke.
Here are some practical points on buying the cloth:
As with all the PS shirt cloths the fabric is pre-cut into 2m lengths, which should be enough for most guys (roughly, anyone 6'3'' and under).

The fabric is pre-washed, but as with most oxfords is still prone to a little shrinkage. We recommend allowing an extra 1cm in the body width and sleeve length, 2cm in the body length

If anyone wants to send the cloth to a shirtmaker, please put them as the delivery address, including your name (eg 'Customer: Joe Bloggs'). Then let them know it's coming.

The cloth costs £59, the shirts £185, both ex-VAT. Both are shipped from the UK.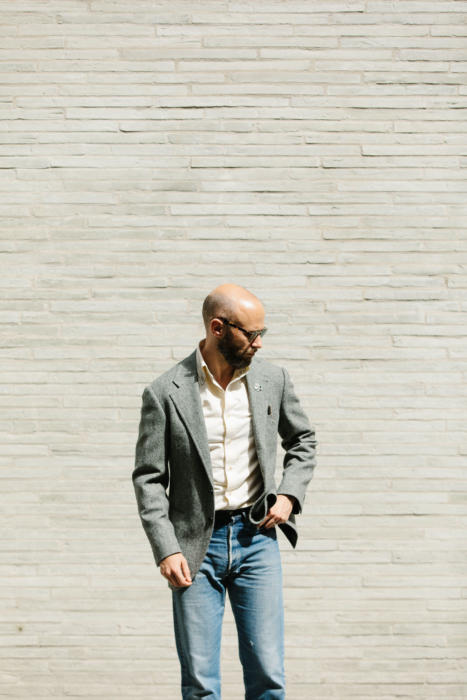 And, some points on the shirts, for anyone that doesn't know all this already:
The shirts made by the Luca Avitabile workshop in Naples (Luca being the bespoke maker I use most often)

They have several points of handwork, mostly functional, including hand-attached collars and hand-inserted sleeves. There are also hand-sewn buttons and buttonholes.

The shirts use vintage-style mother-of-pearl buttons, to compliment the vintage style of the fabric. These can also be requested on bespoke shirts made by Luca.
For more information on the clothes pictured here, see:
Photography: Jamie Ferguson @jkf_man