Red Rabbit silver jewellery, New Mexico
One of the nicest things about our last 'Permanent Style Presents' pop-up was getting to know Mike and Cody, from Red Rabbit and Wellema Hats respectively.
At a show like this you basically spend five full days together, talking about menswear, coffee and weather. Looking at each other's products, trying each other's products, understanding them.
On the first day Mike gave me a silver Snoopy pin, as a thank you for hosting them, which was lovely. Particularly as it wasn't the kind of thing I'd ever pick for myself - I'd rarely go for something so 'fun' - but I now love. There's something about a present that immediately makes it special. And I can find a connection if I try: Peanuts was my favourite strip as a kid; it's what kickstarted my love of graphic novels, and I have the complete collection at home.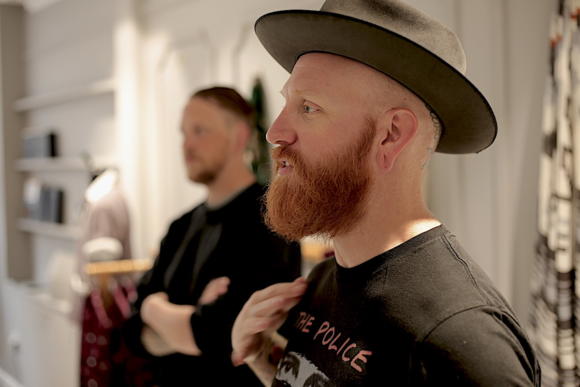 The pin was made specifically for Japanese fans of Red Rabbit, and it's an exception among Mike's pieces. Most are directly inspired by pre-1950s jewellery produced in the American Southwest, where he's based.
Mike (French) and his partner have a few different businesses: running a tattoo shop, dealing in local real estate, and then Red Rabbit.
The latter was never meant to be the one that took off. It was a hobby, driven by the fact Mike liked the style of jewellery but was always limited by the sizes or designs that were available vintage.
He took a pot shot at travelling to the Clutch trade fair in Japan a few years ago, and found a big reception. Particularly from Ethan Newton at Bryceland's, who has popularised the pieces in the classic menswear world, at Pitti and elsewhere.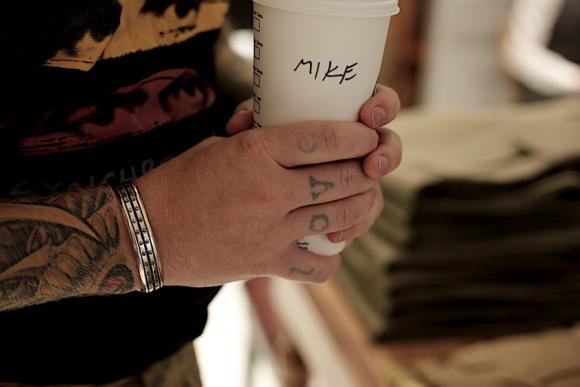 Mike initially learnt how to make the pieces on YouTube. He's happy to talk about this, and in fact is disarmingly laid-back about all aspects of the jewellery.
Although it's clear Mike loves what he does, he is markedly different from the obsessional artisan that's perhaps more the norm in classic menswear.
Still, that doesn't mean the jewellery is easy to make. The chunkier pieces require a traditional process where Tufa rock is cut into slices, moulds are etched into them, and then old silver coins or jewellery are melted down to pour in.
The silver then has to be beaten to forge it (making it denser and stronger) before being shaped and stamped with decorative designs or stones.
It is possible to make pieces with sheet silver, which can be bought in rolls. Mike uses this for thinner pieces, like money clips or tie bars.
In general, sheet silver will always look more smooth and perfect. The forging method produces not only thicker silver in general, but also a surface that is less uniform. More wabi-sabi.
Sheet silver started to become available in the 1930s, and a lot of vintage pieces are in sheet silver as well - it's not a modern phenomenon.
One of the issues today is that there are very few indigenous Americans still making with the original method, so most silversmiths using it are white.
"Even then, there are only five or six guys doing it in New Mexico, and they're all in their 60s or 70s," says Mike. "So they were super excited when I had done the basics and wanted to learn from them."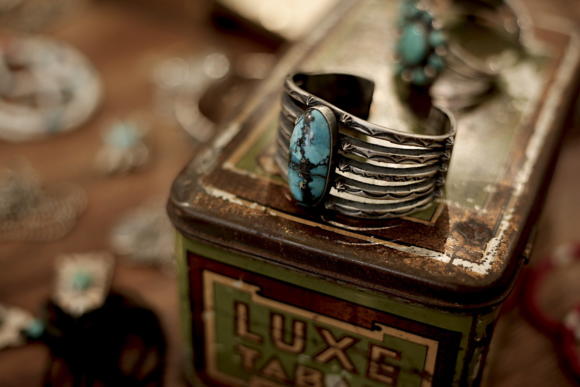 The stones used in the jewellery are largely turquoise and its variants, which had always been mined locally.
Interestingly, although the stones are carefully graded based on their colour, size and rarity, each mine is known for a different type of stone, and therefore has different priorities. While one will be known for intricate black veining, another will prize colour variation.
As a consumer, I think it's just worth picking whichever style you like - and the price variations are not large with new pieces.
In fact, another thing about Mike's approach is that he always strives to keep pieces fairly simple and accessible. Pretty much all pieces are between $100 and $300 as a result.
The designs come from a period in the 1930s-1950s when the American Southwest was opening up, and tourists from the US East Coast began pouring into the region.
They're characterised by strong, distinctive symbols, such as arrowheads or the thunderbird. These were the designs that were most popular with tourists of the time, and therefore began to dominate what was on offer.
Mike does make some subtler designs too though - they usually have a variation in stones or stamped patterns, rather than obvious symbols.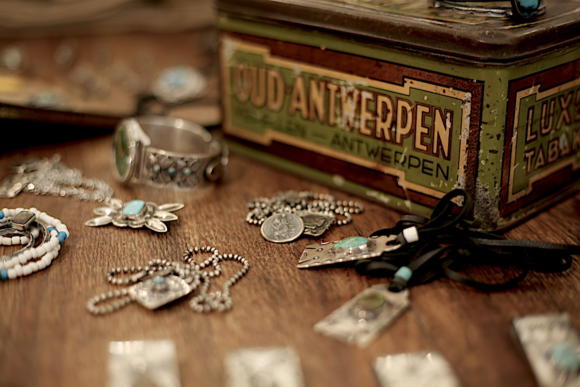 The style of Red Rabbit jewellery won't be to some readers' tastes, I'm sure. And there will be others that prefer bespoke or more precious pieces.
But I can see how the style suits the denim and workwear that Bryceland's offers, and make an original decoration on a jacket or overcoat, for instance. Just probably not something for a formal office.
For those that are interested, a good selection is available on the Red Rabbit website, in Bryceland's stores, and when Mike next comes back to London - either in the pop-up or in The Real McCoy's, where he has shown before.
All photography, Permanent Style; except shot of Kenji below, Bryceland's.