The Anthology bespoke tailoring: Review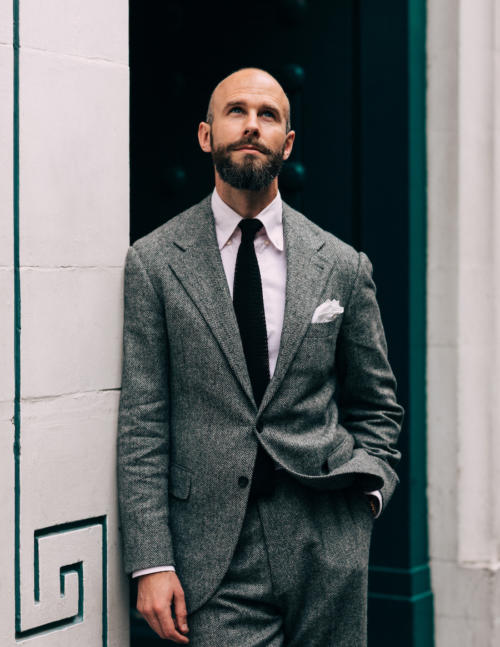 This is my first suit from Hong Kong and Taipei-based tailor The Anthology.
Launched in 2018, The Anthology was created by the combination of London-educated Buzz Tang (below) and Hong Kong tailor Andy Chong, using a workshop in mainland China.
These new HK tailors are far from unusual, but the result here has been particularly strong, with Buzz bringing both taste and creativity, and tailor Andy technical skill.
This first suit - in a grey tweed - was good in fit and finish. Not perfect, but good, and certainly worth the £1,440 (ex-VAT) it costs.
But while more subjective, the thing that impressed me most was the cut, which I find both comfortable but flattering, soft yet strong.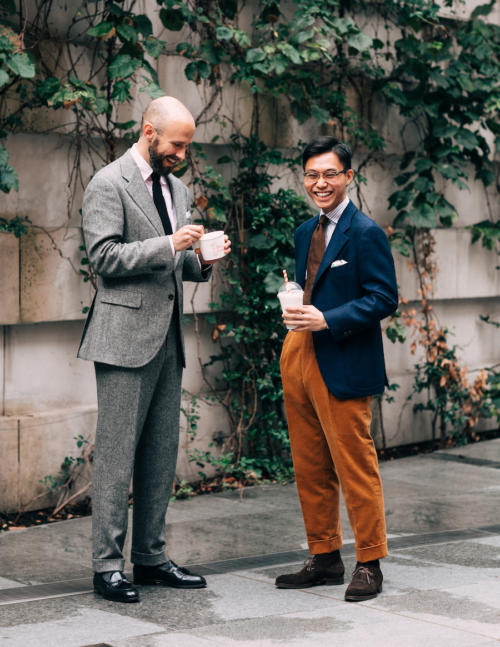 We had two fittings - one in London and one in Hong Kong - and even then a last check during a fourth meeting when the suit was delivered.
This is one more meeting than the guys are generally aiming for, but it was beneficial in my case and I think worth sticking with (at least for a first suit).
The biggest issue with the fittings, though, was that they were done in a trial cloth - not the final material of the suit.
There are advantages to this, of course, but mostly for the tailor. It makes large changes to the final suit easier, for example.
Personally I found it off-putting, and told Buzz that. I find it harder to conceive how the final suit will look - and therefore comment on what I want in terms of style - when the cloth is different.
It didn't help in my case that the substitute material was a slightly cheap-feeling navy worsted with a red pinstripe.
In fact, I think the biggest issue with this method might be that it leaves less-experienced customers feeling they're getting a cheap Hong Kong suit, rather than the solid tailoring this is.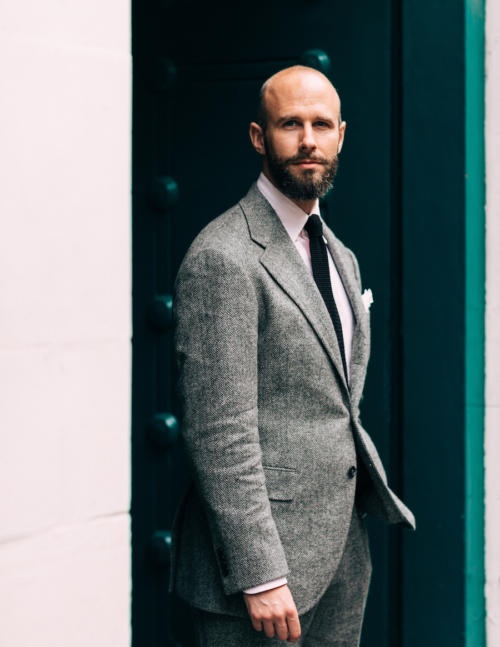 The actual fit of those fittings, though, was good from the start.
There was a little bit of an issue with my drop-right shoulder and creasing at the top of the sleeve head, but these are not uncommon problems.
The balance was good, the pitch perfect after the first fitting, and just some tightening needed around the neck.
The trousers were more problematic, with not a great first fitting. But the second was good, and the final result good too.
Buzz and Andy were keen to have a slightly higher rise on the trousers - almost at the natural waist. As regular readers will know, this isn't where I normally have them, particularly since I dislike braces, but I was happy for them to try.
The result was interesting. It was by far the best fitting pair of high-waisted non-braced trousers I've had. It almost works on me.
But still, not quite. They sometimes slip a little, and I don't find them as comfortable as lower ones.
So an impressive piece of cutting, given what I've experienced before, and certainly still wearable. But next time I'd go back to my normal rise.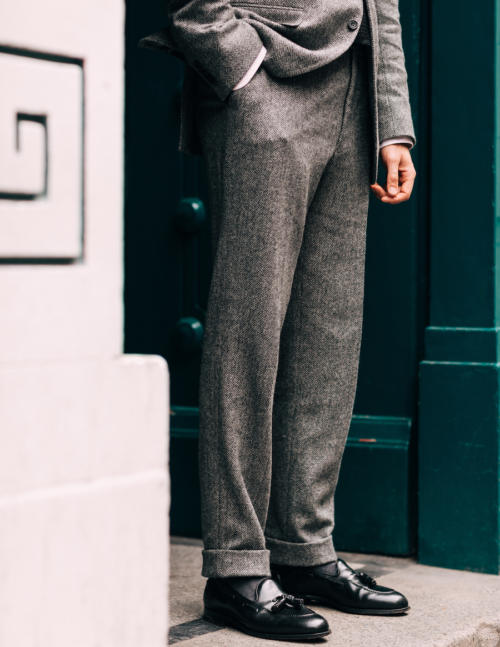 The fit in the jacket, as mentioned, was solid.
Smooth around the neck and shoulders, clean through the chest, and with flattering but only subtle shape through the waist. Nice drape in the chest too.
The only issues were shoulders dropping very slightly on the back of the jacket, and the collar not being quite high or tight enough on the neck.
The latter means that although the fit looks good in these images, it tends to slip off the neck when bending or when the jacket is undone.
Of course, the collar will never stay completely rooted if you reach and pirouette, but it could be better. Something that's fairly easy to tighten on this suit, and deal with completely on any future commission.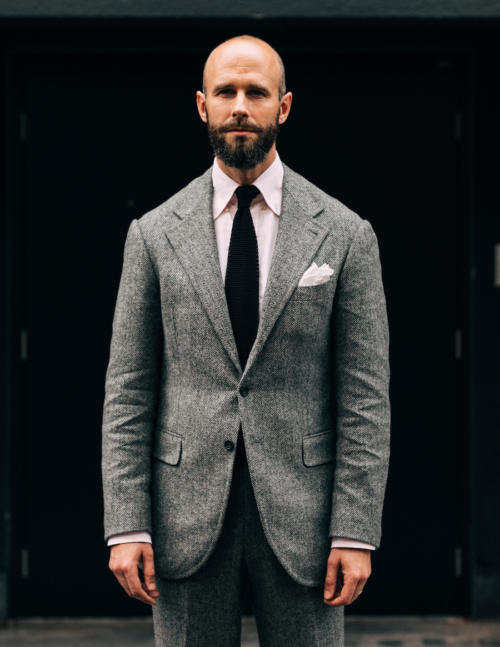 The thing is, I love this suit.
That probably doesn't come across in the comments so far, but I do. And the thing that pushes it from good to great for me, is the style.
Like most new tailors outside the UK, the cut is largely a mix of Florentine and Neapolitan, with a few extra tweaks.
It breaks down like this:
The shoulders are wide - just off the end of my natural shoulder, but without actually dropping.

They are particularly sloped, because of that long shoulder and because of the position of the collar

The lapels are wide, with a slightly low and sharp, square gorge

There is substantial drape in the chest and back - more than it seems

And the foreparts are open and curved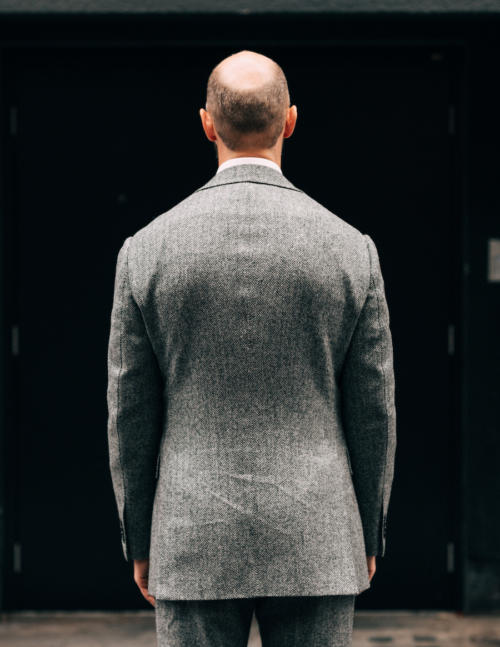 The result is a jacket that is very comfortable and, I think, very flattering.
It makes my shoulders look bigger and, as a result, my waist look slimmer (despite the waist being far from tight).
It also looks very relaxed and casual, not sloppy but certainly wearable with jeans (though that would be easier with patch pockets, and it is heavily dependent on the cloth).
The jacket is something I now frequently turn to in the morning, and particularly when travelling. Because it is so comfortable, can easily fit knitwear underneath, and is so versatile in its colour and material.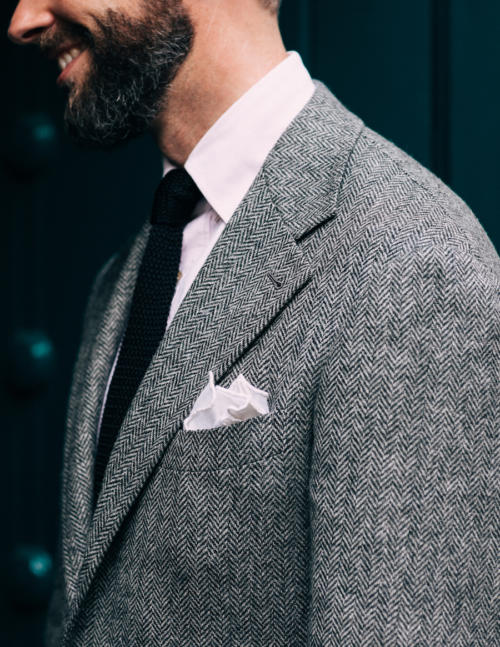 Focusing the cloth, I would say this is an absolute success in terms of the jacket, but only partially in the trousers.
I went with the tweed because I had seen Buzz wearing the same thing, and really liked it. (Always a good test as to whether your tailor has style - would you wear what he's wearing?)
I've long said that a grey herringbone is one of the most useful jackets to cross from smart to casual. But while I love the cashmere one I had from Ferdinando Caraceni, it was too sleek and smart to wear with casual trousers.
I've worn the jacket with jeans, and with a shirt and tie (as here). It works wonderfully.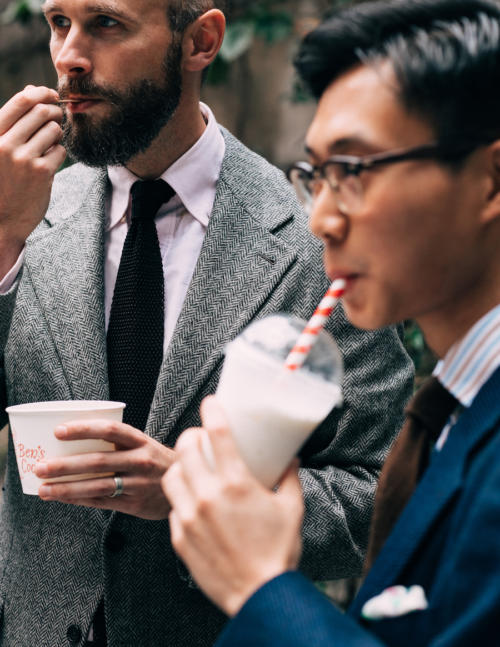 Tweed trousers, however, are always a risk.
They need to be a particularly dense, tight tweed to work - enough body to keep a good line and drape. And most tweeds are designed for casual jackets, and therefore not woven this way.
This tweed is a little too loose and soft. That doesn't mean the trousers can't look good, but they need more regular pressing than most guys will be bothered with. And they aren't great for travel given how easily they crease.
Of course, if you used a denser tweed for the whole suit, the jacket would lose some of its softness and sponginess. So you can't win on all counts. (And readers on budgets are always advised to not try - lest they end up with nothing that's quite right).
The trousers will be worn, but the jacket will be worn much more often.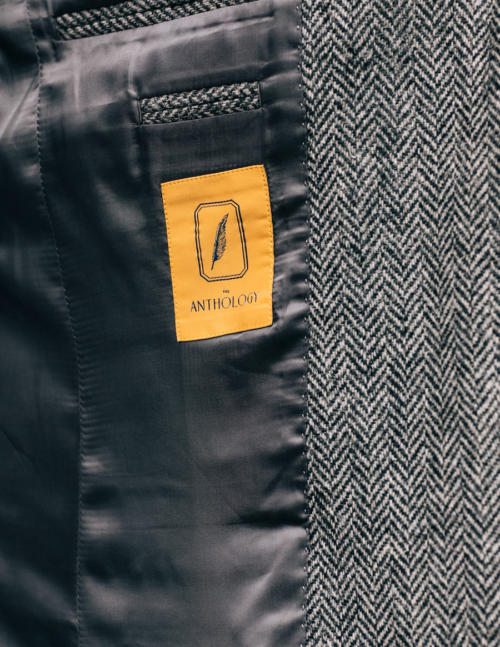 Finally, a word on the finishing.
Mostly this is very good. The buttons are fine and neat, and there is nice top stitching around the linings inside (shown above).
But there are a few things that could be improved. One is the swelled edge, which is nice on the outside but has long running stitches on the inside; this isn't so noticeable on this tweed, but is on the green cotton we subsequently made.
Another is darts in the chest (under the lapel), which The Anthology use to add greater shape - but some tailors would say is not needed to achieve the effect. Same goes for the insert in the collar, shown below.
There are also a couple of purely aesthetic things, some of which remind me of cheaper Hong Kong tailors - such as putting the selvedge of the cloth along the inside of the trouser turn-ups.
But I realise this is very minor, and very subjective.
Overall, I'm sure there are things that Buzz and the team will change in the future - whether it's points of tailoring or of process. And the second, cotton suit we made showed they were improving the fit (though there was an issue there with the cotton, which I didn't realise had stretch in the mix.)
But I would repeat that this is a good suit, well fitted, a great style (for me) and excellent value.
I have no hesitation recommending it to someone who likes the style, and whose budget is around the £1,440 (ex-VAT) The Anthology currently charge as a starting price (with jackets from £1,050).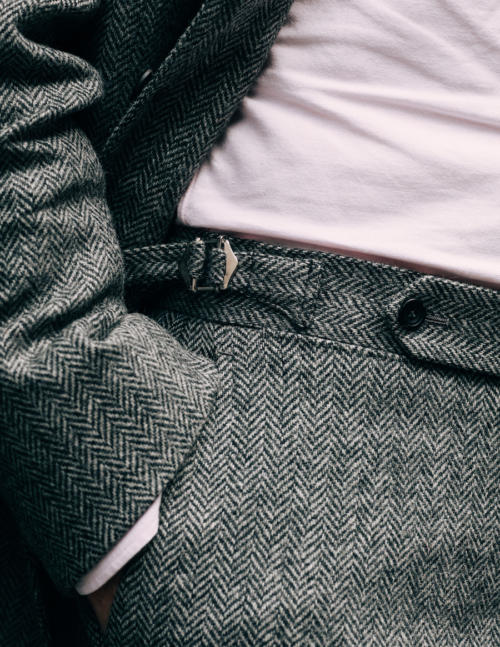 The Anthology are based in Hong Kong and Taipei but currently travelling to London, Tokyo and Singapore for trunk shows, roughly ever 3-4 months. They say they are planning to start travelling to Stockholm, New York and Paris in the future.
The cloth of this suit is Holland & Sherry 8818029 (11oz), from the Sherry Tweed bunch.
With it I am wearing a PS Oxford shirt in pink (a trial piece) with a black-knitted tie and black-cordovan Belgravia loafers from Edward Green.
Buzz is wearing a jacket in Fox Somerset Jacketing, B2692/45, 12/13oz. And Holland and Sherry corduroy trousers, 187102, 9oz.
Photography: Milad Abedi @milad_abedi