Field jacket, rollneck and flannels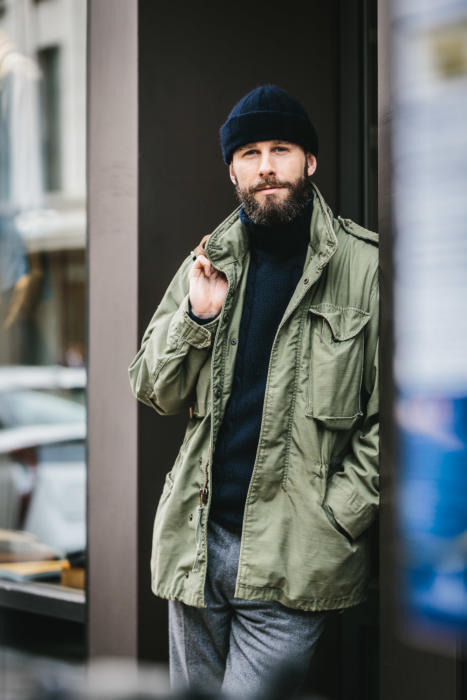 A few readers last week asked about this outfit I included in our 'High/low dressing' post.
It's a combination I love, and shamelessly copied from an Italian gentleman I saw in Milan a few years ago.
Men should never be afraid of taking inspiration from others, primarily because it's what everyone always does and has always done.
I remember a friend saying a couple of years ago that he wore purple socks with his brown-suede shoes in honour of Michael Drake, who is often seen in that combination.
But then Michael told me a few months later about the older, French friend he had copied it from.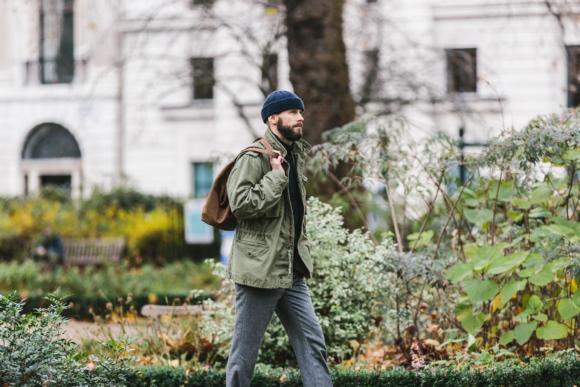 On the day we shot this outfit, I was going to be in our pop-up shop moving around boxes and furniture.
I needed clothes that were comfortable and could be worked in, but still looked chic enough for seeing people around Mayfair.
I therefore went without a jacket, but stuck with the classic menswear combination of grey trousers and navy top - just a rollneck sweater instead of a blazer.
The rubber-soled, brown-suede Saint Crispin's boots are very comfortable and good for lots of walking, but again quite smart.
And the vintage M-65 field jacket on top rather than, for example, a suede blouson, was driven by that memory from Milan.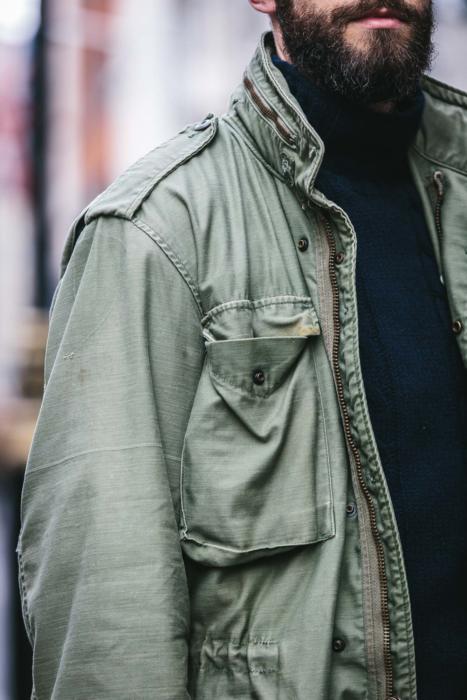 The M-65 is from The Vintage Showroom in London, and I prefer it to the simpler M-43.
The room provided by the pleats in the back is also helpful if you're wearing bulky knitwear underneath.
In the same way, I generally don't like modern versions of these cotton field jackets that strip away all the pockets and details, as it removes all the character of the jacket.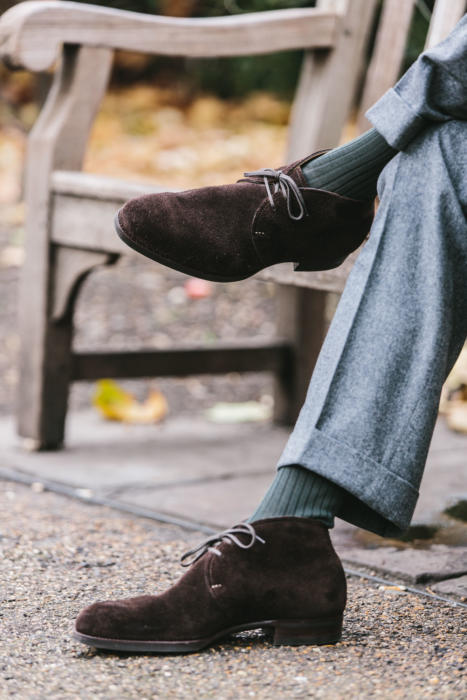 The Saint Crispin's boots have become one of my absolute favourite pairs of shoes in the past year.
We had an initial problem with the fit where the narrowness I need for my ankle (they are made on my personalised last) made the sides rub painfully on my ankle bones.
But some discussion over email and a couple of pictures was enough to explain the problem, and they came back fixed perfectly. (The sides were moulded outwards to curve around the bones).
Given Saint Crispin's don't currently visit London, being able to do this remotely is very important.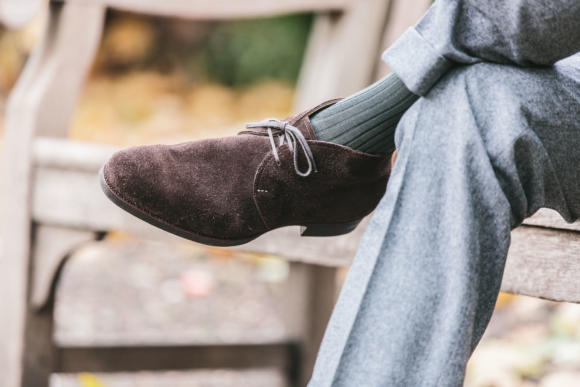 Style-wise, like many of my favourite things the boots look simple and classic (and are therefore very useful) but are elevated by beautiful, subtle craft.
The Classic Last shape is so elegant, the welt so thin, and the narrow waist cut in so sharply.
The latter two points in particular make a non-menswear-nerd admire the shoe without quite knowing why.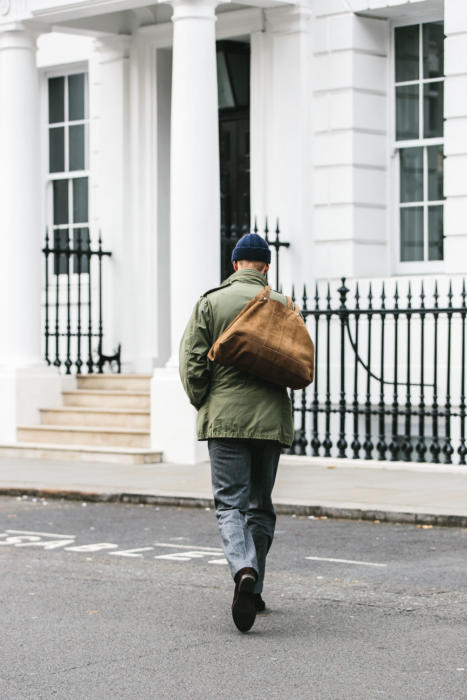 Lastly, the tote bag from Connolly was a purchase I was unsure about, but have come to love in the past couple of months.
It is made from an extremely soft nubuck, and is entirely unlined and unstructured.
This makes it wonderful to hold and feel, but I was afraid it would be rather impractical.
So far it's been OK but I do find it's easier to use when there is something substantial inside it, such a chunky sweater or a box. It wouldn't be the design I'd recommend to someone for a first good bag.
I've also sprayed the nubuck with a water repellent, and it hasn't become noticeably soiled despite regular use.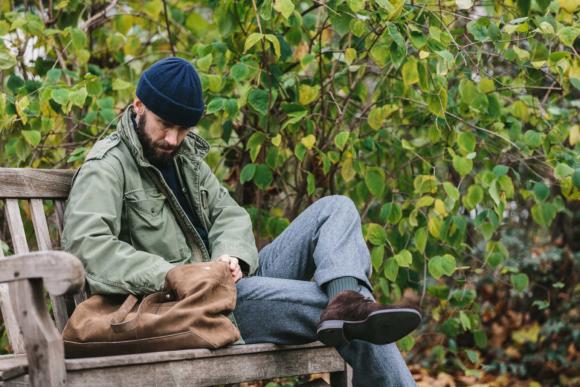 The hat, by the way is a Permanent Style piece I made with Johnstons in Scotland - remaking the exact style of an old one I bought in Italy and haven't been able to find elsewhere.
It's just a question of small tweaks to size, thickness and rib, but these small things make me happy.
I hope to put it on the shop in the next couple of weeks, when the pop-up calms down a bit.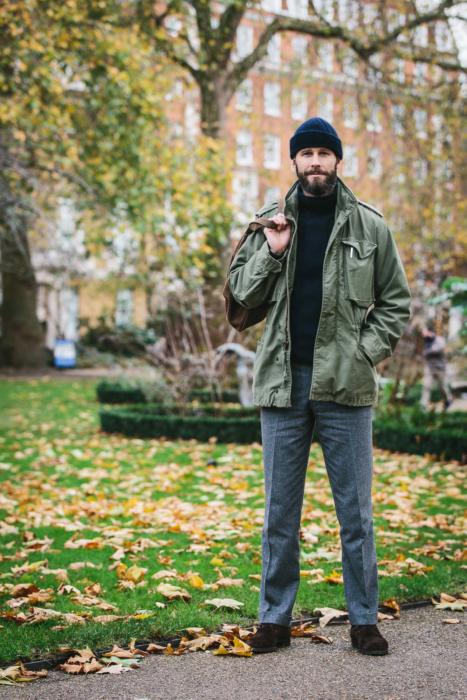 Photography: Jamie Ferguson @jkf_man