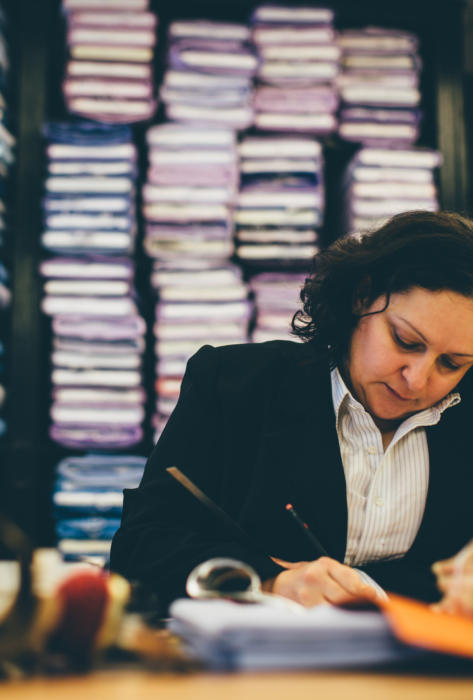 There are many reasons to commission a bespoke piece of clothing. I think the decision I made earlier in the year to order a bespoke shirt at Charvet, however, was the first time I have done so out of pure curiosity.
I used to have shirts made by Turnbull & Asser. The fit was good, but both the style and the make were lacking.
Style because English shirtmakers don't understand how to make a collar that rolls open without a tie; and make because those same makers do nothing but the cutting by hand.
Long-time readers will be familiar with this journey. I now use three Italian makers that visit London - Simone Abbarchi, Luca Avitabile and D'Avino. They present three very good options, ascending in price directly in proportion to the amount of handwork they use.
I commission from all three, depending on how flush I'm feeling at the time. (And a little on style - I have perfected a button-down style with Luca, for example, that I'm fearful of moving away from.)
I'm happy with that set up, but have always been intrigued by Charvet. Because I have seen some superbly fitting Charvet shirts on friends, and because I am such good friends with the inimitable Jean-Claude Colban (below).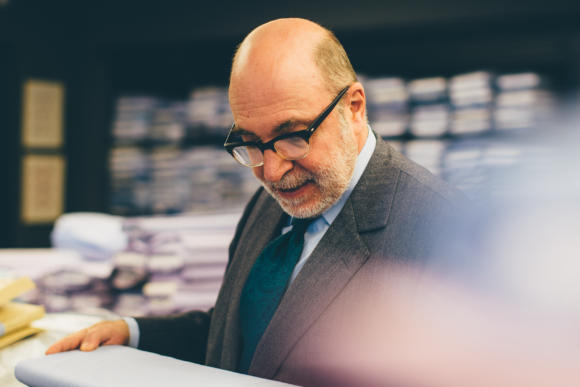 So back in February, while in Paris to visit Seraphin among others, I commissioned a spread-collar shirt from Jean-Claude in a blue-and-white striped poplin. (It helps that Charvet has no minimum order for shirts, unlike Turnbull & Asser and some other English makers.)
Selecting that cloth was perhaps the most enjoyable part of the whole experience. The shirtings section of the Charvet building is a treasure trove, with bolts of cottons and linens stacked shoulder-high around the whole floor. It's worth the commission on its own.
I was looking for a thinly striped shirt to introduce some variety into my plain-blue and plain-white collection, and we picked an unusual one with a touch of fading to the edge of each line - extremely subtle.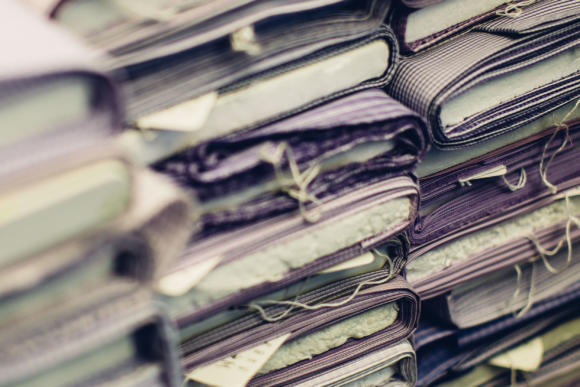 The fitting was a month later, again coincided to fit with a visit to Paris.
It was easily the most involved fitting I have ever had for a shirt. (No photos from that visit though unfortunately.)
The back was a little short, so it was sliced open just below the yoke, and taped back together with sellotape - leaving a centimetre-wide gap. The same was done on one side too, leaving things a little bit draughty.
Then various scribbles were drawn all over the shirt with a biro (it was only a white fitting shirt). Similar things to those you'd have on a tailored suit were marked in pen rather than chalk - my shoulder blades, my seat, the hollow below my collar bone.
Finally, a large pair of shears was taken to the collar. We had spent quite a long time discussing which collars suited my face at the initial meeting. I wear exclusively spread collars with ties, but it was agreed that we needed a slightly smaller, slightly more pointed one to suit my face shape.
This was trimmed down further at the fitting. Two trims were made, each followed by a brief conversation, with no more than a millimetre removed each time. Very small margins here.
It will be interesting to see how the final shirt turns out. I would surprised given this level of attention to detail if the fit is not very good. But it may still lack the ability of the Italians' lightweight fusing to work both with and without a tie (even though we picked the lightest weight of collar lining at Charvet - being selected above).