The appeal of shirtmaker Wil Whiting
I recently went to see Wil Whiting's studio for the first time. Wil and I have chatted many times in recent years, but this was the first time I'd been to see where he works.
Wil has proved himself a talented shirtmaker, despite only four years since he quit his job and began training with David Gale (Turnbull & Asser, Hilditch & Key).
Wil's received a fair amount of press and attention, some of it inevitable given his unusual background. However, personally I don't think this has always focused on the right things.
Because while Wil's cutting is very good, and some things like the pattern matching are visually arresting, the thing that sets him apart is his breadth of knowledge.
I've written in the past that English shirtmakers aren't great at making more casual shirts, fused styles and so on.
But actually the Neapolitans aren't much better - they're just lucky that their normal style feels a bit more contemporary and suited to modern lifestyles. If you asked them to make a super-sharp English-style shirt, they'd struggle as well.
What's interesting about Wil is that he has taught himself a wide range of techniques at a theoretical level, and is near-obsessive about executing them perfectly.
It means he can make all those styles and more.
No other shirtmaker I've seen has the same awareness of technical styles – whether it's gathered sleeves and yokes, variations on gussets, or one-piece collars. 100 Hands is probably the maker that comes closest.
That Indian operation is also most similar to Wil when it comes to quality, which is very high.
In the images above demonstrating pattern-matching, you can see how Wil has taken the dominant stripe on a shirt (here, white) and run it down the centre of the placket, matching the colour with white thread on the buttonholes.
(Even though most of the sewing elsewhere is in blue, as more of the shirt is blue).
The white stripe is then perfectly matched across the placket and the body of the shirt - it looks like the placket isn't there.
It's also matched with the collar - see how the white stripe in the middle of the collar runs down into the same stripe on the body of the shirt.
Next, it's matched running from the yoke down into the sleeve (a more common thing for makers to do). The stripes are also matched around the double cuff.
And finally, on the checked shirt below you can see how the pattern is matched from the collar, into the collar stand, and then into the back of the shirt.
Wil chooses to do this amount of work because he wants to make the best shirt possible. (A similar aim to Michael Browne with tailoring - it's no coincidence the two are friends.)
This degree of pattern matching isn't that important to me, though I have to say the lack of some basic matching has now started to bug me on other shirts.
The finishing of the shirts elsewhere reflects those twin aims of Wil's: to know the best that's out there, and then to make the best he can.
So the side seams are 2mm, for example, because this is the finest he's tried that's also functional. He's tried 1mm, but it's not strong enough. And 2-3mm looks nicest.
On the bottom hem of the shirt, interestingly, he chooses not to hand roll it (as 100 Hands or D'Avino would do) because he feels a large fold adds needed weight to the bottom of the shirt, helping it hang better.
Where there is hand stitching, it's very finely done. The buttonholes, which take perhaps 20 minutes to complete, are some of the best I've seen. And the monograms are both precise and artistic (eg on Wil's shirt above).
He actually offers three levels of finishing: machine; machine with hand buttonholes, sleeve and yoke; and all top stitching by hand.
But, doing this level of quality, number of fittings, and such an array of styles is expensive. And this will be the sticking point for many.
Wil's machine-made shirts are over £500 (with VAT). More for the two higher levels with handwork. And a minimum first order of four.
For many that is prohibitive, and it's a reason I have yet to try him.
If anything were to tempt me, it would be that breadth of knowledge and theoretical approach.
For example, I have an idea for a particular style of short-sleeved shirt. The only type of short sleeve that I think could look good.
Having been to Wil's workshop, and had different technical points explained and sketched, there's no one else I'd rather develop it with. It might not work, or look good in the end, but it's the kind of relationship I'd relish in a maker.
It probably helps that there's no language barrier and he too lives in south London. I could go pester him any time I like.
The other thing I would find attractive, and in fact Wil could probably make more of, is his originality in design.
Because the technical curiosity comes with – perhaps rather naturally – experimentation in design and materials.
Wil has made several Western shirts for customers, including the blue one shown above (for Jonathan Edwards @MilanStyleLive) and the green/grey one below (for Edward Schenecker).
These require sourcing of materials, and the acquisition of a snap-button machine (which was apparently not cheap) but also design research in pocket shapes and so on.
Other examples are shackets in linen or heavyweight cotton (below) and overshirts in Pendleton flannels.
Personally the shackets aren't for me, but I really admire the work Wil has put into them.
When I've seen these kinds of designs from other shirtmakers, they are sometimes not that thought-through. They tend to take their normal shirtmaking, and just apply it to something longer, or bigger.
Wil's feel nothing like a shirt technically, and have consistently evolved, for example changing the buttonholes from vertical to horizontal (to be more like a jacket) and adding taped seams inside.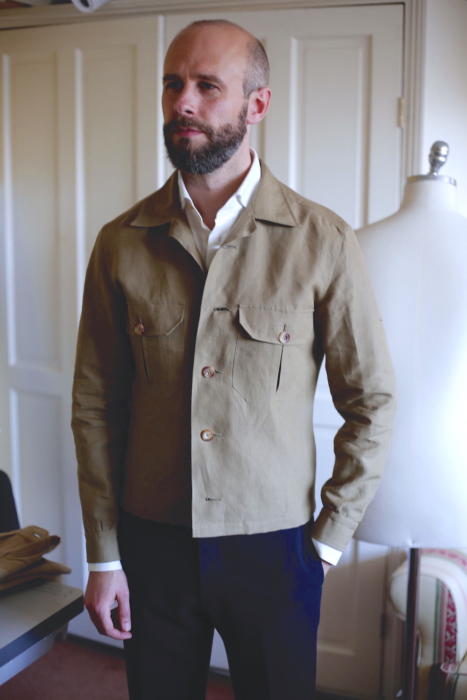 There are smaller, technical innovations with customers too.
For example, we talked at some length about the way a larger, more comfortable shirt requires precision to hang cleanly from the shoulders.
One customer wants that fit in particular, and you might think that would be easy. But most of the fit work remains, just focused on that drape.
One other thing that's not mentioned much is that Wil's shirtmaking team is based in Poland.
It won't surprise readers to know that this makes no difference to me – just as it makes no difference that the 100 Hands team is based in India. It's the quality that matters.
Wil also fully owns the workshop and employs the staff. He's trained them meticulously and they are well paid.
In reality it's also not an operation that could be easily put together from scratch in the UK. But I am aware that this will matter to some - and it does need to be clearly stated.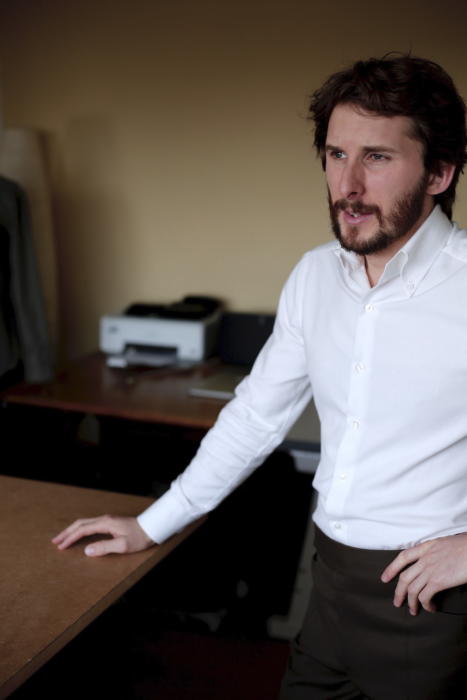 I can see there being similar discussions among readers as regards price, as there were with Michael Browne a few weeks ago.
Obviously the headline amount is smaller, but proportionally it's still punching above Wil's longer-established competitors in the same way.
Interestingly, Wil says with conviction that his shirts offer better value for money than those English shirtmakers he knows - because of the amount that goes into them.
That doesn't mean you should pay over £500 for a shirt, of course. But it should inform the question of whether the shirts are 'worth it'.
It's less an argument as to whether there's enough value, and more whether it's the kind of value you want to pay for.
As for me, I think the fact I haven't commissioned something reflects the value I place in shirts - and perhaps a purely personal passion for tailoring above other crafts.
I still have shirts made with Simone Abbarchi for less than €200, and am happy with them. I even buy RTW ones sometimes (eg Bryceland's). But I wouldn't do either with a tailored jacket.
Wil is at wilwhiting.com – but most examples of work on Instagram, @wilwhiting