Michael Browne: Building the perfect tailor
Michael Browne is one of the most talented and creative tailors I've known in my time writing PS.
He is also one of the nicest. We talked for years about whether and how he would set up on his own, and when he finally did - and moved into the current space on Berkeley Square - it was a big decision.
The magnitude of that decision perhaps reflects Michael's ambition for what he wanted to do. He wanted to not only make the best bespoke clothing in the world, but also change many of the processes that go into it.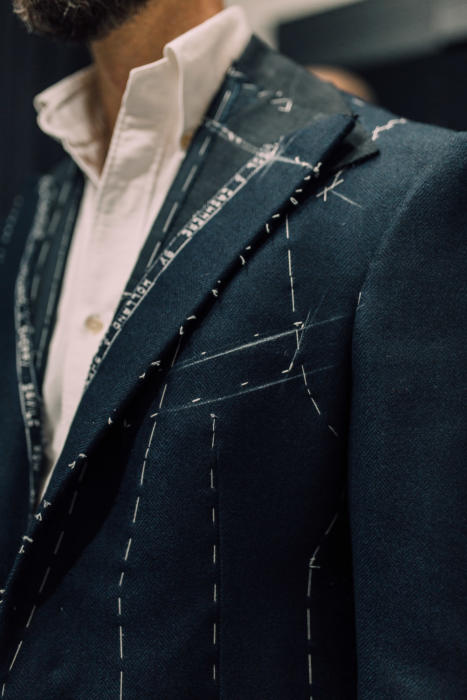 A good example is the first fitting, which for many tailors makes use of a garment that is only roughly sewn together. You won't be able to see the line of the lapel; it may only have one arm.
They do this partly because the whole thing will be ripped down after that fitting, before being re-cut and put back together.
Michael deliberately makes his first fitting to a much higher level, with all the parts of the jacket in place and neatly basted together. Even though it will still all be ripped apart.
He does this because he thinks it helps the tailor and the cutter get a better idea of where the suit is going. It leads to more precision, and saves fittings in the long run.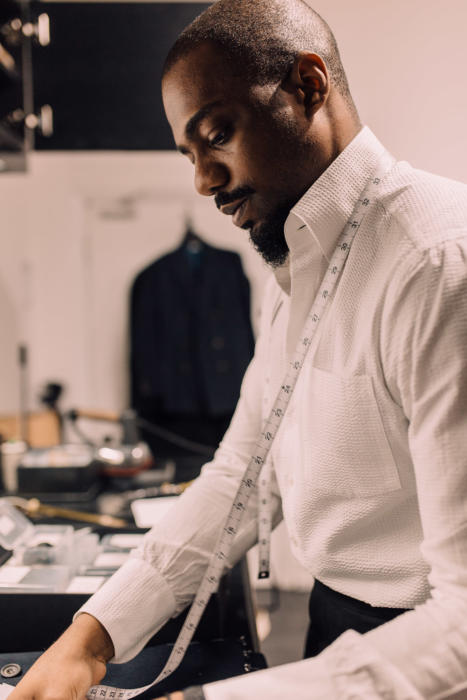 Michael also insists on taking apart all those fittings and putting them back together himself, each time. Even though he now has two tailors and an apprentice to help him.
He does this because he finds otherwise small things are missed. If two people handle the garment, little things change. The sleeve is re-cut just to make it fit in the armhole, rather than in the way the cutter envisioned it.
At each fitting, some of the changes required will be caused by small errors that have snuck in, rather improving the overall fit. There's a re-adjustment every time.
In Michael's view, that's also why a second suit is often not exactly the same as the first one at completion.
All this is time-consuming of course, and as a result expensive. The drive towards perfection - of process as well as product - is a big reason Michael's suits start at £6500 (including VAT).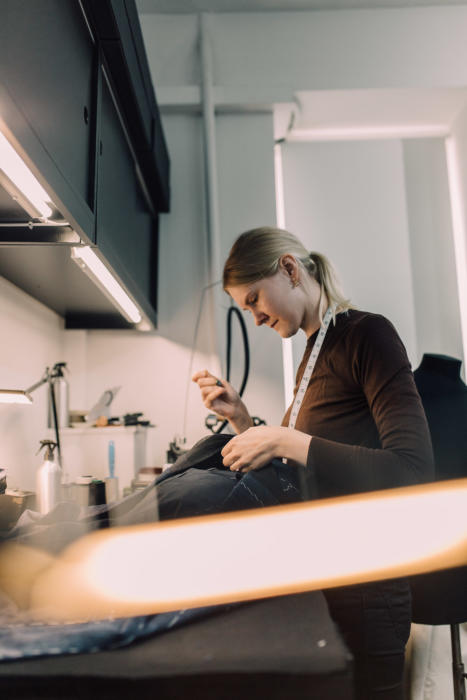 So far, this has been no barrier to growth.
When he started, the team was Michael, coatmaker Birgit (above) and some outworkers he had worked with previously. Now there is also a second room next door, housing another tailor and an apprentice.
I've covered Michael a little - in the Financial Times for example - but he's barely needed the help. His rigour and style have shone through.
Another thing that eats up the time of these workers is the structural creativity of each suit. There is no default in terms of the shoulder padding, chest construction, or even how that padding sits on the shoulder.
With each new customer, Michael and Birgit discuss the best way to either make something that flatters the customer, or that suits the style he wants, using this full range of techniques.
In theory, much of this can be done by other tailors. But in my experience, there is too much emphasis on efficiency and house style to really be that open-minded.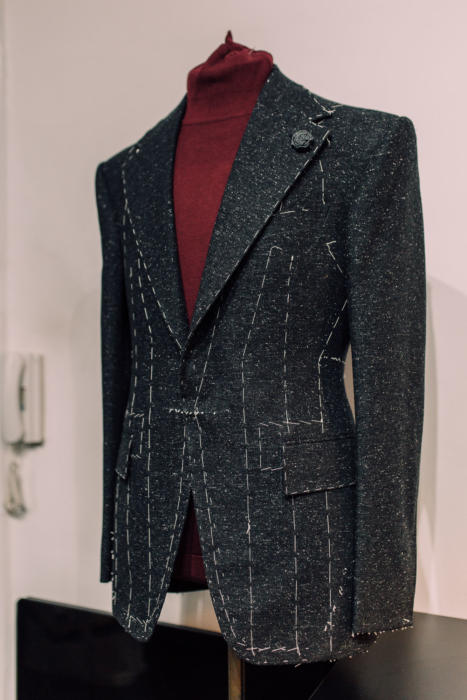 One aspect of Michael's work that will be more familiar to readers is the creative finishing.
Michael was the first tailor I saw on the Row making Milanese buttonholes. Now they're everywhere. He was also the first making a style point of lap seams, which is something I see frequently copied.
Today he's also playing with pleats in the back seam of jackets (where they'd be more normal on a coat). And the style he's become best known for recently - the body coat - is a simple idea based on both tailoring technique and practicality.
This is also what Michael means when he describes the work as 'couture'. There's more design involved, all centred around craft.
It's also about the customer. Everyone says they have conversations with the customer about what they would like, and why. When they will wear the suit, on what occasion, in what temperature.
Michael does that too, but he's also set up for the tailoring enthusiast who wants to talk about the different ways to flatter the figure, to give one impression or another.
We were talking recently about how he used large slanting pockets on a jacket to make a larger customer look slimmer. And how the angle of the pockets worked with the angle of the peak lapel.
These will not be new concepts for readers. But it occurred to me that while we know these things, and tailors know them too, they're rarely talked about. The tailor normally just asks, what kind of pockets do you want?
At a more basic finishing level, Michael and his team do everything you could ever expect from tailoring at this level. Closely padded chests; hand-sewn linings; breast pockets in the facings; the finest buttonholes.
Then there are little points of refinement. Like the peaks of peak lapels, which Michael is obsessive about. Or the precision of pocket jettings - which interestingly, is a point customers rarely notice, but I find other tailors often do. It's a place they look to see the quality of the work.
For Michael, who wants to produce nothing less than the finest bespoke in the world, any garment must hit all of these points. And it must just look beautiful in and of itself.
It must be practical and attractive as ornament. (Echoes, there, of the way some shoe obsessives think about footwear. But which rarely comes up in tailoring.)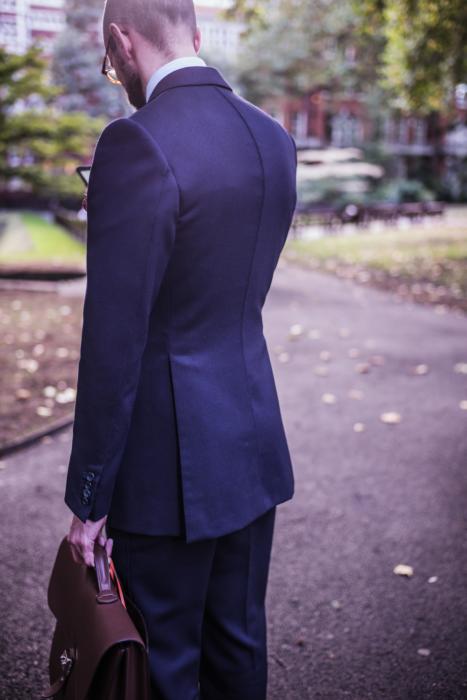 Stylistically, what Michael is mostly asked to make is the things he wears himself.
He makes slim trousers in dense twills, worn with fine knitwear or skinny ties, look so good that this is what everyone orders (at least to begin with).
My suit from Chittleborough & Morgan (above), which he helped make, was a peak-lapel three-piece in navy three-ply because that was what Michael wore. Chittleborough have made a lot of them since.
Michael has a strong sense of style, and customers want to buy into that. He's more likely to have a conversation with one of them about knitwear that works with his jackets than most other tailor, and to do so knowledgeably.
Given how many people ask about it, he may also do some little pieces of ready-to-wear specifically aimed to go with the bespoke.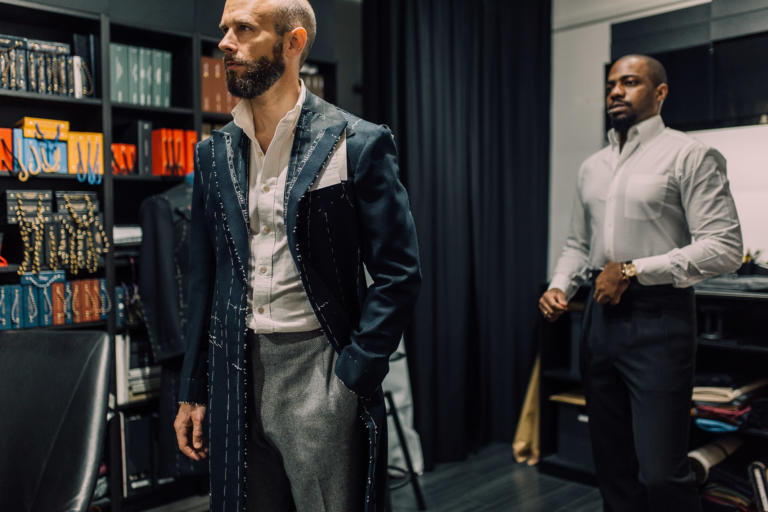 When I finally made the decision to make something with Michael in his new set-up, it was driven by the same things.
The body coat - being fitted above - is essentially an overcoat that is cut to wear over knitwear, not a tailored jacket.
It will appeal to anyone that works in an office where jackets are rarely worn. Or to someone that already has several normal overcoats (me).
Or to someone (more niche this) that likes the close, tailored fit of a jacket and always wondered what a long version would look like.
Other than the closeness of the fit, it is largely the same as a normal overcoat though. It's usually made in overcoat material, at an overcoat length, and with a fairly standard notch lapel and two buttons.
The biggest difference in terms of cut is that there is more emphasis on the opening at the chest, and perhaps slightly open fronts.
Michael's style is also towards the sleek, and as a result there is no belt interrupting the back - just a centre pleat and a vent.
There is an angled but straight breast pocket. And a fly cuff with a single hidden button.
The version I commissioned was a little less sleek and more classic, though. The material is a navy wool/cashmere (Michael has made them in black silk) and the buttons are a dark brown, rather than black or grey.
This was our second fitting, out of an expected four or five.
The body fit and balance were almost perfect from the start though - the discussion since has been more about shoulder width (I pushed slightly wider) and buttoning point (I went slightly lower).
It will have a notch lapel with a fairly small gorge - another small thing that Michael likes and adds drama to a normal notch lapel.
The next post will be the finished coat, in a few weeks' time.
The cloth is Holland & Sherry 986021, wool/cashmere. Price of body coat in this cloth, £7500.
Photography: Jamie Ferguson @jkf_man, except picture of navy suit, Luke Carby