Couture and bespoke, the linen trouser, and other journalism
Back in the day, a feature of mine in the Financial Times or similar was enough to justify a full post on Permanent Style. Today, they rarely get a mention.
So I thought readers might be interested in being directed to such pieces. They are, after all, a continuation of the work and thought process behind Permanent Style, just for a different audience.
I'm not sure everyone will want to read about the overlap between bespoke and couture, for example, and how John Galliano explains his bias cutting technique.
But I'm equally sure that some will - so below are summaries of, and links to, recent articles. I hope you find something you enjoy.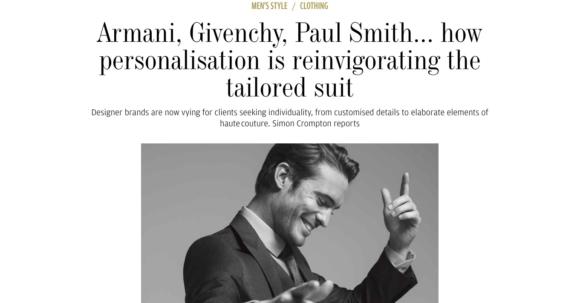 The most regular outlet for my writing remains How To Spend It, the supplement to the Financial Times here in the UK and probably our leading luxury publication.
In the print magazine, I recently wrote a feature exploring the increase in made to measure, bespoke, and couture menswear - and how the three interact. It was interesting to cover men's couture like Margiela (called 'Artisanal') for a change, and to make the link to Michael Browne's 'couture' tailoring. Read it here.
Permanent Style posts are regularly syndicated on the How To Spend It website, which is nice as it gives them a different audience, and exposes small brands to a wider audience.
Two recent examples were my feature on SEH Kelly, and piece exploring the unique way an Hermes scarf is printed.
You can read them at those links.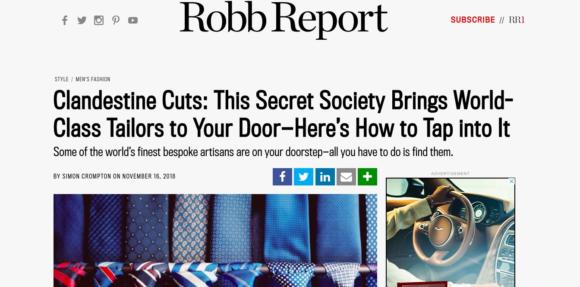 Robb Report, which again is probably the leading luxury publication in the US, recently appointed Paul Croughton as editor-in-chief - an old friend and someone doing some great work now at the magazine.
I have written a few pieces for him since he joined, including one highlighting all the bespoke artisans - primarily tailors and shoemakers - that visit the US. It still staggers me how many Americans aren't aware of all the people visiting them. New York in particular probably has the greatest access to bespoke of any city in the world.
The feature aimed to explain this to readers, and give a few recommendations. You can read it here.
What's your favourite way to waste time? "Hanging out with my family, particularly playing with my two daughters...we were learning new card games at the weekend. Just sitting in the kitchen, back door open, sun and warm air flowing through the house."
This is an interview Hugo at Connolly did with me for their regular newsletter, rather than a freelance piece. But anyone that wants to know what my dream car looks like, or why Leighton House is one of my favourite places in London, will find it interesting.
You can read it here.
The UK edition of Robb Report has commissioned me separately for columns and features over the years, and it's often a nice outlet for the occasional style rant.
One recent piece was a column about summer dressing. In particular, how the linen trouser can be dressed up and down throughout the season. You can read it here.
And there was also a fun column about the demise of the Pitti peacock. That's available online here.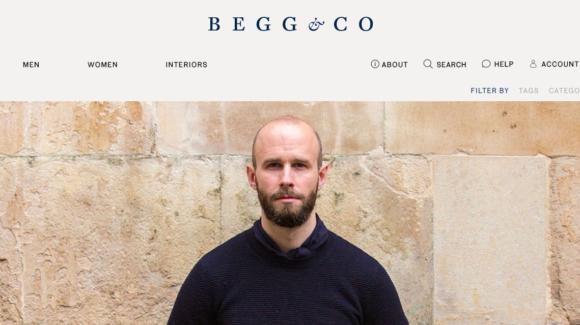 6. Begg & Co favourite scarves
One nice thing about being a long-time customer of a brand is that you develop firm views about the styles you like, and why. It also helps when it's a heritage brand that produces just one product - and therefore doesn't change every season.
That is the case with Begg & Co scarves, and is why I was particularly pleased to do this article for them recently. It was also interesting to focus just on Spring/Summer scarves, as I think that's often something of a contradiction for function-driven men.
I hope you find it useful.