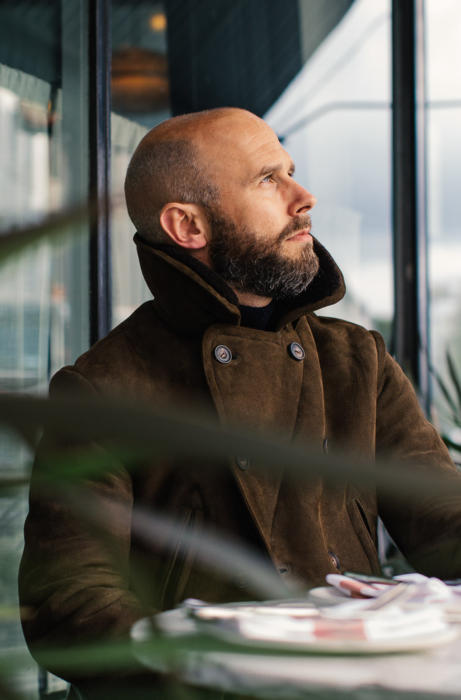 I've been lucky this year that so many outerwear collaborations have come to fruition - no delays, no problems, everything fulfilling my expectations. That doesn't always happen.
This next one is no less exciting than the others, but I should note now that is being sold by Cromford Leather, not Permanent Style, and that it is mostly made to order/measure.
Shearling is expensive, and stocking a volume of it is hard. Particularly when - as with pretty much everything we do - the aim is the finest quality in the world. Even buying the skins (nine for each jacket) makes you think twice.
So Cromford have a small size run available now, and have bought skins to make more - either made to order (no size changes) or made to measure (their normal MTM service). Details on both of those, timings etc, at the bottom of this post.
There are 20 jackets available in total, the RTW or MTO being £2250 (ex VAT) and the MTM £2812 (always 25% higher than their RTW).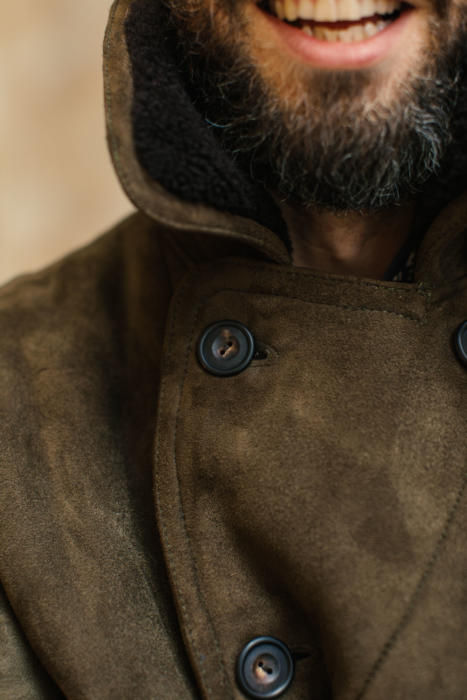 The key thing that frustrates me about shearling coats is the colours.
There is certainly an attraction to wools and skins that are undyed, or more natural in colour. I assume that must be the reason why so many are pale, particularly light brown and tan.
But it makes a shearling coat more striking than it needs to be, and probably less versatile. It's also what drives the few negative (British) associations there are, such as John Motson or Del Boy.
And it's much less practical. Shearling isn't that hard to look after, if you brush it down and keep the nap up. It's robust and fine in light rain, in the same way suede is.
But pale colours will show dirt much more quickly. Why someone like Ralph Lauren offers them in pale grey I'll never know. Perhaps the typical Purple Label customer never ventures out into inclement weather anyway.
So the shearling I've designed with Cromford is a deep, muted olive on the outside, with a dark brown wool on the inside. This double dyeing is not easy or cheap, but I do think it creates a coat that is very wearable, while still being distinctive.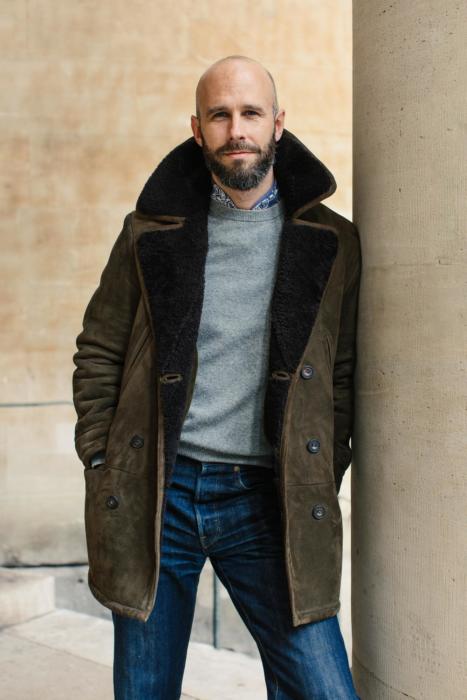 The other thing that frustrates me about shearling I've tried and worn in the past, is the traditional shapes. (Don't worry, there are only two of these bugbears.)
Quite a few fall into one of two camps: either a big, chunky flight jacket, or a long, thigh length tube.
I can completely understand the appeal of the first. It looks manly, rugged and traditional. In my life I've bought two, a vintage one and a new one from Nigel Cabourn.
The vintage one wasn't great (shearling tends to rip when it's decades' old) and while I still love the Cabourn one, it's too thick to wear unless the temperature is -5 or below. Which isn't often in the UK in recent years.
More importantly, though, that bomber style is really only a casual piece, to wear with jeans, and it can feel like wearing a very particular look - like wearing a black leather jacket.
The other shape I dislike is hip length or longer, single breasted, and perhaps lacks style. It's looks purely practical, designed to cover the body and nothing more. Motson favoured that style.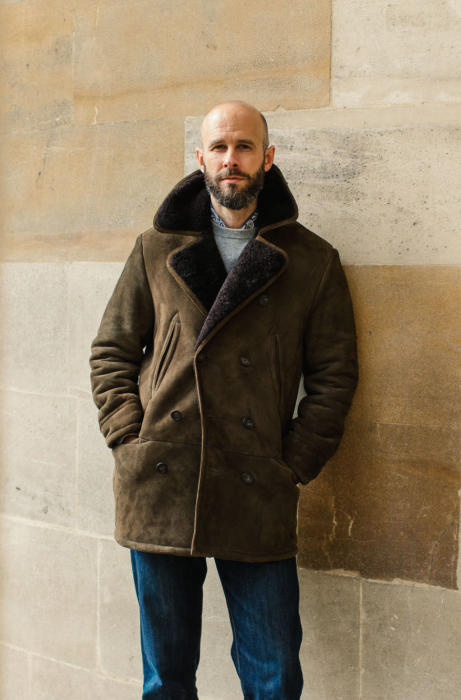 That thought process led to a design for our coat that was hip length, but with a sweeping double-breasted front to give it some style.
The double-breasted front was influenced by a vintage piece I found, but also by the lapels on the Bridge Coat we make with Private White VC. The line here is not as dramatic as that, but you will see echoes of it in the slimmer waist, rounded shape through the chest, and then neck-framing collar.
There are of course lots of other double-breasted shearling coats out there, but I've yet to find one that has this combination of sartorial lapel shape and practical length. I remember agonising over a Zegna one two years ago, but it just had a narrow, straight wrap on the DB, and was probably too pale in colour.
One of the most satisfying things about designing outerwear like this, is the ability to make your dream coat.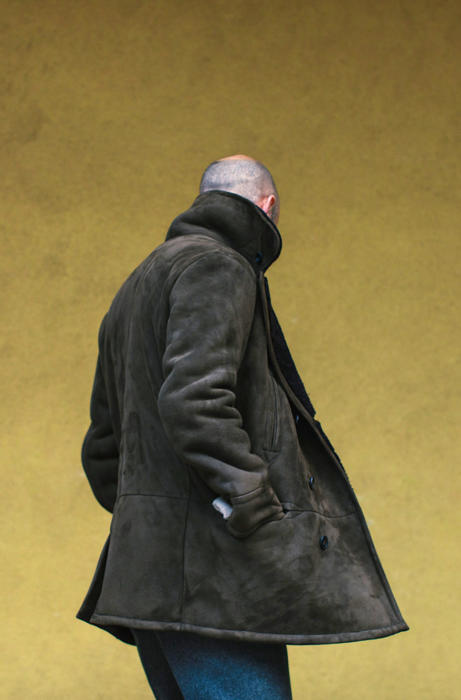 Something our vintage piece contributed to the design was a double layer of shearling on the collar and lapels.
This allows the coat as a whole to be use lighter skins than most, making it easier to wear. But then the double layer at the front gives the lapels style and shape, while protecting the parts of you that need it most: the chest and neck.
This difference is subtle, and might even go unnoticed by someone wearing it, but I think is key to this design being so functional.
I was also very keen to make sure the fronts do button easily all the way up - there's plenty of room under the chin. And the plunge pockets are set far enough forward to be easy to use too.
Similarly to the Wax Walker, we also made these plunge pockets deep enough so that they can work as receptacles for your phone, wallet, keys etc, and use the hip pockets for your hands if you prefer (as I do).
The shearling we used is Spanish merino. This is extremely soft compared to a lot of others used, such as entrefino, which tends to be thicker and rigid. The merino is dense though, and it is the density which gives it warmth.
These types of skins are considered 'double face' in that both sides are treated (and dyed) without the wool of the sheep being removed. Often cheaper shearlings are actually two separate skins, a suede and a wool, which are sewn together because it's cheaper (a little like split suedes).
The outer side has a suede finish, and the inner is semi-curly wool, cut to 10mm length. An average of nine skins are required per coat, as mentioned.
Basically, our aim was to make the finest shearling possible, using the finest materials. That isn't the aim of every maker, but it is ours, and that's why pieces like this are necessarily expensive. I won't have to tell regular readers that a coat like this would be over £5,000 from a larger, designer brand. (Indeed, Cromford makes for some of them.)
Other design details on the coat include a small, zipped pocket on the inside - which is something that's hard to do on shearling, given there is no lining, and so is often left out.
There's also a throat latch, which we widened and placed lower on the neck, to make sure no cold winds slip through between body and collar (which again, seems to happen on most coats - and which we did on the Donegal Coat too).
Finally, this isn't a design detail, but it's worth pointing out that shearling can look nice with the sleeves rolled back a little, as shown below. This is useful because it avoids sizing problems for anyone that's a little shorter, or has relatively short arms.
Oh, and for those that are interested, the shearling is a by-product of the lamb industry, as most are.
Ordering details:
10 coats are available now, two in every size from S to XXL, costing £2250 (ex VAT)

Skins are available for a further 10 coats, which can be made to these standard sizes, or made to measure

If you order a RTW coat, it will be ready in three weeks

If you order MTM, it will take roughly eight weeks and cost £2812 (ex VAT). The extra time is consultation, and shipping and making toile fittings

The MTM must be in the same style as this coat, but otherwise there are no limitations

If you want a different style, this is a bespoke service, which should be discussed separately with Cromford

Ordering is through

the Cromford Leather website here

All extra information, including care and sizing, can be obtained through contact with Cromford. I measure a 39-inch chest, am 6 foot tall, and wear a Medium
Other clothes shown:
Cream and red cashmere watch caps,

from Permanent Style

Jeans,

bespoke from Levi's Lot No.1

Grey crewneck, cashmere from Luca Faloni

Vintage bandana, from The Vintage Showroom

Grey flannel trousers, from Whitcomb & Shaftesbury

Navy roll neck, from Edward Sexton
Photography: Jamie Ferguson @jkf_man