40 Colori made-to-measure knitwear and tie: Review
I'm pleased to say that the jumper and tie I had made by 40 Colori turned just as consistently and professionally as everything else I had experienced from the shop.
The cashmere crewneck fits well, with the measurements being exactly what we requested and only small questions over the decisions made in those requests.
The tie is exactly as ordered too, and is the perfect length and width, as well as an interesting material. The only question there is the colour, which was entirely my choice.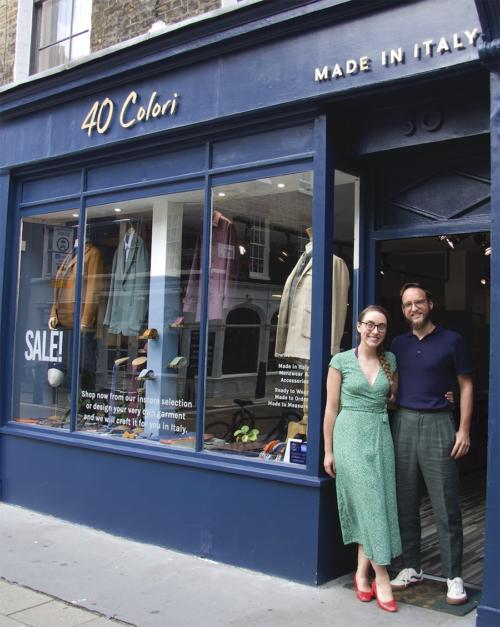 40 Colori is a shop on London's Lamb Conduit Street, run by Gabriele and Cassandre (above). As described in my original article on the couple, their style isn't quite in line with Permanent Style's, but they do offer a great made-to-order and made-to-measure service that I was interested to try.
A key reason that service is so good is that they are plugged into a series of small menswear factories around Italy: Gabriele's family runs one of them, which makes ties and scarves, and others make knitwear, tailoring, socks and so on.
This makes small commissions easier, means technical questions can be answered quicker, and I'm sure helps with that consistency mentioned earlier.
There aren't many options for made-to-measure knitwear around, simply because everything is made on machines (unlike shoes and suits) and it's expensive to use those machines to make a single piece.
It's also not an easy thing to fit on a customer. Measurements of the body rarely work, as few guys have any idea how close they want knit wear to fit. Better is using a series of sample sizes, and picking elements from each.
This is what we did with my crewneck. I tried on several sizes, and from those picked different options with some small tweaks here and there.
So I went with the chest of the 48; the collar of the 46; the shoulders of a 48 plus 1cm on each side; the hips of a 46; the sleeves of the 48 plus 1cm on the upper arm; and the length of the 46.
Unfortunately they didn't have a size 44 in the store, which is what I thought I would have on the waist. But we worked off the 46 and took it in a little to represent a 44.
I should say, by the way, that I found all the 40 Colori sizes came up big. I'm more normally a size 50 chest.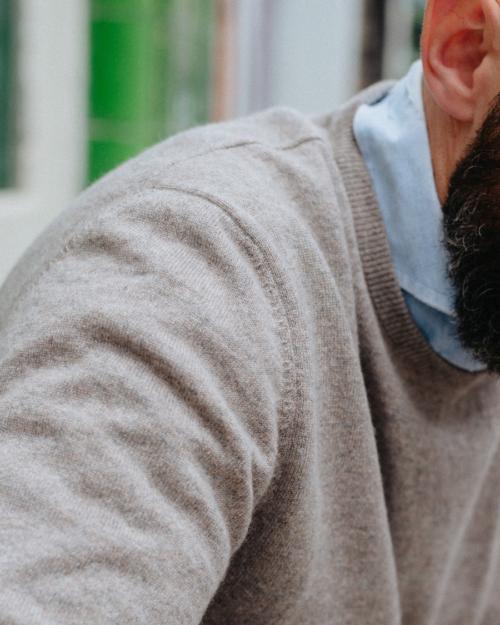 This combination of sizes sounds quite complicated, but actually it felt simple, given I was picking specific fits I could see and try - rather than having to imagine them.
And the final knit was the exact combination of those sizes.
The only question mark for me is the hips, which were one size bigger (46) than the waist (roughly 44). I feel that the ribbing of the sweater is a tiny bit loose on me as a result. It's just about OK now, but if it stretches at all, it will be too big.
Still, everything else was perfect, and I might be wrong on that count as well - it might be the right size as well as everything else.
The cashmere (2-ply from Cariaggi) is lovely, and I'm pleased with the biscuity colour I picked - what Cariaggi calls 'peppercorn' (no. 20629).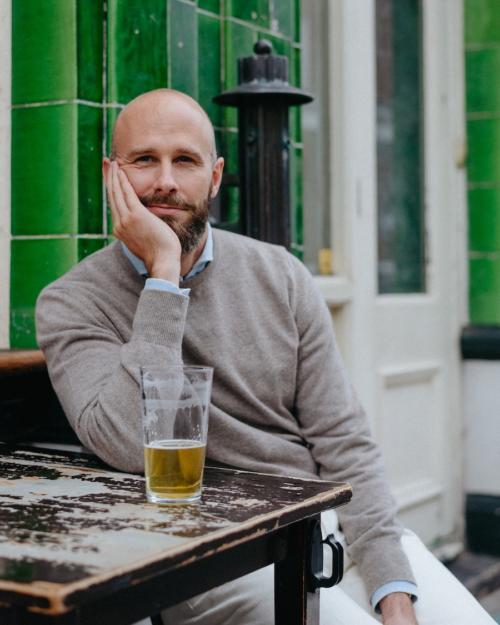 The overall fit of the sweater is probably not much better than those I buy ready-made from brands I like such as Colhay's or Luca Faloni.
But there was a time when those brands didn't exist and I couldn't find slim knitwear. And the 40 Colori service will be most useful for those that still can't find anything that fits - because they have much longer arms, or are way off average in some other respect.
I suppose there could also be a time when I'm looking for a colour of knitwear and can't find it anywhere. Or perhaps a style - say a V-neck with a much deeper V. (See previous post for my views on more adventurous design changes.) 40 Colori gives me the opportunity to explore either of those.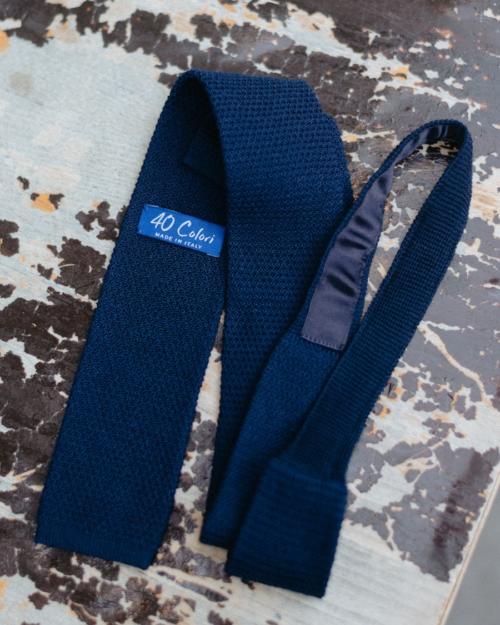 My reason for having a tie made was mostly just because it was possible.
But I do also have a few grumbles with knitted ties, which it was nice to address They're often too narrow, perhaps 6cm, so we went with 6.5cm; and they're always too short, so we added 9cm to the length (total 155cm).
Interestingly, we added 6cm to the front blade and 3cm to the back, as this was required to keep the neckband in the correct place, ending centrally under my chin.
Perhaps I tie my knots tighter than others, meaning the front blade needs extra length to be the same length as the back? I can't think of any other reason. Do shout if you can.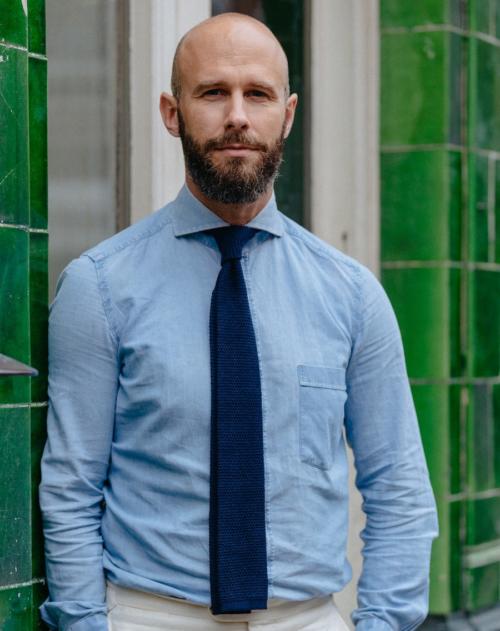 The other little experiment with the tie was to use a yarn that mixed linen and 'shappe' silk.
Shappe silk comes from silkworm casings that are normally discarded, because the resulting product is not shiny enough. That can be a effect you want, of course, and it works well with the linen I think: the resulting material is similar to wool in its matte surface, but has the same crunch as a standard knitted silk.
The only issue with the tie was that I didn't pick a dark enough navy.
It looked dark in the swatches, but looking at them again when I collected the tie, I think the black paper they were mounted on made the colours seem darker than they were. I should have taken them to the window - to natural light - to see properly.
The tie is still lovely, as you can see, but it will be less smart and less versatile than a darker navy. Gabriele and Cassandre don't currently offer a darker navy in that fibre mix, but they're looking into whether it's possible. If the worst comes to the worst, they could even dye some silk specially.
Overall, a great service with a few understandable learnings for someone using a process, and commissioning a type of product, for the first time.
The made-to-measure knitwear was £325; ready-made is £225. Full details on the options in my original article.
The tie cost £75.
The other clothes shown here are my P Johnson MTM trousers in Loro Piana Denim and my very old and very frayed denim shirt from Al Bazar.
Photography: Alex Natt @adnatt