40 Colori: Italian made-to-order, London
A reader recently recommended to me the made-to-measure knitwear at 40 Colori, a shop on Lamb's Conduit Street in London.
He has trouble getting knitwear to fit, being rather tall, and 40 Colori did a good job of making a piece to order for him, with rather longer body and sleeves.
That was interesting, and welcome, but the thing that convinced me they were worth covering, after a little research, was the direct connection to Italian manufacturing.
The co-founder of 40 Colori, Gabriele, comes from a family that runs a factory near to Lake Como. It was started by his grandmother, and originally just made silk ties, before adding knitted ties and scarves.
His father runs the factory today, and his grandmother still makes a lot of the bowties herself.
Gabriele and his co-founder Cassandre met at university, and when Gabriele graduated from the LSE, they decided to start a small shop selling products made in the factory - initially ties, bow ties and waistcoats.
They had a tiny shop just off Brick Lane in east London for three years, before moving to Lamb's Conduit Street more recently. They also expanded their range then, to include knitwear, shirts, tailoring, outerwear and other accessories.
"The move has been very good for us," Cassandre told me. "There are more business people around here that are interested in clothes, and frankly more people with money. It's hard to sell our level of craft, with everything made by small operations in Italy using top materials, in East London."
Crucially, all these clothes are made by factories or workshops that Gabriele's family know around Italy. So the knitwear is made by Maglificio Annamaria nearby (shown above), the socks by Calzificio di Roby in Brescia, the tailoring by Sartoria di Maurizio in Arezzo, and so on. All small operations around the country.
I say this is crucial not because they're all similar - though that's nice - but because being small operations makes it easier to do made-to-order, which is the biggest USP for 40 Colori.
The cashmere crewnecks I was looking at cost £225 ready-made, £275 made-to-order and £325 made-to-measure. The cashmere is all top of the range: Cariaggi or Lanecardate. And the turnaround is 3-4 weeks.
Ties can be even quicker, and sometimes involve just picking up the phone and talking to the family members working in the factory that day.
I think MTO is objectively the biggest USP for 40 Colori because it's a service they have unique access to. Their flexibility and responsiveness enables them to stand out from others offering Italian knitwear and ties.
But also subjectively, I think it's the biggest USP because a lot of the clothes are not necessarily my style. The ties are mostly a little too funky or unusual, the scarves chunky or patterned. The aesthetic is a little younger than brands we normally cover: more Slowear than Anderson & Sheppard.
That doesn't mean there aren't great classic pieces in there - solid-colour beanies or conservative trousers - but it means the prime area in which I think 40 Colori stands out, and therefore Permanent Style readers should consider them, is the MTO business.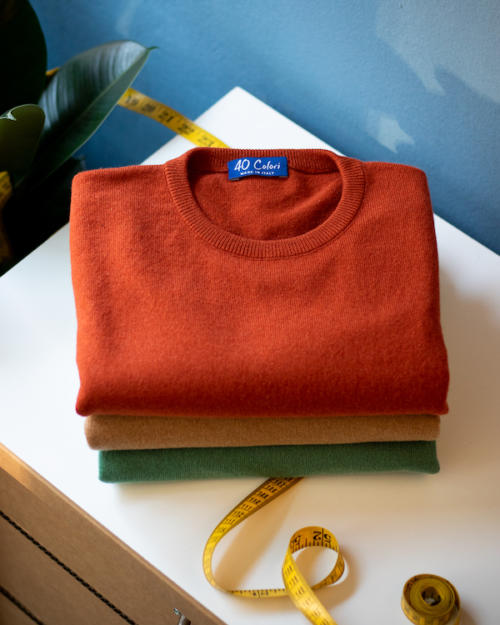 In order to try this out and review it, I ordered a sweater and a tie, both of which I will cover separately.
It was a good initial sign that the MTM operation works through adjustments to ready-made styles, rather than body measurements.
The latter is a system I've tried in the past, most recently with Licia Luchini in Florence, and it rarely works: it's just too hard to describe how you much tolerance you want, where. Most men have never considred how they like knitwear to fit, and even if they have, there's little shared language to communicate it.
40 Colori work off a size set of ready-made pieces. "We did initially try taking measurements and making based on those, but it was too unreliable," says Cassandre. "For this system to work, you need to be confident that the final product will not just be what you ordered, but what the customer had in mind too. And that's the hardest part."
In fact, one thing I should have mentioned is most of 40 Colori is made to order - they only keep a minimal amount of stock, usually one product per size and style. So chances are whatever you buy, you'll end up going through this process and waiting 3-4 weeks (tailoring is a little longer, more like 5-6 weeks).
I went for a pretty standard crewneck sweater, partly because it's a good basic thing to review, but also partly because some of the other knitwear styles didn't appeal.
The chunky waffle knit is not a style I like particularly, nor is the mock neck. The shawl cardigan was a little fine and slim-collared.
Of course, design elements like those on the shawl collar can be changed - the possibilities with 40 Colori are huge in that regard - but I would always suggest caution when making multiple design changes to anything.
If you're not a professional, I find the chances of getting all those tweaks and choices correct are pretty small. Certainly, I rarely have. Indeed, even designers work through one or two samples before going into production.
Changing a button position is one thing, and adding or removing pockets. But when you start changing the gauge of the knit, and the shape of the collar, and the fit, the potential for error multiplies.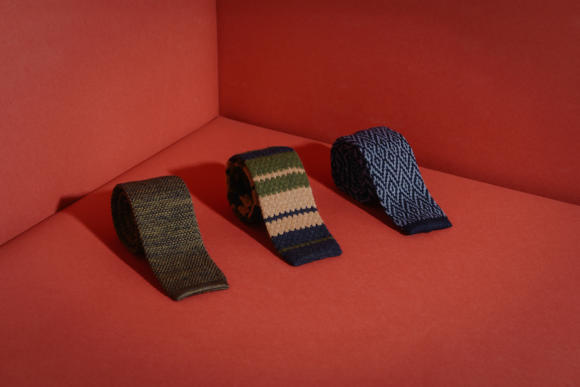 The tie I ordered, too, was driven by the fact most knitted ties are too short for me - rather than by a desire to design something original.
Gabriele showed me a big spread of knit samples and textures, mostly designed as ideas to show to brands that the factory works for. But I went for a pretty standard chunky knit, similar to those seen RTW from other brands.
The only thing I varied, apart from the length, was the material - a linen/silk mix. And then only because I saw a final product in the store, and could try it on.
This might seem a little cautious, even boring. And there is certainly a lot of fun to be had in playing with designs, trying to come up with something both unique and personal.
But if you don't have enough money for the result to be not what you imagined - or for a couple of iterations - I'd always suggest starting small.
Review of the finished knitwear and tie in a couple of weeks.
Photography: 40 Colori