Dalmo made-to-measure cashmere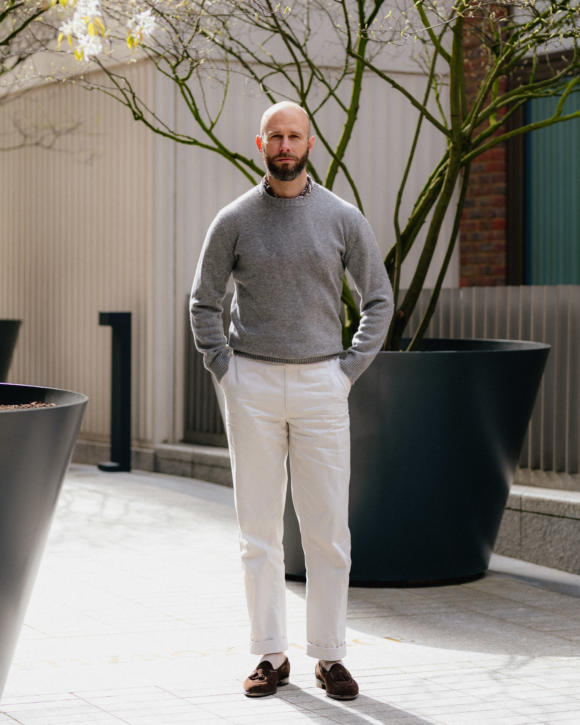 In recent weeks we've talked about hand-framed knitwear - the slow knitting process used on knits like the Stoffa ribbed polo and the Saman Amel cricket sweater.
I'll do a more in-depth piece on the process later, but today I wanted to add one more producer to that list: an Italian family-run company called Dalmo, based in Tuscany.
Dalmo's main business is making for other people. They are the kind of small workshop that produces top-end knits for luxury brands such as United Arrows and Rubinacci, as well as for smaller operations such as Brio in Beijing, or Sartoria Corcos.
But they also sell under their own name, and offer a remote made-to-measure service of sorts. It was this offering that I tried, and which produced the grey crewneck pictured above.
The workshop is small, with 10 people working seven looms or other machines. They do hand-framed knitwear and hand-woven scarves - which use similarly sized, old machines - as well as some actual hand knitting.
You can see two of the women hand knitting above. Often when big brands say something is hand knitted, they mean hand framed (below). To an extent this is understandable, as the effect is similar, with both creating a more spongy, malleable feel than regular knitwear. Hand knitting is further along the same spectrum.
The workshop was set up by Lorando Dalmo in 1950, inspired by his mother's knitting, and in the following decades he made for brands such as Ferragamo, Trussardi and Sacks Fifth Avenue.
In 2000, the next generation took over, and focused the business on just hand-made knitwear in luxury materials. That's mostly Loro Piana yarn, but also cashmere/silk, vicuna, and in Summer linen, Peruvian pima cotton and makò.
Today Clotilde Dalmo, Lorando's granddaughter, runs the social media and handles individual customers, like those looking for made to measure.
I was recommended Dalmo by a friend, and asked Clotilde about making an MTM sweater for me.
She initially suggested I send body measurements, but in my experience it's more reliable to use existing knitwear and tweak it, largely because most guys have little experience with commissioning knitwear (unlike shirts or suits).
I find it's better, therefore, to either try something the brand already has, or measure knitwear you already own and consider what you would change. Clotilde was happy to do this - the MTM service is pretty informal at this point, and operating mostly over Instagram.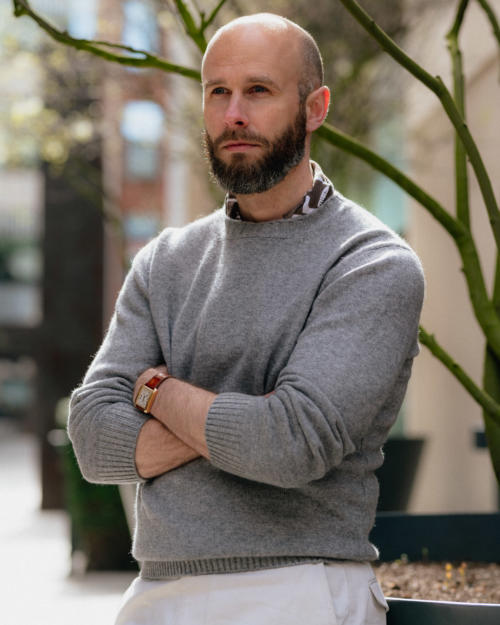 She sent me a crewneck in a size 40, which turned out to be a pretty good fit, and I just requested the waist to be narrowed by 4cm (in width, not circumference), the sleeves to be shortened and the collar to be slightly smaller. All were based off measurements I took of other knits I own.
The knit I received three weeks later was beautiful, but had a small error with the width in the waist. It looked like 4cm had been added, rather than taken away.
Clotilde was very apologetic, and said she suspected it was down to the fact a different woman had made the new piece than the sample, because so many have had to self isolate during Covid. Which is pretty understandable.
A new piece was made, received another two weeks later, and was perfect. It is pictured here: a fairly heavyweight crewneck, in four-ply cashmere from Loro Piana. The hand feel really is lovely, probably the nicest feeling knit I have alongside the Saman Amel covered recently.
Given the weight and brand of the yarn, it was towards the top end of Dalmo's range, at €540. The cheapest is €215 for a summer-weight polo.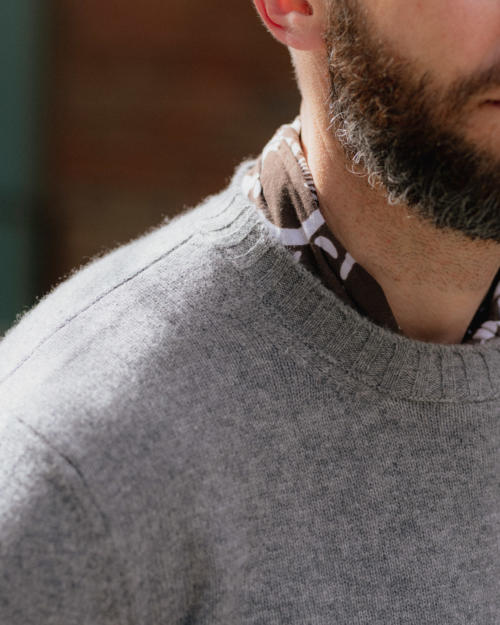 Most people, even those that have only MTM tailoring or shirts, are fine without MTM knitwear. They just need to find a brand that fits fairly well, whether that's a little slim or a little big.
But for those that like these things more precise, or are particularly tall and slim, for example, there are few hand-framed or hand-knitted options. I tried Licia Luchini for hand knitting last year, but it wasn't that successful. And brands like Stoffa or Saman Amel do it, but only in their particular designs.
I'm pleased therefore Dalmo worked out well, and I can recommend them. It's also a lovely workshop and team of people. I'm considering next either a fully hand-knitted piece or a hand-framed Summer one.
Clotilde is in the process of setting up a website to make ordering easier, but in the meantime anyone can contact her on Instagram @dalmocashmere, or email [email protected]
In the images here, I'm wearing the knit with:
Other made-to-measure knitwear we've covered, for comparison, includes:
Photography: Alex Natt @adnatt