New shop, outerwear and trousers at Saman Amel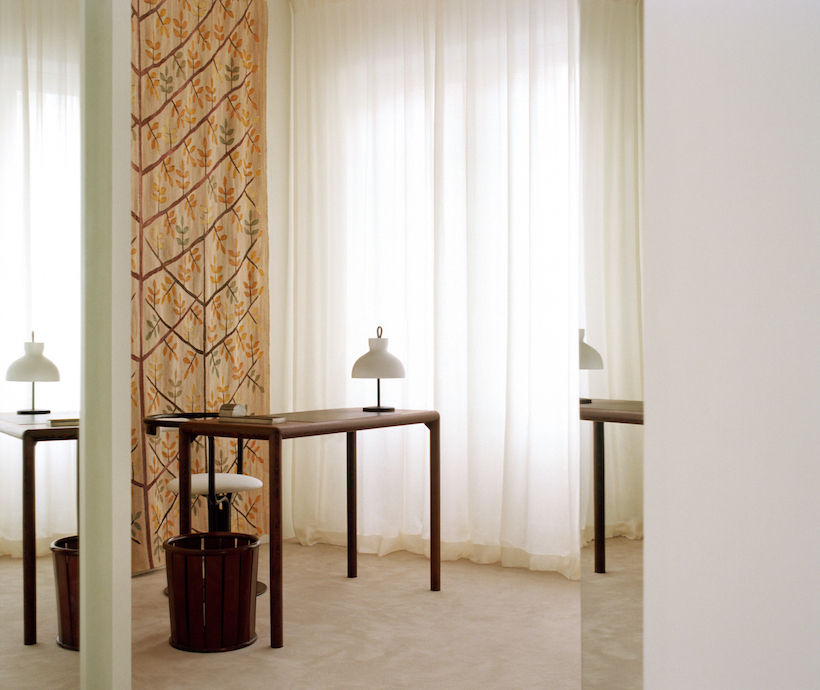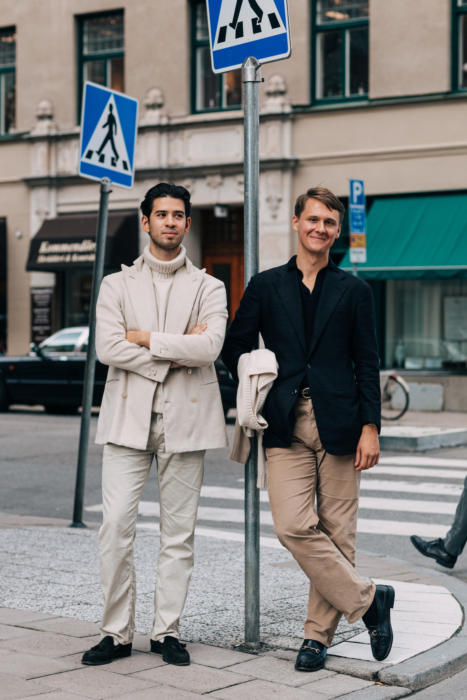 Saman Amel have a new atelier in Stockholm. It's on the corner: a small, ground floor space with a plate-glass window, worn wood and patinated brass.
Inside, though, is all tonal chic. Perfectly positioned lamps and designer chairs. A colour palette picked to match the style of the clothing.
The upholstery is even from Holland & Sherry. Or some of it.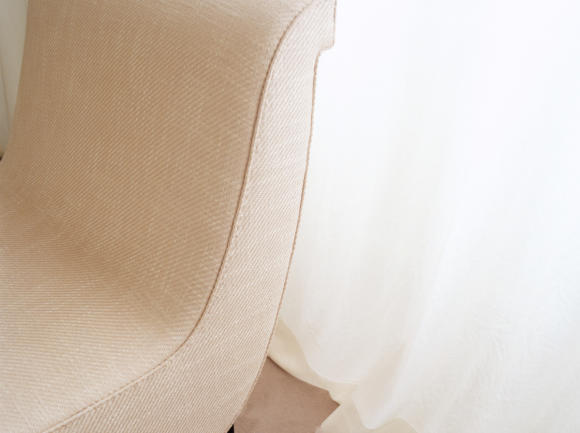 I describe it thus because, despite the gradual release of Covid vaccines, it will probably be a while before you can go there yourself. So I thought it would be nice to see and hear about it.
I was there in October just before the furniture went in. I also spent a fun hour in the old space - which they are still using - experiencing their other big news: expansion into outerwear, machine-washable trousers, and chunky knitwear.
The more commercial side of this piece is a description of those new pieces, and my thoughts on them.
The new outerwear is all made-to-order, so there are few images of it around. But it's fairly easy to summarise them. There are three pieces: the City Jacket, the Field Jacket and the Vest. (Each accounts for one row in the image above.)
All three are chic and simple, with the only detailing functional. As you'd probably expect from Saman Amel.
The City Jacket, for example, is a thigh-length, raglan-shouldered, fly-front jacket with a turn-down collar. There are poppers and a zip, there are hip pockets with a side entry. But little else.
It is deliberately stripped back and luxurious. The brand it's most likely to remind you of is Loro Piana. The advantages being that (arguably) it looks younger and more modern, and (inarguably) it is better value for money.
The City Jacket is €1500 in nylon, €2200 in merino wool and €3000 in cashmere. Expensive, but Loro Piana or equivalent would be double that, and you'd be hard pressed to say how it was better quality.
I have to confess, I'm not sure I'd wear the City Jacket. For that length and style of coat, I'd probably prefer a wax jacket. I prefer wool and cashmere for longer pieces, and wouldn't wear the nylon.
But I do admire it, and would recommend it to anyone for whom it is their style. In some ways, a piece like this is much harder to design than a tailored jacket: there is more freedom, more room to go wrong. Artful simplicity is not easy.
The coats are all MTO rather than MTM: they're designed to be in set sizes, with small adjustments to things like the length.
This is different to most Saman Amel products, which are MTM - and some outwear too, like my split-raglan coat.
The other outerwear piece is the Field Jacket, different from the City Jacket in its four front pockets, drawstring waist, cuff and hood.
In the image above I'm wearing it in the nylon, and its similarly pleasing and practical. Again, I probably wouldn't wear it personally - as I'd only have nylon for a real outdoors/hiking piece - but again that doesn't stop me recommending it.
Interestingly, the thing that puts me off such pieces the most in the city is the hood. It's obviously very useful, but it feels like the one thing that separates this from being more elegant outerwear. I'd always prefer some form of hat, even if it were a baseball cap.
As I write that, of course, I remember the exception, which is a duffle coat. The only defence there is perhaps that a hood is integral to its look. Whereas on a field jacket you can do without.
New item number three is the Vest. And you'll quickly realise there's a theme here.
The Vest I'm wearing above is in navy cashmere - beautiful material, just the right shade of navy. Great length too, and the perfect weight to layer under a jacket. It is €1000 in nylon, €1300 in merino and €1500 in cashmere.
I also really like my look above, with the vest zipped all the way up. It has something in common with the elegance of a roll neck under a jacket.
I'm not so keen on the vest when unzipped though. In much the same way as a zipped collar has always been my least favourite permutation of knitwear. The zip looks a bit too technical, and not as fitting with a tailored jacket as buttons, or just a crew neck.
This last opinion is more subjective than the others, but I do also think the Vest is a slightly less useful piece. Navy is great over almost every colour of jacket, but not necessarily under one. You need more colours of knitwear than coat.
Speaking of which, the new chunky knitwear is lovely, and unusual.
Saman and Dag have invested in a new, manual loom for it - the kind where products are referred to as 'hand framed'. You can see images of them in my visit to Corgi knitting in Wales.
This type of knitting gives a denser, more malleable feel, as well as flexibility of production. Because each piece is made individually, it's easier to tweak designs or make adjustments. There are also fewer technical restrictions: SA are experimenting with using a finer yarn to make up these chunky knits, for example.
The management of all this is helped by the fact that the machine is in Stockholm, rather than at the knitwear factory in Italy. That will make things easier to tinker with.
I tried a crew and a V-neck, grey and caramel, and ended up ordering a V-neck in cream. Cricket-style, but not obviously so.
And finally - for some most importantly - the washable trousers.
This is an area a lot of readers have been asking about recently, and I'm sure we'll see more of in the next year: bringing together the fit of MTM/bespoke with the easy care of washable RTW.
Stoffa have introduced a version of their trousers that are washable; I'm experimenting with a pair from a tailor with a simpler waistband; and chinos like those from Rubato have a similar mix of smartness and ease of care.
I'm not sure the cotton Saman Amel are using at the moment is for me: it has 1% stretch, and an unusual horizontal weave. Dag said that the stretch is what customers expect, but I'd personally prefer them without. I also think it makes the trouser immediately more casual, as it takes away any possibility of a sharp line.
But these are at an early stage, so it will be interesting to see how they develop.
Of course, the advantage for Swedish readers is they can go and see the trousers in the new Saman Amel atelier, now.
There's a lot I could include about that interior decoration, including the Swedish-built furniture, the upholstery and the art. It was certainly something Saman took great pleasure in exploring.
But that's probably too much information for a post that has already attempted to summarise years of work and several hours of discussion. I'm sure Saman and Dag will be more than happy to talk all about it to anyone that visits the shiny new shop.
Lastly, for those that can't visit, Saman Amel are putting together an online system for ordering MTO pieces of knitwear, trousers, and eventually outerwear too (not tailoring). That should be ready early next year.
Photography: Milad Abedi, except interiors shots, Wavy Studios (@wavy.se)
samanamel.se/pages/outerwear-aw20