The polo shirt under knitwear
I have a particular problem with crewneck sweaters.
Although I love them, I find my relatively long neck means they don't look good without a collar underneath. I need a shirt, rather than just a T-shirt.
It's the reason I sometimes wear neckerchiefs or bandanas at the neck - and developed some specifically for that purpose, with Begg & Co.
But I can't wear them all the time - it is a rather particular look if nothing else. And there are days at the weekend when I don't want to wear a shirt (or just want to save on the ironing).
That was why I remarked, briefly, in my article on new Swedish brand Rubato, that I liked the way they styled polo shirts underneath knitwear.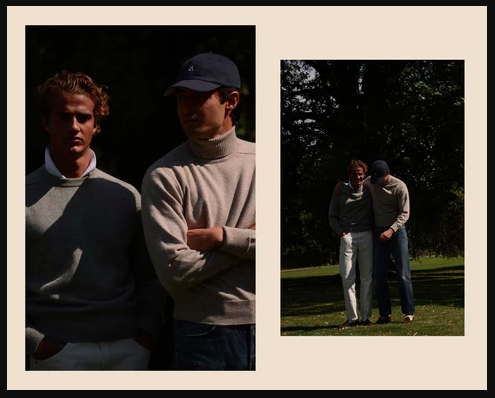 I have tried polo shirts underneath knits before, years ago.
But the polo always felt a little bulky, as it's so much thicker than a shirt. And the collar never seemed to sit right. It was too small, or perhaps too rounded, to work well.
After exhaustively trying polo shirts and knitwear following that Rubato piece (good styling will do that to you - both inspire and obsess) I think I've found out why.
This is nothing revelatory. But basically, the polo shirt underneath has to have a collar that's more like a shirt, so it stands up well inside the collar of the crewneck.
And the knitwear has to be thick enough that the addition of a polo underneath it doesn't feel disproportionate.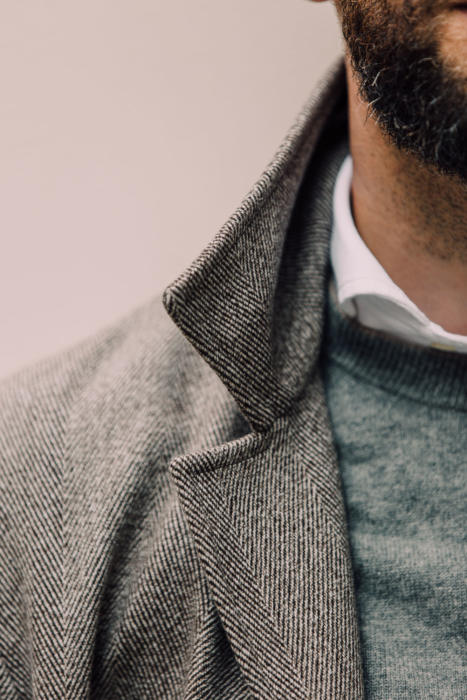 The point about the collar is one that drove The Armoury to develop their range of polo shirts, as it's the same things that make a polo work under a tailored jacket.
And of course it was related to the design of our Friday Polos.
However, the material of the Friday Polo is a bit too thick. Plus, we no longer offer short-sleeved versions, and short sleeves are better with the bulk issue.
So Armoury polos it is. Of the seven brands I own (Armoury, Permanent Style, Orlebar Brown, Aspesi, Smedley, Fedeli, Testoria Korea), theirs were the best.
Only Testoria and PS came close - only those three have a collar designed this way. (Though I see Thom Sweeney ones are also good there - I just haven't tried them.)
It sits up high above the neckline of the sweater, has a sharp fold to it, and sweeps back neatly from the front.
This is due to some combination of the proper 'stand' on the collar, the fineness of the cotton piqué, the structure of both stand and collar, and the spread of the cut.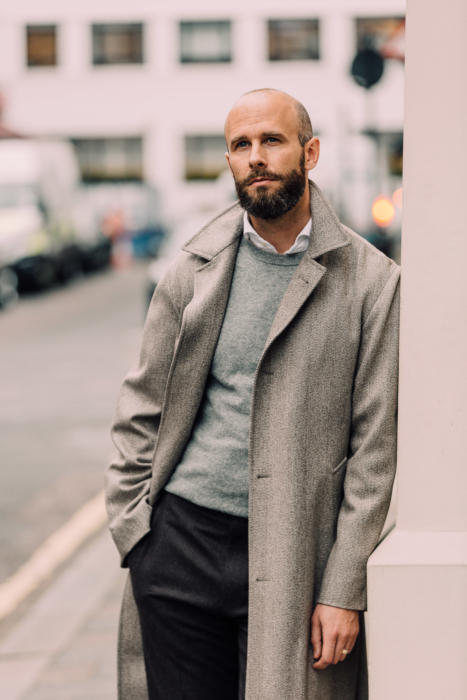 In the pictures here, I'm wearing a white short-sleeved Armoury polo under a cashmere crewneck from Luca Faloni.
The Faloni knit is fairly light, and only just works.
Anything lighter and the polo would show through at the ends of the short sleeves, and you'd feel like you were stretching something thin over something thick.
Better is a chunkier cashmere or a shetland sweater (like my cream one from Trunk).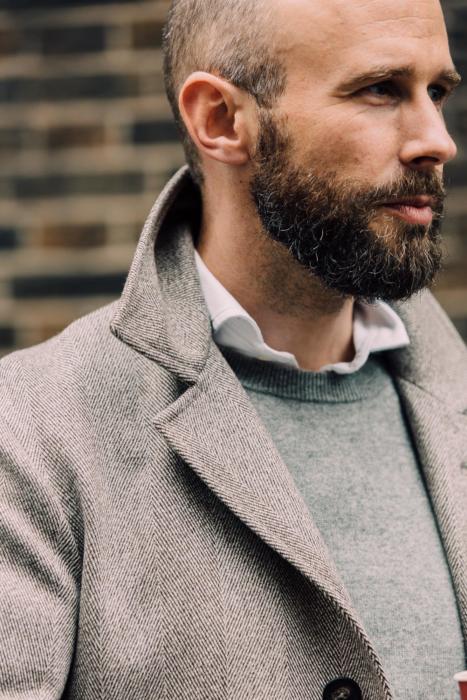 I find this combination works well, and it does feel more relaxed and casual - more sporty, in an old-fashioned way - than a regular shirt.
I now regularly wear this with casual trousers such as chinos (Stoffa or Armoury Army chinos) and suede loafers. The coat is a recent commission from Saman Amel, which I'll hopefully cover soon.
As regards colour of polos, by the way, I find this very narrow.
White is good, cream is OK, and with certain colours of knitwear, pale grey is good as well.
But that's about it. It's like the colours of regular shirts: it's mostly these and variations on pale blue that look best under knitwear. And unfortunately, it's very hard to find a good pale blue in piqué.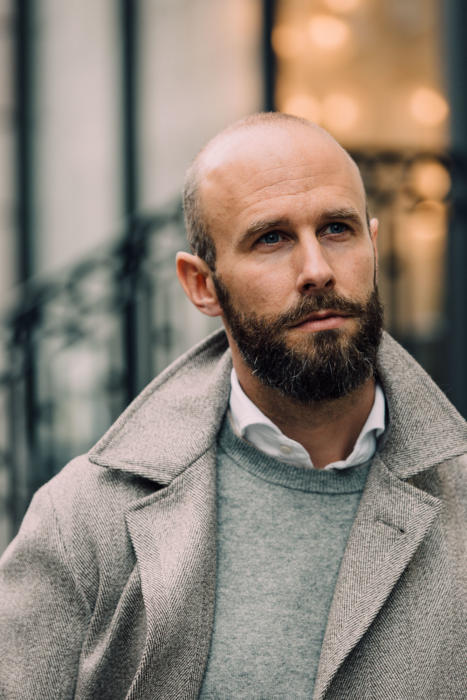 Perhaps inevitably, given things I've been inspired by recently, there is something Ivy about this way of wearing a polo shirt.
The pictured outfit is too sleek of course, but with those Armoury chinos it would be bang on. Even white socks.
Which is also place to mention that I can't abide the collar of a polo shirt turned up.
This is highly subjective. It's entirely based on my culture and age. But for me a popped polo is too reminiscent of posh, idiotic school boys.
Yet I have no such negative associations with white socks. Unlike my wife, who thinks they're horribly naff.
These are our prejudices. Upon which, sadly, many ideas of clothing and style are based.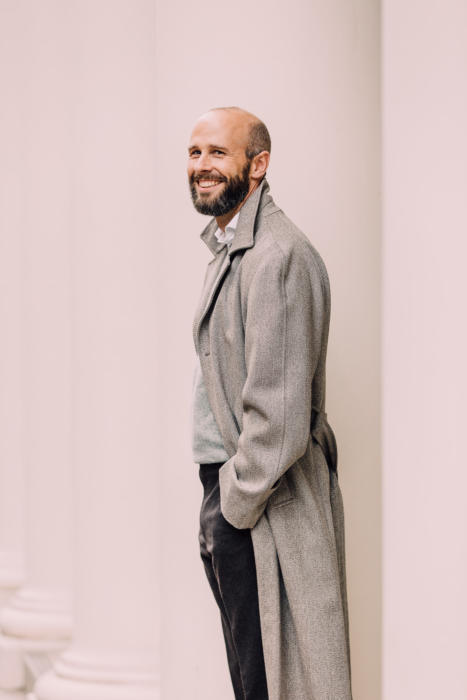 One final thing: a regular shirt under a knit like this will always be safest, and perhaps always look best.
I am not suggesting that a polo is a replacement for that, or that it will work for everybody.
Merely that it is a nice occasional alternative. And I've found, works for me in these particular parameters.
Photography: Jamie Ferguson @jkf_man