The Coronavirus: We will survive because we care
These are dark and uncertain times for businesses everywhere, in particular fashion.
Who will care about their clothes if they're at home the whole time? Who will spend large amounts of money on clothing when the economy is so uncertain?
Two big companies in the US filed for bankruptcy last week: J Crew and Neiman Marcus. In Italy, analysis from Boston Consulting Group put fashion top of the list of suffering retailers, estimating the market as a whole would drop 50% this year.
But I have to say, I'm not very worried. I think fast fashion will suffer, and seem increasingly frivolous. But quality clothing, looked after well, might seem even more relevant.
People will buy less, certainly. But we've always said people should buy less anyway - it's the clearest factor in making fashion more sustainable.
Companies will also go through very hard times, and some will fail. But I truly believe the ones we cover on Permanent Style will be on safer ground.
Why? Because people care.
We care deeply about the companies we patronise, the people that run them, and the products they produce.
We care enough to spend hours and hours thinking and writing about them. We care enough to spend a disproportionate amount of our hard-earned money on them. And we care enough to look after them well: brushing, polishing, cleaning, darning and storing, with love.
I've been speaking to dozens of people in the industry over the past month, through public Instagram talks and in everyday business chats. And they nearly all echo this feeling.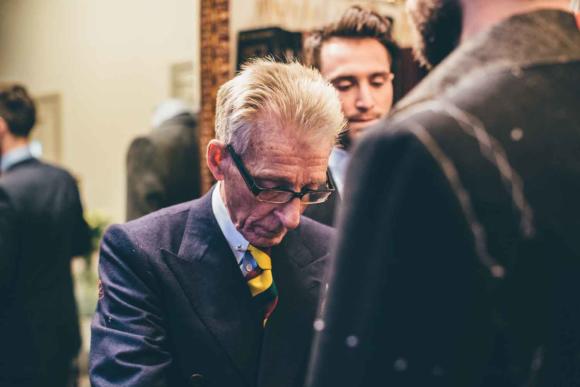 Every tailor has a story about a customer phoning up, to ask what they can do to help. Offering to pay the balance on their order, or pay for a new piece in full - just to keep the cash flowing.
Edward Sexton certainly does. Dominic Sebag-Montefiore (above, centre) there told me: "We've had several customers ask what they can do, and send in cloth for us to work on even though the mills are closed. All the tailors are just working from home, so I've been spending my time zipping around on my scooter, dropping off and picking up work."
Tailors are fortunate in this regard, in that most of them can work from home to an extent. Michael Browne, when I spoke to him, said the same thing: everyone is carrying on as best they can. It's cloth and other raw materials that will be the problem eventually.
Mills in Italy opened two weeks ago, and factories last week. But getting going again won't be straightforward: "We're working at about a third of capacity at the moment," said one Italian mill manager. "It's proving hard to get enough social distancing and protective equipment to get more capacity. Plus we need our raw materials from other parts of the world."
This was something that struck me when speaking to the Scottish mills, such as Holland & Sherry: it's not understood how much harder it will be to open up than it was to close down.
"The problem is how interconnected we all are," said Lindsay Taylor of H&S. "We're all dependent on WT Johnsons for finishing, for example, so until they're up and running we can't produce anything.
"That makes people cautious about bringing everyone back to work - the restart needs to happen at the same time across the industry."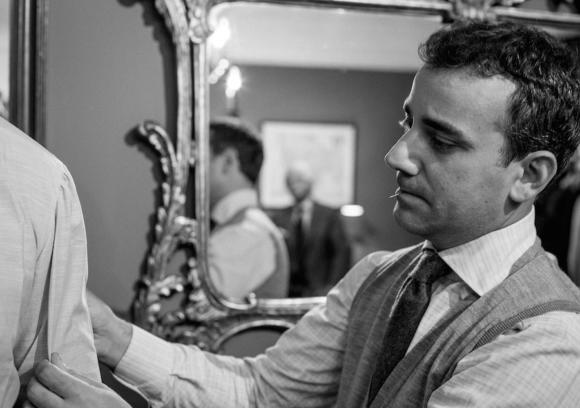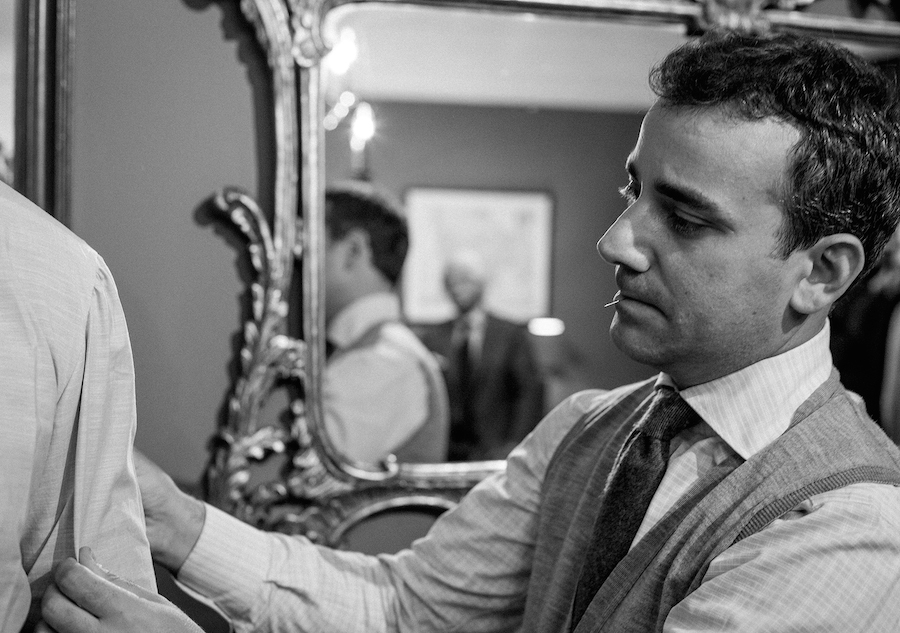 Down in Naples, Luca Avitabile's shirt factory has been open for a week, and workers are keen to make up for lost time, many working weekends. Everyone is wearing masks and trying to stay further apart.
"Italian regulation means every business has to have insurance, covering them for workers' wages in situations like this," says Luca (above). "But it doesn't cover the full amount - it's a basic level. So everyone is keen to start earning."
"I think the bounce-back will be strong - customers are keen to keep purchasing and supporting us, which is lovely," says Luca. "It makes a big difference that we're in an international market as well, so we're not just dependent on Italy, for example."
Fabio Attanasio of The Bespoke Dudes, echoed those thoughts when I spoke to him for an Instagram interview: "The Italian artisans I'm in contact with are so happy with the support they've received from their customers, whether in Germany, China or Japan. It speaks to how tight this industry is."
Over in Hong Kong, Mark Cho of The Armoury has been using his downtime to make an impressive quantity and quality of videos, all answering customer questions. They just launched a YouTube channel to host them all, here.
He too has received messages of support: "It's been so wonderful to see how customers have reacted," he said. "We didn't want to be commercial, to push any product at the moment - it just didn't feel appropriate. But it's been the customers who have been asking us to come in, or buy online."
The Landmark branch of The Armoury has actually never closed, as shops in Hong Kong didn't have to. "We weren't told to work from home, everyone just started doing so as soon as the crisis started," says Mark (below). "We've been through this before with SARS, and people know how it works."
I found that very reassuring, on a personal level: there's already a country in the world where this is routine, and so we know what the future looks like, to an extent. It's always the unpredictability that's scariest - and indeed, that makes industry most cautious.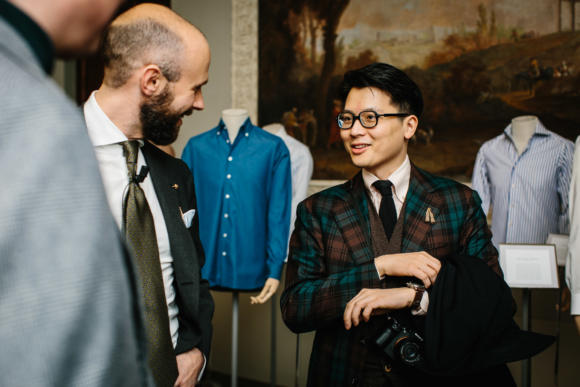 On the subject of being commercial, it's been interesting how some brands have ramped up their selling emails (eg Sunspel), while others have contributed profits to charity (eg The Anthology, No Man Walks Alone) and some have positively told people not to buy (eg Rubato).
Of course, not everyone has an easy choice: it might be a question of selling more or going out of business. But being ultra-commercial right now does have the potential for reputational damage.
Up in Tokyo, Ethan Newton at Bryceland's agrees: "It didn't feel right to be talking about new clothes too much," he says. "So we've just been hanging out, having the shop open by appointment.
'As to the impact of this thing more broadly, I think it's too early to say, but it would be nice if it meant people bought fewer cheap clothes from H&M. And perhaps the aesthetic of well-loved, worn-in clothes will have more of a resurgence. I don't think showing off - whether in big brands or streetwear - is going to seem quite as acceptable in the future."
Wei Koh, of The Rake, had similar thoughts when I spoke to him in Singapore. "If I was a hype-driven, growth-obsessed, narrow-margin retailer then I would be very worried right now," he said. "All my supply chains will have broken down, and they might not be as cheap again for years.
"But the bigger luxury companies are in a much better position. When I speak to the watch companies, or LVMH or Kering, they have the support internally to be able to weather this - and they've been securing their own raw materials by buying suppliers for years. It's not surprising that some others, like department stores, are in trouble. That's been coming for a while."
When I spoke to Wei, he was dressed up in his Pitti finest: a white linen suit from Cifonelli, made with deliberately large amounts of shape and drape, and a Breton-stipe vest. "I thought I'd make the effort, given Pitti has been postponed until September," he said. "Even then, we don't know what it will be like. It's hard to see the same events and feeling of togetherness."
An Italian mill spoke in a similar way about industry shows like Milano Unica (above). "I'm not sure it will be logistically possible," the manager said. "Social distancing will mean far fewer meetings will be possible - and we have to show the collection perhaps 800 times. They're already talking about adding an extra day to make things easier."
That mill, like many retailers, is turning to online solutions. A website is being put together to display all of the options from the new collection, and more swatches are being cut to send by mail.
It has never been more crucial to have a good online presence - and manufacturers who have put it off have been telling me how much they now regret it.
Although online can never make up for a shuttered shop. One London menswear store told me they had seen online business rise by 80% in the past month - but that still meant business overall was down by 60%.
That downturn will likely have a lag that lasts the rest of the year.
"What we're seeing is luxury brands giving up on Spring/Summer 2020," commented one Italian supplier. "They've lost too much selling time, and almost none of it has been seen in the shops. So they're just shifting the whole collection to become Spring/Summer 2021.
"For us, that means we will get very few orders in the Autumn, when we would normally be making for the following Spring."
Shops have started to reopen: in Germany and (this past Monday) in France. It won't be business as usual, but customers are keen. "So many customers have asked us when we will open again, so they can come back and support us," says Jean-Manuel Moreau in Paris (below).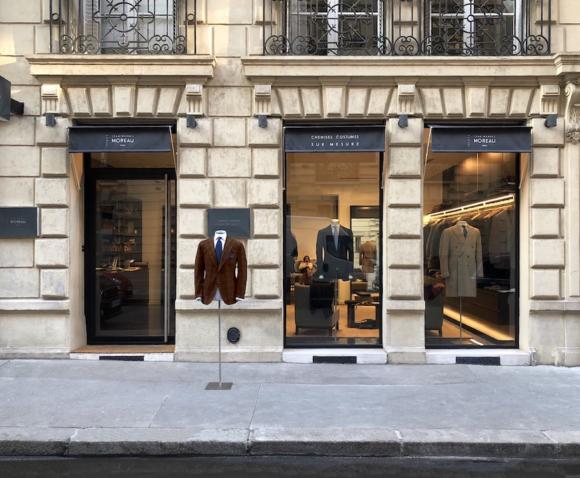 It is this which makes me optimistic.
The fact is, no one cares whether their T-shirt is from H&M or Zara - as long as it looks good and is cheap. But we do care.
Andreas Weinas in Stockholm: "Although Sweden has been more relaxed about the lockdown, the streets have been very quiet. But I agree with you Simon, I am optimistic: this is a very tight industry, with passionate customers. Very few other industries have that."
Frankly, it would be extraordinary if someone had such a personal feeling about the car they drive, or the computer they use. Those purchases are all about design and functionality.
But I would be personally distraught if some of the shops or artisans I love were to go under.
I would not only buy from them more - I would be willing to put my own time and money into them, to stop that happening.
It is this feeling - this passion - that I think will keep us going.