Saman Amel knitwear: Review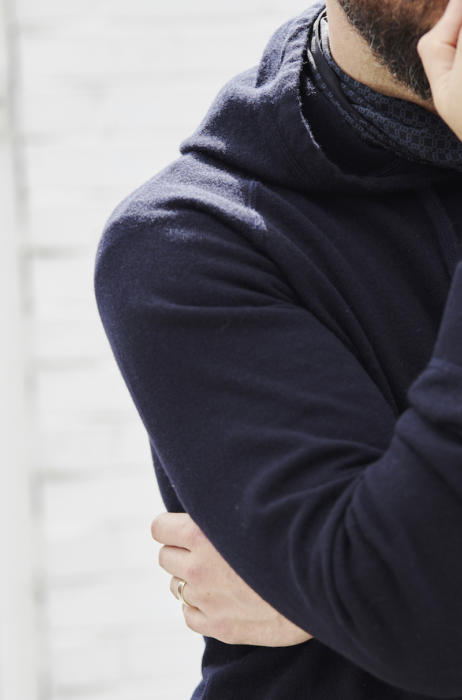 Fit is the most important aspect of clothing. It's something I've always believed and it bears repeating.
Quality is perhaps next, and you need style in anything, but fit is criminally ignored by most men - usually in favour of some presumed shortcut to style, such as a brand name.
And knitwear is probably the hardest thing to find a good fit for.
Granted, the natural stretch of wool and of knitting means fit is less noticeable than with a shirt or jacket. But it's still important, and few people carry different fits.
So if you're particularly tall or have particularly long arms, knitwear can be a pain. Or like me, if you are slightly non-average (a size 40 chest but 38 waist) and are just obsessive about fit.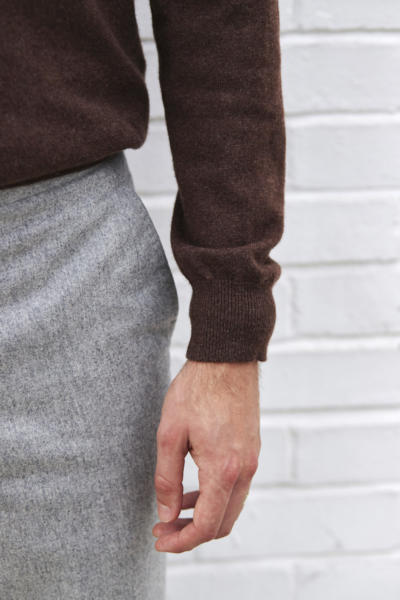 I've tried various MTM knitwear offerings in the past, including Loro Piana (good but only on the second try) and Simone Abbarchi (OK, but not always offered now).
I was pretty excited, therefore, to try the MTM service from Saman Amel.
Both because Saman and Dag had already proved to be very good at fitting with my jacket, and because of the style input they always bring.
The kind of twin-set style of their campaign image below, for example, is something I would never normally consider, but might do with their input. And even the colour combination of white/camel/cream is inspiring on its own.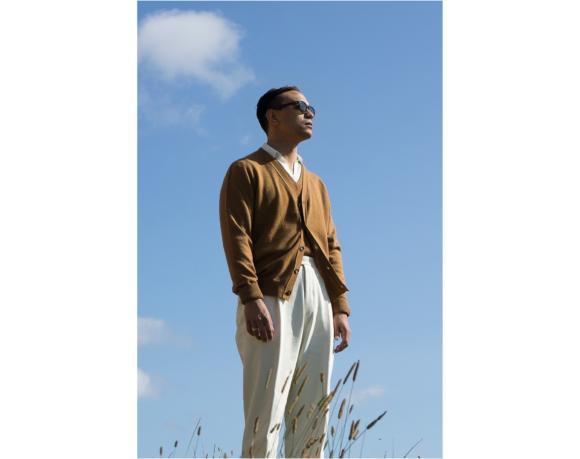 The first thing I had made was a half-zip cashmere sweater.
I like half zips because my long neck means a crewneck or V-neck is unflattering with just a T-shirt underneath. I need something a little higher.
Importantly, although Saman took measurements as well, we tried on sized garments in order to check what needed changing from their regular fits.
In my experience, this is often a big problem with MTM knitwear.
It's hard to communicate for either salesperson or customer exactly how the knitwear should fit (frankly, often the customer doesn't know and the salesperson can't explain) and the end product suffers as a result.
So we tried on a 38 and a 40 chest (well, European so 48 and 50), decided the 40 was the better fit in the shoulders and chest, and made adjustments from there.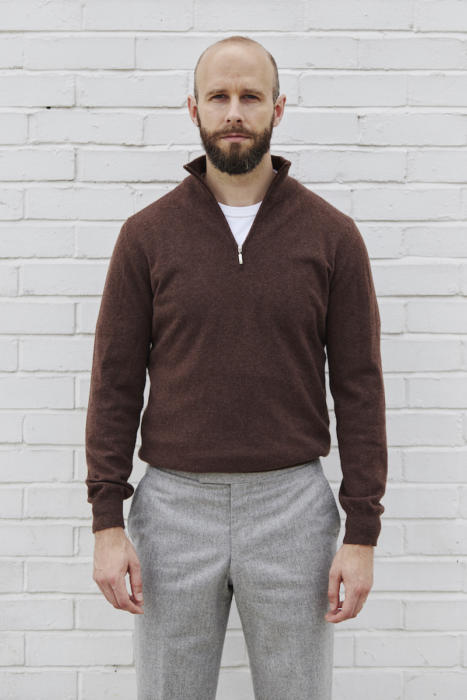 The piece that came back was beautifully made - in a lovely Loro Piana cashmere - but needed a couple of tweaks on the fit. It was a centimetre or two short in the arms and in the body, although perfect elsewhere.
That's pretty good for MTM knitwear on a first-time customer; and even better, Dag said they would make changes like this as standard, particularly on a first order when both sides are working out the best fit.
The next iteration was perfect (shown above and below). That same size 40 shoulders, slimmer in the waist, and the right length in arm and body.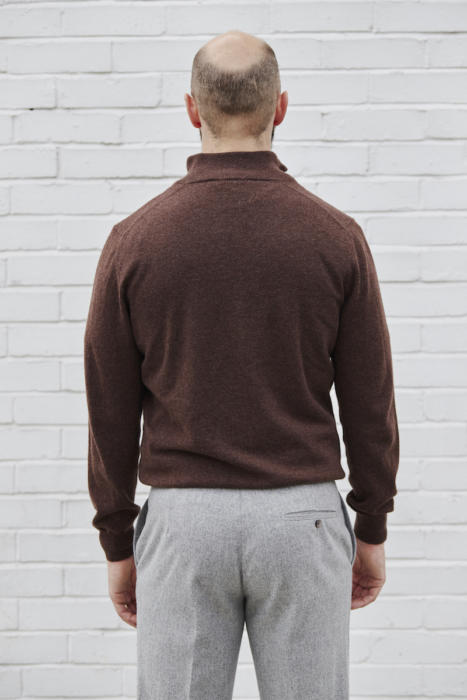 Getting the right compromise in body length between riding up when you raise your arms, and bunching around the waist when they're down, is particularly hard, and this was bang on. (Something that's hard to appreciate from static photos.)
It's also worth saying that, with knitwear, we are strictly working in two-dimensional calculations of width, length, circumference etc. There's no coping with my hollow lower back - in the way that darts on a shirt, or the central seam on a jacket, could do.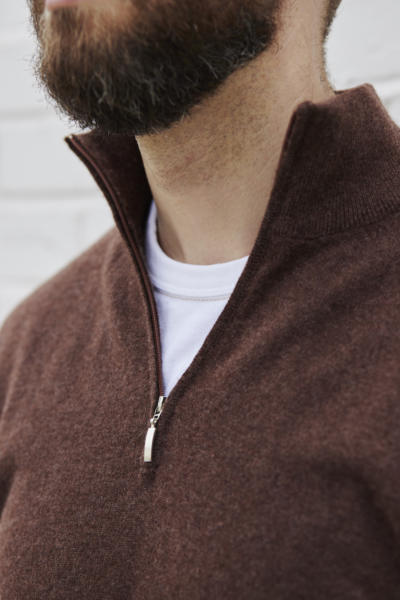 The only style point that Saman and I slightly disagree on is the material of the zip. He prefers a plastic zip with a metal puller, so the zip can match the colour of the knitwear.
Personally I think a plastic zip feels a little cheap, and would prefer metal zip even if it didn't match the knitwear.
But it's not a big point - and, just as I expected, Saman had a well-considered reason for the choice. I asked almost purely to hear what his reasoning was.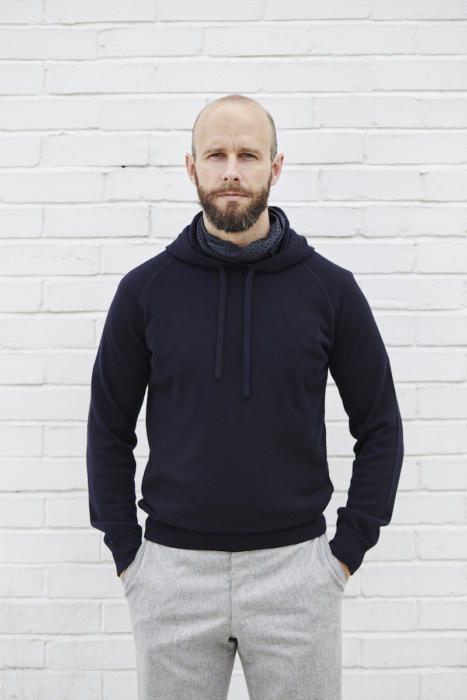 Emboldened by this first success, I then tried a navy MTM hoodie.
I know many readers think a hoodie will always be too casual to wear with tailoring, but I like them both with jeans and trainers, and dressed up with flannels or tailored cotton trousers (see Plaza shoot here).
And although I had always done so (I gave away an old Al Bazar navy one when I had this one made), I was also encouraged in this choice by the Saman Amel styling, which regularly shows knitwear worn in exactly this way.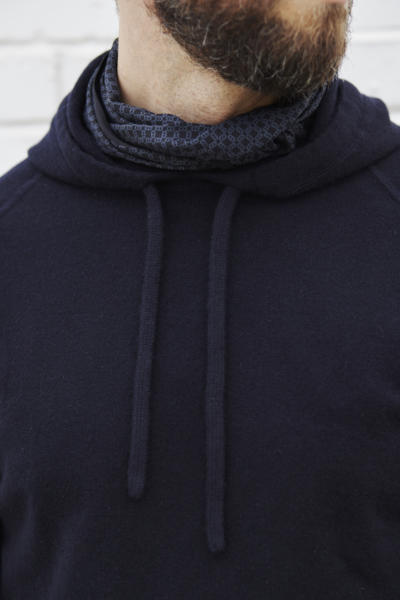 Another style point was the subtlety of how the hoodies are designed, with a raglan sleeve and broad, flat pulls.
The pulls are a little dressier than most hoodies, while the raglan rather than set-in sleeve makes them look sportier.
The fit was also perfect this time around. Again, we tried sizes of the hoodie in order to find the right combinations of chest, waist, hips and sleeve (the pattern is different to the half-zip and other models).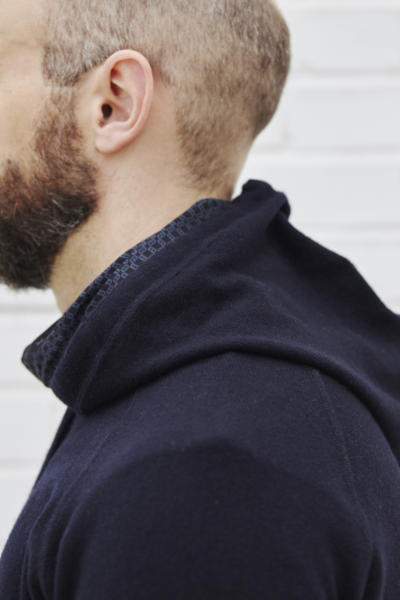 Based on this experience, I have no hesitation in recommending the Saman Amel knitwear. It's not cheap in cashmere (SKr4500, £380) but is actually the same price as ready-made, just with the need for appointments and fitting.
The merino wool and cotton are more affordable at SKr2200 (£186) and vicuna is much, much more.
The trousers we've had slightly more issues with, but I'll review them when those are all corrected.
Also worn:
White T-shirt from The Flat Head at Rivet & Hide

Light-grey flannel trousers from Anderson & Sheppard

Navy silk scarf from Hermes
Photography: James Munro