Review: Stoffa ribbed polo (and vintage knitwear cuts)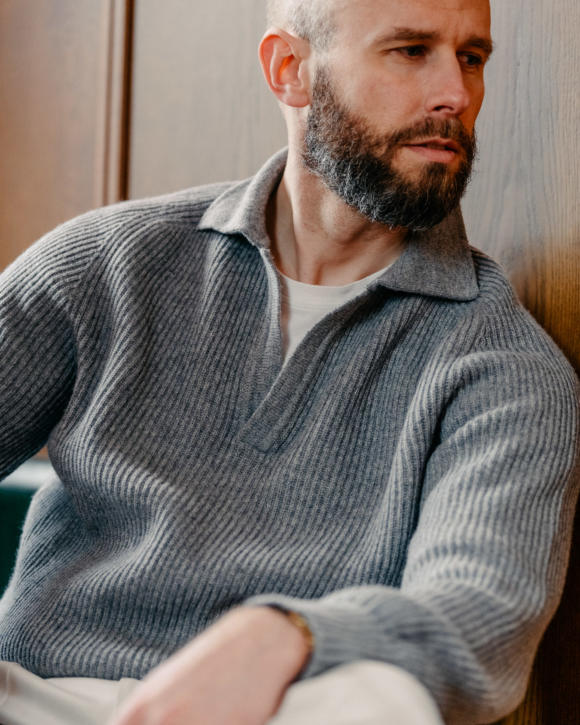 Reviewing this jumper from Stoffa is a good opportunity to discuss the current trend of knitwear being cut shorter and wider, in something of a vintage style.
The way knitwear is usually designed to work, the ribbing at the bottom sits on top of the trouser waistband. This overlap means no shirt material is exposed, and the trousers fall in a clean line from the bottom of the ribbing.
You can see that in the images below - front then back - where the Stoffa ribbing entirely covers the waistband of the trousers.
Above the ribbing, there is then some excess material. This is necessary because otherwise, as soon as you move your arms, the ribbing will be pulled up, exposing that shirting underneath.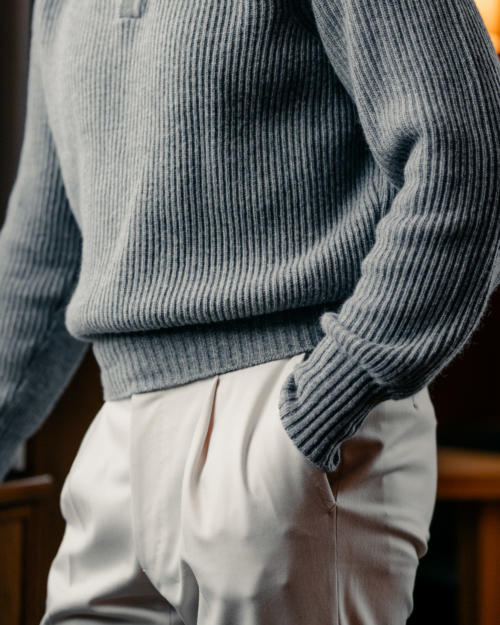 Now with most knitwear, there is so much of this excess material that it folds down over the ribbing, covering it entirely. You therefore have three layers of the material around your waist, as it flops down and then folds back up.
If the knitwear fits you well, and it is close enough in the waist, this isn't a problem. But as soon as it's a little baggy or loose, those three layers can look rather bulky.
It is the desire to avoid this look - and reintroduce flattering neatness to the waistline - that has led to the trend of (at least partially) tucking in knitwear. And it is also part of the attraction of vintage styles like this Stoffa knit.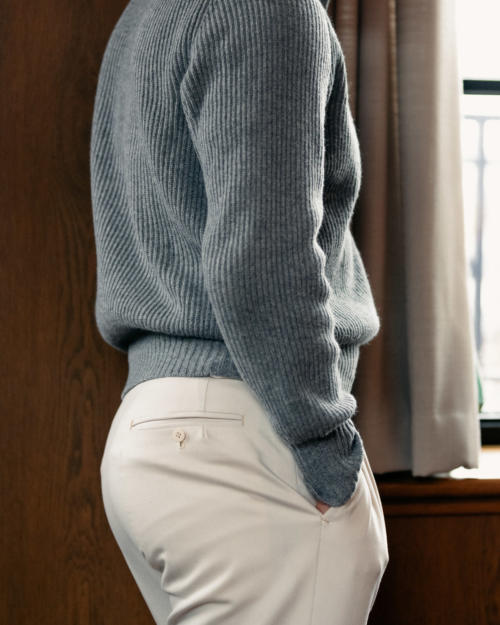 This vintage cut also has quite a big chest, creating a 'V' shape under the arms (see below). This extra space allows the wearer to move around without pulling up that waistband.
But still, it won't help when you raise your arms above your shoulders. If the knit doesn't have any excess above the waist, it's going to ride up a lot.
And this is why this technical stuff is important. It's like a waistcoat that's too short to cover the top of suit trousers: it undermines the whole functional, elegant point of the thing. Knitwear is harder to get wrong, but many still do.
I fell in love with this Stoffa polo when I saw it introduced last year, because of that chunky, vintage look. It seemed like the epitome of the 'casual chic' I'm always banging on about: sporty and relaxed, but also stylish and refined.
I had one made, and love it no less now. I think it looks unique and ticks all those boxes. But I also think my experience with the commissioning shows why others should think carefully about length.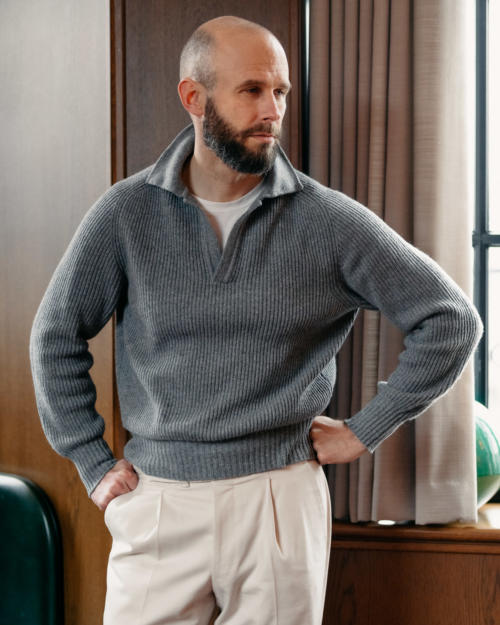 I tried the new knitwear in October last year, when Maxim visited from Stockholm and held a Stoffa trunk show in the Drake's store on Savile Row.
The U-neck vest was not my style, and I found the collared cardigan a little too fine and lightweight. But the two polos were lovely: one more conventional, the other chunkier and ribbed.
I went for the ribbed. Stoffa is not cheap, and if I was going to get one piece, I wanted it to be unusual as well as luxurious. At least that's what I told myself. It also happened to be the more exciting choice.
The samples you try on are all very short - a length you could only wear with high-waisted, up-above-your-hipbones trousers. I wear more of a medium rise, and after some agonising decided the size 48 was perfect except for the length, while the length was good on the 50.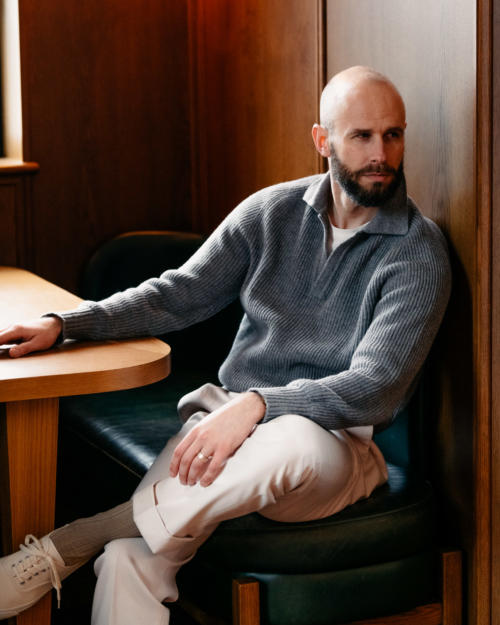 When I received the sweater, it was wonderful but still too short. In retrospect this was probably my fault, as it was the correct 50 length. I swear the one I tried on felt longer - and perhaps there was some slight variation between pieces - but Stoffa hadn't made a mistake.
Fortunately, they are able to lengthen knitwear. They do this by taking apart the side seam, up into the arms, and adding extra material there, dropping down the whole body. This does make the arms a little larger, but the result was still good on me.
It's instructive to compare the lengths though. Overall I lengthened my Stoffa one by 4cm: the size 48 had a 56cm back length (measured from the bottom of the collar), I received 58cm, and I adjusted it to 60cm.
But a more conventional length would be around 67cm - that's the back length on a Luca Faloni size medium for example.
I think the length works for me now, and that is shown in the images here. But these are tailored trousers, cut as high as any of mine are. Jeans or anything that's just a little lower in the rise doesn't work.
I've been through a similar process deciding on fits of Rubato knitwear (RTW rather than MTM), which I can go into another time.
None of this should take away from the quality or overall design of the Stoffa piece. It's elegant and lovely to wear, and works wonderfully with smart things like the cream twill trousers and smart loafers or boots - or for something a little more unexpected, canvas tennis shoes (as shown).
Personally I don't like it without a T-shirt underneath (as Stoffa often styles it), as it looks a little uncomfortable. But a nice white tee like the one shown looks good.
The deep, pronounced rib of the sweater (apparently called an English rib) gives it a spongy handle and more of a sportswear feel, which I like too.
The only design aspect I don't quite like as much is the collar, which looks great as pictured above - up at the back, down at the front - but doesn't always stay like that. When you move around, the sides easily flip up, looking more like a rugby shirt, or flop forwards. But if you wear it all folded down, the back doesn't sit that cleanly. The images below show those two options.
This has improved over time, as Agyesh (Madan, Stoffa founder) said it would, but it's still a little unruly. Others may also be more relaxed about it than me - certainly Agyesh is when he wears his. It's just something to be aware of when admiring the style of that collar online.
I should also mention that I recently tried the Stoffa washable trousers, which are really nice.
I had them made in the same basketweave as my first taupe pair, covered here. I have since washed and ironed them several times, and they've reacted well. Ironing isn't that easy on this soft material, but then it also doesn't hold a sharp crease anyway.
My only tip would be to go with the belted option on the trousers, rather than the side tabs. On the side-tab style, the front corner above the zip sticks out a little on mine, which would be covered if worn with a belt.
In other Stoffa news, a greater range of their clothes is now available on the online shop, here. They're planning to put new ranges on there every three months.
The Ribbed Polo is not currently available to buy online, but you can see more images of it here. It costs $700 (made to order). There is a round-up of the knitwear available here.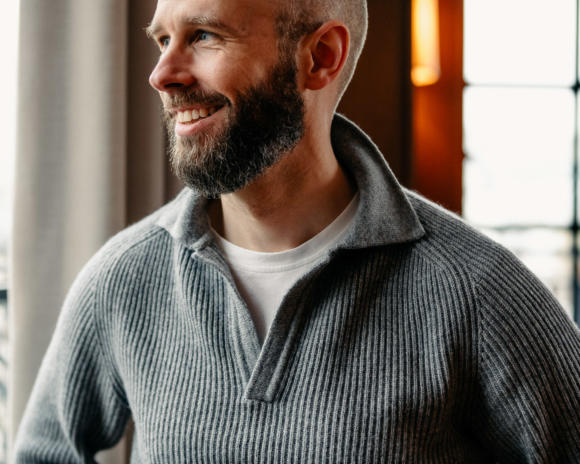 Other clothes shown:
Photography: Alex Natt @adnatt