Saman Amel hand-framed cricket sweater: Review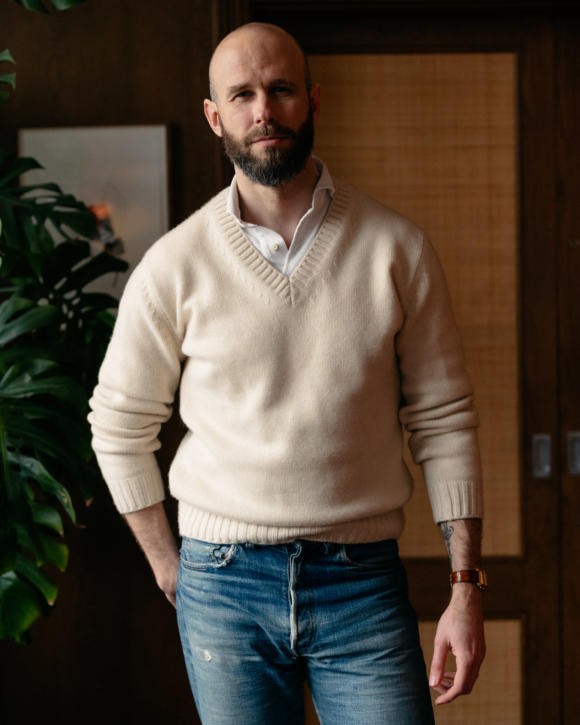 Last week we discussed the fit of knitwear, using the example of a vintage-styled Stoffa knit to look at the current vogue for shorter, wider cuts.
This week we have an interesting contrast: another made-to-measure piece, from Saman Amel, but in a more generous style.
It is a heavy, four-ply cashmere V-neck, designed with a nod to old sportswear such as cricket jumpers.
It feels wonderfully luxurious, with a rich drape that comes from its weight, and supple hand that comes from being hand-framed - something Saman Amel have only just started offering. (And which, incidentally, the Stoffa piece was as well.)
But whereas Stoffa use a short, vintage-inspired cut for this type of knitwear, Saman Amel are tending towards the opposite, with a more relaxed cut.
Indeed, while I had to have the Stoffa piece lengthened and slightly widened, I needed the opposite with the Saman Amel knitwear, with it being narrowed in the side seams.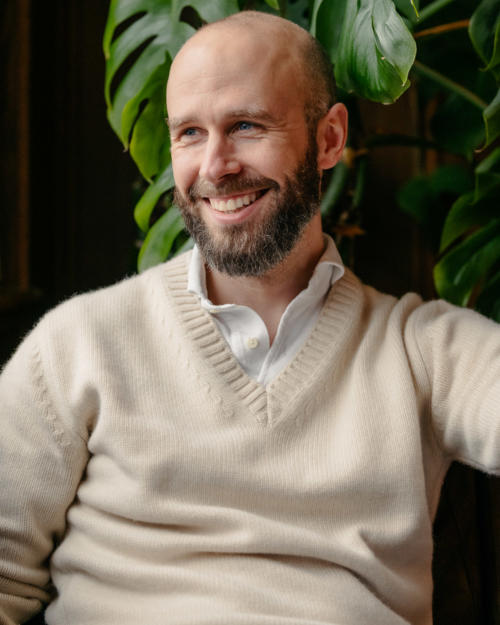 I was measured for the knitwear last October, when I briefly visited Stockholm. The main purpose was to see the new Saman Amel trousers, outerwear and shop - of which there has been coverage here.
But we also took the opportunity to measure for this new knitwear range, which is rather heavier than the normal two-ply MTM Saman Amel offers. (That range has also been reviewed in the past - here.)
Hand framing is knitting using a smaller than normal loom, operated by hand. It's essentially the same machine as has been used since the 16th century, with the remaining ones kept on to do more delicate work that wouldn't be suited to a modern power loom - such as lace work.
With knitwear, it allows a greater range of yarns to be used, particularly thick ones. It also makes decoration or particular types of fashioning easier (fashioning being the marks where the knit changes direction - as you can see around the neck of this Saman Amel piece, below).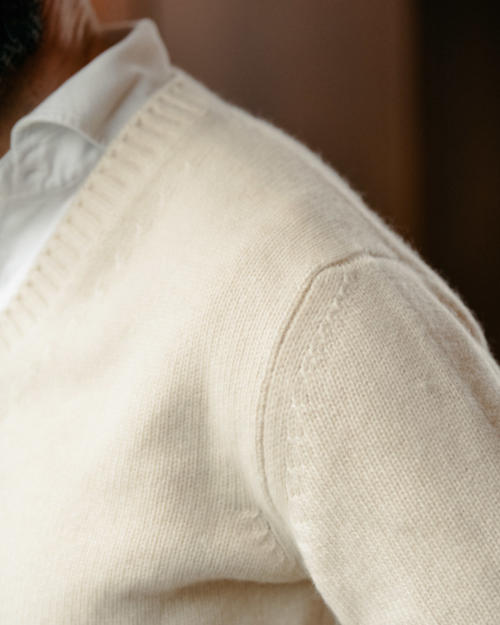 Saman and Dag measured me using a grey V-neck as a sample - as shown above. But I liked the idea of going for cream instead, to recreate the feel of a cricket sweater.
I've always liked the idea of cricket sweaters, but the ones I've bought in the past haven't worked out. Partly I think that's because they always had bold stripes around the V-neck; but partly it was the colour too - always a little too white, rather than cream.
This piece corrects both those issues, and I like it much more as a result. It looks great with old jeans and a white polo shirt, as shown here; but also colour-wise with a white oxford and brown flannels, in a similar look to this Connolly outfit.
Interestingly, I've found it hard to wear with any other colours of shirt. Even the palest blues seem to sit uneasily with it, and it's the same with blue/white stripes. Pink works OK, but really only white shirts seem to do it justice.
Returning to the fit. I received the sweater in December, and while it was great in every other respect, it did feel big in the waist.
When I was measured, Dag had said that they were using a new cut for this type of knitwear, but I didn't ask for details. The grey knit was also a different size, so that wasn't a good gauge of the style.
I showed Dag some pictures, and he said it looked as they would expect, but they were happy to make changes. It was a question of personal preference as well as style.
I asked for 1.5cm to be taken off the waist on both sides. So that meant 3cm in total from the width, or 6cm off the circumference.
(As you can see below, they have left the excess cloth as inlay on the seam, enabling it to be taken back out again if needed. This does make the sides of the sweater a little bulkier, but only a little.)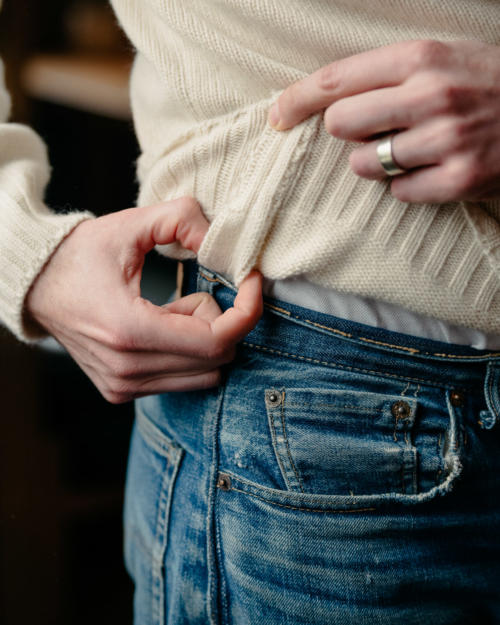 The result is what you can see here. And while I do like it a lot, and I think it suits these more casual clothes, I am interested by how different to the fit is - both to other knitwear and to the Stoffa example.
Unlike the Stoffa piece we looked at last week, the ribbing at the bottom of the sweater does not sit close on the waistband of the trousers, but is a little loose and drops below it. There is also more excess material just above the waist (again, refer back to last week's piece for an explanation of the impact of these differences).
The cricket sweater is actually not that much longer than the Stoffa: it's back length is 64cm, compared to the Stoffa's 62cm. (And as noted last week, a RTW brand like Luca Faloni is 67cm.)
But the looseness in the waist means the knit drops lower, making it look longer. The measurement just above the ribbing on the Saman Amel is 49cm, the Stoffa 40cm, and Luca Faloni 42cm.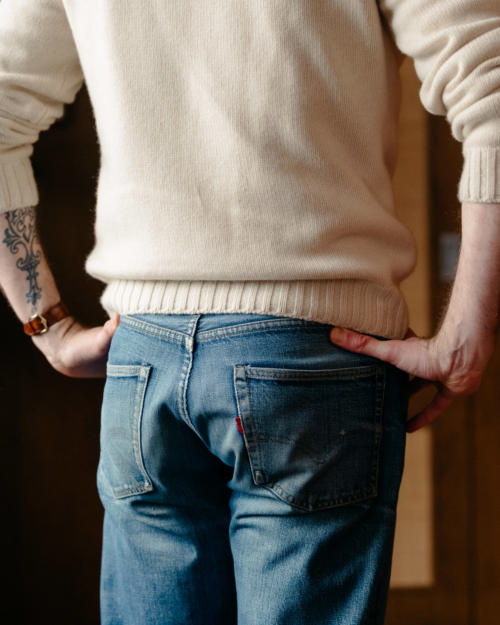 To emphasise again: there is nothing wrong with this, it's just different. It's a style, like the choice of ribbing or collar. And it creates a different look.
I just find it particularly interesting to compare the pieces and their measurements, after years of doing so with tailoring. Particularly when they were both made for me.
If you like the style, I can highly recommend the Saman Amel knitwear. It's certainly not cheap, at €900 (€500 for merino), but as with the other luxurious things they do, it is the absolute highest quality and decent value compared to designer brands.
The other clothes pictured here are my vintage Levi's, a white Armoury polo shirt, and Alden LHS loafers.
Photography: Alex Natt @adnatt