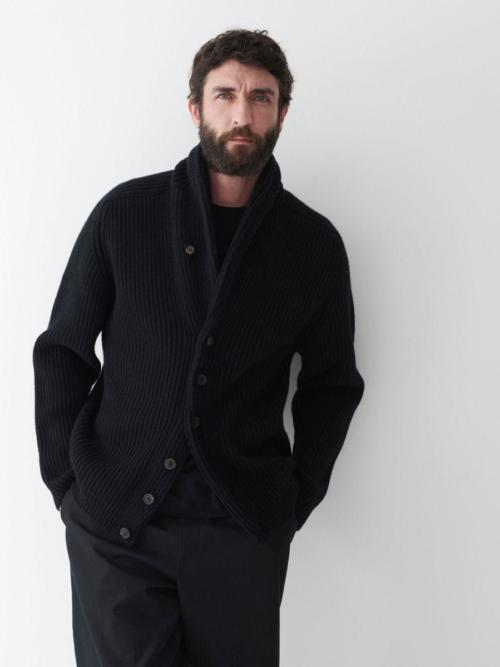 As men start to dress more casually, knitwear is becoming ever more important. It's more often the top layer of an outfit, and so holds greater responsibility to both flatter the wearer and reflect their style. It deserves proper, in-depth attention.
This article is the first in a series that will create a PS 'Guide to Knitwear'. Over the next few months, it will look at everything from quality to fit to history, and eventually become a comprehensive resource on the same scale as our Guide to Cloth or Guide to Shirt Fabrics.
–
What types of knitwear are there? When I pick up a sweater and it says 2-ply or 30-gauge, what does that mean? And how does that knowledge help me buy better – particularly online?
This first article in our Guide to Knitwear takes a bird's eye view, looking at the world of knitwear as a whole and categorising it, by explaining how it's made and what it's made from.
This will give anyone with an interest in good clothing a better understanding of what they're buying, and explain some of the key processes and terminology along the way.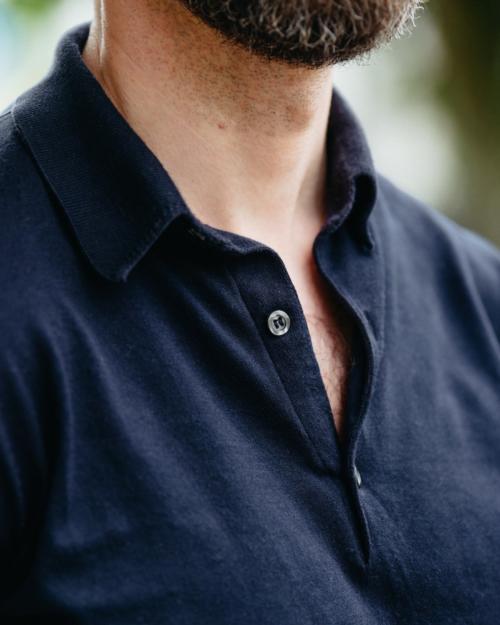 Gauge: Shirt or jumper?
You may have noticed that most Scottish knitwear is at least a certain weight or thickness. Finer, thinner sweaters tend to come from Italy, or from makers like John Smedley in England (above).
It's the biggest, most obvious difference between types of knitwear, and it's an important one, because fine knitwear is much smarter – more akin to a knitted shirt in terms of style and formality – while thicker gauges are what you think of as a typical jumper, designed for warmth.
The main reason brands, and indeed whole regions, identify with one weight of knitwear is that you need different machines for different gauges, and machines are expensive. Plus, the local workforce tends to build up expertise on those types of machines.
A typical Scottish cashmere crewneck today is 21 gauge (although it's got lighter over time – 50 years ago the standard was 15). The same factory will probably make that and everything heavier, up to a 5 gauge, which is the chunkiest shawl-collar cardigan. A fine-gauge knitter will usually produce a narrower range, perhaps 24 and 30 gauge.
The number refers to the number of needles, and so stitches, per inch on a flat-bed machine*.
This difference between types of knitwear will usually be obvious if you're browsing in a store. But online, armed with only a product description, it can help define what kind of knit is on offer.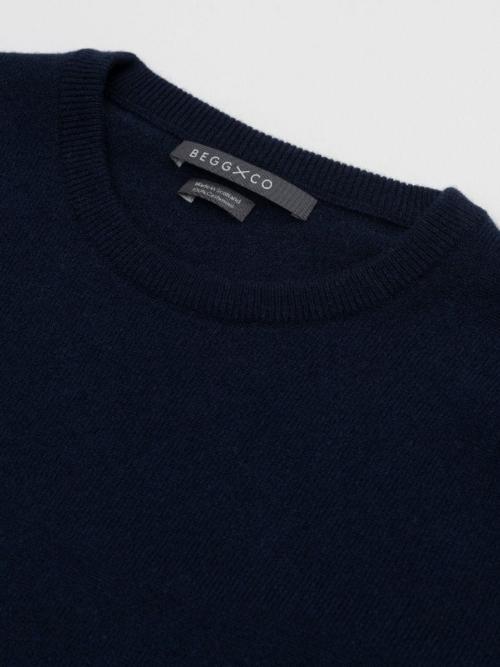 Ply: Thick or thin?
While 'gauge' is usually only mentioned in the technical description of a piece, 'ply' can be more prominent, sometimes even in the product name itself. As in 'cashmere two-ply crewneck'.
This is because, within the categories set out above, ply is the best shorthand for how thick a sweater is.
The crewnecks you're used to wearing are probably 1 or 2 ply (above). This is the most standard. The next level up is 4 ply, which is really a heavier, cold-weather jumper. Anything above 4 ply is usually a chunky shawl cardigan, which can be 8, 12, even 16 ply**.
But what does it mean? The number refers to the yarn used: 2 ply means two threads ('ends') twisted together in the yarn, 4 ply means four of them, and so on.
A yarn might be described as 2/28, which means two ends of a 28-count, with the 28 referring to the fineness (28 metres of it would weigh 1 gram).
This can get confusing when you go into detail, because the same thickness of yarn can be made by using one end that's twice as thick, or four that are twice as fine (eg 4/15). But this happens rarely enough that '2 ply' and '4 ply' are still good shorthand for thicknesses of knitwear.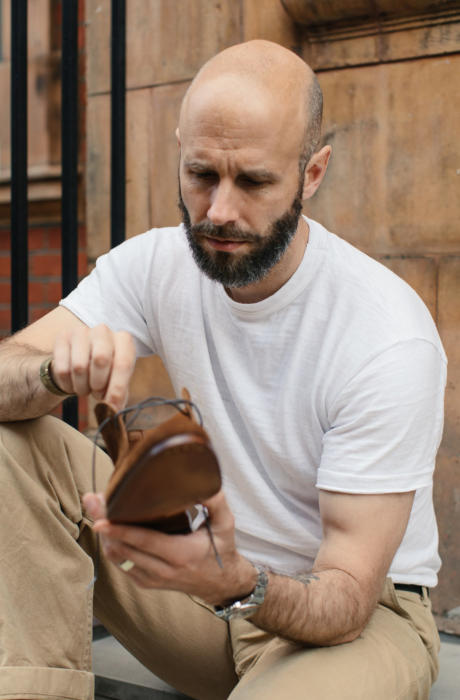 Knit: T-shirt or jumper?
This might sound strange, but T-shirts are knitwear. The cotton is knitted, just like on a jumper (the opposite being woven, like cloth for a shirt or suit).
What separates a T-shirt from a jumper is the way its knitted panels are put together. A T-shirt's panels are 'cut and sewn': cut along the edges and then sewn together, with an overlock stitch for example.
The edges of knitwear panels are fully finished (or 'fashioned') along the edges, so there's no need to cut them. They are complete pieces, which are then linked together, in a surprisingly painstakingly process.***
This is what separates a cashmere jumper from a cotton sweatshirt****. And it's why a polo shirt made by a knitwear manufacturer is so different from the regular cotton version you associate with tennis and polo. When someone refers to a 'knitted' polo, they mean one that has been fully fashioned.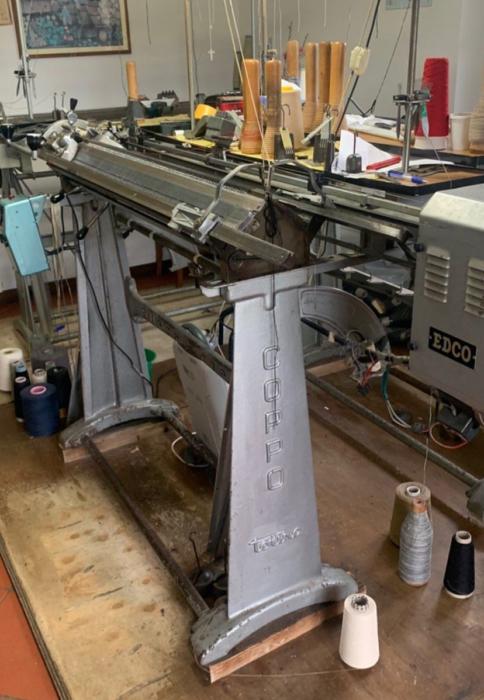 Hand, machine, or hand-machine?
There are also slightly different types of fashioned knitting.
The vast majority of knitwear uses automated knitting machines. Some makers still use hand-operated machines though, and this is often called 'hand framing' (above). This is much slower, with the advantages being that it can produce a more open knit, has some slight natural variation, and is an easy way to create designs or pictures ('intarsia').
The feel of hand-framed knitwear is also a little similar to actual hand knitting – as in, no machinery at all but just one person with a pair of knitting needles – which does still go on. Hand framed is often what brands mean when they describe something as hand knitted.
Finally, a very small amount of knitwear is made all in one piece, without any seams. The machinery to do this full-garment knitting is expensive and so not seen as much, and is perhaps better for lighter weights. Regular jumpers arguably benefit from the structure that fashioning and seams give them.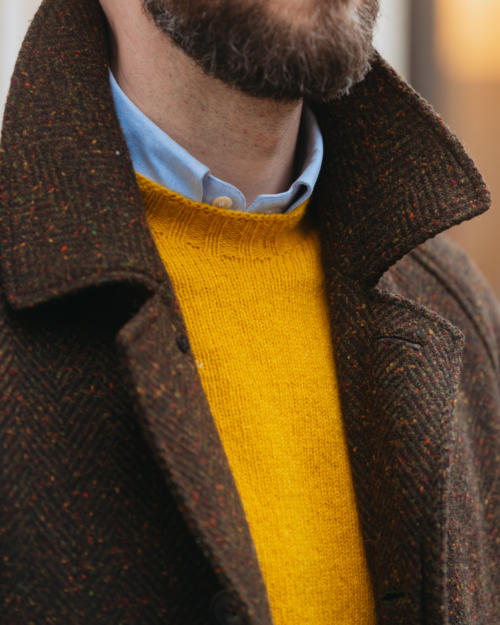 Fibre: Sheep, goat or plant?
This categorisation is a big one, but also the most obvious. Which is why it's only being mentioned now.
Most consumers know what cashmere, wool and cotton are, and their various properties. They probably even know what shetland wool is like (above), and a silk/cashmere blend.
There is still a lot of detail that can be delved into here, such as the different qualities of cashmere, the types of cotton, and the breeds of sheep. Few people realise that with wool, for example, most is merino, most of that is lambswool (the first crop from the merino sheep), and lambswool originally from a particular part of Australia is Geelong. They are all subsets of each other.
But that level of detail deserves a separate article.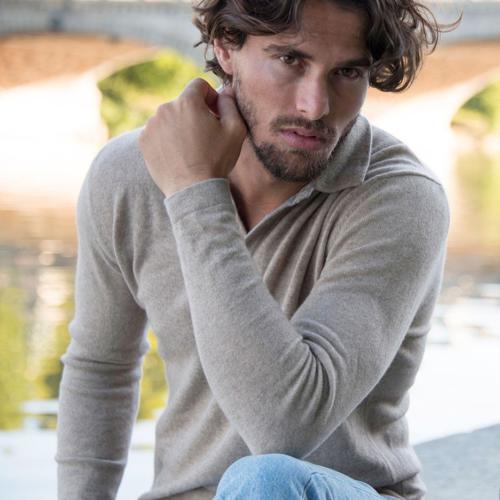 Finishing: Wash and brush
This is a minor distinction, but finishing on knitwear can make a difference.
The most obvious one is a brushed shetland, where shetland sweaters are deliberately brushed to make them fluffy.
But all knitwear is washed at the end to soften it and bring up the fibres, and in general Italian makers do this for longer than Scottish ones. The result is knitwear that feels softer when it's first bought (above), but sometimes doesn't age as well, either pilling or (if also knitted more openly) losing its shape.
In fact, that's a final minor category: tighter knitting. It's something that was done more in the past, to make knitwear that would feel very heavy and robust today. It was also only lightly washed, and sometimes called 'bare finish' knitwear as a result. But really most traditional pieces were knitted more tightly – not with any more stitches per inch ('gauge') but just with more tension on each one.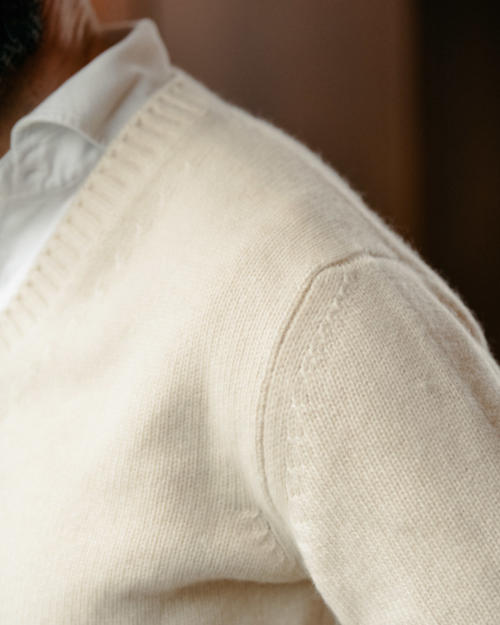 Conclusion, notes
Knitwear is either heavy or fine gauge, thicker or thinner, fashioned or sewn, machine or hand knitted, and more or less washed.
These are the things that define it and divide it. Understanding them helps you know why a 30-gauge polo works under a blazer, but a 15-gauge will be too thick. Or why a fully fashioned polo is a better match for flannel trousers than a cut-and-sewn one.
Even if you understood such things already, knowing the terms makes it possible to talk about or communicate them. Which is particularly important when buying things remotely.
Hopefully this first installment in the Guide to Knitwear has been useful. There is much more to come, on necklines, fits and identifying dead fishermen.
Notes:
*Sometimes the term 'needles' is used instead of gauge, to accommodate different types of machine. The numbers don't align – eg 21 gauge is 12 needle. Easiest to stick with gauge.
**You rarely get 1 ply in knitwear, because, interestingly, spinning two yarns together makes the result more stable. A single yarn has a natural tendency to twist, or torque, one way, and having two spun together that have been twisted in different directions balances this out.
***The two panels of knitwear that are to be joined, have to be placed on the needles of a circular linking machine, one stitch per needle, by hand.
****Some T-shirts and sweatshirts are also circular knitted, so there are no side seams. This traditional technique gives more pliability to the cotton, but also means the body has to be straight and square, rather than shaped at all.