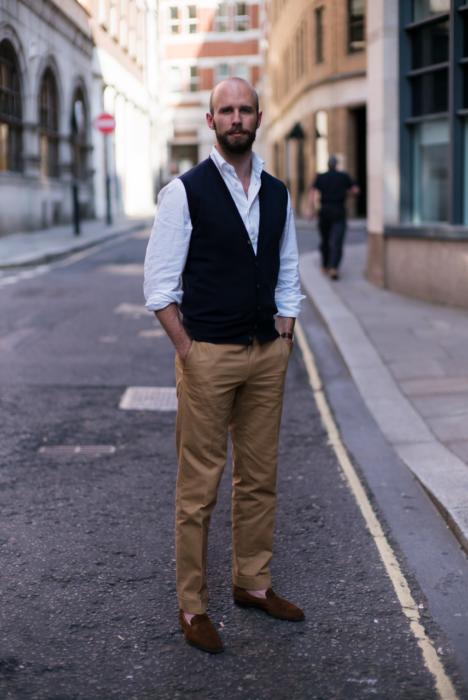 Following a request on last week's Finagon post – the cardigan we created with John Smedley – here are some details on the rest of the outfit, above.
One reader drew attention to the shirt collar, a button-down made by Satriano Cinque, the Neapolitan maker I use for most of my shirts. I think I've mentioned before that this is a design I created with the cutter, Luca, which involved moving the buttons that secure the collar a couple of millimetres higher. This gives the collar more roll, forcing it to curve outwards as its reach down the shirt is reduced.
The biggest advantage of the design is that this roll remains when the shirt is worn with a tie. All too often a button-down lies flat when fastened under a tie, creating an unattractive, short point. This collar is also slightly higher than most RTW buttondowns.
The shirt could be blue or white, but white is smarter and helps to create contrast. Elsewhere, we're working with pretty standard menswear colours. Navy is the most versatile colour for knitwear and suiting (indeed almost anything apart from shoes, shirts and hats). And tan is among the most versatile for casual trousers.
A reader requested more suggestions for outfits like this, that are formal enough for the office but fall between suit/tie and T-shirt/jeans. For me, the most important things here are fit and colour. Stick with a simple palette and pay attention to fit – a suit is flattering and formal because of the way it fits, as well as its worsted surface.
The trousers are not actually Incotex, as mentioned on that earlier post (apologies) but a substantial cotton-twill from Panta Clothing. I haven't written about Panta for a few years, but they're worth considering for RTW trousers with an eye to bespoke detail. I particularly like these for the side tab sitting on the seam, not the waistband. The heavier cloth also makes them easier to wear with casual clothing.
The shoes are unlined Edward Green loafers.
For anyone who missed the Finagon posts, you can see more details on our perfect cardigan here. The model is not limited, but Permanent Style readers get free shipping for another three weeks. And midnight (worn above) is still available in all sizes!
Photo: Luke Carby